Functional oils affect blood and bacteriological parameters in sheep
Lúcio FM da Silva

Faculdade de Medicina Veterinária, Universidade de Brasília, Brasília, DF, Brasil

Maria C de Oliveira

Nayara F dos Santos

Alexsandra Paludo

Yeury de S Gomes

Anaiza SZ do Amaral
Abstract
Background: Feeding ionophores to sheep is intended for improving feed efficiency. Functional oils (FO) are an alternative to the use of ionophores. Objective: To evaluate the effect of feeding FO to sheep on blood parameters and fecal bacteria. Methods: Five sheep were used in a Latin square design with five treatments: 190, 285, 380, 570, and 675 g/t FO in the diet. White cell count and levels of blood glucose, total protein, urea nitrogen, and fecal bacteria presence in feces were determined. Results: The FO levels did not affect serum parameters. Salmonella spp was found only in feces of sheep fed 190 mg/t FO. Conclusion: Functional oils can be added to sheep diets to reduce the presence of Salmonella spp in the feces.
Keywords: cashew oil, castor oil, feed supplement, ionophores, sheep fattening.
Resumen
Antecedentes: Los ionóforos se suministran a los ovinos para mejorar la eficiencia alimenticia. Una alternativa al uso de ionóforos son los aceites funcionales (FO). Objetivo: Evaluar los efectos del suministro de FO en el alimento sobre los parámetros sanguíneos y bacterias fecales de ovinos. Métodos: Cinco ovejos fueron usados en un diseño de cuadrado latino con cinco tratamientos: 190, 285, 380, 570 y 675 g/t FO en la dieta. Se realizó conteo de leucocitos y niveles de glucosa, proteína total y nitrógeno ureico, y se determinó la presencia de bacterias fecales. Resultados: La inclusión dietaria de FO no afectó los parametros séricos. Se encontró Salmonella spp únicamente en heces de los ovinos que habían consumido 190 mg/t FO. Conclusión: Se puede agregar FO a la dieta de ovinos para reducir la presencia de Salmonella spp en heces.
Palabras clave: aceite de anacardo, aceite de ricino, engorde de corderos, ionóforos, suplemento alimenticio.
Resumo
Antecedentes: Na produção animal, ionóforos são ingeridos por ovinos para melhorar a eficiência alimentar. Alternativa ao uso de ionóforos são os óleos funcionais (FO). Objetivos: Avaliar os efeitos de FO em ovinos por meio da alimentação sobre os parâmetros sanguíneos e bacteriológicos. Métodos: Cinco ovinos foram usados em Quadrado Latino com cinco tratamentos: 190, 285, 380, 570 e 675 g/t FO nas dietas. Contagem de leucócitos e níveis de glicose, proteína total, nitrogênio ureico e presença de bactérias nas fezes foram determinados. Resultados: Os níveis de FO não afetaram os níveis séricos dos fatores mencionados. Salmonella spp foi encontrada somente em fezes de ovinos que haviam ingerido dietas com 190 mg/t FO. Conclusão: Óleos funcionais podem ser adicionados em dietas para ovinos para reduzir a presença de Salmonella spp nas fezes.
Palavras chave: ionóforos, óleo de caju, óleo de mamona, suplemento alimentar, terminação de cordeiros.
|Abstract = 307 veces | PDF = 665 veces|
Downloads
Download data is not yet available.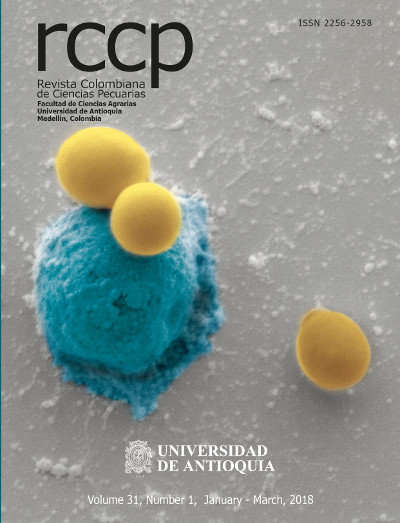 Section
Short communications
The authors enable RCCP to reprint the material published in it.
The journal allows the author(s) to hold the copyright without restrictions, and will allow the author(s) to retain publishing rights without restrictions.