Functional oils affect blood and bacteriological parameters in sheep
Keywords:
cashew oil, castor oil, feed supplement, ionophores, sheep fattening
Abstract
Background: Feeding ionophores to sheep is intended for improving feed efficiency. Functional oils (FO) are an alternative to the use of ionophores. Objective: To evaluate the effect of feeding FO to sheep on blood parameters and fecal bacteria. Methods: Five sheep were used in a Latin square design with five treatments: 190, 285, 380, 570, and 675 g/t FO in the diet. White cell count and levels of blood glucose, total protein, urea nitrogen, and fecal bacteria presence in feces were determined. Results: The FO levels did not affect serum parameters. Salmonella spp was found only in feces of sheep fed 190 mg/t FO. Conclusion: Functional oils can be added to sheep diets to reduce the presence of Salmonella spp in the feces.
|Abstract = 199 veces | PDF = 99 veces|
Downloads
Download data is not yet available.
References
Bess F, Favero A, Vieira SL, Torrent J. The effects of functional oils on broiler diets of varying energy levels. J Appl Poult Res 2012; 21:567-578.
Brasil. Instrução Normativa nº 62, de 26 de agosto de 2003. Ministério da Agricultura, Pecuária e Abastecimento. Brasília: MAPA; 2003.
Calsamiglia S, Busquet M, Cardozo PW, Castillejos L, Ferret A. Invited review: Essential oils as modifiers of rumen microbial fermentation. J Dairy Sci 2007; 90:2580-2595.
Contreras PA, Wittwer F, Böhmwald H. Uso dos perfis metabólicos no monitoramento nutricional dos ovinos. In: González FHD, Barcellos JO, Ospina H, Ribeiro LAO, editors. Perfil metabólico em ruminantes: seu uso em nutrição e doenças nutricionais. Porto Alegre: Gráfica da Universidade Federal do Rio Grande do Sul; 2000. p.75-88.
di Lorenzo N. Manipulation of the rumen microbial environment to improve performance of beef cattle. In: Proceedings of the 22nd Annual Florida Ruminant Nutrition Symposium; 2011 Feb 1-2; Florida, USA. Florida: IFAS; 2011.
Frias DFR, Kozusny-Andreani DI. Microbiota intestinal de ovinos hígidos e com diarreia. Ars Vet 2013; 29:25.
Gaillard Y, Pepin G. Poisoning by plant material: review of human cases and analytical determination of main toxins by higher-performance liquid chromatography- (tandem) mass spectrometry. J Chromatogr B 1999; 733:181-229.
Kaneko JJ, Harvey DW, Bruss WL, editores. Clinical biochemistry of domestic animals. 5th ed. New York: Academic Press, 1997.
Kubo I, Muroi H, Himejima M, Yamagiwa Y, Mera H, Tokushima K, Ohta S, Kamikawa T. Structure-antibacterial activity relationships of anacardic acids. J Agr Food Chem 1993; 41:1016-1019.
Lima CAA, Pastore GM, Lima EDPA. Estudo da atividade antimicrobiana dos ácidos anacárdicos do óleo da casca da castanha de caju (CNSL) dos clones de cajueiro-anão-precoce CCP-76 e CCP-09 em cinco estágios de maturação sobre microrganismos da cavidade bucal. Cienc Tecnol Alimentos 2000; 20:358-362.
Maenz DD, Forsyth GW. Ricinoleate and deoxycholate are calcium ionophores in jejunal brush border vesicles. J Membr Biol 2005; 70:125-133.
Meyer DJ, Harvey JW. Veterinary laboratory medicine: interpretation & diagnosis. 2nd ed. Philadelphia: Sauders; 2004.
Murakami AE, Eyng C, Torrent J. Effects of functional oils on coccidiosis and apparent metabolizable energy in broiler chickens. Asian-Australas J Anim Sci 2014; 27:981-989.
NRC. Nutrient Requirements of Small Ruminants: Sheep, Goats, Cervids, and New World Camelids. Natl Acad Press, Washington,DC. 2007.
Oliveira MSC, Morais SM, Magalhães DV, Batista WP, Vieira IG, Craveiro AA, Menezes JE, Carvalho AF, Lima GP. Antioxidant, larvicidal and antiacetyl cholinesterase activities of cashew nut shell liquid constituents. Acta Trop 2011; 117:165-170.
Pessoa RAS, Leão MI, Ferreira MA, Valadares Filho SC, Valadares RFD, Queiroz AC. Balanço de compostos nitrogenados e produção de proteína microbiana em novilhas leiteiras alimentadas com palma forrageira, bagaço de cana-de-açúcare ureia associados a diferentes suplementos. Rev Bras Zootec 2009; 5:941-947.
Quinn PJ, Markey BK, Carter ME, Donnelly WJ, Leonard FC., editores. Microbiologia veterinária e doenças infecciosas. Porto Alegre: Artmed Editora, 2012.
Silva LG, Torrecilhas JA, Passetti RAC, Ornaghi MG, Eiras CE, Rivaroli DC, Valero MV, Prado IN. Glycerin and cashew and castor oils in the diets for bulls in finished in feed lot: Ingestive behavior. Semin: Cien Agrar 2014; 35:2723-2738.
Valadares RFG, Broderick GA, Valadares Filho SC. Effect of replacing alfalfa silage with high moisture corn on ruminal protein synthesis estimated from excretion of total purine derivatives. J Dairy Sci 1999; 82:2686-2696.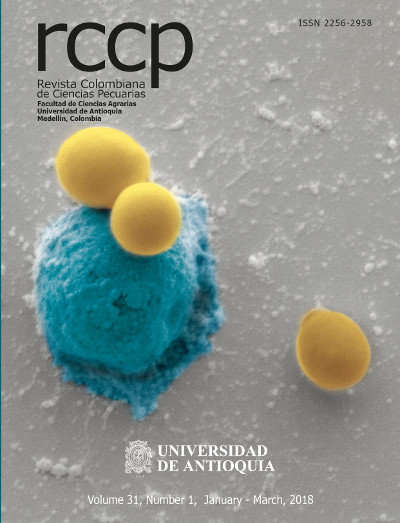 Downloads
How to Cite
da Silva, L. F. M., de Oliveira, M. C., dos Santos, N. F., Paludo, A., Gomes, Y. de S., & do Amaral, A. S. Z. (2018). Functional oils affect blood and bacteriological parameters in sheep. Revista Colombiana De Ciencias Pecuarias, 31(1), 59–63. https://doi.org/10.17533/udea.rccp.v31n1a07
Section
Short communications
License
Copyright (c) 2017 Revista Colombiana de Ciencias Pecuarias
This work is licensed under a Creative Commons Attribution-NonCommercial-ShareAlike 4.0 International License.
The authors enable RCCP to reprint the material published in it.
The journal allows the author(s) to hold the copyright without restrictions, and will allow the author(s) to retain publishing rights without restrictions.