Impact of genetic polymorphism of metabolic pathway of methotrexate and survival rate of mexican children will all
Keywords:
Lymphoma/*drug therapy/genetics, genetic polymorphisms, ATP-binding cassette transporter gene.
Abstract

Background: Acute lymphoblastic leukemia (ALL) is a major cancer disease in Mexican pediatric population, were the genotype could affect the effectiveness of chemotherapy in which the methotrexate (MTX) is involved and consequently the time of disease free survival and overall survival. Objective: Determine the association of 10 genetic polymorphisms of the folate pathway: in cellular carriers (COL18A1, SLC19A1, ABCB1 and ABCC5) and in enzymes such as folylpolyglutamate synthetase (FPGS) and xanthine oxidase (XO), with survival of children with acute lymphoblastic leukemia. Methods: Thirtynine children with acute lymphoblastic leukemia from the State Cancer Center in Durango (Mexico) treated with MTX and 102 healthy controls, were qPCR analyzed for 10 polymorphisms in the folate pathway. During 5 years of follow up, the disease-free survival and overall survival rates were investigated in relation with their genotypes. Results: Four polymorphisms were not found in Hardy-Weinberg Equilibrium COL18A1 (rs2274808), ABCC5 (rs9838667 and rs3792585) and XO (rs170113685). Only XO (rs170113685) was associated with risk of being present in patients with ALL whose odds ratio was 9.771 (95% 4.974-19.196, p=0.001). The polymorphism rs1544105 for FPGS affected disease free survival and overall survival (Log Rank test p<0.05). Conclusion: Polymorphism (rs17011368) of XO showed risk association for acute lymphoblastic leukemia; likewise, an important association was found between carriers of the FPGS (rs1544105) and increased survival times of patients treated with methotrexate. Keywords: Methotrexate, XO, FPGS, survival, Precursor Cell Lymphoblastic Leukemia-
|Abstract = 99 veces | PDF (ESPAÑOL (ESPAÑA)) = 86 veces|
Downloads
Download data is not yet available.
References
Leil TA, Endo C, Adjei AA, Dy GK, Salavaggione OE, Reid JR, et al. Identification and characterization of genetic variation in the folylpolyglutamate synthase gene. Cancer Res. 2007;67(18):8772-82.
Leclerc GJ, Sanderson C, Hunger S, Devidas M, Barredo JC. Folylpolyglutamate synthetase gene transcription is regulated by a multiprotein complex that binds the TEL-AML1 fusion in acute lymphoblastic leukemia. Leukemia research. 2010;34(12):1601-9.
Kudo M, Sasaki T, Ishikawa M, Hirasawa N, Hiratsuka M. Kinetics of 6-Thioxanthine Metabolism by Allelic Variants of Xanthine Oxidase. Drug Metab Pharmacokinet. 2010;25(4):361-6.
Kremer J. Methotrexate pharmacogenomics. Ann Rheum Dis. 2006;65(9):1121-3.
Crews KR, Zhou Y, Pauley JL, Howard SC, Jeha S, Relling MV, et al. Effect of allopurinol versus urate oxidase on methotrexate pharmacokinetics in children with newly diagnosed acute lymphoblastic leukemia. Cancer. 2010;116(1):227-32.
Schmiegelow K. Advances in individual prediction of methotrexate toxicity: a review. British journal of haematology. 2009;146(5):489-503.
Mahajan VB, Olney AH, Garrett P, Chary A, Dragan E, Lerner G, et al. Collagen XVIII mutation in Knobloch syndrome with acute lymphoblastic leukemia. Am J Med Genet A. 2010;152A(11):2875-9.
Galbiatti AL, Castro R, Caldas HC, Padovani JA, Jr., Pavarino EC, Goloni-Bertollo EM. Alterations in the expression pattern of MTHFR, DHFR, TYMS, and SLC19A1 genes after treatment of laryngeal cancer cells with high and low doses of methotrexate. Tumour biology : the journal of the International Society for Oncodevelopmental Biology and Medicine. 2013;34(6):3765-71.
Owen SA, Hider SL, Martin P, Bruce IN, Barton A, Thomson W. Genetic polymorphisms in key methotrexate pathway genes are associated with response to treatment in rheumatoid arthritis patients. Pharmacogenomics J. 2013;13:227–34.
Adema AD, Floor K, Smid K, Honeywell RJ, Scheffer GL, Jansen G, et al. Overexpression of MRP4 (ABCC4) and MRP5 (ABCC5) confer resistance to the nucleoside analogs cytarabine and troxacitabine, but not gemcitabine. Springerplus. 2014;3:732.
Brambila-Tapia AJL. MDR1 (ABCB1) polymorphisms: functional effects and clinical implications. Rev Inv Clin.
;55(5):445-54.
Gillet JP, Gottesman MM. Mechanisms of multidrug resistance in cancer. Methods in molecular biology. 2010;596:47-76.
Gregers J, Gréen H, Christensen IJ, Dalhoff K, Schroeder H, Carlsen N, et al. Polymorphisms in the ABCB1 gene and effect on outcome and toxicity in childhood acute lymphoblastic leukemia. Pharmacogenomics J. 2015.
Haematology BSo. Guidelines on the diagnosis and management of chronic lymphocytic leukaemia: BSH; 2006 [cited 2013 09].
Available from: http//www.bcshguidelines.com/pdf/chronicLL_050504.pdf.19. Pui C, Pei D, Sandlund J, Ribeiro R, Rubnitz J, Raimondi S, et al. Long-term results of St Jude Total Therapy Studies 11, 12, 13A, 13B, and 14 for childhood acute lymphoblastic leukemia. Leukemia. 2010;24(2):371-82.
d'Oncologia IC. SNPStats. Cataluña: ICO; 2006.
Zhao R, Goldman D. Folate and Thiamine Transporters mediated by Facilitative Carriers (SLC19A1-3 and SLC46A1) and Folate Receptors. Molecular aspects of medicine. 2013;34:1-23.
Lima A, Bernardes M, Sousa H, Azevedo R, Costa L, Ventura F, et al. SLC19A1 80G allele as a biomarker of methotrexate-related gastrointestinal toxicity in Portuguese rheumatoid arthritis patients. Pharmacogenomics. 2013;15(6):807-20.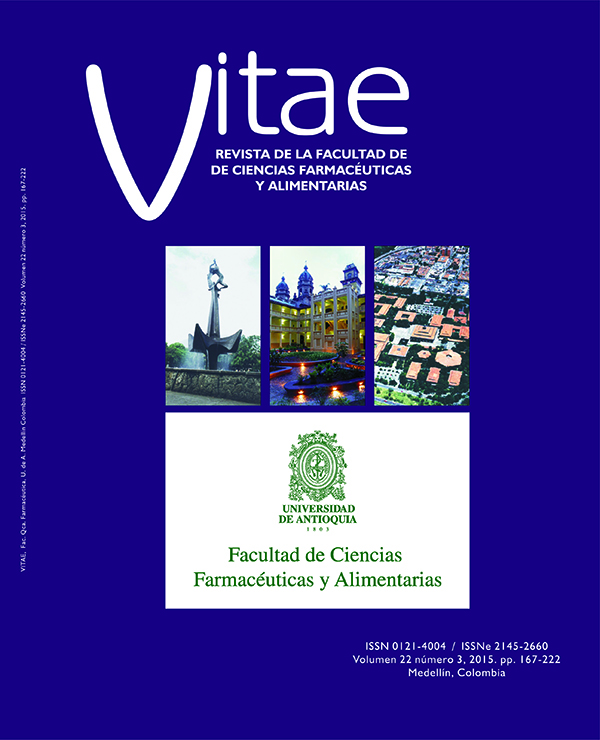 Downloads
How to Cite
ZARUMA TORRES, F. L., LARES-ASSEFF, I., REYES ESPINOZA, A., LOERA-CASTAÑEDA, V., ALMANZA-REYES, H., & ARIAS-PELÁEZ, M. C. (2016). Impact of genetic polymorphism of metabolic pathway of methotrexate and survival rate of mexican children will all. Vitae, 22(3), 177–187. https://doi.org/10.17533/udea.vitae.v22n3a02
Section
Pharmacology and Toxicology
License
Copyright Notice and Open Access Statement
The Journal Vitae works under the Open Access license, and the published manuscripts remain available for the public, both on the Journal's website and in databases, under the Creative Commons license, "Noncommercial Attribution" and "Share alike" systems, adopted in Colombia. Hence, when the authors agree to publish in the Journal Vitae, they will not have the right to economic retributions on publications and reproductions through different diffusion media. The documents are freely available to the internet public, permitting users to read, download, copy, distribute, print, search, or link to the full texts and pass them as data to software. The only constraint on reproduction and distribution, and the only role for copyright in this domain, should be to give authors control over the integrity of their work and the right to be appropriately acknowledged and cited.
Authors declare that:
They are the intellectual property owners and are responsible for all the information stated in the article.

This manuscript has not been submitted or published in other printed or digital media. They accept the responsibility for the judgments, opinions, and points of view expressed in the published article and, therefore, they exonerate Universidad de Antioquia and Journal Vitae from any process.

They exempt Universidad de Antioquia and Journal Vitae from settling conflicts or disputes related to the authorship of the referred article.

They accept the revision of the original manuscript by suitable personnel, and they bind themselves to perform the corrections appointed or suggested by the assessors.

Therefore, they know the editorial process and will not bind the Editorial Board of the Journal to assume any obligations regarding the volume and issue in which the article is published.

They transfer the rights of publication, reprinting, and distribution of the article from the moment of its approval, in print and digital format, without the right to economic rewards, and under the licensing conditions considered relevant by Journal Vitae.

They fully authorize Universidad de Antioquia and Journal Vitae to submit the published material to the diverse databases and indexing systems where the Journal can be found to comply with the requirements of the regulatory authorities to maintain the national classification of journals.

They will assume the article publication costs established for the current issue, and they will make the payment as soon as they are informed about the volume and the issue in which the final version of the article is published.

After the article is published, you can share digital or printed copies in a noncommercial manner. You will be able to use the paper in your institution or company for educational or research purposes, including the use in course programs.
Conflict of interest: Authors are responsible for recognizing and disclosing any financial or other benefits that could be perceived to bias their work, acknowledging all financial support and any personal connections with potential sponsors. Examples of such conflicts include receiving research funds or honoraria, serving on advisory boards, stock ownership, or employment and consulting arrangements. Authors without such connections should clearly state that they have no financial support or personal relationships that could be perceived to bias their work. All conflicts of interest should be disclosed on the author's identification page of the manuscript.