Un análisis cuantitativo del uso de Plaguicidas en los campesinos colombianos: percepción del control y la confianza en este uso
Palabras clave:
plaguicidas, campesinos, percepción del riesgo, control percibido
Resumen

Objetivo: Este estudio pretende explorar como los campesinos no usuarios de plaguicidas difieren en su conocimiento, actitudes y creencias y percepciones de control y confianza en torno al uso de plaguicidas comparado con usuarios de plaguicidas.Metodología: Colectamos 79 cuestionarios con hombres y mujeres adultas que son campesinos agricultores en San Cristóbal, Antioquia, Colombia. Examinamos las percepciones de estos campesinos sobre el daño de los plaguicidas sobre la salud humana y el medio ambiente. También se exploraron sus creencias, actitudes, percepciones de control y confianza relacionadas con el uso de los plaguicidas. Resultados: Los hallazgos difieren entre los dos grupos de campesinos muestreados: usuarios y no usuarios de plaguicidas. Los usuarios de pesticidas experimentaron menores percepciones del daño de los plaguicidas sobre la salud humana y el medio ambiente, menor percepción del control acerca de parar el uso de plaguicidas (el incremento de una unidad en control disminuyó el logit de usar pesticidas en un 74%), y menor confianza acerca de parar el uso de pesticidas comparado con los no usuarios de plaguicidas (el aumento de una unidad en la confianza, disminuyó el logit de usar pesticidas en un 64%).Discusión: Varios factores individuales influencian la salud ocupacional y la salud de los campesinos incluyendo la percepción del control y la confianza. Recomendamos que futuras intervenciones educativas en salud pública aumenten el entrenamiento sobre prácticas seguras y la confianza. Así los campesinos pueden ganar control en el proceso de implementar cambios en su comportamiento relacionado con la reducción del uso de pesticidas.
|Resumen = 55 veces | PDF = 24 veces|
Descargas
Los datos de descargas todavía no están disponibles.
Citas
(1). Gomiero T, Paoletti MG, Pimentel D. Energy and environmental issues in organic and conventional agriculture. Critical Reviews in Plant Sciences. 2008;27(4):239-54.
(2). Shiva V. Soil not Oil: Environmental Justice in a Time of Climate Crisis. Cambridge, MA: South End Press; 2009.
(3). Harrison J. Pesticide Drift and the Pursue of Environmental Justice. First ed. London: Massachusetts Institute of Technology Press; 2011.
(4). Pimentel D, Marklein A, Toth MA, Karpoff MN, Paul GS, Mc-Cormack R, et al. Food Versus Biofuels: Environmental and Eco-nomic Costs. Human Ecology. 2009 Feb;37(1):1-12.
(5). Vergara RA. Intoxicaciones masivas con plaguicidas: importan-cia de sus efectos socioeconómicos. . III Seminario Nacional "Aconteceres Entomológicos". Universidad Nacional de Colom-bia, Sede Medellín; 2000.
(6). Nivia E. Mujeres y Plaguicidas: una mirada a la situacion actual, tendencias y riesgos de los plaguicidas. Estudio de caso Palmira, Colombia Palmira: Rapalmira; 2000 October 2012.
(7). Jiménez M, Muñoz E. Plaguicidas y la salud. El caso del corre-gimiento de San Cristóbal. Pag 90. : Publicado por Corporación Penca de Sábila. ; 1993.
(8). Altieri M. Agroecology: the science of natural resource mana-gement for poor farmers in marginal environments Agriculture, Ecosystems & Environment. 2002;93(1):1-24.
(9). Pimentel D. Sustaining agriculture and the rural environment. Ecological Economics. 2007 Aug;63(2-3):636-.
(10). Ott W, Steinemann A, Wallace L. Exposure Analysis. Boca Raton: Taylor & Francis group; 2007.
(11). Freeman N. Children's Risk Assessment. In: Robson M, Toscano W, editors. Risk Assessment for Environmental Health. San Fran-cisco: Jossey-Bass; 2007. p. 628.
(12). Rothlein J, Rohlman D, Lasarev M, Phillips J, Muniz J, McCau-ley L. Organophosphate Pesticide Exposure and Neurobehavioral Performance in Agricultural and Nonagricultural Hispanic Wor-kers. Environ Health Perspect. 2006;114:691-6.
(13). Quandt SA, Arcury TA, Austin CK, Cabrera LF. Preventing Oc-cupational Exposure to Pesticides: Using Participatory Research with Latino Farmworkers to Develop an Intervention. Journal of Immigrant Health. 2001;3(2):85-96.
(14). Guillette E, Meza M, Aquilar M, Soto A, Enedina I. An Anthropo-logical Approach to the Evaluation of Preschool Children Expo-sed to Pesticides in Mexico. Environmental Health Perspectives. 1998;106(6):347-53.
(15). Restrepo M, Muñoz N, Day N, Parra JE, Hernandez C, Blettner M, et al. Birth defects among children born to a population occu-pationally exposed to pesticides in Colombia. Scandinavian Jour-nal of Work Environment and Health. 1990;16:239-46.
(16). Reigart J, Roberts J. Recognition and Management of Pesticide Poisonings. 5th ed. Washington DC: U.S. Environmental Protec-tion Agency; 1999.
(17). Ministerio_de_Salud. Pesticidas en Latino América. Colección: Salud, Ambiente y Desarrollo. Santa Fe de Bogota, Colombia: Ministerio de Salud; 2010.
(18). Montana_State_University. Personal Protective Equipment (PPE) for Pesticide Applicators. 2014 [cited 2014 February 27]; Availa-ble from: http://www.pesticides.montana.edu/reference/ppe.htm
(19). Sanmiguel-Valderrama O. The feminization and racialization la-bor in the Colombian fresh-cut flower industry. Journal of Deve-loping Societies. 2007;23(1-2):71-88.
(20). Quandt S, Hernandex-Valero M, Grzywacz J, Hovey J, Gonzales M, Arcury T. Workplace, household, and personal predictors of pesticide exposure for farmworkers Environmental Health Pers-pectives. 2006;114(6):943 – 52.
(21). McCauley L, Sticker D, Bryan C, Lasarev M, Scherer J. Pesti-cide Knowledge and Risk Perception Among Adolescent La-tino Farmworkers. Journal of Agricultural Safety and Health. 2002;8(4):397-409.
(22). Quandt S, Arcury T, Austin C, Saavedra R. Farmworker and Far-mer Perceptions of Farmworker Agricultural Chemical Exposure in North Carolina Human Organizations. 1998;57(3):359-68.
(23). Arcury T, Quandt S, Russel G. Pesticide Safety among Farmwor-kers: Perceived Risk and Perceived Control as Factors Reflec-ting Environmental Justice. Environmental Health Perspectives. 2002;110(2):233-40.
(24). Elmore R, Arcury T. Pesticide Exposure beliefs Among Latino Farmworkers in North Carolina's Christmas Tree Industry. Ame-rical Journal of Industrial Medicine. 2001;40:153-60.
(25). Flocks J, Monaghan P, Albrecht S, Bahena A. Florida Farmwor-kers' Perceptions and Lay Knowledge of Occupational Pesticides. Journal of Community Health. 2007;32(3):181-94.
(26). Salazar M, Napolitano M, Scherer J, McCauley L. Hispanic Ado-lescent Farmworkers' Perceptions Associated With Pesticide Ex-posure. Western Journal of Nursing Research. 2004;26(2):146-66.
(27). Grieshop J, Stiles M, Villanueva N. Prevention and Resiliency: A Cross Cultural View of Farmworkers' and Farmers' Beliefs about Work Safety. Human Organizations. 1996;55(1):25-32.
(28). Vaughan E, Fridlund-Dunton G. Difficult socio-economic circum-stances and the utilization of risk information: A study of Mexican agricultural workers in the USA. Health, Risk & Society. 2006 September;9(3):323-41.
(29). Cardenas A. Lineamientos de política sobre uso y manejo mesura-do de plaguicidas con énfasis en el sector agropecuario y forestal del departamento de Antioquia. Convenio Interinstitucional COR-NARE - LA CEIBA - DAMA Consejo Seccional de Plaguicidas de Antioquia Medellín. Colombia.; 2005.
(30). Castro LA. Pesticides in Colombia: their application, use, and le-gislation. . In: Taylor.M, editor. Pesticides residues in coastal tro-pical ecosystems: distribution, fate and effects: Taylor and Francis group.; 2003. p. 375-99.
(31). Perfetti J, Balcázar A, Hernández A, Leibovich J. Políticas para el desarrollo de la agricultura en Colombia. 2014 [cited 2014 February 26]; Available from: http://www.fedesarrollo.org.co/wp-content/uploads/2013/07/Libro-SAC_Web.pdf
(32). Medellin Ad. Atlas Veredal de Medellin. Medellin: Universidad Nacional de Colombia; 2010.
(33). Creswell J. Research Design: Qualitative, Quantitative and Mixed Methods Approaches. Third edition ed: SAGE Publications; 2009.
(34). Drennan J. Cognitive interviewing: Verbal data in the design and pretesting of Questionnaires. Methodological issues in Nursing Research. 2003;42:57-63.
(35). ACAB. Asociacion Campesina Agroecologica de Boqueron. 2014 [cited 2014 January 22]; Available from: http://www.tien-dacolyflor.com/
(36). Jamieson S. "Likert Scales: How to (Ab)use Them" Medical Edu-cation. 2004;38(12):1217-8.
(37). Bernard H. Research Methods in Anthropology: Qualitative and Quantitative Approaches. Fourth edition ed: AltaMira Press 2006.
(38). Delwiche L, Slaughter S. The Little SAS Book: A Primer Fourth Edition ed: SAS Publishing 2008.
(39). Cozby P. Methods in Behavioral Research. 10th ed. Fullerton: Mc Graw Hill; 2009.
(40). Vittinghoff E, Glidden D, Shiboski SC, McCulloch CE. Re-gression Methods in Biostatistics: Linear, Logitic, Survival, and Repeated Measures Models. First ed. New York: Springer Science+Business Media; 2005.
(41). Taylor D. The Rise of the Environmental Justice Paradigm: Injustice Framing and the Social Construction of Environ-mental Discourses American Behavioral Scientist. 2000 Ja-nuary;43(4):508-80.
(42). London L. Human rights, Environmental Justice, and the Health of Farm Workers in South Africa. International Journal of Occu-pational and Environmental Health. 2003;9:59-68.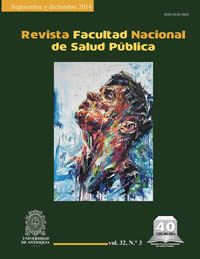 Descargas
Cómo citar
1.
Polanco Y, Salazar JC, Curbow B. Un análisis cuantitativo del uso de Plaguicidas en los campesinos colombianos: percepción del control y la confianza en este uso. Rev. Fac. Nac. Salud Pública [Internet]. 10 de septiembre de 2014 [citado 7 de diciembre de 2021];32(3):373-82. Disponible en: https://revistas.udea.edu.co/index.php/fnsp/article/view/15442
Licencia
El autor o los autores conserva(n) los derechos morales y cede(n) los derechos patrimoniales que corresponderán a la Universidad de Antioquia, para publicarlo, distribuir copias electrónicas, incluirlas en servicios de indización, directorios o bases de datos nacionales e internacionales en Acceso Abierto, bajo la licencia Creative Commons Atribución-No Comercial-Compartir Igual 4.0 Internacional Comercial (CC BY-NC-SA) la cual permite a otros distribuir, remezclar, retocar y crear a partir de la obra de modo no comercial, siempre y cuando se dé crédito respectivo y licencien las nuevas creaciones bajo las mismas condiciones.