Síndrome de Kinsbourne: reporte de un caso
Palabras clave:
Ataxia, Infección, Mioclonus, Opsoclonus, Síndrome de Kinsbourne
Resumen
El síndrome de Kinsbourne, conocido también como "síndrome de opsoclonus-mioclonus" o "síndrome de los ojos danzantes", es una enfermedad rara caracterizada por movimientos oculares rápidos, irregulares, multidireccionales (opsoclonus), movimientos mioclónicos en tronco, cara y/o extremidades y ataxia; se presenta entre los 6 y 36 meses de edad. Su etiología puede ser paraneoplásica (neuroblastoma), no paraneoplásica (infecciosa) o idiopática. Independientemente de la causa, se han utilizado inmunosupresores para reducir la formación de anticuerpos posiblemente involucrados en su fisiopatología. Presentamos el caso de una niña lactante de 21 meses con este síndrome secundario a un cuadro respiratorio viral. Tuvo ataxia, opsoclonus, mioclonías de miembros superiores, irritabilidad y alteración en el patrón de sueño. Se descartó el diagnóstico de neuroblastoma. El tratamiento inicial se hizo con pulsos de metilprednisolona seguida de prednisolona oral. Sus síntomas desaparecieron progresivamente y recuperó la marcha; actualmente está asintomática y sin secuelas. En estos pacientes se debe descartar siempre un síndrome paraneoplásico. 
Citas
(1.) Gorman MP. Update on diagnosis, treatment, and prognosis in opsoclonus-myoclonus-ataxia syndrome. Curr Opin Pediatr. 2010 Dec;22(6):745-50. DOI 10.1097/MOP.0b013e32833fde3f.
(2.) Hasegawa S, Matsushige T, Kajimoto M, Inoue H, Momonaka H, Oka M, et al. A nationwide survey of opsoclonus-myoclonus syndrome in Japanese children. Brain Dev. 2015 Aug;37(7):656-60. DOI 10.1016/j.braindev.2014.10.010.
(3.) Rodríguez-Barrionuevo AC, Caballero-Morales MA, Delgado-Marqués MP, Mora-Ramírez MD, Martínez-Antón J. Síndrome de Kinsbourne: revisión de nuestra casuística. Rev Neurol. 1998 Jun;26(154):956-9.
(4.) Badaki OB, Schapiro ES. Dancing eyes, dancing feet: opsoclonus-myoclonus in an 18-month-old child with neuroblastoma. Pediatr Emerg Care. 2007 Dec;23(12):885-8.
(5.) Desai J, Mitchell WG. Acute cerebellar ataxia, acute cerebellitis, and opsoclonus-myoclonus syndrome. J Child Neurol. 2012 Nov;27(11):1482-8. DOI 10.1177/0883073812450318.
(6.) Hero B, Schleiermacher G. Update on pediatric opsoclonus myoclonus syndrome. Neuropediatrics. 2013 Dec;44(6):324-9. DOI 10.1055/s-0033-1358604.
(7.) Maranhão MV, de Holanda AC, Tavares FL. Kinsbourne syndrome: case report. Braz J Anesthesiol. 2013 May-Jun;63(3):287-9. DOI 10.1016/S0034-7094(13)70232-0.
(8.) Raffaghello L, Conte M, De Grandis E, Pistoia V. Immunological mechanisms in opsoclonus-myoclonus associated neuroblastoma. Eur J Paediatr Neurol. 2009 May;13(3):219-23. DOI 10.1016/j.ejpn.2008.04.012.
(9.) Blaes F, Pike MG, Lang B. Autoantibodies in childhood opsoclonus-myoclonus syndrome. J Neuroimmunol. 2008 Sep;201-202:221-6. DOI 10.1016/j.jneuroim.2008.05.033.
(10.) Jen JC, Lopez I, Baloh RW. Opsoclonus: clinical and immunological features. J Neurol Sci. 2012 Sep;320(1-2):61-5. DOI 10.1016/j.jns.2012.06.017.
(11.) Krug P, Schleiermacher G, Michon J, Valteau-Couanet D, Brisse H, Peuchmaur M, et al. Opsoclonus–myoclonus in children associated or not with neuroblastoma. Eur J Paediatr Neurol.2010 Sept;14(5):400-9. DOI 10.1016/j.ejpn.2009.12.005.
(12.) Pang KK, de Sousa C, Lang B, Pike MG. A prospective study of the presentation and management of dancing eye syndrome/opsoclonus-myoclonus syndrome in the United Kingdom. Eur J Paediatr Neurol. 2010 Mar;14(2):156-61. DOI 10.1016/j.ejpn.2009.03.002.
(13.) Belcastro V, Piola M, Binda S, Santoro D, Rezzonico M, Arnaboldi M Opsoclonus-myoclonus syndrome associated with human herpes virus-6 rhomboencephalitis. J Neurol Sci. 2014 Jun;341(1-2):165-6. DOI 10.1016/j.jns.2014.04.013.
(14.) Kang BH, Kim JI. Opsoclonus-myoclonus syndrome associated with mumps virus infection. J Clin Neurol. 2014 Jul;10(3):272-5. DOI 10.3988/jcn.2014.10.3.272.
(15.) Gurkas E, Gucuyener K, Yılmaz U, Havalı C, Demir E. Opsoclonus-myoclonus syndrome following rotavirus gastroenteritis. Pediatr Int. 2014 Dec;56(6):e86-7. DOI 10.1111/ped.12433.
(16.) Tan AH, Linn K, Sam IC, Tan CT, Lim SY. Opsoclonusmyoclonus-ataxia syndrome associated with dengue virus infection. Parkinsonism Relat Disord. 2015 Feb;21(2):160-1. DOI 10.1016/j.parkreldis.2014.11.009.
(17.) Piquet A, Kothari M, Ermak D, Ahmed A. Opsoclonus-Myoclonus Syndrome Post-Vaccination and Viral Illness. Int J Clin Med. 2012 Jul;3(4):304-6. DOI 10.4236/ijcm.2012.34060.
(18.) Rostásy K, Wilken B, Baumann M, Müller-Deile K, Bieber I, Gärtner J, et al. High dose pulsatile dexamethasone therapy in children with opsoclonusmyoclonus syndrome. Neuropediatrics. 2006 Oct;37(5):291-5.
(19.) Ertle F, Behnisch W, Al Mulla NA, Bessisso M, Rating D, Mechtersheimer G, et al. Treatment of neuroblastoma-related opsoclonus-myoclonus-ataxia syndrome with high-dose dexamethasone pulses. Pediatr Blood Cancer. 2008 Mar;50(3):683-7.
(20.) Leen WG, Weemaes CM, Verbeek MM, Willemsen MA, Rotteveel JJ. Rituximab and intravenous immunoglobulins for relapsing postinfectious opsoclonus-myoclonus syndrome. Pediatr Neurol. 2008 Sep;39(3):213-7. DOI 10.1016/j.pediatrneurol.2008.05.015.
(21.) Torres-Mayagoitia D, Dávila-Gutiérrez G, Hernández-Bautista VM, Vázquez-Estrada P, Rodríguez-Tapia J. Tratamiento de la encefalopatía mioclónica de la infancia (síndrome de Kinsbourne) con metotrexate y gammaglobulina endovenosa. Acta Pediatr Méx. 2013;34(6):370-3. DOI 10.18233/APM-34No6pp370-373.
(22.) Pranzatelli MR, Tate ED, Kinsbourne M, Caviness VS Jr, Mishra B. Forty-one year follow-up of childhoodonset opsoclonus-myoclonus-ataxia: cerebellar atrophy, multiphasic relapses, and response to IVIG. Mov Disord. 2002 Nov;17(6):1387-90.
(23.) Klein A, Schmitt B, Boltshauser E. Long-term outcome of ten children with opsoclonus-myoclonus syndrome. Eur J Pediatr. 2007 Apr;166(4):359-63.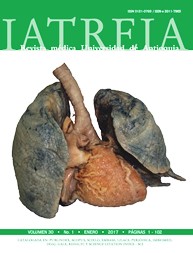 Sección
Presentación de casos
Derechos de autor 2016 Iatreia
Esta obra está bajo licencia internacional
Creative Commons Reconocimiento-NoComercial-SinObrasDerivadas 4.0
.
Los artículos publicados en la revista están disponibles para ser utilizados bajo la licencia Creative Commons, específicamente son de Reconocimiento-NoComercial-SinObraDerivada 4.0 Internacional.
Los trabajos enviados deben ser inéditos y suministrados exclusivamente a la Revista; se exige al autor que envía sus contribuciones presentar los formatos: presentación de artículo y responsabilidad de autoría completamente diligenciados.