¿Tiene el paciente una leucodistrofia? Importancia de la descripción clínica, la semiología y las neuroimágenes ante la sospecha diagnóstica de leucodistro a de origen metabólico
Olga Yaneth Echeverri-Peña

Pontificia Universidad Javeriana

http://orcid.org/0000-0001-9704-6387

Paola Mera

Hospital Militar Central

Lissete Cabarcas-Castro

Instituto de Ortopedia Infantil Roosevelt

Yudi Andrea Ardila-Gómez

Hospital Universitario San Ignacio

http://orcid.org/0000-0003-0508-6168

Eugenia Espinosa-García

Universidad Militar Nueva Granada. Instituto de Ortopedia Infantil Roosevelt.

Luis Alejandro Barrera-Avellaneda

Pontificia Universidad Javeriana
Palabras clave:
Arilsulfatasa A, Errores Innatos del Metabolismo, Leucodistrofia
Resumen
El enfoque de los errores innatos del metabolismo (EIM) constituye un desafío para cualquier especialidad médica y es un área en rápido desarrollo; a medida que se amplía la información científica, se fortalece el estudio de las enfermedades metabólicas y crecen la necesidad y el interés de hacer diagnósticos certeros y oportunos, de manera que sea posible comenzar el tratamiento apropiado lo más pronto posible. Es preciso usar un enfoque sistemático y ordenado que incluya todas las entidades clínicamente parecidas, desde las más frecuentes hasta las más raras, usando racionalmente los estudios más especializados y complejos, que, en general, son menos accesibles para el paciente. Presentamos el caso de una paciente con historia de noxa perinatal y alteraciones neurológicas cuyo curso clínico no progresó. Se resalta la importancia de un proceso diagnóstico sistemático que le dé prioridad al cuadro clínico. 
|Resumen = 59 veces | PDF = 58 veces| XHTML = 0 veces|
Descargas
La descarga de datos todavía no está disponible.
Citas
(1.) Murray ML, Pepin M, Peterson S, Byers PH. Pregnancy related deaths and complications in women with vascular Ehlers-Danlos syndrome. Genet Med. 2014 Dec;16(12):874-80. DOI 10.1038/gim.2014.53.
(2.) Pepin M, Schwarze U, Superti-Furga A, Byers PH. Clinical and genetic features of Ehlers-Danlos syndrome type IV, the vascular type. N Engl J Med. 2000 Mar;342(10):673-80. Erratum in: N Engl J Med 2001 Feb;344(5):392.
(3.) Saudubray JM, Sedel F, Walter JH. Clinical approach to treatable inborn metabolic diseases: an introduction. J Inherit Metab Dis. 2006 Apr-Jun;29(2-3):261-74.
(4.) Levine TA, Grunau RE, McAuliffe FM, Pinnamaneni R, Foran A, Alderdice FA. Early childhood neurodevelopment after intrauterine growth restriction: a systematic review. Pediatrics. 2015 Jan;135(1):126-41. DOI 10.1542/peds.2014-1143.
(5.) Cordoba A, Cornejo JW. Leucodistrofia Metacromatica. En: Barrera Avellaneda LA, Espejo AJ, Espinosa E, Echeverri Peña OY. Errores Innatos del Metabolismo. Un abordaje integral del diagnóstico al tratamiento. Bogotá: Pontificia Universidad Javeriana; 2014. p. 333-340.
(6.) Barrera LA, Echeverri OY, Almeciga, CJ. Malaver, LF. Fundamentos de las acidemias orgánicas y desordenes del ciclo de la urea: diagnóstico y tratamiento. Parte I. Temas Pediátricos. 2006 Oct-Dic;23(4):1-34.
(7.) Barrera LA, Echeverri OY, Almeciga, CJ. Malaver, LF. Fundamentos de las acidemias orgánicas y desordenes del ciclo de la urea: diagnóstico y tratamiento. Parte II. Temas Pediatricos. 2007 Ene-Mar;24(1):1-23
(8.) Di Rocco M, Biancheri R, Rossi A, Filocamo M, Tortori-Donati P. Genetic disorders affecting white matter in the pediatric age. Am J Med Genet B Neuropsychiatr Genet. 2004 Aug;129B(1):85-93.
(9.) Kohlschütter A, Eichler F. Childhood leukodystrophies: a clinical perspective. Expert Rev Neurother. 2011 Oct;11(10):1485-96. DOI 10.1586/ern.11.135.
(10.) Gieselmann V, Ingeborg KM. Metachromatic Leukodystrophy. In: Beaudet AL, Vogelstein B, Kinzler KW, Antonarakis SE, Ballabio A, Gibson KM, et al, editors. The Online Metabolic and Molecular Bases of Inherited Disease [Internet]. New York, NY: The McGraw-Hill Companies; 2014 [cited 2016 Nov 18]. Available from: http:// ommbid.mhmedical.com/book.aspx?bookid=971
(11.) Gropman AL. Patterns of brain injury in inborn errors of metabolism. Semin Pediatr Neurol. 2012 Dec;19(4):203-10. DOI 10.1016/j.spen.2012.09.007.
(12.) Barkovich AJ. Concepts of myelin and myelination in neuroradiology. AJNR Am J Neuroradiol. 2000 Jun-Jul;21(6):1099-109.
(13.) Dubois G, Harzer K, Baumann N. Very low arylsulfatase A and cerebroside sulfatase activities in leukocytes of healthy members of metachromatic leukodystrophy family. Am J Hum Genet. 1977 Mar;29(2):191-4.
(14.) Hohenschutz C, Friedl W, Schlör KH, Waheed A, Conzelmann E, Sandhoff K, et al. Probable metachromatic leukodystrophy/pseudodeficiency compound heterozygote at the arylsulfatase A locus with neurological and psychiatric symptomatology. Am J Med Genet. 1988 Sep;31(1):169-75.
(15.) Deconinck N, Messaaoui A, Ziereisen F, Kadhim H, Sznajer Y, Pelc K, et al. Metachromatic leukodystrophy without arylsulfatase A deficiency: a new case of saposin-B deficiency. Eur J Paediatr Neurol. 2008 Jan;12(1):46-50.
(16.) Sun Y, Witte DP, Ran H, Zamzow M, Barnes S, Cheng H, et al. Neurological deficits and glycosphingolipid accumulation in saposin B deficient mice. Hum Mol Genet. 2008 Aug;17(15):2345-56. DOI 10.1093/hmg/ddn135.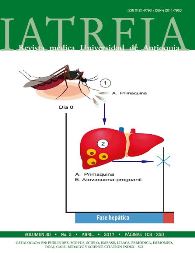 Cómo citar
1.
Echeverri-Peña OY, Mera P, Cabarcas-Castro L, Ardila-Gómez YA, Espinosa-García E, Barrera-Avellaneda LA. ¿Tiene el paciente una leucodistrofia? Importancia de la descripción clínica, la semiología y las neuroimágenes ante la sospecha diagnóstica de leucodistro a de origen metabólico. Iatreia [Internet]. 11 de abril de 2017 [citado 17 de septiembre de 2021];30(2):199-07. Disponible en: https://revistas.udea.edu.co/index.php/iatreia/article/view/26755
Sección
Presentación de casos
Los artículos publicados en la revista están disponibles para ser utilizados bajo la licencia Creative Commons, específicamente son de Reconocimiento-NoComercial-CompartirIgual 4.0 Internacional.
Los trabajos enviados deben ser inéditos y suministrados exclusivamente a la Revista; se exige al autor que envía sus contribuciones presentar los formatos: presentación de artículo y responsabilidad de autoría completamente diligenciados.