Tasa de filtración glomerular y deterioro funcional en una unidad geriátrica de agudos
Palabras clave:
Anciano, Deterioro Funcional, Hospitalización, Tasa de Filtración Glomerular
Resumen
Introducción: una tasa baja de Filtración Glomerular estimada (FGe) se asocia con deterioro funcional. Se sabe poco sobre esa asociación en ancianos hospitalizados.
Objetivo: determinar si la disminución de la FGe se asocia a deterioro funcional. 
Metodología: estudio de cohorte prospectiva, incluyó 1826 pacientes mayores de 60 años hospitalizados en Unidad Geriátrica de Agudos, admitidos entre enero de 2012 y agosto de 2015. El desenlace fue el estado funcional evaluado mediante el Índice de Barthel (IB) en cuatro momentos. La función renal fue estimada según MDRD-4, se agruparon en cuatro categorías según FGe (normal ≥90, leve 60-89, moderado 59-30, severo <30). Se usaron modelos de regresión logística multivariada y procedimiento Glimmix para análisis longitudinales.
Resultados: edad promedio 82,3±7,2 años, 51 % eran mujeres. En la regresión logística multivariada, un IB≤60 al ingreso estuvo asociado con edad ≥80 años, género femenino, comorbilidad alta, deterioro social, hipoalbuminemia, anemia, MMSE<19; mientras que la falla renal leve o moderada, disminuyen este riesgo. En el análisis longitudinal, la disminución de IB total durante el seguimiento se asoció con edad ≥80 años, género femenino, deterioro social, estancia hospitalaria ≥15 días, comorbilidad alta, hipoalbuminemia y MMSE <19. La presencia de falla renal leve, moderada o severa se asoció con mayor IB a través del tiempo.
Conclusiones: una disminución de FGe está asociada con bajo riesgo de deterioro funcional al ingreso y al seguimiento. Estos hallazgos difieren de reportes previos en la literatura.
|Resumen = 3385 veces | PDF = 2524 veces| HTML = 2 veces|
Descargas
La descarga de datos todavía no está disponible.
Citas
(1.) Coresh J, Selvin E, Stevens LA, Manzi J, Kusek JW, Eggers P, et al. Prevalence of chronic kidney disease in the United States. JAMA. 2007 Nov;298(17):2038-47.
(2.) Fried LF, Lee JS, Shlipak M, Chertow GM, Green C, Ding J, et al. Chronic kidney disease and functional limitation in older people: health, aging and body composition study. J Am Geriatr Soc. 2006 May;54(5):750-6.
(3.) Lin J, Curhan GC. Kidney function decline and physical function in women. Nephrol Dial Transplant. 2008 Sep;23(9):2827-33. DOI 10.1093/ndt/gfn121.
(4.) Lo D, Chiu E, Jassal SV. A prospective pilot study to measure changes in functional status associated with hospitalization in elderly dialysis-dependent patients. Am J Kidney Dis. 2008 Nov;52(5):956-61. DOI 10.1053/j.ajkd.2008.04.010.
(5.) Greco A, Paroni G, Seripa D, Addante F, Dagostino MP, Aucella F. Frailty, disability and physical exercise in the aging process and in chronic kidney disease. Kidney Blood Press Res. 2014;39(2-3):164-8. DOI 10.1159/000355792.
(6.) Bennett PN, Capdarest-Arest N, Parker K. The physical deterioration of dialysis patients-Ignored, ill-reported, and ill-treated. Semin Dial. 2017 Sep;30(5):409-412. DOI 10.1111/sdi.12610.
(7.) Ocampo-Chaparro JM, Reyes-Ortiz CA. Revisión sistemática de literatura: Declinación funcional en ancianos hospitalizados. Rev Méd Risaralda 2016;22(1):49-57.
(8.) Osuna-Pozo CM, Ortiz-Alonso J, Vidán M, Ferreira G, Serra-Rexach JA. Revisión sobre el deterioro funcional en el anciano asociado al ingreso por enfermedad aguda. Rev Esp Geriatr Gerontol. 2014 Mar-Apr;49(2):77-89. DOI 10.1016/j.regg.2013.08.001.
(9.) Fox MT, Persaud M, Maimets I, O'Brien K, Brooks D, Tregunno D, et al. Effectiveness of acute geriatric unit care using acute care for elders components: a systematic review and meta-analysis. J Am Geriatr Soc. 2012 Dec;60(12):2237-45. DOI 10.1111/jgs.12028.
(10.) Mahoney FI, Barthel DW. Functional evaluation: Barthel index. Md State Med J. 1965 Feb;14:61-5.
(11.) Diez-De-Los-Ríos Carrasco MJ, Montañés Bermúdez R, Gràcia Garcia S. Estandarización de los procedimientos de medida de creatinina: estado actual. Rev Lab Clin. 2012 Abr-Jun;5(2):87-101. DOI 10.1016/j.labcli.2012.01.005.
(12.) Levey AS, Bosch JP, Lewis JB, Greene T, Rogers N, Roth D. A more accurate method to estimate glomerular filtration rate from serum creatinine: a new prediction equation. Modification of Diet in Renal Disease Study Group. Ann Intern Med. 1999 Mar;130(6):461-70.
(13.) Lawton MP, Brody EM. Assessment of older people: self-maintaining and instrumental activities of daily living. Gerontologist. 1969 Autumn;9(3):179-86.
(14.) Folstein MF, Folstein SE, McHugh PR. "Mini-mental state". A practical method for grading the cognitive state of patients for the clinician. J Psychiatr Res. 1975 Nov;12(3):189-98.
(15.) Charlson ME, Pompei P, Ales KL, MacKenzie CR. A new method of classifying prognostic comorbidity in longitudinal studies: development and validation. J Chronic Dis. 1987;40(5):373-83.
(16.) Miralles R, Sabartés O, Ferrer M, Esperanza A, Llorach I, García-Palleiro P, et al. Development and validation of an instrument to predict probability of home discharge from a geriatric convalescence unit in Spain. J Am Geriatr Soc. 2003 Feb;51(2):252-7.
(17.) Nutritional anaemias. Report of a WHO scientific group. World Health Organ Tech Rep Ser. 1968;405:5-37.
(18.) Cabañero-Martínez MJ, Cabrero-García J, Richart-Martínez M, Muñoz-Mendoza CL. Revisión estructurada de las medidas de actividades de la vida diaria en personas mayores. Rev Esp Geriatr Gerontol. 2008 Sep-Oct;43(5):271-83.
(19.) Hunger M, Döring A, Holle R. Longitudinal beta regression models for analyzing health-related quality of life scores over time. BMC Med Res Methodol. 2012 Sep;12:144. DOI 10.1186/1471-2288-12-144.
(20.) Odden MC, Shlipak MG, Tager IB. Serum creatinine and functional limitation in elderly persons. J Gerontol A Biol Sci Med Sci. 2009 Mar;64(3):370-6. DOI 10.1093/gerona/gln037.
(21.) Walker SR, Gill K, Macdonald K, Komenda P, Rigatto C, Sood MM, et al. Association of frailty and physical function in patients with non-dialysis CKD: a systematic review. BMC Nephrol. 2013 Oct;14:228. DOI 10.1186/1471-2369-14-228.
(22.) Reyes-Ortiz CA, Ocampo Chaparro JM. Functional status during hospitalization: Potential benefit of an ACE Unit. J Am Geriatr Soc. 2017;65 Suppl 1:88.
(23.) Ocampo-Chaparro JM, Mosquera-Jiménez JI, Davis AS, Reyes-Ortiz CA. Deterioro funcional asociado al deterioro cognitivo en el anciano hospitalizado. Rev Esp Geriatr Gerontol. 2017 Jun. pii: S0211-139X(17)30129-4. DOI 10.1016/j.regg.2017.05.007.
(24.) Ellis G, Whitehead MA, O'Neill D, Langhorne P, Robinson D. Comprehensive geriatric assessment for older adults admitted to hospital. Cochrane Database Syst Rev. 2011 Jul;(7):CD006211. DOI 10.1002/14651858.CD006211.pub2.
(25.) Foster MC, Inker LA, Levey AS, Selvin E, Eckfeldt J, Juraschek SP, et al. Novel filtration markers as predictors of all-cause and cardiovascular mortality in US adults. Am J Kidney Dis. 2013 Jul;62(1):42-51. DOI 10.1053/j.ajkd.2013.01.016.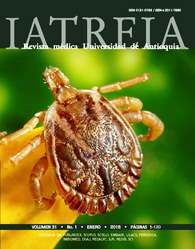 Cómo citar
Ocampo-Chaparro, J. M., Reyes-Ortiz, C. A., Hernández, H. O., Badiel-Ocampo, M., & León-Giraldo, H. (2018). Tasa de filtración glomerular y deterioro funcional en una unidad geriátrica de agudos. Iatreia, 31(1), 7-17. https://doi.org/10.17533/udea.iatreia.v31n1a01
Sección
Artículo original
Los artículos publicados en la revista están disponibles para ser utilizados bajo la licencia Creative Commons, específicamente son de Reconocimiento-NoComercial-CompartirIgual 4.0 Internacional.
Los trabajos enviados deben ser inéditos y suministrados exclusivamente a la Revista; se exige al autor que envía sus contribuciones presentar los formatos: presentación de artículo y responsabilidad de autoría completamente diligenciados.