Manejo con cinco antihipertensivos en paciente con pubertad precoz. Reporte de caso
Palabras clave:
Esteroide 11-beta-Hidroxilasa, Hiperplasia Suprarrenal Congénita, Hipertensión, Insuficiencia Suprarrenal, Pubertad Precoz
Resumen
Introducción: la hiperplasia suprarrenal congénita por deficiencia de 11-beta-Hidroxilasa es una enfermedad autosómica recesiva poco frecuente, y en estadios avanzados sus complicaciones cardiovasculares exigen un manejo aún más complejo.
Presentación del caso: paciente masculino que inicia pubarca a los 2 años de edad, por lo que se diagnostica hiperplasia suprarrenal congénita por deficiencia de 11-beta-Hidroxilasa, y subsecuente hipertensión desde sus 5 años. Consulta a los 8 años de edad por una intoxicación alimentaria que desencadena una insuficiencia adrenal. Adicionalmente se diagnostica pubertad precoz periférica, melanodermia, hipopotasemia e hipertrofia ventricular izquierda. Requiere manejo con hidrocortisona a dosis de estrés y uso de cinco antihipertensivos.
Discusión: el tratamiento determina el pronóstico del paciente; al no realizarse el manejo oportuno puede producirse pubertad precoz e hipertensión arterial con complicaciones irreversibles como deterioro de la talla final y la hipertrofia ventricular izquierda respectivamente.
|Resumen = 137 veces | PDF = 124 veces| HTML = 0 veces|
Descargas
La descarga de datos todavía no está disponible.
Citas
(1.) Alonso M, Ezquieta B. Hiperplasia suprarrenal congénita no clásica o tardía. Rev Esp Endocrinol Pediatr. 2012;3(Supl): 61-73.
(2.) Turcu AF, Auchus RJ. Adrenal steroidogenesis and congenital adrenal hyperplasia. Endocrinol Metab Clin North Am. 2015 Jun;44(2):275-96. DOI 10.1016/j.ecl.2015.02.002.
(3.) Speiser PW, Azziz R, Baskin LS, Ghizzoni L, Hensle TW, Merke DP, et al. Congenital adrenal hyperplasia due to steroid 21-hydroxylase deficiency: an Endocrine Society clinical practice guideline. J Clin Endocrinol Metab. 2010 Sep;95(9):4133-60. DOI 10.1210/jc.2009-2631. Erratum in: J Clin Endocrinol Metab. 2010 Nov;95(11):5137.
(4.) Melcescu E, Phillips J, Moll G, Subauste JS, Koch CA. 11Beta-hydroxylase deficiency and other syndromes of mineralocorticoid excess as a rare cause of endocrine hypertension. Horm Metab Res. 2012 Nov;44(12):867-78. DOI 10.1055/s-0032-1321851.
(5.) Labarta Aizpún JL, Arriba Muñoz A, Ferrández Longás Á. Hiperplasia suprarrenal congénita. Protoc Diagn Ter Pediatr. 2011;1:117-28.
(6.) Parsa AA, New MI. Low-renin hypertension of childhood. Endocrinol Metab Clin North Am. 2011Jun;40(2):369-77, viii. DOI 10.1016/j.ecl.2011.01.004.
(7.) Herrera-Gómez A. Hiperplasia suprarrenal congénita: origen de trastornos del desarrollo y diferenciación sexual. Medicas UIS. 2015;28(1):125-32.
(8.) Fardella C. Hiperplasia suprarrenal congénita. Rev Chil Pediatr. 2001;72(5):408-15. DOI 10.4067/S0370-41062001000500003.
(9.) Kit BK, Kuklina E, Carroll MD, Ostchega Y, Freedman DS, Ogden CL. Prevalence of and trends in dyslipidemia and blood pressure among US children and adolescents, 1999-2012. JAMA Pediatr. 2015 Mar;169(3):272-9. DOI 10.1001/jamapediatrics.2014.3216.
(10.) White PC, Curnow KM, Pascoe L. Disorders of steroid 11 beta-hydroxylase isozymes. Endocr Rev. 1994 Aug;15(4):421-38.
(11.) John M, Menon SK, Shah NS, Menon PS. Congenital adrenal hyperplasia 11beta-hydroxylase deficiency: two cases managed with bilateral adrenalectomy. Singapore Med J. 2009 Feb;50(2):e68-70.
(12.) National High Blood Pressure Education Program Working Group on High Blood Pressure in Children and Adolescents. The fourth report on the diagnosis, evaluation, and treatment of high blood pressure in children and adolescents. Pediatrics. 2004 Aug;114(2 Suppl 4th Report):555-76.
(13.) Ramires TosattiJ, Silva de Souza H, Tosatti. A Congenital adrenal hyperplasia due to 11-beta-hydroxylase deficiency. Arq Bras Cardiol. 2005 Dec;85(6):245-91. DOI 10.1590/S0066-782X2005001900008.
(14.) Kacem M, Moussa A, Khochtali I, Nabouli R, Morel Y, Zakhama A. Bilateral adrenalectomy for severe hypertension in congenital adrenal hyperplasia due to 11beta-hydroxylase deficiency: long term follow-up. Ann Endocrinol (Paris). 2009 Apr;70(2):113-8. DOI 10.1016/j.ando.2008.12.005.
(15.) Zieg J, Gonsorcikova L, Landau D. Current views on the diagnosis and management of hypokalaemia in children. Acta Paediatr. 2016 Jul;105(7):762-72. DOI 10.1111/apa.13398.
(16.) Rustagi VT, Khadilkar VV, Khadilkar AV. Hypokalaemic paralysis in a 15-year-old boy with 11β-hydroxylase deficiency. J Pediatr Endocrinol Metab. 2011;24(7-8):553-4.
(17.) Barrett KE, Barman SM, Boitano S, Brooks H. The Adrenal Medulla & Adrenal Cortex. In: Ganong's Review of Medical Physiology. 25th ed. United States: McGraw-Hill Education; 2016. p. 351-73.
(18.) Ben Charfeddine I, Riepe FG, Kahloul N, Kulle AE, Adala L, Mamaï O, et al. Two novel CYP11B1 mutations in congenital adrenal hyperplasia due to steroid 11β hydroxylase deficiency in a Tunisian family. Gen Comp Endocrinol. 2012 Feb;175(3):514-8. DOI 10.1016/j.ygcen.2011.12.017.
(19.) Latronico AC, Brito VN, Carel JC. Causes, diagnosis, and treatment of central precocious puberty. Lancet Diabetes Endocrinol. 2016 Mar;4(3):265-74. DOI 10.1016/S2213-8587(15)00380-0.
(20.) Cesario SK, Hughes LA. Precocious puberty: a comprehensive review of literature. J Obstet Gynecol Neonatal Nurs. 2007 May-Jun;36(3):263-74.
(21.) Curnow KM, Slutsker L, Vitek J, Cole T, Speiser PW, New MI, et al. Mutations in the CYP11B1 gene causing congenital adrenal hyperplasia and hypertension cluster in exons 6, 7, and 8. Proc Natl Acad Sci U S A. 1993 May;90(10):4552-6.
(22.) Matallana-Rhoades AM, Corredor-Castro JD, Bonilla-Escobar FJ, Bonilla-Escobar BV, Mejia de Baldejena L. Hiperplasia suprarrenal congénita por déficit de 11-Beta-hidroxilasa: Descripción de una nueva mutación, R384X. Colomb Med. 2016; 47(3):172-75.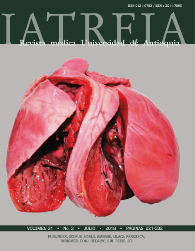 Cómo citar
1.
Ruiz-Rivera MC, Mendoza-Rojas VC. Manejo con cinco antihipertensivos en paciente con pubertad precoz. Reporte de caso. Iatreia [Internet]. 1 de julio de 2018 [citado 16 de septiembre de 2021];31(3):305-11. Disponible en: https://revistas.udea.edu.co/index.php/iatreia/article/view/327991
Sección
Presentación de casos
Los artículos publicados en la revista están disponibles para ser utilizados bajo la licencia Creative Commons, específicamente son de Reconocimiento-NoComercial-CompartirIgual 4.0 Internacional.
Los trabajos enviados deben ser inéditos y suministrados exclusivamente a la Revista; se exige al autor que envía sus contribuciones presentar los formatos: presentación de artículo y responsabilidad de autoría completamente diligenciados.