Dosis de colistina en multirresistencia: reporte de caso
Palabras clave:
Colistina, Formas de Dosificación, Pseudomonas Aeruginosa, Resistencia a Múltiples Medicamentos
Resumen
Ante la alta resistencia a los antibióticos por infecciones bacterianas multirresistentes a nivel intrahospitalario, se debe pensar en alternativas terapéuticas que requieren el uso de antibióticos potentes y dosis mayores. Presentamos el caso de un paciente de 56 años con múltiples intervenciones quirúrgicas quien había recibido manejo antibiótico previo. Al presentar deterioro clínico se aísla en hemocultivos Pseudomonas aeruginosa resistente a carbapenémicos, se inicia manejo con colistina intravenosa y doripenem, con el posterior desarrollo de una falla renal que se revierte al disminuir la dosis de colistina. Finalmente el paciente culmina el tratamiento con un ajuste de antibiótico de 10 días, con la respuesta clínica favorable.
|Resumen = 98 veces | PDF = 55 veces| HTML = 0 veces|
Descargas
La descarga de datos todavía no está disponible.
Citas
(1.) Fica A, Céspedes I, Gompertz M, Jalón M, Sakurada A, Sáez E. Colistín en infecciones nosocomiales por bacilos gramnegativos pan-resistentes. Rev Chil Infect. 2007;24(5):360-7.
(2.) Li J, Nation RL, Milne RW, Turnidge JD, Coulthard K. Evaluation of colistin as an agent against multi-resistant Gram-negative bacteria. Int J Antimicrob Agents. 2005 Jan;25(1):11-25.
(3.) Couet W, Grégoire N, Marchand S, Mimoz O. Colistin pharmacokinetics: the fog is lifting. Clin Microbiol Infect. 2012 Jan;18(1):30-9. DOI 10.1111/j.1469-0691.2011.03667.x.
(4.) Nation RL, Li J, Cars O, Couet W, Dudley MN, Kaye KS, et al. Framework for optimisation of the clinical use of colistin and polymyxin B: the Prato polymyxin consensus. Lancet Infect Dis. 2015 Feb;15(2):225-34. DOI 10.1016/S1473-3099(14)70850-3.
(5.) Ortwine JK, Kaye KS, Li J, Pogue JM. Colistin: understanding and applying recent pharmacokinetic advances. Pharmacotherapy. 2015 Jan;35(1):11-6. DOI 10.1002/phar.1484.
(6.) Couet W, Grégoire N, Gobin P, Saulnier PJ, Frasca D, Marchand S, et al. Pharmacokinetics of colistin and colistimethate sodium after a single 80-mg intravenous dose of CMS in young healthy volunteers. Clin Pharmacol Ther. 2011 Jun;89(6):875-9. DOI 10.1038/clpt.2011.48.
(7.) Landersdorfer CB, Nation RL. Colistin: how should it be dosed for the critically ill? Semin Respir Crit Care Med. 2015 Feb;36(1):126-35. DOI 10.1055/s-0034-1398390.
(8.) Nation RL, Li J, Cars O, Couet W, Dudley MN, Kaye KS, et al. Consistent global approach on reporting of colistin doses to promote safe and effective use. Clin Infect Dis. 2014 Jan;58(1):139-41. DOI 10.1093/cid/cit680.
(9.) Biswas S, Brunel JM, Dubus JC, Reynaud-Gaubert M, Rolain JM. Colistin: an update on the antibiotic of the 21st century. Expert Rev Anti Infect Ther. 2012 Aug;10(8):917-34. DOI 10.1586/eri.12.78.
(10.) Falagas ME, Kasiakou SK, Tsiodras S, Michalopoulos A. The use of intravenous and aerosolized polymyxins for the treatment of infections in critically ill patients: a review of the recent literature. Clin Med Res. 2006 Jun;4(2):138-46.
(11.) Nation RL, Garonzik SM, Li J, Thamlikitkul V, Giamarellos-Bourboulis EJ, Paterson DL, et al. Updated US and European Dose Recommendations for Intravenous Colistin: How Do They Perform? Clin Infect Dis. 2016 Mar;62(5):552-558. DOI 10.1093/cid/civ964.
(12.) Karaiskos I, Friberg LE, Galani L, Ioannidis K, Katsouda E, Athanassa Z, et al.Challenge for higher colistin dosage in critically ill patients receiving continuous venovenous haemodiafiltration. Int J Antimicrob Agents. 2016 Sep;48(3):337-41. DOI 10.1016/j.ijantimicag.2016.06.008.
(13.) Gibson GA, Bauer SR, Neuner EA, Bass SN, Lam SW. Influence of Colistin Dose on Global Cure in Patients with Bacteremia Due to Carbapenem-Resistant Gram-Negative Bacilli. Antimicrob Agents Chemother. 2015 Nov 2;60(1):431-6. DOI 10.1128/AAC.01414-15.
(14.) Benattar YD, Omar M, Zusman O, Yahav D, Zak-Doron Y, Altunin S, et al. The Effectiveness and Safety of High-Dose Colistin: Prospective Cohort Study. Clin Infect Dis. 2016 Dec;63(12):1605-12.
(15.) Omrani AS, Alfahad WA, Shoukri MM, Baadani AM, Aldalbahi S, Almitwazi AA, et al. High dose intravenous colistin methanesulfonate therapy is associated with high rates of nephrotoxicity; a prospective cohort study from Saudi Arabia. Ann Clin Microbiol Antimicrob. 2015 Jan;14:3. DOI 10.1186/s12941-015-0062-8.
(16.) Sorlí L, Luque S, Segura C, Campillo N, Montero M, Esteve E, et al. Impact of colistin plasma levels on the clinical outcome of patients with infections caused by extremely drug-resistant Pseudomonas aeruginosa. BMC Infect Dis. 2017 Jan;17(1):11. DOI 10.1186/s12879-016-2117-7.
(17.) Vicari G, Bauer SR, Neuner EA, Lam SW. Association between colistin dose and microbiologic outcomes in patients with multidrug-resistant gram-negative bacteremia. Clin Infect Dis. 2013 Feb;56(3):398-404. DOI 10.1093/cid/cis909.
(18.) Tigen ET, Koltka EN, Dogru A, Gura M, Vahabaoglu H. The risk factors of colistin methanesulfonate associated nephrotoxicity. Indian J Crit Care Med. 2016 Jun;20(6):353-6. DOI 10.4103/0972-5229.183905.
(19.) Sorlí L, Luque S, Grau S, Berenguer N, Segura C, Montero MM, et al. Trough colistin plasma level is an independent risk factor for nephrotoxicity: a prospective observational cohort study. BMC Infect Dis. 2013 Aug;13:380. DOI 10.1186/1471-2334-13-380.
(20.) Yamada T, Ishiguro N, Oku K, Higuchi I, Nakagawa I, Noguchi A, et al. Successful Colistin Treatment of Multidrug-Resistant Pseudomonas aeruginosa Infection Using a Rapid Method for Determination of Colistin in Plasma: Usefulness of Therapeutic Drug Monitoring. Biol Pharm Bull. 2015;38(9):1430-3. DOI 10.1248/bpb.b15-00323.
(21.) Binh NG, Hayakawa K, Co DX, Tuan ND, Anh NH, Thuy NT, et al. The efficacy and nephrotoxicity associated with colistin use in an intensive care unit in Vietnam: Use of colistin in a population of lower body weight. Int J Infect Dis. 2015 Jun;35:18-23. DOI 10.1016/j.ijid.2015.03.020.
(22.) Durante-Mangoni E, Andini R, Signoriello S, Cavezza G, Murino P, Buono S, et al. Acute kidney injury during colistin therapy: a prospective study in patients with extensively-drug resistant Acinetobacter baumannii infections. Clin Microbiol Infect. 2016 Dec;22(12):984-9. DOI 10.1016/j.cmi.2016.08.004.
(23.) Palavecino CM. Toxicidad antibacterianos: farmacocinética-farmacodinamia: prevención y manejo. Rev Méd Clín Las Condes. 2014 May;25(3):445-56. DOI 10.1016/S0716-8640(14)70061-6.
(24.) Yousef JM, Chen G, Hill PA, Nation RL, Li J. Ascorbic acid protects against the nephrotoxicity and apoptosis caused by colistin and affects its pharmacokinetics. J Antimicrob Chemother. 2012 Feb;67(2):452-9. DOI 10.1093/jac/dkr483.
(25.) Institute of Medicine, Food and Nutrition Board, Standing Committee on the Scientific Evaluation of Dietary Reference Intakes, Subcommittee on Interpretation and Uses of DRIs, Subcommittee on Upper Reference Levels of Nutrients, Panel on Dietary Antioxidants and Related Compounds. Dietary Reference Intakes for Vitamin C, Vitamin E, Selenium and Carotenoids. Washington, DC: National Academy Press (US); 2000.
(26.) Dalfino L, Puntillo F, Ondok MJ, Mosca A, Monno R, Coppolecchia S, et al. Colistin-associated Acute Kidney Injury in Severely Ill Patients: A Step Toward a Better Renal Care? A Prospective Cohort Study. Clin Infect Dis. 2015 Dec;61(12):1771-7. DOI 10.1093/cid/civ717.
(27.) Martis N, Leroy S, Blanc V. Colistin in multi-drug resistant Pseudomonas aeruginosa blood-stream infections: a narrative review for the clinician. J Infect. 2014 Jul;69(1):1-12. DOI 10.1016/j.jinf.2014.03.001.
(28.) Bergen PJ, Forrest A, Bulitta JB, Tsuji BT, Sidjabat HE, Paterson DL, et al. Clinically relevant plasma concentrations of colistin in combination with imipenem enhance pharmacodynamic activity against multidrug-resistant Pseudomonas aeruginosa at multiple inocula. Antimicrob Agents Chemother. 2011 Nov;55(11):5134-42. DOI 10.1128/AAC.05028-11.
(29.) Çetin ÇB, Özer Türk D, Şenol Ş, Dinç Horasan G, Tünger Ö. Colistin efficacy in the treatment of multidrug-resistant and extremelydrug-resistant gramnegative bacterial infections. Turk J Med Sci. 2016 Nov;46(5):1379-1384. DOI 10.3906/sag-1506-125.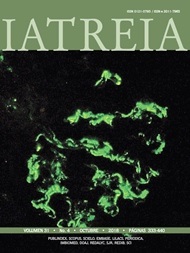 Cómo citar
1.
García-Casallas JC, Arias-Villate SC. Dosis de colistina en multirresistencia: reporte de caso. Iatreia [Internet]. 1 de octubre de 2018 [citado 26 de septiembre de 2021];31(4):412-8. Disponible en: https://revistas.udea.edu.co/index.php/iatreia/article/view/329048
Sección
Presentación de casos
Los artículos publicados en la revista están disponibles para ser utilizados bajo la licencia Creative Commons, específicamente son de Reconocimiento-NoComercial-CompartirIgual 4.0 Internacional.
Los trabajos enviados deben ser inéditos y suministrados exclusivamente a la Revista; se exige al autor que envía sus contribuciones presentar los formatos: presentación de artículo y responsabilidad de autoría completamente diligenciados.