Inmunopatología del dengue: importancia y participación de los monocitos y sus subpoblaciones
Palabras clave:
Dengue, Dengue Grave, Monocitos
Resumen

El dengue es una infección viral aguda transmitida por la picadura de mosquitos del género Aedes, la cual produce hasta 100 millones de infecciones anuales en el mundo. Una gran proporción de individuos infectados con el virus presentan infecciones asintomáticas. Sin embargo, de los individuos que desarrollan la enfermedad, el 95 % presentan signos y síntomas similares a una virosis común, que por lo general se autoresuelven (dengue con y sin signos de alarma). El 5 % restante puede evolucionar a manifestaciones graves, caracterizadas por hemorragias, daño orgánico, choque hipovolémico e incluso la muerte (dengue grave). Los monocitos son uno de los blancos principales de la infección producida por el virus del dengue (DENV), los cuales participan en la replicación del mismo y en la producción de una gran variedad de citoquinas que contribuyen con el daño de diferentes tejidos y órganos en respuesta a la infección. Los monocitos se dividen en tres subpoblaciones: clásica (CD14++CD16-), no clásica (CD14+CD16++) e intermedia (CD14++CD16+), las cuales poseen respuestas funcionales contrastantes en diferentes procesos inflamatorios, en cuanto a la producción de mediadores solubles e interacción con el endotelio. Los monocitos no clásicos parecen ser los principales productores de mediadores inflamatorios como el TNF-a y la IL-1 b en respuesta a la infección por DENV. Por lo tanto, se propone que cada subpoblación de monocitos debe tener un papel diferencial en la inmunopatología de la enfermedad. En esta revisión se recopilan los principales aspectos de la replicación viral y la inmunopatología del dengue, así como los principales hallazgos referentes al papel de los monocitos en esta infección y además, se propone un papel potencial y diferencial de las subpoblaciones de monocitos.
|Resumen = 227 veces | PDF = 211 veces| | HTML = 146 veces|
Descargas
Los datos de descargas todavía no están disponibles.
Citas
(1.) Manning AK, Hivert MF, Scott RA, Grimsby JL, Bouatia- Naji N, Chen H, et al. A genome-wide approach accounting for body mass index identifies genetic variants influencing fasting glycemic traits and insulin resistance. Nat Genet. 2012 May;44(6):659-69. DOI 10.1038/ng.2274.
(2.) Halstead SB. Dengue. Lancet. 2007 Nov;370(9599):1644-52.
(3.) Martina BE, Koraka P, Osterhaus AD. Dengue virus pathogenesis: an integrated view. Clin Microbiol Rev. 2009 Oct;22(4):564-81. DOI 10.1128/CMR.00035-09.
(4.) Mustafa MS, Rasotgi V, Jain S, Gupta V. Discovery of fifth serotype of dengue virus (DENV-5): A new public health dilemma in dengue control. Med J Armed Forces India. 2015 Jan;71(1):67-70. DOI 10.1016/j.mjafi.2014.09.011.
(5.) World Health Organization, Special Programme for Research and Training in Tropical Diseases. Dengue: Guidelines for Diagnosis, Treatment, Prevention and Control: New Edition [Internet]. WHO: Geneva; 2009. Available from: https://apps.who.int/iris/bitstream/handle/10665/44188/9789241547871_eng.pdf;jsessionid=79F41776AED688B322813DBD0A37024B?sequence=1
(6.) Gould EA, Solomon T. Pathogenic flaviviruses. Lancet. 2008 Feb;371(9611):500-9. DOI 10.1016/S0140-6736(08)60238-X.
(7.) Guzman MG, Halstead SB, Artsob H, Buchy P, Farrar J, Gubler DJ, et al. Dengue: a continuing global threat. Nat Rev Microbiol. 2010 Dec;8(12 Suppl):S7-16. DOI 10.1038/nrmicro2460.
(8.) Bhatt S, Gething PW, Brady OJ, Messina JP, Farlow AW, Moyes CL, et al. The global distribution and burden of dengue. Nature. 2013 Apr;496(7446):504-7. DOI 10.1038/nature12060.
(9.) Guzman MG, Harris E. Dengue. Lancet. 2015 Jan;385(9966):453-65. DOI 10.1016/S0140-6736(14)60572-9.
(10.) Shepard DS, Undurraga EA, Halasa YA. Economic and disease burden of dengue in Southeast Asia. PLoS Negl Trop Dis. 2013;7(2):e2055. DOI 10.1371/journal.pntd.0002055.
(11.) Boletin Epidemiologico semanal. Instituto Nacional de Salud; 2017:1-30. https://www.ins.gov.co/buscador-eventos/BoletinEpidemiologico/2017%20Bolet%C3%ADn%20epidemiol%C3%B3gico%20semana%2052.pdf.
(12.) Diamond MS, Pierson TC. Molecular Insight into Dengue Virus Pathogenesis and Its Implications for Disease Control. Cell. 2015 Jul;162(3):488-92. DOI 10.1016/j.cell.2015.07.005.
(13.) Rodenhuis-Zybert IA, Wilschut J, Smit JM. Dengue virus life cycle: viral and host factors modulating infectivity. Cell Mol Life Sci. 2010 Aug;67(16):2773-86. DOI 10.1007/s00018-010-0357-z.
(14.) Screaton G, Mongkolsapaya J, Yacoub S, Roberts C. New insights into the immunopathology and control of dengue virus infection. Nat Rev Immunol. 2015 Dec;15(12):745-59. DOI 10.1038/nri3916.
(15.) St John AL, Abraham SN, Gubler DJ. Barriers to preclinical investigations of anti-dengue immunity and dengue pathogenesis. Nat Rev Microbiol. 2013 Jun;11(6):420-6. DOI 10.1038/nrmicro3030.
(16.) Cruz-Oliveira C, Freire JM, Conceição TM, Higa LM, Castanho A, Da Poian AT. Receptors and routes of dengue virus entry into the host cells. FEMS Microbiol Rev. 2015 Mar;39(2):155-70. DOI 10.1093/femsre/fuu004.
(17.) Guzman MG, Alvarez M, Halstead SB. Secondary infection as a risk factor for dengue hemorrhagic fever/dengue shock syndrome: an historical perspective and role of antibody-dependent enhancement of infection. Arch Virol. 2013 Jul;158(7):1445-59. DOI 10.1007/s00705-013-1645-3.
(18.) Modis Y, Ogata S, Clements D, Harrison SC. Structure of the dengue virus envelope protein after membrane fusion. Nature. 2004 Jan;427(6972):313-9.
(19.) Modis Y. Relating structure to evolution in class II viral membrane fusion proteins. Curr Opin Virol. 2014 Apr;5:34-41. DOI 10.1016/j.coviro.2014.01.009.
(20.) Fernandez-Garcia MD, Mazzon M, Jacobs M, Amara A. Pathogenesis of flavivirus infections: using and abusing the host cell. Cell Host Microbe. 2009 Apr;5(4):318-28. DOI 10.1016/j.chom.2009.04.001.
(21.) Mangada MM, Endy TP, Nisalak A, Chunsuttiwat S, Vaughn DW, Libraty DH, et al. Dengue-specific T cell responses in peripheral blood mononuclear cells obtained prior to secondary dengue virus infections in Thai schoolchildren. J Infect Dis. 2002 Jun;185(12):1697-703.
(22.) Zmurko J, Neyts J, Dallmeier K. Flaviviral NS4b, chameleon and jack-in-the-box roles in viral replication and pathogenesis, and a molecular target for antiviral intervention. Rev Med Virol. 2015 Jul;25(4):205-23. DOI 10.1002/rmv.1835.
(23.) Bressanelli S, Stiasny K, Allison SL, Stura EA, Duquerroy S, Lescar J, et al. Structure of a flavivirus envelope glycoprotein in its low-pH-induced membrane fusion conformation. EMBO J. 2004 Feb;23(4):728-38.
(24.) Sampath A, Padmanabhan R. Molecular targets for flavivirus drug discovery. Antiviral Res. 2009 Jan;81(1):6-15. DOI 10.1016/j.antiviral.2008.08.004.
(25.) Ackermann M, Padmanabhan R. De novo synthesis of RNA by the dengue virus RNA-dependent RNA polymerase exhibits temperature dependence at the initiation but not elongation phase. J Biol Chem. 2001 Oct;276(43):39926-37.
(26.) Egloff MP, Benarroch D, Selisko B, Romette JL, Canard B. An RNA cap (nucleoside-2'-O-)-methyltransferase in the flavivirus RNA polymerase NS5: crystal structure and functional characterization. EMBO J. 2002 Jun;21(11):2757-68.
(27.) Guyatt KJ, Westaway EG, Khromykh AA. Expression and purification of enzymatically active recombinant RNA-dependent RNA polymerase (NS5) of the flavivirus Kunjin. J Virol Methods. 2001 Mar;92(1):37-44.
(28.) Modhiran N, Watterson D, Muller DA, Panetta AK, Sester DP, Liu L, et al. Dengue virus NS1 protein activates cells via Toll-like receptor 4 and disrupts endothelial cell monolayer integrity. Sci Transl Med. 2015 Sep;7(304):304ra142. DOI 10.1126/scitranslmed.aaa3863.
(29.) Wu SJ, Grouard-Vogel G, Sun W, Mascola JR, Brachtel E, Putvatana R, et al. Human skin Langerhans cells are targets of dengue virus infection. Nat Med. 2000 Jul;6(7):816-20.
(30.) St John AL, Rathore AP, Yap H, Ng ML, Metcalfe DD, Vasudevan SG, et al. Immune surveillance by mast cells during dengue infection promotes natural killer (NK) and NKT-cell recruitment and viral clearance. Proc Natl Acad Sci U S A. 2011 May;108(22):9190-5. DOI 10.1073/pnas.1105079108.
(31.) Tassaneetrithep B, Burgess TH, Granelli-Piperno A, Trumpfheller C, Finke J, Sun W, et al. DC-SIGN (CD209) mediates dengue virus infection of human dendritic cells. J Exp Med. 2003 Apr;197(7):823-9.
(32.) Miller JL, de Wet BJ, Martinez-Pomares L, Radcliffe CM, Dwek RA, Rudd PM, et al. The mannose receptor mediates dengue virus infection of macrophages. PLoS Pathog. 2008 Feb;4(2):e17. DOI 10.1371/journal.ppat.0040017.
(33.) Schmid MA, Harris E. Monocyte recruitment to the dermis and differentiation to dendritic cells increases the targets for dengue virus replication. PLoS Pathog. 2014 Dec;10(12):e1004541. DOI 10.1371/journal.ppat.1004541.
(34.) Lin YW, Wang KJ, Lei HY, Lin YS, Yeh TM, Liu HS, et al. Virus replication and cytokine production in dengue virus-infected human B lymphocytes. J Virol. 2002 Dec;76(23):12242-9.
(35.) Jessie K, Fong MY, Devi S, Lam SK, Wong KT. Localization of dengue virus in naturally infected human tissues, by immunohistochemistry and in situ hybridization. J Infect Dis. 2004 Apr 15;189(8):1411-8.
(36.) Arévalo MT, Simpson-Haidaris PJ, Kou Z, Schlesinger JJ, Jin X. Primary human endothelial cells support direct but not antibody-dependent enhancement of dengue viral infection. J Med Virol. 2009 Mar;81(3):519-28. DOI 10.1002/jmv.21408.
(37.) Blackley S, Kou Z, Chen H, Quinn M, Rose RC, Schlesinger JJ, et al. Primary human splenic macrophages, but not T or B cells, are the principal target cells for dengue virus infection in vitro. J Virol. 2007 Dec;81(24):13325-34.
(38.) de Macedo FC, Nicol AF, Cooper LD, Yearsley M, Pires AR, Nuovo GJ. Histologic, viral, and molecular correlates of dengue fever infection of the liver using highly sensitive immunohistochemistry. Diagn Mol Pathol. 2006 Dec;15(4):223-8.
(39.) Tsai YT, Chang SY, Lee CN, Kao CL. Human TLR3 recognizes dengue virus and modulates viral replication in vitro. Cell Microbiol. 2009 Apr;11(4):604-15. DOI 10.1111/j.1462-5822.2008.01277.x.
(40.) Castillo Ramirez JA, Urcuqui-Inchima S. Dengue Virus Control of Type I IFN Responses: A History of Manipulation and Control. J Interferon Cytokine Res. 2015 Jun;35(6):421-30. DOI 10.1089/jir.2014.0129.
(41.) Perdomo-Celis F, Salgado DM, Narváez CF. Selective dysfunction of subsets of peripheral blood mononuclear cells during pediatric dengue and its relationship with clinical outcome. Virology. 2017 Jul;507:11-19. DOI 10.1016/j.virol.2017.04.004.
(42.) Starnes T, Robertson MJ, Sledge G, Kelich S, Nakshatri H, Broxmeyer HE, et al. Cutting edge: IL-17F, a novel cytokine selectively expressed in activated T cells and monocytes, regulates angiogenesis and endothelial cell cytokine production. J Immunol. 2001 Oct;167(8):4137-40.
(43.) Moi ML, Takasaki T, Saijo M, Kurane I. Dengue virus infection-enhancing activity of undiluted sera obtained from patients with secondary dengue virus infection. Trans R Soc Trop Med Hyg. 2013 Jan;107(1):51-8. DOI 10.1093/trstmh/trs007.
(44.) Balsitis SJ, Williams KL, Lachica R, Flores D, Kyle JL, Mehlhop E, et al. Lethal antibody enhancement of dengue disease in mice is prevented by Fc modification. PLoS Pathog. 2010 Feb;6(2):e1000790. DOI 10.1371/journal.ppat.1000790.
(45.) Hatch S, Endy TP, Thomas S, Mathew A, Potts J, Pazoles P, et al. Intracellular cytokine production by dengue virus-specific T cells correlates with subclinical secondary infection. J Infect Dis. 2011 May;203(9):1282-91. DOI 10.1093/infdis/jir012.
(46.) Rathakrishnan A, Wang SM, Hu Y, Khan AM, Ponnampalavanar S, Lum LC, et al. Cytokine expression profile of dengue patients at different phases of illness. PLoS One. 2012;7(12):e52215. DOI 10.1371/journal.pone.0052215.
(47.) Cruz Hernández SI, Puerta-Guardo HN, Flores Aguilar H, González Mateos S,López Martinez I, Ortiz-Navarrete V, et al. Primary dengue virus infections induce differential cytokine production in Mexican patients. Mem Inst Oswaldo Cruz. 2016 Mar;111(3):161-7. DOI 10.1590/0074-02760150359.
(48.) Espada-Murao LA, Morita K. Dengue and soluble mediators of the innate immune system. Trop Med Health. 2011 Dec;39(4 Suppl):53-62. DOI 10.2149/tmh.2011-S06.
(49.) Atrasheuskaya A, Petzelbauer P, Fredeking TM, Ignatyev G. Anti-NF antibody treatment reduces mortality in experimental dengue virus infection. FEMS Immunol Med Microbiol. 2003 Jan;35(1):33-42.
(50.) Dewi BE, Takasaki T, Kurane I. Peripheral blood mononuclear cells increase the permeability of dengue virus-infected endothelial cells in association with downregulation of vascular endothelial cadherin. J Gen Virol. 2008 Mar;89(Pt 3):642-52. DOI 10.1099/vir.0.83356-0.
(51.) Appanna R, Wang SM, Ponnampalavanar SA, Lum LC, Sekaran SD. Cytokine factors present in dengue patient sera induces alterations of junctional proteins in human endothelial cells. Am J Trop Med Hyg. 2012 Nov;87(5):936-42. DOI 10.4269/ajtmh.2012.11-0606.
(52.) Jeewandara C, Gomes L, Wickramasinghe N, Gutowska-Owsiak D, Waithe D, Paranavitane SA, et al. Platelet activating factor contributes to vascular leak in acute dengue infection. PLoS Negl Trop Dis. 2015 Feb;9(2):e0003459. DOI 10.1371/journal.pntd.0003459.
(53.) Souza DG, Fagundes CT, Sousa LP, Amaral FA, Souza RS, Souza AL, et al. Essential role of platelet-activating factor receptor in the pathogenesis of Dengue virus infection. Proc Natl Acad Sci U S A. 2009 Aug;106(33):14138-43. DOI 10.1073/pnas.0906467106.
(54.) Malavige GN, Ogg GS. Pathogenesis of vascular leak in dengue virus infection. Immunology. 2017 Jul;151(3):261-9. DOI 10.1111/imm.12748.
(55.) Vervaeke P, Vermeire K, Liekens S. Endothelial dysfunction in dengue virus pathology. Rev Med Virol. 2015 Jan;25(1):50-67. DOI 10.1002/rmv.1818.
(56. Ginhoux F, Jung S. Monocytes and macrophages: developmental pathways and tissue homeostasis. Nat Rev Immunol. 2014 Jun;14(6):392-404. DOI 10.1038/nri3671.
(57.) Auffray C, Sieweke MH, Geissmann F. Blood monocytes: development, heterogeneity, and relationship with dendritic cells. Annu Rev Immunol. 2009;27:669-92. DOI 10.1146/annurev.immunol.021908.132557.
(58.) Auffray C, Fogg D, Garfa M, Elain G, Join-Lambert O, Kayal S, et al. Monitoring of blood vessels and tissues by a population of monocytes with patrolling behavior. Science. 2007 Aug;317(5838):666-70.
(59.) Strauss-Ayali D, Conrad SM, Mosser DM. Monocyte subpopulations and their differentiation patterns during infection. J Leukoc Biol. 2007 Aug;82(2):244-52.
(60.) Kou Z, Quinn M, Chen H, Rodrigo WW, Rose RC, Schlesinger JJ, et al. Monocytes, but not T or B cells, are the principal target cells for dengue virus (DV) infection among human peripheral blood mononuclear cells. J Med Virol. 2008 Jan;80(1):134-46.
(61.) Durbin AP, Vargas MJ, Wanionek K, Hammond SN, Gordon A, Rocha C, et al. Phenotyping of peripheral blood mononuclear cells during acute dengue illness demonstrates infection and increased activation of monocytes in severe cases compared to classic dengue fever. Virology. 2008 Jul;376(2):429-35. DOI 10.1016/j.virol.2008.03.028.
(62.) Neves-Souza PC, Azeredo EL, Zagne SM, Valls-de-Souza R, Reis SR, Cerqueira DI, et al. Inducible nitric oxide synthase (iNOS) expression in monocytes during acute Dengue Fever in patients and during in vitro infection. BMC Infect Dis. 2005 Aug;5:64.
(63.) Perdomo-Celis F, Salgado DM, Narváez CF. Magnitude of viremia, antigenemia and infection of circulating monocytes in children with mild and severe dengue. Acta Trop. 2017 Mar;167:1-8. DOI 10.1016/j.actatropica.2016.12.011.
(64.) Kwissa M, Nakaya HI, Onlamoon N, Wrammert J, Villinger F, Perng GC, et al. Dengue virus infection induces expansion of a CD14(+)CD16(+) monocyte population that stimulates plasmablast differentiation. Cell Host Microbe. 2014 Jul;16(1):115-27. DOI 10.1016/j.chom.2014.06.001.
(65.) Espina LM, Valero NJ, Hernández JM, Mosquera JA. Increased apoptosis and expression of tumor necrosis factor-alpha caused by infection of cultured human monocytes with dengue virus. Am J Trop Med Hyg. 2003 Jan;68(1):48-53.
(66.) Bosch I, Xhaja K, Estevez L, Raines G, Melichar H, Warke RV, et al. Increased production of interleukin-8 in primary human monocytes and in human epithelial and endothelial cell lines after dengue virus challenge. J Virol. 2002 Jun;76(11):5588-97.
(67.) Perdomo-Celis F, Romero F, Salgado DM, Vega R, Rodríguez J, Angel J, et al. Identification and Characterization at the Single-Cell Level of Cytokine-Producing Circulating Cells in Children With Dengue. J Infect Dis. 2018 Apr;217(9):1472-80. DOI 10.1093/infdis/jiy053.
(68.) Chunhakan S, Butthep P, Yoksan S, Tangnararatchakit K, Chuansumrit A. Vascular leakage in dengue hemorrhagic Fever is associated with dengue infected monocytes, monocyte activation/exhaustion, and cytokines production. Int J Vasc Med. 2015;2015:917143. DOI 10.1155/2015/917143.
(69.) Azeredo EL, Neves-Souza PC, Alvarenga AR, Reis SR, Torrentes-Carvalho A, Zagne SM, et al. Differential regulation of toll-like receptor-2, toll-like receptor-4, CD16 and human leucocyte antigen-DR on peripheral blood monocytes during mild and severe dengue fever. Immunology. 2010 Jun;130(2):202-16. DOI 10.1111/j.1365- 567.2009.03224.x.
(70.) Kelley JF, Kaufusi PH, Nerurkar VR. Dengue hemorrhagic fever-associated immunomediators induced via maturation of dengue virus nonstructural 4B protein in monocytes modulate endothelial cell adhesion molecules and human microvascular endothelial cells permeability. Virology. 2012 Jan;422(2):326-37. DOI 10.1016/j.virol.2011.10.030.
(71.) Lee YR, Liu MT, Lei HY, Liu CC, Wu JM, Tung YC, et al. MCP-1, a highly expressed chemokine in dengue haemorrhagic fever/dengue shock syndrome patients, may cause permeability change, possibly through reduced tight junctions of vascular endothelium cells. J Gen Virol. 2006 Dec;87(Pt 12):3623-30.
(72.) Yona S, Jung S. Monocytes: subsets, origins, fates and functions. Curr Opin Hematol. 2010 Jan;17(1):53-9. DOI 10.1097/MOH.0b013e3283324f80.
(73.) Ziegler-Heitbrock L, Hofer TP. Toward a refined definition of monocyte subsets. Front Immunol. 2013 Feb;4:23. DOi 10.3389/fimmu.2013.00023.
(74.) Wong KL, Tai JJ, Wong WC, Han H, Sem X, Yeap WH, et al. Gene expression profiling reveals the defining features of the classical, intermediate, and nonclassical human monocyte subsets. Blood. 2011 Aug;118(5):e16-31. DOI 10.1182/blood-2010-12-326355.
(75.) Boyette LB, Macedo C, Hadi K, Elinoff BD, Walters JT, Ramaswami B, et al. Phenotype, function, and differentiation potential of human monocyte subsets. PLoS One. 2017 Apr;12(4):e0176460. DOI 10.1371/journal.pone.0176460.
(76.) Atehortúa L, Rojas M, Vásquez GM, Castaño D. Endothelial Alterations in Systemic Lupus Erythematosus and Rheumatoid Arthritis: Potential Effect of Monocyte Interaction. Mediators Inflamm. 2017;2017:9680729. DOI 10.1155/2017/9680729.
(77.) Wong KL, Chen W, Balakrishnan T, Toh YX, Fink K, Wong SC. Susceptibility and response of human blood monocyte subsets to primary dengue virus infection. PLoS One. 2012;7(5):e36435. DOI 10.1371/journal.pone.0036435.
(78.) Cros J, Cagnard N, Woollard K, Patey N, Zhang SY, Senechal B, et al. Human CD14dim monocytes patrol and sense nucleic acids and viruses via TLR7 and TLR8 receptors. Immunity. 2010 Sep;33(3):375-86. DOI 10.1016/j.immuni.2010.08.012.
(79.) Naranjo-Gomez JS, Castillo JA, Rojas M, Restrepo BN, Diaz FJ, Velilla PA, et al. Different phenotypes of non-classical monocytes associated with systemic inflammation, endothelial alteration and hepatic compromise in patients with dengue. Immunology. 2019 Feb;156(2):147-63. DOI 10.1111/imm.13011.
(80.) Fialho LG, Torrentes-Carvalho A, Cunha RV, Faria N, Gandini M, Cipitelli M, et al. Induced nitric oxide synthase (iNOS) and indoleamine 2,3-dioxygenase (IDO) detection in circulating monocyte subsets from Brazilian patients with Dengue-4 virus. Virology Reports. 2017 Jun;7:9-19. DOI 10.1016/j.virep. 2017.02.001.
(81.) Wrammert J, Onlamoon N, Akondy RS, Perng GC, Polsrila K, Chandele A, et al. Rapid and massive virus-specific plasmablast responses during acute dengue virus infection in humans. J Virol. 2012 Mar;86(6):2911-8. DOI 10.1128/JVI.06075-11.
(82.) Chen P, Su B, Zhang T, Zhu X, Xia W, Fu Y, et al. Perturbations of Monocyte Subsets and Their Association with T Helper Cell Differentiation in Acute and Chronic HIV-1-Infected Patients. Front Immunol. 2017 Mar;8:272. DOI 10.3389/fimmu.2017.00272.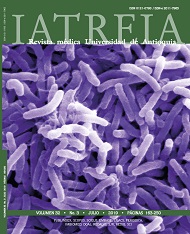 Cómo citar
1.
Naranjo-Gómez JS, Castillo-Ramírez JA, Velilla-Hernández PA, Castaño-Monsalve DM. Inmunopatología del dengue: importancia y participación de los monocitos y sus subpoblaciones. Iatreia [Internet]. 2 de julio de 2019 [citado 11 de agosto de 2022];32(3):204-16. Disponible en: https://revistas.udea.edu.co/index.php/iatreia/article/view/330999
Sección
Artículos de revisión
Licencia
Los artículos publicados en la revista están disponibles para ser utilizados bajo la licencia Creative Commons, específicamente son de Reconocimiento-NoComercial-CompartirIgual 4.0 Internacional.
Los trabajos enviados deben ser inéditos y suministrados exclusivamente a la Revista; se exige al autor que envía sus contribuciones presentar los formatos: presentación de artículo y responsabilidad de autoría completamente diligenciados.