Tratamiento médico exitoso de una osteomielitis multifocal neonatal producida por la bacteria Staphylococcus aureus meticilina resistente (SAMR).
Revisión de caso
Palabras clave:
Fracturas Óseas, Osteomielitis, Recién Nacido
Resumen
La osteomielitis (OM) en el periodo neonatal es una condición rara y trascendental. Su incidencia estimada corresponde al 0,1 de casos por cada 100 admisiones hospitalarias. El subdiagnóstico es frecuente dada la presentación paucisintomática de este grupo etario, que lleva a demoras en el inicio del tratamiento y puedeconducir a secuelas permanentes. Presentamos un caso de osteomielitis multifocal con fracturas asociadas, causada por la bacteria Staphylococcus aureus meticilina resistente (SAMR), secundaria a una infección asociada a catéter en un neonato nacido a las 37 semanas de gestación, con antecedente de asfixia perinatal y encefalopatía hipóxica isquémica. El caso debutó con sepsis, edema y artritis, pero el diagnóstico fue confirmado con ultrasonografía y radiografías que evidenciaron múltiples fracturas patológicas. Al no ser candidat o para el manejo quirúrgico, se concertó una adecuación del esfuerzo terapéutico dirigiendo el manejo a la terapia antibiótica de amplio espectro y al control del dolor con adecuada respuesta clínica.
|Resumen = 138 veces | PDF = 136 veces| HTML = 7 veces|
Descargas
La descarga de datos todavía no está disponible.
Citas
(1) Okubo Y, Nochioka K, Testa M. Nationwide survey of pediatric acute osteomyelitis in the USA. J Pediatr Orthop B. 2017;26(6):501-6. DOI 10.1097/BPB.0000000000000441.
(2) Agarwal A, Aggarwal AN. Bone and Joint Infections in Children: Acute Hematogenous Osteomyelitis. Indian J Pediatr. 2016;83(8):817-24. DOI 10.1007/s12098-015-1806-3.
(3) Sheikh HQ, Aqil A, Kirby A, Hossain FS. Panton-Valentine leukocidin osteomyelitis in children: a growing threat. Br J Hosp Med (Lond). 2015;76(1):18-24. DOI 10.12968/hmed.2015.76.1.18.
(4) Niemann S, Bertling A, Brodde MF, Fender AC, Van de Vyver H, Hussain M, et al. Panton-Valentine Leukocidin associated with S. aureus osteomyelitis activates platelets via neutrophil secretion products. Sci Rep. 2018;8(1):2185. DOI 10.1038/s41598-018-20582-z.
(5) Iliadis AD, Ramachandran M. Paediatric bone and joint infection. EFORT Open Rev. 2017;2(1):7-12. DOI 10.1302/2058-5241.2.160027.
(6) Zhan C, Zhou B, Du J, Chen L. Clinical analysis of 17 cases of neonatal osteomyelitis: A retrospective study. Medicine (Baltimore). 2019;98(2):e14129. DOI 10.1097/MD.0000000000014129.
(7) Decembrino L, Decembrino N, Stronati M. Neonatal Osteomyelitis. En: Barría RM, editor. Selected Topics in Neonatal Care [Internet]. [Citado 2019 Sep 22]. Disponible en: https://bit.ly/2Xxou95
(8) Ilharreborde B. Sequelae of pediatric osteoarticular infection. Orthop Traumatol Surg Res. 2015;101(1):S129-37. DOI 10.1016/j.otsr.2014.07.029.
(9) Wu X, Xia J, Li J, Sun J, Shen X. Distal femoral physeal fractures after neonatal osteomyelitis: A case report. Medicine (Baltimore). 2019;98(18):e15396. DOI 10.1097/MD.0000000000015396.
(10) Saavedra-Lozano J, Falup-Pecurariu O, Faust SN, Girschick H, Hartwig N, Kaplan S, et al. Bone and Joint Infections. Pediatr Infect Dis J. 2017;36(8):788-99. DOI 10.1097/INF.0000000000001635.
(11) Brischetto A, Leung G, Marshall CS, Bowen AC. A Retrospective Case-Series of Children with Bone and Joint Infection From Northern Australia: Medicine (Baltimore). 2016;95(8):e2885. DOI 10.1097/MD.0000000000002885.
(12) Peltola H, Pääkkönen M. Acute Osteomyelitis in Children. N Engl J Med. 2014;370(4):352-60. DOI 10.1056/NEJMra1213956.
(13) Cherry JD, Demmler-Harrison G, Kaplan S, Steinbach W, Hotez P. Feigin and Cherry's textbook of pediatric infectious diseases. 8 ed. España: Elsevier, 2017.
(14) Arnold JC, Bradley JS. Osteoarticular Infections in Children. Infect Dis Clin North Am. 2015;29(3):557-74. DOI 10.1016/j.idc.2015.05.012.
(15) Le Saux N. Diagnosis and management of acute osteoarticular infections in children. Paediatr Child Health. 2018;23(5):336-43. DOI 10.1093/pch/pxy049.
(16) Castellazzi L, Mantero M, Esposito S. Update on the Management of Pediatric Acute Osteomyelitis and Septic Arthritis. Int J Mol Sci. 2016;17(6):855. DOI 10.3390/ijms17060855.
(17) Keren R, Shah SS, Srivastava R, Rangel S, Bendel-Stenzel M, Harik N, et al. Comparative Effectiveness of Intravenous vs Oral Antibiotics for Postdischarge Treatment of Acute Osteomyelitis in Children. JAMA Pediatr. 2015;169(2):120-8. DOI 10.1001/jamapediatrics.2014.2822.
(18) Medisch Spectrum Twente, Mp S. Multifocal Osteomyelitis in a Neonate, an Overview of Diagnosis and Treatment. J Orthop Res Physiother. 2015;1(3):1-4. DOI 10.24966/ORP-2052/100015.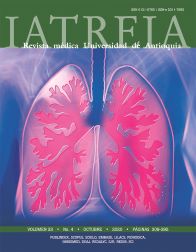 Cómo citar
1.
Franco-Patiño MC, Chanci-Drago R, Taborda-Alzate Érika A, Arango-Rivera MV. Tratamiento médico exitoso de una osteomielitis multifocal neonatal producida por la bacteria Staphylococcus aureus meticilina resistente (SAMR). Iatreia [Internet]. 14 de mayo de 2020 [citado 22 de septiembre de 2021];33(4):377-82. Disponible en: https://revistas.udea.edu.co/index.php/iatreia/article/view/340015
Sección
Presentación de casos
Los artículos publicados en la revista están disponibles para ser utilizados bajo la licencia Creative Commons, específicamente son de Reconocimiento-NoComercial-CompartirIgual 4.0 Internacional.
Los trabajos enviados deben ser inéditos y suministrados exclusivamente a la Revista; se exige al autor que envía sus contribuciones presentar los formatos: presentación de artículo y responsabilidad de autoría completamente diligenciados.