Insuficiencia respiratoria asociada con la hipomagnesemia extrema en un paciente con colitis ulcerativa.
Reporte de caso y revisión de la literatura
Palabras clave:
Hipocalcemia, Hipopotasemia, Insuficiencia Respiratoria, Magnesio
Resumen
La hipomagnesemia es un trastorno electrolítico asociado con la disminución de los aportes nutricionales, las pérdidas gastrointestinales y la depuración renal del magnesio, un catión divalente que, al tener una mayor concentración a nivel intracelular, dificulta el análisis de su déficit absoluto y el establecimiento de una adecuada corrección que supla las pérdidas y los requerimientos diarios que son aproximadamente 360 mg por día. Es por esto que el conocimiento de las etiologías de la hipomagnesemia, al igual que el cálculo de la fracción excretada de magnesio y la medición de la magnesiuria en 24 horas, son herramientas útiles para establecer pautas adecuadas de corrección continua de magnesio con el fin de evitar las complicaciones sociadas con su toxicidad o una corrección deficiente que perpetúe dicho trastorno electrolítico, lo cual puede generar una sintomatología tan grave como la tetania o la insuficiencia respiratoria. La paciente descrita, en ausencia de estado de choque o trastorno ácido base, requirió ingreso a la unidad de cuidados intensivos para ventilación mecánica invasiva y corrección de sus trastornos electrolíticos asociados con la colitis ulcerativa (hipocalcemia, hipocalemia e hipomagnesemia).
|Resumen = 100 veces | PDF = 107 veces|
Descargas
La descarga de datos todavía no está disponible.
Citas
(1) Hansen B, Bruserud Ø. Hypomagnesemia in critically ill patients. Journal of Intensive Care. 2018;6:21. DOI 10.1186/s40560-018-0291-y.
(2) Cieza JA, Agurto CF, Gayoso DD. Evaluación y relevancia del magnesio sérico en pacientes adultos incidentes a la sala de emergencia de un hospital general de Lima, Perú. Rev Med Hered. 2018;29:69-75.
(3) Van Laecke S. Hypomagnesemia and hypermagnesemia, Acta Clinica Belgica. 2018;74:41-7. DOI 10.20453/rmh.v29i2.3345.
(4) Zipursky J, Macdonald EM, Hollands S, Gomes T, Mamdani MM, Paterson JM, Lathia N. Proton pump inhibitors and hospitalization with hypomagnesemia: a population-based case-control study. PLoS Med. 2014;11(9): e1001736. DOI 10.1080/17843286.2018.1516173.
(5) Cuesta Miyares J, López Caleya JF, Martín Rodrigo L. Hypomagnesemia and hypocalcemia associated with chronic omeprazole use. Semergen. 2019;(19):30132-7.
(6) Srinutta T, Chewcharat A, Takkavatakarn K, Praditpornsilpa K, Eiam-Ong S, Jaber BL. Proton pump inhibitors and hypomagnesemia: A meta-analysis of observational studies. Medicine (Baltimore). 2019;98(44):e17788. DOI 10.1097/MD.0000000000017788.
(7) Cheminet G, Clain G, Jannot AS, Ranque B, Passeron A, Michon A. Extreme hypomagnesemia: characteristics of 119 consecutive In patients. Intern Emerg Med. 2018;13(8):1201-9. DOI 10.1007/s11739-018-1898-7.
(8) Nyhlin H, Dyckner T, Ek B, Wester PO. Magnesium in Crohn's Disease. Acta Med Scand. 1982;661:21–5. DOI 10.1111/j.0954-6820.1982.tb00388.x.
(9) Mukai A, Yamamoto S, Matsumura K. Hypocalcemia secondary to hypomagnesemia in a patient with Crohn's disease. Clin J Gastroenterol. 2015;8(1):22-5. DOI 10.1007/s12328-014-0544-9.
(10) Fernández-Rodríguez E, Camarero-González E. Paciente con enfermedad de Crohn y convulsiones por hipomagnesemia. Nutr Hosp. 2007;22(6):720-2.
(11) Drouet A, Meyer X. Severe refractory hypocalcemia in patients with enteropathy: consider hypomagnesemia. Letters to the editor / Joint Bone Spine. 2004;71:251–3. DOI 10.1016/j.jbspin.2003.10.017.
(12) Dhingra S, Solven F, Wilson A, McCarthy DS. Hypomagnesemia and respiratory muscle power. Am Rev Respir Dis. 1984;129(3):497-8.
(13) Thongprayoon C, Cheungpasitporn W, Srivali N, Erickson SB. Admission serum magnesium levels and the risk of acute respiratory failure. Int J Clin Pract. 2015;69(11):1303-8. DOI 10.1111/ijcp.12696.
(14) Upala S, Jaruvongvanich V, Wijarnpreecha K, Sanguankeo A. Hypomagnesemia and mortality in patients admitted to intensive care unit: a systematic review and meta-analysis. QJM. 2016;109(7):453-9. DOI 10.1093/qjmed/hcw048.
(15) Jiang P, Lv Q, Lai T, Xu F. Does Hypomagnesemia Impact on the Outcome of Patients Admitted to the Intensive Care Unit? A Systematic Review and Meta-Analysis. Shock. 2017;47(3):288-95. DOI 10.1097/SHK.0000000000000769.
(16) Charles BS, Menon I, Girish TS, Cherian AM. Hypomagnesemia in the ICU - Does Correction Matter? J Assoc Physicians India. 2016;64(11):15-9.
(17) Volpe S. Magnesium and the Athlete. Current Sports Medicine Reports. 2015;14(4):279-83. DOI 10.1249/JSR.0000000000000178.
(18) Miyahira J. Magnesio, un electrolito algo olvidado. Rev Med Hered. 2018;29:67-8. DOI 10.20453/rmh.v29i2.3344.
(19) Doshi S, Waller J, Clemmons A. Prolonged Versus Short Infusion Rates of IV Magnesium in Hospitalized General Medicine Patients with Hypomagnesemia. Hosp Pharm. 2020;55(1):64-8. DOI 10.1177/0018578718817941.
(20) Unwaha EA, Bello FA, Bello OO, Oladokun A. Intravenous magnesium sulfate in the management of severe pre-eclampsia: A randomized study of 12-hour versus 24-hour maintenance dose. Int J Gynaecol Obstet. 2019. DOI 10.1002/ijgo.13082.
(21) Blanchard A. Metabolismo normal y patológico del magnesio. EMC-Tratado de Medicina. 2007;11(4):1-8. DOI 10.1016/S1636-5410(15)74685-4.
(22) Gragossian A, Friede R. Hypomagnesemia. Updated 2020 Jan 8. In: StatPearls. Treasure Island (FL): Stat-Pearls Publishing; 2020.
(23) Makowsky MJ, Bell P, Gramlich L. Subcutaneous Magnesium Sulfate to Correct High-Output Ileostomy-Induced Hypomagnesemia. Case Rep Gastroenterol. 2019;13(2):280-93. DOI 10.1159/000501121.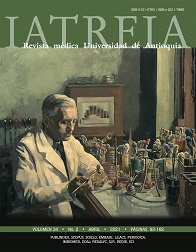 Cómo citar
1.
Arias-MiraDE, Camacho-OjedaLA. Insuficiencia respiratoria asociada con la hipomagnesemia extrema en un paciente con colitis ulcerativa. . Iatreia [Internet]. 1 de abril de 2021 [citado 19 de junio de 2021];34(2):151-5. Disponible en: https://revistas.udea.edu.co/index.php/iatreia/article/view/341136
Sección
Presentación de casos
Los artículos publicados en la revista están disponibles para ser utilizados bajo la licencia Creative Commons, específicamente son de Reconocimiento-NoComercial-CompartirIgual 4.0 Internacional.
Los trabajos enviados deben ser inéditos y suministrados exclusivamente a la Revista; se exige al autor que envía sus contribuciones presentar los formatos: presentación de artículo y responsabilidad de autoría completamente diligenciados.