Polimorfismos del gen CYP2D6 y su relación con las recurrencias de Plasmodium vivax después del tratamiento con cloroquina-primaquina en Turbo, Colombia
Veronica Sierra-Cifuentes

Universidad de Antioquia
Palabras clave:
Malaria, Plasmodium Vivax, Primaquina, Recurrencias, Cytochrome P-450, Polimorfismos CYP 2D6
Resumen
La malaria por Plasmodium vivax es una de las principales causas de morbilidad y mortalidad a nivel mundial(1), a pesar del importante progreso hacia la eliminación, su frecuencia en Colombia fue de 49.4% en el 2018 (2). 
|Resumen = 27 veces | PDF = 34 veces|
Descargas
La descarga de datos todavía no está disponible.
Citas
(1) OMS | El Informe mundial sobre el paludismo 2019 de un vistazo [Internet]. WHO. World Health Organization; [citado 20 de abril de 2020]. Disponible en: http://www.who.int/malaria/media/world-malariareport-2019/es/
(2) Instituto Nacional de Salud. Boletin epidemiologico semanal [Internet]. 2019 ene p. 27. Report No.: Semana 4. Disponible en: https://www.ins.gov.co/buscador-eventos/BoletinEpidemiologico/2019%20Bolet%C3%ADn%20epidemiol%C3%B3gico%20semana%204.pdf
(3.) Rishikesh K, Saravu K. Primaquine treatment and relapse in Plasmodium vivax malaria. Pathogens and Global Health. 2 de enero de 2016;110(1):1-8.
(4) Organización Mundial de la Salud. Directrices para el tratamiento de la malaria . Organización Mundial de la Salud, Ginebra, Suiza [Internet]. 2015. Disponible en: http://apps.who.int/iris/bitstream/10665/162441/1/9789241549127_eng.pdf
(5) Mikolajczak SA, Vaughan AM, Kangwanrangsan N, Roobsoong W, Fishbaugher M, Yimamnuaychok N, et al. Plasmodium vivax liver stage development and hypnozoite persistence in human liver-chimeric mice. Cell Host Microbe. 8 de abril de 2015;17(4):526-35.
(6) Mesa-Echeverry E, Niebles-Bolívar M, Tobón-Castaño A. Chloroquine–Primaquine Therapeutic Efficacy, Safety, and Plasma Levels in Patients with Uncomplicated Plasmodium vivax Malaria in a Colombian Pacific Region. Am J Trop Med Hyg. enero de 2019;100(1):72-7.
(7) Betuela I, Rosanas-Urgell A, Kiniboro B, Stanisic DI, Samol L, de Lazzari E, et al. Relapses contribute significantly to the risk of Plasmodium vivax infection and disease in Papua New Guinean children 1-5 years of age. J Infect Dis. 1 de diciembre de 2012;206(11):1771-80.
(8) Zuluaga-Idárraga L, Blair S, Akinyi Okoth S, Udhayakumar V, Marcet PL, Escalante AA, et al. Prospective Study of Plasmodium vivax Malaria Recurrence after Radical Treatment with a Chloroquine-Primaquine Standard Regimen in Turbo, Colombia. Antimicrob Agents Chemother. agosto de 2016;60(8):4610-9.
(9) Baird JK, Battle KE, Howes RE. Primaquine ineligibility in anti-relapse therapy of Plasmodium vivax malaria: the problem of G6PD deficiency and cytochrome P-450 2D6 polymorphisms. Malar J. diciembre de 2018;17(1):42, s12936-018-2190-z.
(10) Alvarez G, Piñeros J-G, Tobón A, Ríos A, Maestre A, Blair S, et al. Efficacy of three chloroquine-primaquine regimens for treatment of Plasmodium vivax malaria in Colombia. Am J Trop Med Hyg. octubre de 2006;75(4):605-9.
(11) Cowell AN, Winzeler EA. The genomic architecture of antimalarial drug resistance. Brief Funct Genomics. 23 de mayo de 2019;18(5):314-28.
(12) Pybus BS, Sousa JC, Jin X, Ferguson JA, Christian RE, Barnhart R, et al. CYP450 phenotyping and accurate mass identification of metabolites of the 8-aminoquinoline, anti-malarial drug primaquine. Malaria Journal. 2 de agosto de 2012;11(1):259.
(13) Vale N, Moreira R, Gomes P. Primaquine revisited six decades after its discovery. European Journal of Medicinal Chemistry. 1 de marzo de 2009;44(3):937-53.
(14) Crews KR, Gaedigk A, Dunnenberger HM, Leeder JS, Klein TE, Caudle KE, et al. Clinical Pharmacogenetics Implementation Consortium guidelines for cytochrome P450 2D6 genotype and codeine therapy. 25 de enero de 2014.
(15) Baird JK, Louisa M, Noviyanti R, Ekawati L, Elyazar I, Subekti D, et al. Association of Impaired Cytochrome P450 2D6 Activity Genotype and Phenotype With Therapeutic Efficacy of Primaquine Treatment for Latent Plasmodium vivax Malaria. JAMA Netw Open. 31 de agosto de 2018;1(4):e181449.
(16) Silvino ACR, Costa GL, Araújo FCF de, Ascher DB, Pires DEV, Fontes CJF, et al. Variation in Human Cytochrome P-450 Drug-Metabolism Genes: A Gateway to the Understanding of Plasmodium vivax Relapses. Renia L, editor. PLoS ONE. 28 de julio de 2016;11(7):e0160172.
(17) Bennett JW, Pybus BS, Yadava A, Tosh D, Sousa JC, McCarthy WF, et al. Primaquine failure and cytochrome P-450 2D6 in Plasmodium vivax malaria. N Engl J Med. 3 de octubre de 2013;369(14):1381-2.
(18) Chen N, Dowd S, Gatton ML, Auliff A, Edstein MD, Cheng Q. Cytochrome P450 2D6 profiles and their relationship with outcomes of primaquine anti-relapse therapy in Australian Defence Force personnel deployed to Papua New Guinea and East Timor. Malar J. diciembre de 2019;18(1):140.
(19) Brasil LW, Rodrigues-Soares F, Santoro AB, Almeida ACG, Kühn A, Ramasawmy R, et al. CYP2D6 activity and the risk of recurrence of Plasmodium vivax malaria in the Brazilian Amazon: a prospective cohort study. Malar J. diciembre de 2018;17(1):57.
(20) Gaedigk A, Simon SD, Pearce RE, Bradford LD, Kennedy MJ, Leeder JS. The CYP2D6 activity score: translating genotype information into a qualitative measure of phenotype. Clin Pharmacol Ther. febrero de 2008;83(2):234-42.
(21) Isaza CA, Henao J, López AM, Cacabelos R. Isolation, sequence and genotyping of the drug metabolizer CYP2D6 gene in the Colombian population. Methods Find Exp Clin Pharmacol. noviembre de 2000;22(9):695-705.
(22) Alba Piedad Sarmiento Sanchez. FARMACOGENETICA DEL CYP2D6 EN LA POBLACION COLOMBIANA EN RELACION CON LAS AMERICAS [Internet] [TESIS DOCTORAL]. [Departamento de Terapéutica Médico-Quirúrgica. Facultad de Medicina]: UNIVERSIDAD DE EXTREMADURA; 2015. Disponible en: http://dehesa.unex.es/bitstream/handle/10662/3382/TDUEX_2015_Sarmiento_Sanchez.pdf?equence=1&isAllowed=y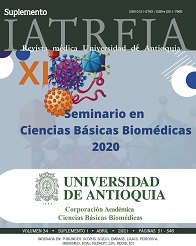 Cómo citar
1.
Sierra-Cifuentes V. Polimorfismos del gen CYP2D6 y su relación con las recurrencias de Plasmodium vivax después del tratamiento con cloroquina-primaquina en Turbo, Colombia. Iatreia [Internet]. 29 de abril de 2021 [citado 22 de septiembre de 2021];34(1-S):S31-S33. Disponible en: https://revistas.udea.edu.co/index.php/iatreia/article/view/345654
Los artículos publicados en la revista están disponibles para ser utilizados bajo la licencia Creative Commons, específicamente son de Reconocimiento-NoComercial-CompartirIgual 4.0 Internacional.
Los trabajos enviados deben ser inéditos y suministrados exclusivamente a la Revista; se exige al autor que envía sus contribuciones presentar los formatos: presentación de artículo y responsabilidad de autoría completamente diligenciados.