The family member accompanying adult patients in the hospital context.
Keywords:
Nursing; family; institutionalization.
Abstract
Objective. To identify the actions of family members who accompany adult hospitalized patients and to describe the nursing team's role regarding that person.
Methodology. In this qualitative, descriptive and exploratory research, a questionnaire was applied to 30 nursing team members at a teaching hospital located in the State of Rio de Janeiro, using open questions. To interpret the answers, thematic analysis was applied to categorize the identified qualitative variables.
Results. Eighty-nine percent of the participants were female. When analyzing the information contained in the answers to the questionnaire, two types of actions were found: the actions the companion can perform for his/her relative and the actions the nursing team needs to perform. In each action, the following categories were verified: affective dimension, practical dimension, moral dimension and inclusion of the family in care. According to the nursing team, the companion plays a very important role in emotional support and help with the patient's basic hygiene, although this care should be offered under nursing orientation.
Conclusion. Family companions and nursing team members work together to improve the quality of patient care, with positive reflections for their integration in hospital care, which will enhance its continuity in the home-care context.
|Abstract = 116 veces | RESUMEN | RESUMO = 12 veces| | PDF (ENGLISH) = 27 veces| | HTML (ENGLISH) = 6 veces| | HTML (PORTUGUÊS) = 32 veces|
Downloads
Download data is not yet available.
References
(1) Silva AM. O acompanhante do paciente adulto hospitalizado: percepção dos enfermeiros [Dissertation]. Guarulhos (SP): Universidade Guarulhos; 2007.
(2) Szareski C, Beuter M, Brondani CM. O familiar acompanhante no cuidado ao adulto hospitalizado na visão da equipe de enfermagem. Rev Gaúcha Enferm. 2010; 31(4):715-22.
(3) Ministério da Saúde (BR). HumanizaSUS: Política Nacional de Humanização: a humanização como eixo norteador das práticas de atenção e gestão em todas as instâncias do SUS. Brasília (DF); 2004.
(4) Squassante ND, Alvim NAT. Relação equipe de enfermagem e acompanhantes de clientes hospitalizados: implicações para o cuidado. Rev Bras Enferm. 2009; 62(1):11-7.
(5) Ministério da Saúde (BR). Lei n° 8.069: dispõe sobre o Estatuto da criança e do adolescente e dá outras providências. (13th Jun 1990).
(6) Ministério da Saúde (BR). Lei n° 10.741: dispõe sobre o Estatuto do Idoso e dá outras providências. (Oct 1st 2003).
(7) Ministério da Saúde (BR). Lei n° 11.108: dispõe sobre a permissão de acompanhante para a mulher em trabalho de parto e no pós parto nos hospitais públicos e conveniados ao SUS. (2nd Dec 2005).
(8) Szareski C, Beuter M, Brondani CM. Situações de conforto e desconforto vivenciadas pelo acompanhante na hospitalização do familiar com doença crônica. Cienc Cuid Saúde. 2009; 8(3):378-84.
(9) Minayo MCS. O desafio do conhecimento: pesquisa qualitativa em saúde. 8th ed. São Paulo: Hucitec; 2004.
(10) Neman F, Sousa MF. Experienciando a hospitalização com a presença da família: um cuidado que possibilita conforto. Rev Nursing. 2003; 6(56):28-31.
(11) Carvalho VA. Cuidados com o cuidador. Re. O mundo da saúde. 2003; 27(1):138-46.
(12) Pozebom NV. A comunicação entre a equipe de enfermagem e os familiares de pacientes hospitalizados: a visão dos agentes envolvidos [Dissertation]. Porto Alegre: Universidade Federal do Rio Grande do Sul; 2009.
(13) Hoga LAK, Pinto CMS. Assistência ao parto com a presença do acompanhante: experiência de profissionais. Invest Educ Enferm. 2007; (25) 1:74-81.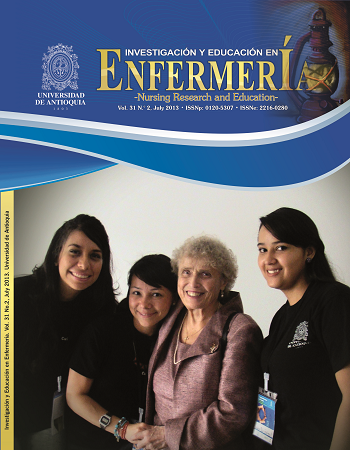 How to Cite
Espirito Santo, F. H., Aquino, A. C. O., Chibante, C. L., & Santos, T. D. (2013). The family member accompanying adult patients in the hospital context . Investigación Y Educación En Enfermería, 31(2). https://doi.org/10.17533/udea.iee.11768
Section
ORIGINAL ARTICLES / ARTÍCULOS ORIGINALES / ARTIGOS ORIGINAIS
License
Derechos de propiedad / Direitos de Propriedade
English: If the article is accepted for publication, all copyright will be of exclusive property of Investigación y Educación en Enfermería. The text and the graphics included in the publication are exclusive responsibility of the authors and not necessarily reflect the thought of the Editorial Committee.
Español: Si el artículo es aprobado para publicación, todos los derechos son de propiedad de Investigación y Educación en Enfermería. El texto y las gráficas incluidas en la publicación son de exclusiva responsabilidad de los autores y no necesariamente refleja el pensamiento del Comité Editorial.
Português: Se o artigo for aceito para publicação, todos os direitos autorais serão de propriedade exclusiva de Investigación y Educación en Enfermería. O texto e os gráficos incluídos na publicação são de responsabilidade exclusiva dos autores e não refletem necessariamente o pensamento do Comitê Editorial.