The school health program: teachers' perceptions
Cícero Tavares Leite

RN. Coordinator of the Psycosocial Care Center (CAPS I) in Missão Velha-CE, Brazil. email: ctavaresleite@bol.com.br

Maria de Fátima Antero Sousa Machado

RN, Ph.D. Professor, Universidade Regional do Cariri, Ceará, Brazil. email: fatimaantero@uol.com.br

Roberta Peixoto Vieira

RN, Specialist. Professor, Universidade Regional do Cariri – Iguatu Decentralized Unit and Faculdade Vale do Salgado, Ceará, Brazil. email: roberta.peixotovieira@gmail.com

Mirna Neyara Alexandre de Sá Barreto Marinho

RN, Master. Regional Nursing Council of Ceará and Regional Hemocentro of Crato-CE, Brazil. email: mirna.neyara@bol.com.br

Claudete Ferreira de Souza Monteiro

RN, Ph.D. Professor, Universidade Federal do Piauí. Scholarship Productivity CNPQ. Teresina, Piauí, Brazil. email: claudetefmonteiro@hotmail.com
Keywords:
Adolescent, faculty, health education, public health
Abstract
Objective. Understand teachers' perception of a school health program and its relationship with health education activities developed at school.
Methodology. Descriptive qualitative study, in which interviews with 10 teachers at a public school in the city of Barbalha, Ceará, Brazil were conducted. Data were analyzed in thematic categories.
Results. Teachers perceived the School Health Program as welfare, without integration between teachers and health professionals, and being of no interest to teenagers. Educational activities at school and their relationship to the program were perceived as clinical evaluations that were not integrated into the actions already developed at school.

Conclusion. A weakness was found in the lack of integration of actions performed by different agents. Therefore, there is a need for a closer relationship between them in order to optimize efforts to promote school health.
How to cite this article: Leite CT, Machado MFAS, Vieira RP, Marinho MNASB, Monteiro CFS. The school health program: teachers' perceptions.Invest Educ Enferm. 2015; 33(2):
|Abstract = 917 veces | PDF = 838 veces| HTML RESUMEN = 53 veces| HTML ENGLISH = 222 veces| HTML PORTUGUES = 266 veces|
Downloads
Download data is not yet available.
References
(1) Pessalacia JDR, Meneses ES, Massuia D. A vulnerabilidade do adolescente numa perspectiva das políticas públicas de saúde. Rev Bio&Thikos. 2010; 4(4): 423-30.
(2) Torres CA, Barbosa SM, Pinheiro PN da C, Vieira NFC. A saúde e a educação popular com adolescentes. Rev da Rede Enferm do Nord. 2012; 11(4):47–56.
(3) Nichiata LYI, Bertolozzi MR, Takahashi RF, Fracolli LA. The use of the "vulnerability" concept in the nursing area. Rev Lat-Am Enfermagem. 2008; 16(5):923–8.
(4) Scorsolini-Comin F, Manzi-Oliveira AB, Casarini KA, Jacquemin RC, Santos MA. Evaluation of intervention programs with adolescents: limits, progress and prospects. Rev Bras Crescimento Desenvolvimento Hum. 2011; 21(3):883-93.
(5) Ferreira IRC, Vosgerau DSR, Moysés SJ, Moysés ST. Diplomas normativos do Programa Saúde na Escola: análise de conteúdo associado a ferramenta ATLAS TI. CiênSaúde Colet: 2012; 17(12):3385-98.
(6) Santos AAG dos, Silva RM da, Machado M de FAS, Vieira LJE de S, Catrib AMF, Jorge HMF. Sentidos atribuídos por profissionais à promoção da saúde do adolescente. Ciên Saude Colet. 2012; 17(5):1275–84.
(7) Ministérios da Saúde e Educação. Passo a passo do Programa Saúde na Escola (PSE). Secretaria de Atenção à Saúde. Departamento de Atenção Básica. Brasília: Ministério da Saúde; 2011.
(8) Godoi SC, Pol P, Matia G. A inserção da equipe de saúde da família no ambiente escolar público: perspectivas do professor. Cogitare Enferm. 2012; 17(2):232-8.
(9) Oliveira A.O. Estudo teórico sobre percepção sensorial: comparação entre William James e Joaquin Fuster. [Dissertation]. Juiz de Fora: Universidade Federal de Juiz de Fora. Instituto de Ciências Humanas. Programa de Pós-Graduação em Psicologia – Mestrado; 2012.
(10) Minayo MCS. O desafio social do conhecimento: pesquisa qualitativa em saúde: técnicas de análise do material qualitativo. 10th ed. São Paulo: Hucitec, 2007.
(11) Ministério da Saúde. Cadernos de Atenção Básica: Saúde na Escola. Secretária de Atenção a Saúde do Adolescente. Brasília: Ministério da Saúde; 2009.
(12) Ministério da Saúde. Departamento de Atenção Básica. Programa Saúde na Escola. Brasília: Ministério da Saúde; 2010.
(13) Santiago LM de, Rodrigues MTP, Oliveira Junior AD de, Moreira TMM. Implantação do Programa Saúde na escola em Fortaleza-CE: atuação de equipe da Estratégia Saúde da Família. Rev Bras Enferm. 2012; 65(6):1026–9.
(14) Guanabens MFG, Gomes AM, Mata ME, Reis ZSN. Gravidez na adolescência: um desafio a promoção da saúde integral do adolescente. Rev Bras Educ Médica. 2012; 36(1,Supl. 2):20-4.
(15) Guimarães JS, Lima IMSO. A participação juvenil e promoção da saúde: estratégia de desenvolvimento humano. Rev Bras Crescimento Desenvolvimento Hum. 2011; 21(3): 856-63.
(16) Guimarães G, Aerts D; Câmara SG. A escola promotora da saúde e o desenvolvimento de habilidades sociais. Rev Psicol Rio Gd Sul. 2012; 12(2):88-95.
(17) Gomes LC. O desafio da intersetorialidade: a experiência do Programa Saúde na Escola (PSE) em Manguinhos, no município do Rio de Janeiro [Dissertation]. Rio de Janeiro: Escola Nacional de Saúde Pública Sérgio Arouca; 2012.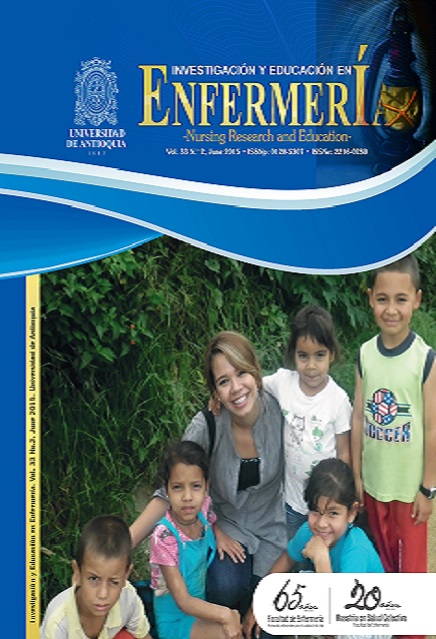 How to Cite
Tavares Leite, C., Antero Sousa Machado, M. de F., Peixoto Vieira, R., de Sá Barreto Marinho, M. N. A., & de Souza Monteiro, C. F. (2015). The school health program: teachers' perceptions. Investigación Y Educación En Enfermería, 33(2). Retrieved from https://revistas.udea.edu.co/index.php/iee/article/view/23008
Section
ORIGINAL ARTICLES / ARTÍCULOS ORIGINALES / ARTIGOS ORIGINAIS
Derechos de propiedad / Direitos de Propriedade
English: If the article is accepted for publication, all copyright will be of exclusive property of Investigación y Educación en Enfermería. The text and the graphics included in the publication are exclusive responsibility of the authors and not necessarily reflect the thought of the Editorial Committee.
Español: Si el artículo es aprobado para publicación, todos los derechos son de propiedad de Investigación y Educación en Enfermería. El texto y las gráficas incluidas en la publicación son de exclusiva responsabilidad de los autores y no necesariamente refleja el pensamiento del Comité Editorial.
Português: Se o artigo for aceito para publicação, todos os direitos autorais serão de propriedade exclusiva de Investigación y Educación en Enfermería. O texto e os gráficos incluídos na publicação são de responsabilidade exclusiva dos autores e não refletem necessariamente o pensamento do Comitê Editorial.