Education and Health: A Care Bond. School-Nursing Model for Colombia
Keywords:
school nursing, nursing methodology research, models, nursing, nursing theory
Abstract
Objective. To describe the construction and validation process of a Model of professional practice of school nursing for Colombia.
Methods. Study under the approach of "methodological research in nursing" carried out by the Colombian network of school nursing, with the participation of 26 nurses from different institutions in a research developed in three stages: revision of antecedents, identification and prioritizing of assumptions to construct the model, and validation of the preliminary proposal with the participants and with a group of experts.
Results. The study presents the components that were part of the construction of the model of professional practice of school nursing for Colombia, which includes the four meta-paradigmatic elements of this professional discipline: the receptor of care, the context, nursing, and health, as well as the prioritized assumptions that indicate how these elements interact in achieving the student´s wellbeing and that of the education community. It includes the report from a focal validation group with the participants in which they summarize as education and health: a care bond, and the concept by experts on such.
Conclusion. The Model of professional practice of school nursing for Colombia: education and health: a care bond, constructed in participative manner with nurses experts in the field and validated with theoretical experts complies with the international guides for the design of this type of theoretical construction and permits guiding the care goals of students, maintain the autonomy of the nurses and their interprofessional participation in this field.
|Abstract = 946 veces | PDF = 605 veces| | HTML INGLES = 14 veces| | HTML ESPAÑOL = 170 veces| | VIDEO = 0 veces| | PMC = 0 veces|
Downloads
Download data is not yet available.
References
1. Perez-Cuevas R, Muñoz-Hernández O. Importance of public health for children and adolescents in Mexico. Bol.
Med. Hosp. Infant. Mex. 2014; 71:126–33.
2. World Health Organization. Health Promoting Schools. An effective approach to early action on noncommunicable
disease risk factors. World Health Organization. Genève: WHO; [cited 29 May 2020]. Available from: https://apps.
who.int/iris/bitstream/handle/10665/255625/WHO-NMH-PND-17.3-eng.pdf?sequence=1&isAllowed=y
3. Fitzpatrick JJ, Whall AL. Conceptual models of nursing: analysis and application. Appleton & Lange; 1996.
4. Carvajal EY, Sánchez Herrera B. Los modelos de enfermería aplicados en la práctica clínica: revisión integrativa.
Arch. Med. 2018; 18(1):86–96.
5. Álvarez R, Eguilaz M, Miguel S. La enfermería escolar: un recurso necesario para la comunidad educativa. Context.
Educ. Rev. Educ. 2018; (22):165-80.
6. Statement P. Role of the school nurse in providing school health services. Pediatrics. 2008; 121(5):1052–6.
7. Houlahan B. Origins of School Nursing. J. Sch. Nurs. 2018; 34(3):203-10.
8. Gueterres ÉC, Oliveira RE, Silveira A, Dos Santos WM. Educación para la salud en el contexto escolar: estudio de
revisión integradora. Enf. Glob. 2017; 16(46):464–99.
9. Ferro C. Avances de la gestión del comité de enfermeras escolares. ANEC. 2016; (81):19–21.
10. De Pardo GP. Una estrategia de enfermería escolar en la promoción de la salud y prevención de la enfermedad.
Aquichan. 2003; 3(1): 42-47.
11. Catunda HLO, Bernardo EBR, Vasconcelos CTM, Moura ERF, Pinheiro AKB, Aquino P de S. Methodological
Approach in Nursing Research for Constructing and Validating Protocols. Texto Context - Enferm. 2017; 26(2):
e00650016
12. Mojica FJ, Restrepo G. FG. La prospectiva: técnicas para visualizar el futuro. Colección Manuales prácticos para
gerentes. [Internet]. Legis Editores; 1991 [cited 2020 May 30]. Available from: https://search-ebscohost-com.
ez.unisabana.edu.co/login.aspx?direct=true&AuthType=ip&db=cat06493a&AN=sab.000013416&lang=es&sit
e=eds-live&scope=site
13. Im EO. The current status of theory evaluation in nursing. J. Adv. Nurs. 2015; 71(10):2268-78.
14. Hoekstra BA, Young VL, Eley CV, Hawking MKD, McNulty CAM. School Nurses' perspectives on the role of the
school nurse in health education and health promotion in England: A qualitative study. BMC Nurs. 2016; 15(1):73.
15. Schmitt ACAN, Costenaro RGS, Rangel RF, Ferreira CLL, Lacerda MR. Mudanças no comportamento e
desenvolvimento do escolar a partir do cuidado à família. Rev. Bras. Enferm. 2013; 66(5):682–7.
16. Harding L, Davison-Fischer J, Bekaert S, Appleton J V. The role of the school nurse in protecting children and young
people from maltreatment: An integrative review of the literature. Int. J. Nursing Studies. 2019; 92: 60-72.
17. Schaffer MA, Anderson LJW, Rising S. Public Health Interventions for School Nursing Practice. J. Sch. Nurs. 2016;
32(3):195–208.
18. Banfield M, McGorm K, Sargent G. Health promotion in schools: A multi-method evaluation of an Australian school
youth health nurse program. BMC Nurs. 2015; 14:21.
19. Maughan ED, Cowell J, Engelke MK, McCarthy AM, Bergren MD, Murphy MK, et al. The vital role of school nurses
in ensuring the health of our nation's youth. Nurs. Outlook. 2018; 66(1):94–6.
20. Lineberry MJ, Ickes MJ. The Role and Impact of Nurses in American Elementary Schools. J. Sch. Nurs. 2015;
31(1):22–33.
21. McAllister M, Knight BA, Withyman C. Merging contemporary learning theory with mental health promotion to
produce an effective schools-based program. Nurse Educ. Pract. 2017; 25:74–9.
22. Streubert H, Carpenter D. Qualitative Research in Nursing: Advancing the Humanistic Perspective. 2nd ed.
Philadelphia, PA: Lippincott Williams & Wilkins; 199
23. Canter KS, Roberts MC. A systematic and quantitative review of interventions to facilitate school reentry for children
with chronic health conditions. J. Pediatr. Psychol. 2012; 37(10)1065–75.
24. Davis K, Carter S, Myers E, Rocca N. Health promotion for young people with profound and multiple learning
disabilities. Nurs. Child Young People. 2018; 30(1):28–34.
25. Doi L, Wason D, Malden S, Jepson R. Supporting the health and well-being of school-aged children through a
school nurse programme: A realist evaluation. BMC Health Serv. Res. 2018; 18:664.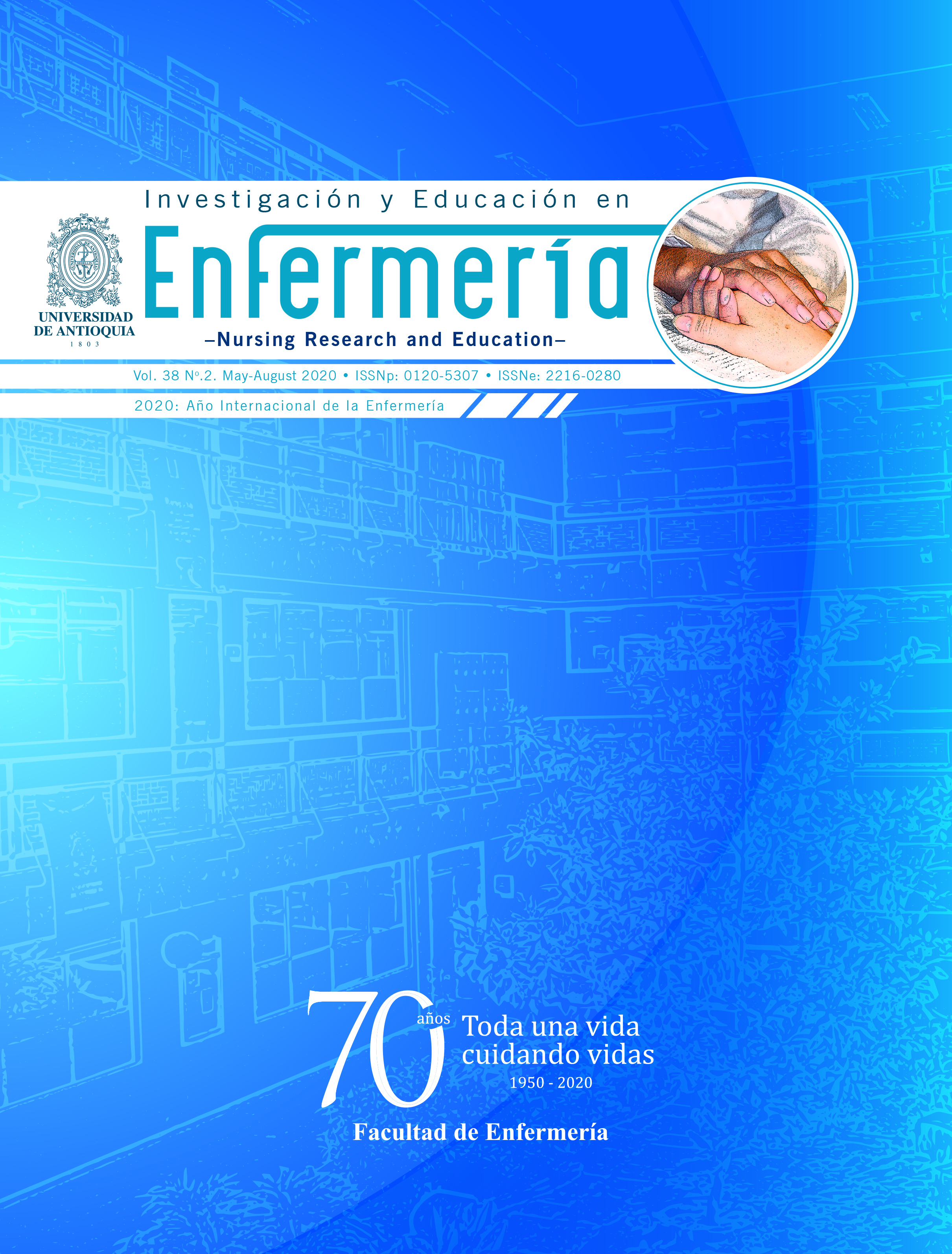 Downloads
How to Cite
Ferro Carvajalino, M. C. ., Fuentes Ramírez, A. ., Chinchilla Salcedo, T. C. ., & Sánchez Herrera, B. . (2020). Education and Health: A Care Bond. School-Nursing Model for Colombia. Investigación Y Educación En Enfermería, 38(2). https://doi.org/10.17533/udea.iee.v38n2e05
Section
ORIGINAL ARTICLES / ARTÍCULOS ORIGINALES / ARTIGOS ORIGINAIS
License
Copyright (c) 2020 Investigación y Educación en Enfermería
This work is licensed under a Creative Commons Attribution-NonCommercial-ShareAlike 4.0 International License.
Derechos de propiedad / Direitos de Propriedade
English: If the article is accepted for publication, all copyright will be of exclusive property of Investigación y Educación en Enfermería. The text and the graphics included in the publication are exclusive responsibility of the authors and not necessarily reflect the thought of the Editorial Committee.
Español: Si el artículo es aprobado para publicación, todos los derechos son de propiedad de Investigación y Educación en Enfermería. El texto y las gráficas incluidas en la publicación son de exclusiva responsabilidad de los autores y no necesariamente refleja el pensamiento del Comité Editorial.
Português: Se o artigo for aceito para publicação, todos os direitos autorais serão de propriedade exclusiva de Investigación y Educación en Enfermería. O texto e os gráficos incluídos na publicação são de responsabilidade exclusiva dos autores e não refletem necessariamente o pensamento do Comitê Editorial.