New demands for primary health care in Brazil: palliative care
Keywords:
Palliative Care. Primary Health Care. Karnofsky Performance Status.
Abstract
Objective. Assess the need for incorporation of palliative care in primary health care (PHC) through the characterization of users eligible for this type of care, enrolled in a program for devices dispensing.
Methods. Descriptive study of case series conducted in 14 health units in São Paulo (Brazil) in 2012. It was included medical records of those enrolled in a program for users with urinary and fecal incontinence, and it was applied Karnofsky Performance Scale Index (KPS) to identify the indication of palliative care.
Results. 141 of the 160 selected medical records had KPS information. Most cases (98.3%, 138/141) had performance below 70% and, therefore, patients were eligible for palliative care. The most frequent pathologies was related to chronic degenerative diseases (46.3%), followed by disorders related to quality of care during pregnancy and childbirth (24.38%).
Conclusion. It is necessary to include palliative care in PHC in order to provide comprehensive, shared and humanized care to patients who need this.
How to cite this article: Paz CRP, Pessalacia JDR, Zoboli ELCP, Souza HL, Granja GF, Schveitzer MC. New demands for primary health care in Brazil: palliative care. Invest Educ Enferm. 2016; 34(1): 46-57 
|Abstract = 619 veces | PDF = 261 veces| | HTML RESUMEN = 2 veces| | HTML ENGLISH = 0 veces| | HTML PORTUGUES = 2 veces|
Downloads
Download data is not yet available.
References
(1) Floriani CA, Schramm FR. Desafios morais e operacionais da inclusão dos cuidados paliativos na rede de atenção básica. Cad Saúde Pública. 2007; 23(9):2072-80.
(2) Pivodic L, Pardon K, Van den Block L, Van Casteren V, Miccinesi G, Donker GA, et al. Palliative care service use in four European countries: a cross-national retrospective study via representative networks of general practitioners. PLoS One. 2013; 8(12):e84440.
(3) Queiroz AHAB, Pontes RJS, Souza AMA, Rodrigues TB. Percepção de familiares e profissionais de saúde sobre os cuidados no final da vida no âmbito da atenção primária à saúde. Ciênc Saúde Coletiva. 2013; 18(9):2615-23.
(4) Luckett T, Phillips J, Agar M, Virdun C, Green A, Davidson PM. Elements of effective palliative care models: a rapid review. BMC Health Serv Res. 2014;14:136.
(5) Silva MM, Moreira MC, Leite JL, Erdmann AL. O trabalho noturno da enfermagem no cuidado paliativo oncológico. Rev. Latino-Am. Enfermagem. 2013; 21(3):773-9.
(6) Rabello CAFG, Rodrigues PHA. Saúde da família e cuidados paliativos infantis: ouvindo os familiares de crianças dependentes de tecnologia. Ciênc Saúde Coletiva. 2010; 15(Supl 2):3157-66.
(7) Wasner PP, Borasio GD. Psychosocial Care for the Caregivers of Primary Malignant Brain Tumor Patients. J Soc Work End Life Palliat Care. 2013; 9:74-95.
(8) Baliza MF, Bousso RS, Spineli VMCD, Silva L, Poles K. Palliative care in the home: perceptions of nurses in the Family Health Strategy. Acta Paul Enferm. 2012; 25(spe2):13-8.
(9) Organização Mundial da Saúde. How many people at the end of life are in need of palliative care worldwide? In: WPCA – Worldwide Palliative Care Alliance. Global Atlas of Palliative Care at the end of life. Londres: WPCA; 2014.
(10) Academia Nacional de Cuidados Paliativos. Manual de cuidados paliativos. 2ª ed. Rio de Janeiro: Diagraphic; 2012. Available from: file:///D:/PERFIL/Downloads/09-09-2013_Manual%20de%20cuidados%20paliativos_ANCP%20(5).pdf
(11) Souza LPS, Almeida ER, Queiroz MA, Silva JR, Souza AAM, Figueiredo MFS. Conhecimento de uma equipe da estratégia saúde da família sobre a política de atenção à saúde masculina. Trab Educ Saúde. 2014; 12(2):291-304.
(12) Wye L, Lasseter G, Percival J, Duncan L, Simmonds B, Purdy S. What works in 'real life' to facilitate home deaths and fewer hospital admissions for those at end of life?: results from a realist evaluation of new palliative care services in two English counties. BMC Palliat Care. 2014;13:37.
(13) Instituto Brasileiro de Geografia e Estatística [Internet]. Projeção da população do Brasil por sexo e idade para o período 1980-2050: revisão 2008 [cited 4 Jun 2015]. Available from: http://www.ibge.gov.br/home/estatistica/populacao/projecao_da_populacao/2008/projecao.pdf
(14) Girianelli VR, Gamarra CJ, Silva GA. Os grandes contrastes na mortalidade por câncer do colo uterino e de mama no Brasil. Rev Saúde Pública. 2014; 48(3):459-67.
(15) São Paulo. Prefeitura do município de São Paulo/ Secretaria municipal de saúde/ Programa de Aprimoramento das Informações de Mortalidade no Município de São Paulo. Mortalidade por neoplasias (câncer) [cited 12 Nov 2015]. Available from: http://www.nossasaopaulo.org.br/observatorio/analises.php?tema=10&indicador=133&ano=2011&regiao=0#info
(16) Borba GG, Neves ET, Arrué AM, Silveira A, Zamberlan KC. Fatores associados à morbimortalidade neonatal: um estudo de revisão. Saúde (Santa Maria). 2014; 40(1):9-14.
(17) Holm M, Henriksson A, Carlander I, Wengström Y, Ohlen J. Preparing for family caregiving in specialized palliative home care: An ongoing process. Palliat Support Care. 2014; 9:1-9.
(18) Ferrer-Arnedo C, Santamaría-García JM, Fernández-Batalla M,Salazar-Guerra R. The value of nursing care in the paradigm of chronicity and dependency. New roles and redesigns. Invest Educ Enferm. 2014; 32(3):488-97.
(19) Floriani CA. Home-based palliative care: challenges in the care of technology-dependent children. J Pediatr (Rio J). 2010; 86(1):15-20.
(20) Brasil. Ministério da Saúde. Portaria nº 4.279, de 30 de dezembro de 2010. Estabelece diretrizes para a organização da Rede de Atenção à Saúde no âmbito do Sistema Único de Saúde (SUS). Brasília: Ministério da Saúde; 2010. Available from: http://conselho.saude.gov.br/ultimas_noticias/2011/img/07_jan_portaria4279_301210.pdf
(21) Mendes EV. As redes de atenção à saúde. Ciênc Saúde Coletiva. 2010; 15(5):2297-305.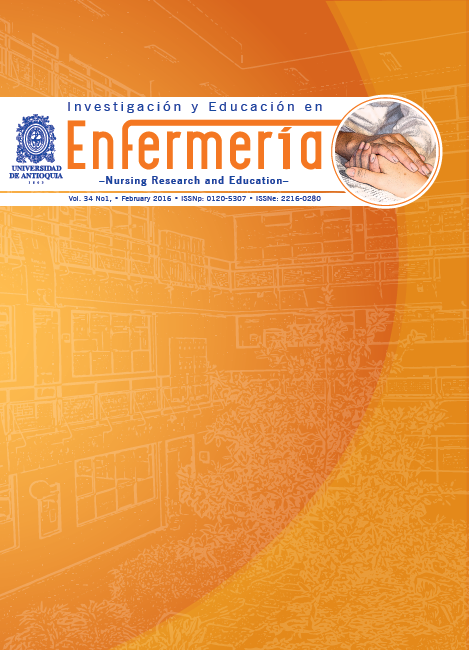 Downloads
How to Cite
de Paula Paz, C. R., Dias Reis Pessalacia, J., Campos Pavone Zoboli, E. L., de Souza, H. L., Ferreira Granja, G., & Cabral Schveitzer, M. (2016). New demands for primary health care in Brazil: palliative care. Investigación Y Educación En Enfermería, 34(1). https://doi.org/10.17533/udea.iee.25988
Section
ORIGINAL ARTICLES / ARTÍCULOS ORIGINALES / ARTIGOS ORIGINAIS
License
Derechos de propiedad / Direitos de Propriedade
English: If the article is accepted for publication, all copyright will be of exclusive property of Investigación y Educación en Enfermería. The text and the graphics included in the publication are exclusive responsibility of the authors and not necessarily reflect the thought of the Editorial Committee.
Español: Si el artículo es aprobado para publicación, todos los derechos son de propiedad de Investigación y Educación en Enfermería. El texto y las gráficas incluidas en la publicación son de exclusiva responsabilidad de los autores y no necesariamente refleja el pensamiento del Comité Editorial.
Português: Se o artigo for aceito para publicação, todos os direitos autorais serão de propriedade exclusiva de Investigación y Educación en Enfermería. O texto e os gráficos incluídos na publicação são de responsabilidade exclusiva dos autores e não refletem necessariamente o pensamento do Comitê Editorial.