Fear and Coping with Death in Intensive Care Nurses: a Structural Model Predictor of Compassion Fatigue
Keywords:
fear, death, compassion fatigue, empathy, mental fatigue, critical care, nursing staff
Abstract
Objective. To determine the effect of fear and coping with death on compassion fatigue in nurses working in the intensive care unit.
Methods. Correlational-predictive design, applied in 245 nurses working in the intensive care unit through intentional sampling. The study applied a personal data card, the Collet-Lester Fear of Death Scale (α=0.72), the Bugen Fell of Death Scale (α=0.82), and the Empathy Exhaustion Scale (α=0.80). Descriptive and inferential statistics were performed, such as Spearman's test and a structural equation model.
Results. The work had 255 nurses who participated, finding a relationship among fear and coping toward death and compassion fatigue (p<0.01), together with the equation model showing that fear and coping toward death have a positive effect in 43.6% on compassion fatigue.
Conclusion. Fear and coping with death have an effect on compassion fatigue in nurses working in the intensive care unit, so that when working in a critical area it can cause health effects
|Abstract = 369 veces | PDF = 339 veces| | HTML ESPAÑOL = 182 veces| | VIDEO = 0 veces| | PMC = 0 veces|
Downloads
Download data is not yet available.
References
1. Maza-Cabrera M, Zavala-Gutiérrez M, Escobar J. Actitud del profesional de enfermería ante la muerte de pacientes. Cienc. Enferm. 2009; 15(1):39-48.
2. Mondragón-Sánchez EJ, Cordero EA, Espinoza ML, Landeros-Olvera EA. A comparison of the level of fear of death among students and nursing professionals in Mexico. Rev. Latino-Am. Enferm. 2015; 23(2):323-8.
3. Tomás-Sábado J, Gómez-Benito J. Variables relacionadas con la ansiedad ante la muerte. Rev. Psicol. Gen. Apl. 2003; 56(3):257–79.
4. Cross LA. Compassion Fatigue in Palliative Care Nursing: A Concept Analysis. J. Hosp. Palliat. Nurs. 2019; 21(1):21-8.
5. Hernández M. Fatiga por compasión entre profesionales sanitarios de oncología y cuidados paliativos. Psicooncología (Pozuelo de Alarcón). 2017; 14(1):53–70.
6. Graystone R. Prevent Compassion Fatigue and Burnout with a Magnet Culture. J. Nurs. Adm. 2019; 49(5):231-3.
7. Harris C, Griffin MT. Nursing on empty: compassion fatigue signs, symptoms, and system interventions. J. Christ. Nurs. 2015; 32(2):80-7.
8. Murphy K. Combating compassion fatigue. Nursing Made Incredibly Easy! 2010; 8(4):4.
9. Arimon-Pagès E, Torres-Puig-Gros J, Fernández-Ortega P, Canela-Soler J. Emotional impact and compassion fatigue in oncology nurses: Results of a multicentre study. Eur. J. Oncol. Nurs. 2019; 43:101666.
10. Gracia Gozalo RM, Ferrer Tarrés JM, Ayora Ayora A, Alonso Herrero M, Amutio Kareaga A, Ferrer Roca R. Aplicación de un programa de mindfulness en profesionales de un servicio de medicina intensiva. Efecto sobre el burnout, la empatía y la autocompasión. Med. Intensiva. 2019; 43(4):207–16.
11. Grove S, Gray J. Investigación en enfermería: desarrollo de la práctica enfermera basada en la evidencia. 8th Edition. Oklahoma: Elsevier; 2019.
12. Espinoza M, Sanhueza O, Barriga O. Validation of Collett-Lester's Fear of Death Scale in a sample of nursing students. Rev. Latino-Am. Enferm. 2011; 19(5):1171–80.
13. Schmidt-Río Valle J. Validación de la versión española de la "escala de Bugen de afrontamiento de la muerte" y del "perfil revisado de actitudes hacia la muerte": estudio comparativo y transcultural. Puesta en marcha de un programa de intervención [Dissertation]. Granada: Universidad de Granada; 2007
14. Maín V, Rondón J, Viñuela M, Zamponi J. Creación de una escala-CFS para evaluar SDpE. [Dissertation]. Buenos Aires: Universidad Católica de Santa Fe; 2009.
15. Ortega J. "Una cuestión de entrega": desigualdades de género y factores de riesgo psicosocial en el trabajo de enfermería. Rev. Soc. Cult. 2019; 22(1):48–65.
16. Fuentes-Plough J, Ojeda-López R. Componentes de la enfermería asociados al género y su relación con el desarrollo profesional. Rev. Enferm. Inst. Mex. Seguro Soc. 2017;25(3):201–11.
17. Fernández-Martínez E, Liébana-Presa C, Martínez-Soriano M, López-Alonso A. Miedo a la muerte y su relación con la inteligencia emocional en estudiante. Med Paliat. 2019; 26(3):205-10.
18. Indacochea-Cáceda Sonia, Torres-Malca Jenny Raquel, Vera-Ponce Víctor Juan, De La Cruz-Vargas Jhony A. El Miedo y la Ansiedad ante la muerte en los médicos de varios países latinoamericanos durante la pandemia del Covid-19. Rev. Urug. Med. Int. 2021; 6(3):49-58.
19. Padilla J, Torres D, Coto E, Rodríguez L, Fonseca H, Varela R. Miedo y confrontación a la muerte: Estudio en estudiantes de ciencias de la salud. Rev. Fac. Med. Univ. lberoam. 2021 ;4(2):1–9.
20. Duque PA, Betancur Manrique Y, Franco Galvis A, Hoyos Castañeda M, Valencia Hernández EE. Afrontamiento de docentes de enfermería ante la muerte del paciente en unidades de cuidado crítico. Inv. Enferm. Imagen y Desarrollo [Internet]. 2020; 22. Available from: https://revistas.javeriana.edu.co/files-articulos/IE/22%20(2020)/145263339015/
21. Cáceres D, Torres C, López L. Fatiga por compasión y factores relacionados en enfermeras de cuidados intensivos: un estudio multicéntrico. Rev. Asoc. Esp. Espec. Med. Trab. 2021; 30(2):142-50.
22. Córdoba-Rojas DN, Sanz-Guerrero D, Medina-Ch AM, Buitrago-Echeverri MT, Sierra-González ÁM. Fatiga por compasión y agotamiento profesional en personal de salud ante el duelo y muerte en contextos hospitalarios. Saúde Soc. 2021; 30(3):e200478.
23. Fabri NV, Martins JT, Galdino MJQ, Ribeiro RP, Oliveira Moreira AA, Haddad M do CLF. Satisfação, fadiga por compaixão e fatores associados em enfermeiros da atenção básica. Enferm. Global. 2021; 20(4):291–323.
24. Boyle DA. Fatiga por compasión: el precio de la atención. Nursing (Spanish Edition). 2016; 33(2):16–9.
25. Cruz-Araújo A, Fernandes M, Aliaga-Pérez L, Pillon S. Miedo experimentado por profesionales de salud en la pandemia por COVID-19 e implicaciones para la salud mental. Rev. Cub. Enferm. 2021; 7:e3971.
26. Tobón-Restrepo LJ. Fatiga por compasión y autocuidado en profesionales de la salud. El campo del cuidado y la responsabilidad personal. Ágora USB. 2022; 21(2):726–47.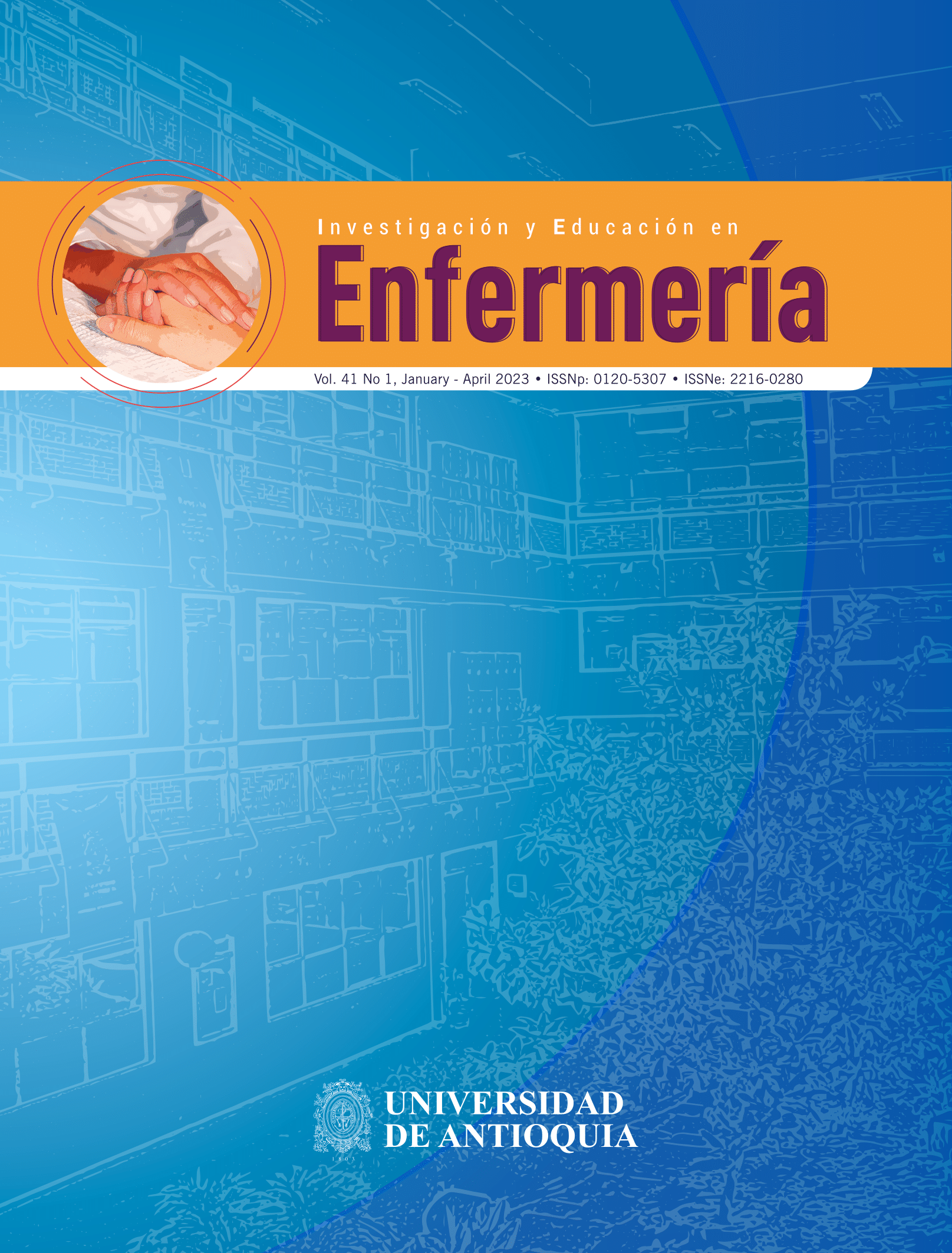 Downloads
Published
2023-03-14 — Updated on 2023-09-20
How to Cite
Medina-Fernández, J., Torres-Soto, N. Y., Casco-Gallardo, K., Ruiz-Lara, A., Martínez-Ramírez, B., & Fuentes-Fernández, E. (2023). Fear and Coping with Death in Intensive Care Nurses: a Structural Model Predictor of Compassion Fatigue. Investigación Y Educación En Enfermería, 41(1). https://doi.org/10.17533/udea.iee.v41n1e12 (Original work published March 14, 2023)
Section
ORIGINAL ARTICLES / ARTÍCULOS ORIGINALES / ARTIGOS ORIGINAIS
License
Copyright (c) 2023 Investigación y Educación en Enfermería
This work is licensed under a Creative Commons Attribution-NonCommercial-ShareAlike 4.0 International License.
Derechos de propiedad / Direitos de Propriedade
English: If the article is accepted for publication, all copyright will be of exclusive property of Investigación y Educación en Enfermería. The text and the graphics included in the publication are exclusive responsibility of the authors and not necessarily reflect the thought of the Editorial Committee.
Español: Si el artículo es aprobado para publicación, todos los derechos son de propiedad de Investigación y Educación en Enfermería. El texto y las gráficas incluidas en la publicación son de exclusiva responsabilidad de los autores y no necesariamente refleja el pensamiento del Comité Editorial.
Português: Se o artigo for aceito para publicação, todos os direitos autorais serão de propriedade exclusiva de Investigación y Educación en Enfermería. O texto e os gráficos incluídos na publicação são de responsabilidade exclusiva dos autores e não refletem necessariamente o pensamento do Comitê Editorial.