Burnout syndrome in professors from an academic unit of a Colombian university
Keywords:
Chronic disease; heart failure; nursing care; death; qualitative research.
Abstract
Objective. To understand how people with Chronic heart failure (CHF), perceive, understand, and answer to the manifestations and effects of the disease.
Methodology. Grounded theory quali­tative research. Data was gotten from semi-structured interviews to 13 people, men and women between 40 and 85 years of age, from different educational and socioeconomic levels. The research was carried out in Medellin (Colombia) in 2007.
Results. Inter­viewees perceive death as a close fact, this idea is reassured with the restrictions the disease imposes. This situation makes them establish important changes in their life style; their relationships with other people, and their environment, allowing them improve their health, control the disease, and improve survival.
Conclu­sion. Participants accept CHF through a process, in which, when feeling close to death, change their way of coping with the disease.
|Abstract = 457 veces | PDF (ENGLISH) = 80 veces| | HTML (ENGLISH) = 38 veces| | MCORREAHOYOS, CVLAC_MAYLEN_ROJAS.PDF = 0 veces| | MCORREAHOYOS, COMITÉ DE BIOÉTICA.PDF = 0 veces| | MCORREAHOYOS, CVLAC_PROFESOR_HUGO_GRISALES.PDF = 0 veces| | MCORREAHOYOS, DECLARACION_RESPONSABILIDAD.PDF = 0 veces| | MCORREAHOYOS, FORMATO_DERIVADO DE INVESTIGACIÓN.PDF = 0 veces|
Downloads
Download data is not yet available.
References
(1) Guerrero E, Rubio JC. Estrategias de prevención e intervención del "Burnout" en el ámbito educativo. Salud Ment. 2005:28(5):27-33.
(2) Freudenberger M. Staff Burn-out. J Soc Issues. 1972;30(1):159-65.
(3) Moriana J, Herruzo J. Estrés y Burnout en profesores. Int J Clin Health Psychol. 2004;4(3):597-621.
(4) Hermosa A. Satisfacción laboral y síndrome de Burnout en profesores de educación primaria y secundaria. Rev Col Psicol. 2006;(15):81-9.
(5) Coon D. Fundamentos de psicología. 10a ed. México: Thomson; 2005.
(6) Aranda C, Pando M, Torres T, Salazar G, Aldrete M. Síndrome de Burnout y manifestaciones clínicas en los médicos familiares que laboran en una institución de salud para los trabajadores del Estado. Psicol Salud. 2006;16(1):15–21.
(7) Gil Monte P. Peiró J. Perspectivas teóricas y modelos interpretativos para el estudio del síndrome de quemarse por el trabajo. An psicol. 1999;15(2):261-8.
(8) Universidad de Antioquia. Plan de desarrollo. Capítulo segundo [Internet]. Medellín: Universidad de Antioquia; 2007 [acceso 2008 ago 26]. Disponible en: http://www.udea.edu.co/plan/cap_2/mision_udea.html
(9) Cox T, Kuk G, Leiter MP. Burnout, health, work stress and organizational healthiness. En: Schaufeli WB, Maslach C, Marek T, Editors. Professional burnout: recent developments in theory and research. UK: Taylor & Francis; 1993. p. 261-9.
(10) Maslach C, Schaufeli WB, Leiter MP. Job burnout. Annu Rev Clin Psychol. 2001;52:397-422.
(11) Restrepo N, Colorado G. Desgaste profesional (Burnout) y su asociación con factores de riesgo psicosocial en docentes oficiales de Medellín, Colombia, 2005 [CD-ROM]. Medellín: Facultad Nacional de Salud Pública, Universidad de Antioquia; 2005.
(12) Maslach C. Jackson SE. Maslach Burnout Inventory. 2a ed. Palo Alto CA: Consulting Psychologist Press; 1981.
(13) Manassero M, Vázquez A, Ferrer M, Fornés J, Fernández MY, Queimaledos J. Burnout en profesores: impacto sobre la calidad de la educación, la salud y consecuencias para el desarrollo profesional. Madrid: MEC-CIDE; 1994.
(14) Guerrero E, Rubio J. Fuentes de estrés y síndrome de «Burnout» en orientadores de institutos de enseñanza secundaria. Rev Educ. 2008;347:229-54.
(15) Yépez M, Soracá A. Síndrome de Burnout asociado con factores de riesgos psicosociales en docentes oficiales del municipio de San Andrés de Sotavento (Córdoba), 2006 [Tesis de la Especialización en Salud Ocupacional]. Medellín: Facultad Nacional de Salud Pública, Universidad de Antioquia; 2006.
(16) Rubio J. Fuentes de estrés, síndrome de Burnout y actitudes disfuncionales en orientadores de Instituto de Enseñanza Secundaria [Tesis doctoral]. Badajoz: Universidad de Extremadura; 2003.
(17) 17. Daniel E. Estudio del síndrome del desgaste profesional entre los médicos de un hospital general [Tesis doctoral]. Salamanca: Universidad de Salamanca; 1995.
(18) Rocañín, J, Martínez O, Cantizano J, Rico R, Martínez A, Iglesias M. Aproximación al estrés profesional (Burnout) en funcionarios públicos de sanidad, guardia civil, justicia y ejército. An psiquiatr. 1996;12:15-22.
(19) Martínez A. El malestar docente explicado a través del modelo reformado de desamparo aprendido [Tesis doctoral]. Palma: Universitat illes Balears; 1991.
(20) 20. Paredes M. Caracterización multivariante del síndrome de burnout en la plantilla de docentes de la Universidad de Salamanca. [Doctor en psicología] Salamanca: Ediciones Universidad de Salamanca, 2002.
(21) Guerrero E. Análisis pormenorizado de los grados de Burnout y técnicas de afrontamiento del estrés docente en profesorado universitario. A Psicol. 2003;19(1):145-58.
(22) Aldrete M, Pando M, Aranda C, Balcázar N. Síndrome de burnout en maestros educación primaria de Guadalajara. Invest salud [Internet]. 2003 [acceso 2009 feb 07]; 5(1). Disponible en: http://redalyc.uaemex.mx/redalyc/pdf/142/14200103.pdf
(23) Cordeiro J, Guellén C, Gala F. Educación primaria y síndrome de burnout: situación de riesgo en los y las docentes de la zona de Bahía de Cádiz [internet]. Cádiz: Universidad de Cádiz; 2009 [acceso 2011 Feb 04]. Disponible en: http://www.stes.es/salud/Libro_Riesgos_laborales/c05a1.pdf
(24) Fernández M. Desgaste psíquico (Burnout) en profesores de educación primaria de Lima Metropolitana [Internet]. Lima: Universidad de Lima; [acceso 2009 feb 04]. Disponible en: http://dialnet.unirioja.es/servlet/fichero_articulo?codigo=2881042&orden=0
(25) Gomero R, Palomino J, Ruiz F, Llap C. El síndrome de burnout en el personal sanitario de los hospitales de la empresa minera de Southern Perú Copper Corporation: estudio piloto. Rev Med Hered. 2005;16(4):233-8.
(26) Llaneza J. Ergonomía y psicosociología aplicada. Manual para la formación del especialista. 13ª ed. Madrid: Lex Nova; 2009.
(27) Grajales T. Estudio de validación factorial del Maslach Burnout Inventory versión española en una población de profesionales mexicanos [Internet]. México: Universidad de Montemorelos; 2002 [acceso 2009 ago 04]. Disponible en: http://tgrajales.net/mbivalidez.pdf
(28) Brenninkmeijer V, Van Yperen N. How to conduct research on burnout: advantages and disadvantages of a unidimensional approach in burnout research. Occup Environ Med. 2003;60(Suppl 1):S16–S20.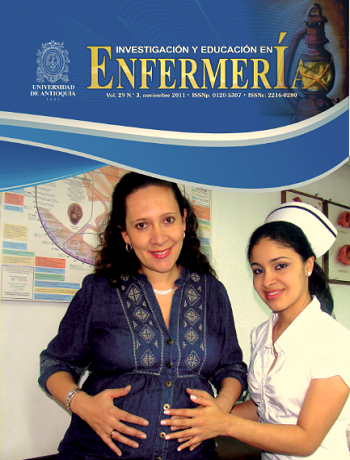 Downloads
How to Cite
Rojas Botero, M. L. (2011). Burnout syndrome in professors from an academic unit of a Colombian university. Investigación Y Educación En Enfermería, 29(3). https://doi.org/10.17533/udea.iee.5196
Section
ORIGINAL ARTICLES / ARTÍCULOS ORIGINALES / ARTIGOS ORIGINAIS
License
Derechos de propiedad / Direitos de Propriedade
English: If the article is accepted for publication, all copyright will be of exclusive property of Investigación y Educación en Enfermería. The text and the graphics included in the publication are exclusive responsibility of the authors and not necessarily reflect the thought of the Editorial Committee.
Español: Si el artículo es aprobado para publicación, todos los derechos son de propiedad de Investigación y Educación en Enfermería. El texto y las gráficas incluidas en la publicación son de exclusiva responsabilidad de los autores y no necesariamente refleja el pensamiento del Comité Editorial.
Português: Se o artigo for aceito para publicação, todos os direitos autorais serão de propriedade exclusiva de Investigación y Educación en Enfermería. O texto e os gráficos incluídos na publicação são de responsabilidade exclusiva dos autores e não refletem necessariamente o pensamento do Comitê Editorial.