Sistema modular de robótica colaborativa aplicado en educación
Jovani Alberto Jiménez-Builes

Universidad Nacional de Colombia

Juan Fernando Ramírez-Patiño

Universidad Nacional de Colombia

Juan José González-España

Universidad Nacional de Colombia
Abstract
Este artículo ilustra el reciente uso de la robótica como herramienta educativa para el fortalecimiento de habilidades creativas, de diseño y de aprendizaje. Se presentan algunos de los principales aportes y se enmarca dentro de ellos el Sistema Multi-Agente RobEd. La aplicación de RobEd, que actualmente se encuentra en desarrollo en la Universidad Nacional de Colombia, se focaliza en la población de educación media del sistema educativo colombiano.

|Abstract = 324 veces | PDF (ESPAÑOL (ESPAÑA)) = 138 veces|
Downloads
Download data is not yet available.
References
M. Resnick. "Sowing the Seeds for a More a Creative Society". ISTE International Society for Technology in Education. Vol. 35. 2007. pp. 18-22.
O. Zuckerman, M. Resnick M. "System Blocks: A Physical Interface for System Dynamics Learning". MIT Media Laboratory. 2005. pp. 859-868.
S. Papert. "A Critique of Technocentrism in Thinking about the School of the Future". M.I.T. Media Lab Epistemology and Learning Memo. Vol. 2. 1990. pp. 27-28.
J. Piaget. B. Inhelder. La psychologie de L'enfant. Ed. P.U.F. París. 1966. pp. 32-47.
D. P. Ausubel. The Psychology of Meaningful Verbal Learning: An Introduction to School Learning. Ed. Grune & Stratton Inc. New York. 1963. pp. 147-152.
S. Papert. The Gears of my Childhood. Mindstorms: Children, Computers, and Powerful Ideas. Ed. Basic Books. New York. 1980. pp. 18-19.
http://www.fischertechnik.com.mx/fischertechnik. htm. Consultada el 4 de mayo de 2010.
F. Martin. Kids Learning Engineering Science Using LEGO and the Programmable Brick. Ed. AERA. New York. 1996. pp. 1-14.
http://mindstorms.lego.com/Overview/MTR_ RoboArm.aspx. Consultada el 9 abril de 2010.
A. Chiou. "Teaching Technology Using Educational Robotics". Scholarly Inquiry in Flexible Science Teaching and Learning Symposium. Sydney (Australia). 2004. pp. 9-14.
F. Martin. Robotic Explorations. A hands-On Introduction to Engineering. Ed. Prentice Hall. New Jersey. 2001. pp.79-105.
http://www.handyboard.com/hardware/. Consultada el 12 de mayo de 2010.
M. Dias, B. Browning, A. Mills-Tettey, N. Amanquah. "Robotics Education in Emerging Technology Regions". Robots and Robot Venues: Resources for AI Education. California. 2007. pp. 2-5.
C. Urrea. Designing Robotic Artifacts: Rural SchoolCommunity Collaboration for Learning. Ed. Media Lab MIT. Massachusetts. 2001. pp. 142-145.
A. Acuña. Projects for Educational Robotics: Engines for the Innovation. Current Developments in Technology-Assisted Education. Ed. Formatex. Badajoz (España). 2006. pp. 39-47.
J. Dewey. Experience and Education. Ed. Macmillan Publishing Co. New York. 1938. pp. 38-51.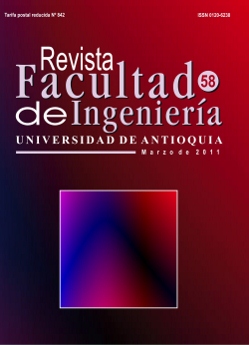 How to Cite
Jiménez-Builes J. A., Ramírez-Patiño J. F., & González-España J. J. (2013). Sistema modular de robótica colaborativa aplicado en educación. Revista Facultad De Ingeniería Universidad De Antioquia, (58), 163-172. Retrieved from https://revistas.udea.edu.co/index.php/ingenieria/article/view/14610
Copyright (c) 2018 Revista Facultad de Ingeniería
This work is licensed under a Creative Commons Attribution-NonCommercial-ShareAlike 4.0 International License.
Authors can archive the pre-print version (i.e., the version prior to peer review) and post-print version (that is, the final version after peer review and layout process) on their personal website, institutional repository and / or thematic repository

Upon acceptance of an article, it will be published online through the page https://revistas.udea.edu.co/index.php/ingenieria/issue/archive in PDF version with its correspondent DOI identifier
The Revista Facultad de Ingeniería -redin- encourages the Political Constitution of Colombia, chapter IV
Chapter IV Sanctions 51
The following shall be liable to imprisonment for two to five years and a fine of five to 20 times the legal minimum monthly wage: (1) any person who publishes an unpublished literary or artistic work, or part thereof, by any means, without the express prior authorization of the owner of rights; (2) any person who enters in the National Register of Copyright a literary, scientific or artistic work in the name of a person other than the true author, or with its title altered or deleted, or with its text altered, deformed, amended or distorted, or with a false mention of the name of the publisher or phonogram, film, videogram or software producer; (3) any person who in any way or by any means reproduces, disposes of, condenses, mutilates or otherwise transforms a literary, scientific or artistic work without the express prior authorization of the owners thereof; (4) any person who reproduces phonograms, videograms, software or cinematographic works without the express prior authorization of the owner, or transports, stores, stocks, distributes, imports, sells, offers for sale, acquires for sale or distribution or in any way deals in such reproductions. Paragraph. If either the material embodiment or title page of or the introduction to the literary work, phonogram, videogram, software or cinematographic work uses the name, business style, logotype or distinctive mark of the lawful owner of rights, the foregoing sanctions shall be increased by up to half.