Methodology of logistics planning based on project management and system dynamics for business service providers
Keywords:
logistics planning, service management, project management, system dynamics
Abstract
This paper presents a logistics planning methodology which integrates four conceptual tools: management services, logistics, project management and system dynamics. This methodology is used to make an integral analysis of the activities carried out by service provider companies across the logistics cycle. The process of service is understood as a succession of projects, which for each activity analyzes the controllable and uncontrollable variables, the renewable and nonrenewable resources and their interactions from a systems perspective. This integration is supported in the system dynamics as a tool for quantitative analysis. The methodology supports the decision-making at the strategic, tactical and operational level to improve coordination between the activities and resource allocation by reducing delays and improving customer perception about quality of service.
|Abstract = 386 veces | PDF (ESPAÑOL (ESPAÑA)) = 96 veces|
Downloads
Download data is not yet available.
References
Ministerio de comercio. Estadísticas sector servicios. www.mincomercio.gov.co. Consultada el 15 de febrero de 2008
L. González, D. Kalenatic, C. López. Metodología para elaborar modelos dinámicos de redes CPM y PERT. Working paper. Bogotá D. C. 2006. pp.1-17
Y. Álvarez. "Gestión Dinámica de la Calidad del Servicio". Memorias V Congreso Latinoamericano de Dinámica de Sistemas. ITBA. Buenos Aires (Argentina). 7-10 Noviembre. 2007. pp. 1-5.
T. Laverghetta, A. Brown. "Dynamics of Naval Ship Design: A Systems Approach". Naval Engineers Journal. Vol 111.1999. pp. 307-324.
D. Ford, J. Stearman. Dynamic Modeling of Product Development Processes. Ed. Massachusetts Institute of Technology (MIT). Cambridge (MA). 1997. pp. 1-39.
J. Jianguo, F. Xia, L. Yu. "System Dynamics Modeling for Overtime Management Strategy of Software Project". System Dynamics. Conference. July 29 - August 2. 2007. Boston (MA). pp. 1-8.
T. Williams, C. Eden, F. Ackermann, A. Tait. "The effects of design changes and delays on project costs". Journal of the Operational Research Society. Vol.46. 1995. pp. 809-818.
C. Grönroos. Gestión de los Momentos de Verdad y la Competencia en los Servicios. Ed. Díaz de Santos S.A. Madrid (España). 1994. pp.1-298.
P. Kotler, P. Bloom. "Estrategias de Participación en el Mercado". Biblioteca Harvard de Administración de Empresas. Grupo Editorial Expansión. México. 1976. pp. 237-238.
W. Stanton, M. Etzel, B. Walker. Fundamentos de Marketing. ed. 13th. Ed. Mc Graw Hill. México. 2004. pp.1-741.
P. Eiglier, É. Langeard. Servucción. El marketing de los Servicios. Ed. McGraw Hill. Madrid. 1989. pp.1- 220
J. Heskett, E. Sasser. Cambios Creativos en Servicios. Ed. Díaz Santos. Madrid. 1993. pp.1-336
A. Sotres. Modelo de logística basado en las tecnologías de la información. México, 2006. http://esp.mexico.org/lapalabra/una/24861/modelo-de-logistica-basadoen-las-tecnologias-de-la-informacion. Consultada el 12 de febrero de 2009.
R. Runza. "La Reforma del Sistema Logístico de la Defensa Británica", http://www.ieeba.com.ar/COLABORACIONES%20I/Procesos.pdf.pdf. Consultada el 1 de diciembre de 2008.
PMI (Project Management Institute). Cuerpo de Conocimiento de Administración de Proyectos de PMI. http://www.monografias.com/trabajos12/pmbok/pmbok.shtml. Consultada el 20 de marzo de 2009.
E. Muntaner. Modelos Matemáticos. Ed. Universidad Tecnológica Nacional. Facultad Regional, Buenos Aires. (Argentina). 2005. pp. 15-28.
M. Godet. La Caja de Herramientas de la Prospectiva Estratégica.. Ed. Cuadernos de Laboratoire d'Investigation Prospective et Stratégique (LIPS). Madrid. 2002. pp 1-114.
J. Sterman. Business Dynamics. Systems Thinking and Modeling for a Complex World. Ed. Mc Graw-Hill. New York. 2000. pp.1-282.
J. Forrester. Dinámica Industrial. Ed. El Ateneo. Bogotá. 1981. pp. 441.
C. López, L. González, F. Rueda, D. Kalenatic, "Una Visión Integral y Dinámica de La Empresa Manufacturera". Cuad. Ad. Vol. 22. 2009. pp. 257-286.
S. Feres. "Logística Pura: más allá de un proceso logístico". Colombia 2002. Ed. Corporación John F. Kennedy. Vol. 1. 1998. pp.170
L. González, C. López, D. Kalenatic. Modelo Integral de Producción en Empresas Manufactureras. Ed Kimpres. Bogotá (Colombia). Vol.1. 2006. pp. 1-196.
C. López, D. Kalenatic. Planeación Agregada de la Producción. Ed. Universidad Católica de Colombia. Bogotá (Colombia). 2008. pp. 1-113.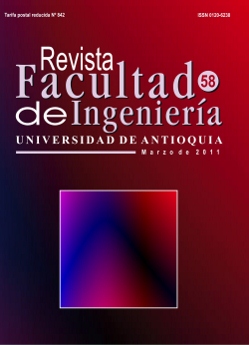 Downloads
How to Cite
Kalenatic, D., Mancera Méndez, L. H., Moreno Valbuena, K. V., & González Rodríguez, L. J. (2013). Methodology of logistics planning based on project management and system dynamics for business service providers. Revista Facultad De Ingeniería Universidad De Antioquia, (58), 208–218. https://doi.org/10.17533/udea.redin.14616
License
Copyright (c) 2018 Revista Facultad de Ingeniería
This work is licensed under a Creative Commons Attribution-NonCommercial-ShareAlike 4.0 International License.
Revista Facultad de Ingeniería, Universidad de Antioquia is licensed under the Creative Commons Attribution BY-NC-SA 4.0 license. https://creativecommons.org/licenses/by-nc-sa/4.0/deed.en
You are free to:
Share — copy and redistribute the material in any medium or format
Adapt — remix, transform, and build upon the material
Under the following terms:
Attribution — You must give appropriate credit, provide a link to the license, and indicate if changes were made. You may do so in any reasonable manner, but not in any way that suggests the licensor endorses you or your use.
NonCommercial — You may not use the material for commercial purposes.
ShareAlike — If you remix, transform, or build upon the material, you must distribute your contributions under the same license as the original.
The material published in the journal can be distributed, copied and exhibited by third parties if the respective credits are given to the journal. No commercial benefit can be obtained and derivative works must be under the same license terms as the original work.