Síntesis de BaTiO3 cúbico por rutas químicas
Claudia Patricia Fernández-Perdomo

Universidad del Cauca

Edison Rivera-Figueroa

Universidad del Cauca

Jorge Enrique Rodríguez-Páez

Universidad del Cauca
Abstract
En este trabajo se sintetizaron polvos cerámicos de titanato de bario (BaTiO3) mediante dos métodos químicos: coprecipitación y precursor polimérico (Pechini). Estos métodos, altamente reproducibles y confiables, permitieron obtener partículas de BaTiO3 nanométricas (< 200 nm) con alta pureza química, a una temperatura de 650°C; además, se logró estabilizar la fase cúbica del BaTiO3 a temperatura ambiente. Se realizó una breve discusión sobre los mecanismos de formación de las partículas y una adecuada descripción de los procesos de síntesis. Los polvos obtenidos se caracterizaron empleando espectroscopía infrarroja (FTIR), difracción de rayos X (DRX), análisis térmico (ATD/TG) y microscopía electrónica de trasmisión (MET).

|Abstract = 64 veces | PDF (ESPAÑOL (ESPAÑA)) = 27 veces|
Downloads
Download data is not yet available.
References
J. Shirane. Ferroelectric crystals. Ed. Dover Publications Inc. New York. 1993. pp. 108-215.
M. H. Frey, D. A. Payne. "Grain-size effect on structure and phase transformations for barium titanate". The American Physical Society, physical review. Vol. 54.1996. pp. 3158-3168.
A. J. Moulson, J. M. Herbert, Electroceramics: materials, properties and applications. 2nd ed. Ed. John Wiley & Sons Ltda. West Sussex-England. 2003. pp. 1-167.
L. M. Levinson. Electronic ceramics: properties, devices and applications. Ed. Marcel Dekker Inc. New York. 1988. pp. 191-274.
R. C. Buchanan. Ceramic materials for electronics. 3a. ed. Ed. Marcel Dekker Inc. New York. 2004. pp. 141-206.
K. Ch. Kao. Dielectric phenomena in solids. Ed. Elsevier Academic Press. San Diego. 2004. pp. 41-112.
G. Cao. Nanostructures & Nanomaterials: synthesis, properties and applications. Ed. Imperial College Press. London. 2004. pp. 126-357.
G. Pfaff. "Sol-gel synthesis of barium titanate powders of various compositions". J. Mater. Chem. Vol. 2. 1992. pp. 591-594.
K. S. Mazdiyasni. "Fine Particle Perovskite Procesing". Am. Ceramic. Soc. Bull. Vol. 63. 1984. pp. 591-94.
W. S. Clabauhg, E. M. Swiggard, R. Gilchrist. "Preparation of Barium Titanyl Oxalate Tetrahidrate for Conversion to Barium Titanate High Purity". J. Res. Natl. Bur. Stand. Vol. 56. 1956. pp. 289-291.
H. Xu, L. Gao, J. Guo. "Preparation and characterizations of tetragonal barium titanate powders by hydrothermal method". J. Euro. Ceram. Soc. Vol. 22. 2002. pp.1163-1170.
S. S. Flaschen. "An aqueous synthesis of barium titanate". J. Am. Chem. Soc. Vol. 77. 1955. pp. 6194.
V. Vinothini, P. Singh, M. Balasubramanian. "Synthesis of barium titanate nanopowder using polymeric precursor method". Ceram Int. Vol. 32. 2006. pp. 99- 103.
J. Jolivet. Metal oxide chemistry and synthesis. Ed. Jhon. Wiley & Sons. New York. 2000. pp. 12.
J. F. Fernández, P. Duran, C. Moure. "Reaction Kinetics in the BaTiO3 Synthesis: influence of the TiO2 crystalline structure and morphology". Ceramics today-tomorrow's. Ed. Elsevier Science Publishers. Amsterdam. 1991. pp. 1973-1982.
K. Nakamoto. Infrared and Raman spectra of inorganic and coordination compounds. part B. 5a. ed. Ed. Wiley-interscience. New Jersey. 1997. pp. 300.
P. Pradeep, H. R. Subas. "Low-temperature synthesis and processing of electronic materials in the BaOTiO 2 system". Review. J. Mater. Sci. Vol. 25. 1990. pp. 1169-1183.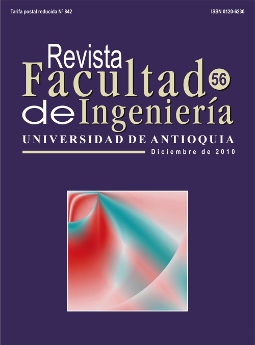 How to Cite
Fernández-Perdomo C. P., Rivera-Figueroa E., & Rodríguez-Páez J. E. (2013). Síntesis de BaTiO3 cúbico por rutas químicas. Revista Facultad De Ingeniería Universidad De Antioquia, (56), 9-19. Retrieved from https://revistas.udea.edu.co/index.php/ingenieria/article/view/14648
Copyright (c) 2018 Revista Facultad de Ingeniería
This work is licensed under a Creative Commons Attribution-NonCommercial-ShareAlike 4.0 International License.
Authors can archive the pre-print version (i.e., the version prior to peer review) and post-print version (that is, the final version after peer review and layout process) on their personal website, institutional repository and / or thematic repository

Upon acceptance of an article, it will be published online through the page https://revistas.udea.edu.co/index.php/ingenieria/issue/archive in PDF version with its correspondent DOI identifier
The Revista Facultad de Ingeniería -redin- encourages the Political Constitution of Colombia, chapter IV
Chapter IV Sanctions 51
The following shall be liable to imprisonment for two to five years and a fine of five to 20 times the legal minimum monthly wage: (1) any person who publishes an unpublished literary or artistic work, or part thereof, by any means, without the express prior authorization of the owner of rights; (2) any person who enters in the National Register of Copyright a literary, scientific or artistic work in the name of a person other than the true author, or with its title altered or deleted, or with its text altered, deformed, amended or distorted, or with a false mention of the name of the publisher or phonogram, film, videogram or software producer; (3) any person who in any way or by any means reproduces, disposes of, condenses, mutilates or otherwise transforms a literary, scientific or artistic work without the express prior authorization of the owners thereof; (4) any person who reproduces phonograms, videograms, software or cinematographic works without the express prior authorization of the owner, or transports, stores, stocks, distributes, imports, sells, offers for sale, acquires for sale or distribution or in any way deals in such reproductions. Paragraph. If either the material embodiment or title page of or the introduction to the literary work, phonogram, videogram, software or cinematographic work uses the name, business style, logotype or distinctive mark of the lawful owner of rights, the foregoing sanctions shall be increased by up to half.