Síntesis de TiO2, fase anatasa, por el método solgel: estudio del efecto de la presencia de AcacH en el sistema
Keywords:
Óxido de titanio, anatasa, sol-gel, AcacH, caracterización
Abstract

El dióxido de titanio, TiO2, es un semiconductor tipo n sensible a la luz que absorbe radiación electromagnética en la región del UV, es anfótero y muy estable químicamente. Por las características mencionadas es elfotocatalizador más empleado y actualmente se utiliza para degradar moléculas orgánicas durante la purificación del agua. En este trabajo se utilizó el método Sol-Gel para sintetizar dióxido de titanio, proceso quepermitió obtener materiales amorfos y policristalinos de forma sencilla. Se estudió el efecto de la presencia de un acomplejante, acetilacetona, y de los tratamientos térmicos realizados a las muestras sobre las características del producto final, poniendo especial atención a la fase cristalina presente en el sólido, para el presente caso anatasa. Los polvos cerámicos obtenidos se caracterizaron empleando diferentes técnicas, principalmente espectroscopía infrarroja con transformada de Fourier (FTIR), difracción de rayos X (DRX) y microscopía de transmisión (MET). Los resultados indican que utilizando AcacH se pueden obtener partículas nanométricas (< 20 nm) de TiO2 fase anatasa, muy bien cristalizado a 450ºC.
|Abstract = 52 veces | PDF (ESPAÑOL (ESPAÑA)) = 65 veces|
Downloads
Download data is not yet available.
References
U. Müller. Inorganic Structural Chemistry. 2a ed. Ed. John Wiley & Sons. Ltda. England. 2007. pp. 57.
E. Bevilacqua. "Health and Safety Manager Tioxide Europe SAS". Huntsman European Environment. Vol 1. 2004. pp. 1-26.
N. Arconada, Y. Castro, A. Durán. "Síntesis ypropiedades fotocatalíticas de recubrimientos porosos de TiO2-anatasa producidos por sol-gel". X Congreso Nacional de Materiales. Donostia. San Sebastián (España). 2008. pp. 1-7.
N. Serpone. "Solar Cells". Solar Energy Mater. Vol. 38. 1995. pp. 369-379.
K. Akurati. "Synthesis, characterization and sintering of nanocrystalline titania powders produced by chemical vapour synthesis". Journal of Physics D: Applied Physics. Vol. 39. 2006. pp. 2248-2254.
A. J. Moulson J. M. Herbert. Electroceramics. Materials, properties, applications. Ed. Chapman & Hall. 1990. pp. 48-79.
H. R. Clauser. The Encyclopedia of Engineering Materials and Processes. Editorial Labor S. A. Barcelona. 1990. pp. 806-807.
H. Monreal, V. A. Martínez. "Obtención de nanocilindros de TiO2 por ADN mediante Sol-Gel".
Revista del centro de investigación, Universidad La Salle. México. Vol. 6. 2006. pp. 21-26.
A. Fernández, A. Guzmán. Obtención de recubrimientos con propiedades ópticas utilizando el
método Sol-Gel, trabajo de grado programa Ingeniería Física. Universidad del Cauca. 2007. pp. 19.
C. J. Brinker, G. W. Scherer. Sol-gel Science: the physics and chemistry of sol-gel processing. Ed.
Academic Press Inc. 1991. pp. 30-34.
F. Babonneau, L. Bois, J. Livage, S, Dire. "Estructural investigation of sol-gel derived hybrid siloxane-oxide materials using silicon-29 MAS-NMR spectroscopy". Mater. Res. Soc. Symp. Proc. Vol. 286. 1993. pp. 289-294.
L. Tellez. "Seguimiento por espectroscopía infrarroja (FT-IR) de la copolimerización de TEOS (tetraetilortosilicato) y PDMS (polidimetilsiloxano) en presencia de TBT (tetrabutiltitanio)". Bol. Soc. Esp. Cerám. y Vidrio. Vol. 43. 2004. pp. 883-890.
A. Guzmán, A. Fernández, J. Rodríguez. "Estudio de las reacciones de hidrólisis y condensación del titanio en presencia de acetilacetona". Rev. Acad. Colomb. Cienc. Vol. 31. 2007. pp. 529-536.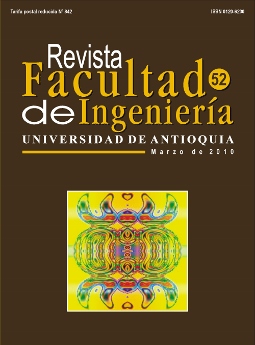 Downloads
How to Cite
Ochoa, Y., Ortegón, Y., & Rodríguez Páez, J. E. (2013). Síntesis de TiO2, fase anatasa, por el método solgel: estudio del efecto de la presencia de AcacH en el sistema. Revista Facultad De Ingeniería Universidad De Antioquia, (52), 29–40. Retrieved from https://revistas.udea.edu.co/index.php/ingenieria/article/view/14798
License
Revista Facultad de Ingeniería, Universidad de Antioquia is licensed under the Creative Commons Attribution BY-NC-SA 4.0 license. The material published in the journal can be distributed, copied and exhibited by third parties if the respective credits are given to the journal. No commercial benefit can be obtained and derivative works must be under the same license terms as the original work.