Study of the ceramic processing of clays from "La Codicia" (Guapi, Colombia) for their potential use in the elaboration of ceramic pieces
Keywords:
Clays, characterization, shaped, ceramic processing, drying, sintering
Abstract
In this work the characteristics of a clay from the region of Guapi, Cauca, Colombia were determined. Also, a methodology was established to defi ne the conditions to conform ceramic pieces. Chemical structure, characteristic composition and thermal behavior of raw material were determined using X-ray fl uorescence, (FRX), X- ray diffraction (DRX) and thermal gravimetric analysis (ATD/TG), respectively. Different stages of the ceramic processing were studied paying attention to dosage of the ceramic pastes, pressing of the pieces, drying and sintering. Variables controlled were shaping pressure, lost of weight, time of drying, density in green and sintering temperature, among others. To achieve an appropriate drying it was necessary to maintain the samples in a controlled humidity atmosphere during about 7 days. Independent of the composition of the pastes, sintering above 1000 °C was necessary to obtain high density samples considering that at 950 °C des-density of samples was observed probably due to "Ostwald ripening" type phenomenon.
|Abstract = 35 veces | PDF (ESPAÑOL (ESPAÑA)) = 12 veces|
Downloads
Download data is not yet available.
References
E. García. M. Suárez. Curso Ingeniería de Minas y Petróleos. Las arcillas: propiedades y usos. http://www.uclm.es/users/higueras/yymm/Arcillas.htm. Consultado el 27 de octubre de 2005.
I. Bernal. H. Cabezas. C. Espitia. J. Mojica. J. Quintero. Análisis próximo de arcillas para cerámica. Rev. Acad. Colomb. Cienc. Vol. 27. 2003. pp. 569-578.
Descripción del proceso cerámico. http://www.acercar.org.co/industria/manuales/iceramica/02proceso.pdf. Consultado el 15 de septiembre de 2006.
G. Sánchez. R. Askeland. Ciencia e ingeniería de los materiales. México. 3º edición. 1998. pp. 625-648.
W. Callister. Ciencia e ingeniería de los materiales. Una introducción. Vol. 2. University of Utah. Salt Lake City. Editorial Reverté. 1996. pp. 257- 263.
G. M. Randall. Sintering theory and practice. John Wiley & Sons, Inc. New York. 1996. pp. 157-163.
E. Xavier. Ponencia La cerámica como tecnologías para la valoración de residuos. http://www.cnpml.org/html/memorias.asp. Consultado el 3 de octubre de 2006.
J. García. F. Pitalua. V. Correcher. P. López. "Observación de deshidrataciones y contracciones de una arcilla por difracción de rayos X y microscopía electrónica a temperatura y humedad controladas". Bol. Soc. Esp. Ceram. V. Vol. 43. 2004. pp. 27-30.
T. López. J. Hernández. J. Rangel. G. Serrano. "Técnicas de caracterización en la identificación mineralógica de arcillas expansivas". Rev. Fac. De Ingeniería. Universidad Autónoma de Querétaro. México. 2005. pp. 87-91.
A. I. Avgustinik. Cerámica. Editorial Reverté, S .A. Encarnación, Vol. 1. Barcelona. 1983. pp. 3-30, 66-91.
E. Gippini. Pastas Cerámicas. Sociedad Española de Cerámica. Madrid. 1979. pp. 53-78, 122-136.
L. A. Díaz. R. Torrecillas. "Arcillas Wealdenses en Cantabria (N. de España): su aprovechamiento cerámico". Bol. Soc. Esp. Ceram. V. Vol. 45. 2006. Pp. 46-51.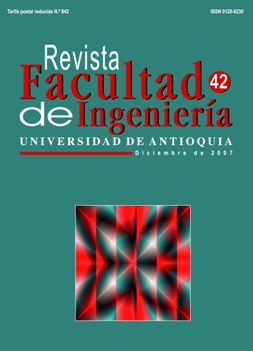 Downloads
How to Cite
Muñoz Chaves, J. A., Muñoz Menese, R. A., Mancill, P., & Rodríguez Páez, J. E. (2014). Study of the ceramic processing of clays from "La Codicia" (Guapi, Colombia) for their potential use in the elaboration of ceramic pieces. Revista Facultad De Ingeniería Universidad De Antioquia, (42), 68–78. Retrieved from https://revistas.udea.edu.co/index.php/ingenieria/article/view/18837
License
Revista Facultad de Ingeniería, Universidad de Antioquia is licensed under the Creative Commons Attribution BY-NC-SA 4.0 license. The material published in the journal can be distributed, copied and exhibited by third parties if the respective credits are given to the journal. No commercial benefit can be obtained and derivative works must be under the same license terms as the original work.