Uso de la metodología GAIA para modelar el comportamiento de personajes en un juego de estrategia en tiempo real
Norman Muñoz

Universidad del Cauca

Carlos Cobos

Universidad del Cauca

William Rivera

Universidad del Cauca

Jaime López

Universidad del Cauca

Martha Mendoza

Universidad del Cauca
Abstract
Los juegos modernos en su permanente búsqueda por capturar más la atención de sus jugadores, requieren de técnicas de Inteligencia Artificial que les permita a los personajes asumir comportamientos más cercanos o parecidos a la realidad. Para lograr esto, existen muchas técnicas que se pueden utilizar, pero en los últimos años el uso de agentes inteligentes ha tomado gran importancia, ya que las propiedades de los personajes encajan perfectamente con la definición de dicha técnica. En este artículo, se presentan los principales resultados de investigación y la forma como se usó la metodología GAIA para el modelamiento del comportamiento de los personajes en un juego de estrategia de tiempo real llamado Independencia (basado en la Revolución de los Comuneros de la Independencia de Colombia).

|Abstract = 43 veces | PDF (ESPAÑOL (ESPAÑA)) = 30 veces|
Downloads
Download data is not yet available.
References
P. Sweetser. Current AI in Games: A review. School of ITEE, University of Queensland. Australia. 2002. http://www.itee.uq.edu.au/~penny/_papers/Game. Al Review.pdf. Consultada el 6 de noviembre de 2006.
P. Baillie-De Byl. Programming Believable Characters for Computer Games. Rockland (MA). 2004. pp. 465.
N. Muñoz, W. Rivera. Independencia: Juego de Estrategia en 3D basado en hechos importantes de la Campaña Libertadora de Colombia. Trabajo de grado. Ingeniería de Sistemas. Universidad del Cauca. Popayán. Colombia. 2005. pp. 104.
M. Wooldridge, N. Jennings, D. Kinny. The Gaia Methodology for Agent-Oriented Analysis and Design. Ed. Kluwer Academic Publishers. Boston. pp. 1-27.
M. Van Lent, J. Laird, J. Buckman, J. Hartford, S. Houchard, K. Steinkraus, R. Tedrake. Proceedings of the Sixteenth National Conference on Artificial Intelligence. July 18-22. 1999. Orlando (FL). 1999. pp. 929-930.
M. Van Lent, J. Laird. "Developing an Artificial Intelligence Engine". Proceedings of the game developers Conference. March 16-18. 1999. San José (CA). pp. 577-588.
T. Barron. Strategy Game Programming with DirectX 9.0. Wordware Publishing Inc. Plano. Texas. (USA). pp. 538.
A. Nareyek. Intelligent Agents for Computer Games. http://www.ai-center.com/home/alex/ 2000. Consultada el 12 de febrero 20 de 2008.
Empire Earth, Sierra. http://empireearth.sierra.com/ es/. Consultada el 22 de febrero de 2008.
M. Ponsen. Improving Adaptative Game AI with Evolutionary Learning. http://www.kbs.twi.tudelft.nl/ docs/MSc/2004/Ponsen_Marc/thesis.pdf. Consultada el 15 de enero de 2008.
Civilization, http://www.civ3.com/. Consultada el 22 de febrero de 2008.
Balance of power. http://www.balance-of-power.ch/. Consultada el 22 de febrero de 2008.
Popopulus http://www.mobygames.com/game/populous. Consultada el 22 de febrero de 2008.
N. Muñoz, C. Cobos, W. Rivera. "Motor Gráfico y Multimedia Orientado a Objetos para el Desarrollo de Juegos de Estrategia en 3D". Revista Enlace Informático. Vol. 4. 2005. pp. 57-68.
Grupo de agentes de software: ingeniería y aplicaciones. Metodologías de agentes. http://grasia.fdi.ucm.es/ ingenias/Spain/index.php. 2007. Consultada el 1 de diciembre de 2007.
C. A. Iglesias. Definición de una metodología para el desarrollo de sistemas multiagentes. Tesis doctoral. Departamento de Ingeniería de Sistemas Telemáticos. Universidad Politécnica de Madrid. España. 1998. pp.31-49.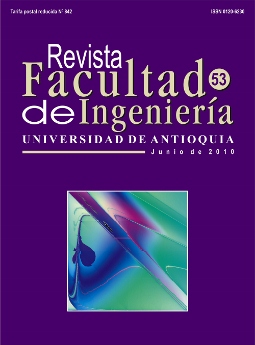 How to Cite
Muñoz N., Cobos C., Rivera W., López J., & Mendoza M. (2013). Uso de la metodología GAIA para modelar el comportamiento de personajes en un juego de estrategia en tiempo real. Revista Facultad De Ingeniería Universidad De Antioquia, (53), 214-224. Retrieved from https://revistas.udea.edu.co/index.php/ingenieria/article/view/14792
Copyright (c) 2018 Revista Facultad de Ingeniería
This work is licensed under a Creative Commons Attribution-NonCommercial-ShareAlike 4.0 International License.
Authors can archive the pre-print version (i.e., the version prior to peer review) and post-print version (that is, the final version after peer review and layout process) on their personal website, institutional repository and / or thematic repository

Upon acceptance of an article, it will be published online through the page https://revistas.udea.edu.co/index.php/ingenieria/issue/archive in PDF version with its correspondent DOI identifier
The Revista Facultad de Ingeniería -redin- encourages the Political Constitution of Colombia, chapter IV
Chapter IV Sanctions 51
The following shall be liable to imprisonment for two to five years and a fine of five to 20 times the legal minimum monthly wage: (1) any person who publishes an unpublished literary or artistic work, or part thereof, by any means, without the express prior authorization of the owner of rights; (2) any person who enters in the National Register of Copyright a literary, scientific or artistic work in the name of a person other than the true author, or with its title altered or deleted, or with its text altered, deformed, amended or distorted, or with a false mention of the name of the publisher or phonogram, film, videogram or software producer; (3) any person who in any way or by any means reproduces, disposes of, condenses, mutilates or otherwise transforms a literary, scientific or artistic work without the express prior authorization of the owners thereof; (4) any person who reproduces phonograms, videograms, software or cinematographic works without the express prior authorization of the owner, or transports, stores, stocks, distributes, imports, sells, offers for sale, acquires for sale or distribution or in any way deals in such reproductions. Paragraph. If either the material embodiment or title page of or the introduction to the literary work, phonogram, videogram, software or cinematographic work uses the name, business style, logotype or distinctive mark of the lawful owner of rights, the foregoing sanctions shall be increased by up to half.