Low cost heat-and-pull rig for manufacturing adiabatic optical fiber tapers
Keywords:
fibra óptica, adelgazamiento, adiabaticidad, sensores
Abstract
In this paper we report the fabrication of adiabatic tapered optical fbers using a low cost heat-and-pull rig. Our setup is based on the flame-brushing technique moving in zigzag, where an inexpensive and simple portable gas micro-torch is used as heating device. Since this method does not require an electronic system to control the gas flow rate, makes out taper rig an attractive alternative, low-cost, and trivial to implement. The feasibility of such a heat source is shown with the manufacture of low-loss tapers (<0.12 dB/mm) and diameters in the micro range.
|Abstract = 10 veces | PDF (ESPAÑOL (ESPAÑA)) = 7 veces|
Downloads
Download data is not yet available.
References
E. Udd, W. Spillman. Fiber optic sensors: an introduction for engineers and scientists. 2nd ed. Ed. Wiley. New Jersey, USA. 2011. pp 9-62.
G. Agrawal, Fiber-optic communication systems. 3rd ed. Ed. Wiley. New York, USA. 2012. pp 59-67.
A. Méndez, T. Morse. Specialty optical fibers handbook. 1st ed. Ed. Academic Press, California, USA. 2007. pp. 361-396.
T. Birks, D. Bahloul, T. Man, W. Wadsworth, P. Russell. Supercontinuum generation in tapered fibres, Technical Digest. Summaries of papers presented at the Conference on Lasers and Electro-Optics. Long Beach, CA, USA. 2002. pp. 486-487.
L. Novotny, R. Bian, X. Xie, "Theory of nanometric optical tweezers," Physical Review Letters. Vol. 79. 1997. pp. 645-648.
W. Henry. Use of tapered optical fibers as evanescent field sensors. SPIE's 1994 International Symposium on Optics, Imaging, and Instrumentation. San Diego, USA. 1994. pp. 2-14.
F. Xu, P. Horak, G. Brambilla. "Optimized design of microcoil resonators." Journal of lightwave technology. Vol. 25. 2007. pp. 1561-1567.
G. Brambilla, F. Xu, P. Horak, Y. Jung, F. Koizumi, N. Sessions, E. Koukharenko, X. Feng, G. Murugan, J. Wilkinson. "Optical fiber nanowires and microwires: fabrication and applications." Advances in Optics and Photonics. Vol. 1. 2009. pp. 107-161.
H. Haddock, P. Shankar, R. Mutharasan, "Fabrication of biconical tapered optical fibers using hydrofluoric acid." Materials Science and Engineering: B. Vol. 97. 2003. pp. 87-93.
T. Birks, Y. Li. "The shape of fiber tapers." Lightwave Technology Journal. Vol. 10. 1992. pp. 432-438.
J. Ward, D. OShea, B. Shortt, M. Morrissey, K. Deasy, S. Chormaic, "Heat-and-pull rig for fiber taper fabrication." Review of scientific instruments. Vol. 77. 2006. pp. 083105-083105.
M. Lai, J. Franson, T. Pittman. "Transmission degradation and preservation for tapered optical fibers in rubidium vapor." Appl. Opt. Vol. 52. 2012. pp. 1212-5189.
D. Yablon. Fusion Splicing of Specialty Fiber. 1st ed. Ed. Springer. Berlin, Germany. 2005. pp 27-47.
R. Kenny, T. Birks, K. Oakley. "Control of optical fibre taper shape." Electronics letters. Vol. 27. 1991. pp. 1654-1656.
A. Snyder, J. Love. Optical waveguide theory. 1st ed. Ed. Springer. London, England. 1983. pp. 470-514.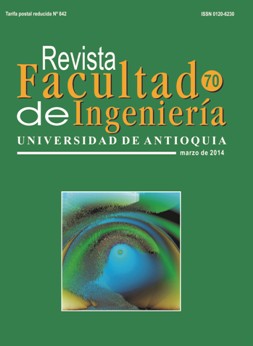 How to Cite
Cardona-Maya Y., Gómez-Cardona N. D., & Torres-Trujillo P. I. (2014). Low cost heat-and-pull rig for manufacturing adiabatic optical fiber tapers. Revista Facultad De Ingeniería Universidad De Antioquia, (70), 167-172. Retrieved from https://revistas.udea.edu.co/index.php/ingenieria/article/view/14820
Copyright (c) 2018 Revista Facultad de Ingeniería
This work is licensed under a Creative Commons Attribution-NonCommercial-ShareAlike 4.0 International License.
Authors can archive the pre-print version (i.e., the version prior to peer review) and post-print version (that is, the final version after peer review and layout process) on their personal website, institutional repository and / or thematic repository

Upon acceptance of an article, it will be published online through the page https://revistas.udea.edu.co/index.php/ingenieria/issue/archive in PDF version with its correspondent DOI identifier
The Revista Facultad de Ingeniería -redin- encourages the Political Constitution of Colombia, chapter IV
Chapter IV Sanctions 51
The following shall be liable to imprisonment for two to five years and a fine of five to 20 times the legal minimum monthly wage: (1) any person who publishes an unpublished literary or artistic work, or part thereof, by any means, without the express prior authorization of the owner of rights; (2) any person who enters in the National Register of Copyright a literary, scientific or artistic work in the name of a person other than the true author, or with its title altered or deleted, or with its text altered, deformed, amended or distorted, or with a false mention of the name of the publisher or phonogram, film, videogram or software producer; (3) any person who in any way or by any means reproduces, disposes of, condenses, mutilates or otherwise transforms a literary, scientific or artistic work without the express prior authorization of the owners thereof; (4) any person who reproduces phonograms, videograms, software or cinematographic works without the express prior authorization of the owner, or transports, stores, stocks, distributes, imports, sells, offers for sale, acquires for sale or distribution or in any way deals in such reproductions. Paragraph. If either the material embodiment or title page of or the introduction to the literary work, phonogram, videogram, software or cinematographic work uses the name, business style, logotype or distinctive mark of the lawful owner of rights, the foregoing sanctions shall be increased by up to half.