Estudio de la fotodegradación del clorotalonilo usando las técnicas de fenton y fotocatálisis con dióxido de titanio mediante radiación solar
Esmeralda Vásquez

Universidad de Antioquia

Gustavo Peñuela

Universidad de Antioquia

Sergio Agudelo

Universidad de Antioquia
Abstract
Para el diseño de sistemas de tratamiento de afluentes residuales se requiere determinar el tiempo de degradación de los contaminantes a escala y con dicha información se puede calcular el tiempo de residencia del agua en el tratamiento seleccionado. En los sistemas de tratamiento con colectores solares, el tiempo de fotodegradación del contaminante dependerá de la intensidad de radiación solar, la cual varía con la hora del día y las condiciones ambientales. En el presente trabajo mediante un colector solar se evaluó la fotodegradación del plaguicida Clorotalonilo con dióxido de titanio y con el reactivo de Fenton, respectivamente, realizándose los ensayos en la ciudad de Medellín (6º latitud norte y 1570 metros sobre el nivel del mar, msnm). El 95% de la degradación del Clorotalonilo se alcanzó con 500 mg/l de TiO2 y 1,0 mg/l de persulfato de sodio en 4 horas de irradiación solar, con una energía acumulada de 15,1 kJ/l. Igual porcentaje se alcanzó con 10 mg/l de ión Férrico en 18 horas de irradiación solar con una energía acumulada de 38 kJ/l. La cinética de degradación fue de primer orden con ambas técnicas de tratamiento, pero con el dióxido de titanio se obtuvo una mayor constante de degradación y un mayor grado de mineralización (80%) que con el foto-Fenton (72%). Lamineralización de los compuestos orgánicos (Clorotalonilo y subproductos de degradación) se comprobó por la desaparición del carbono orgánico total (COT) y la formación de cloruros y nitratos. Se detectaron 6 productos de degradación que a pesar de su baja concentración pueden ser los responsables de la alta toxicidad del efluente final en los bioensayos con Dapnhia pulex.

|Abstract = 26 veces | PDF (ESPAÑOL (ESPAÑA)) = 4 veces|
Downloads
Download data is not yet available.
References
ICA, Instituto Colombiano Agropecuario. Comercialización de plaguicidas. División de Insumos Agrícolas. 1999.
M. A. Piero. Nuevas aportaciones en el desarrollo de metodologías en química verde. Tesis doctoral, Universidad Autónoma de Barcelona, Barcelona. 2003.
O. Alfano, A. Cassano, O. Alfano, R. Brandi, C. Martín. Mineralización de contaminantes por fotocatálisis heterogénea. CIEMAT. Madrid. 2004.
S. Malato, J. Blanco. Tecnología solar aplicada a la depuración de agua conteniendo plaguicidas Problemática de las aguas contaminadas con plaguicidas. Plataforma Solar de Almería CIEMAT - Ministerio de Educación y Ciencia Almería. Madrid. 2006.
G. Peñuela, D. Barcelo. "Photodegradation and stability of chlorothalonil in water studied by solid– phase disk extraction, followed by gas chromatographic techniques". Journal of Chromatography A. Vol. 823.1998. pp 81-90.
J. Kwon, K. Armbrust. "Degradation of Chlorothalonil in Irradiated Water/Sediment Systems". Journal of Agricultural and food chemistry. Vol.54. 2006.pp 3651-3657.
CYTED. Ciencia y tecnología para el desarrollo. Eliminación de Contaminantes por Fotocatálisis Heterogénea. Corporación Iberoamericana. 2003.
J. Park, S.Lee, I. Rhee, J. E. Kin. "Transformation of the fungicide by Fenton Reagent", Journal agricultural and food chemistry. Vol. 50. 2002. pp.7570-7575.
V. Sakkas, D. Lambropoulou, T. Albanis. "Study of chlorothalonil photodegradation in waters and the presence of humic substances". Journal of chromatography A. Vol. 930, 2002.pp 135-144.
V.Sakkas, T. Albanis. "Photocatalyzed degradation of the biocides chlorothalonil and dichlofluanid over aqueous TiO2 suspensions". Applied Catalysis B: Environmental, Vol. 46. 2003.pp 175 – 188.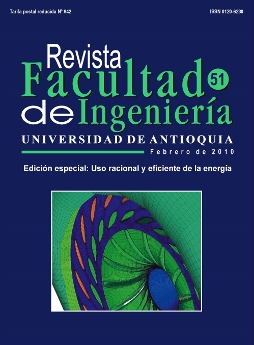 How to Cite
Vásquez E., Peñuela G., & Agudelo S. (2013). Estudio de la fotodegradación del clorotalonilo usando las técnicas de fenton y fotocatálisis con dióxido de titanio mediante radiación solar. Revista Facultad De Ingeniería Universidad De Antioquia, (51), 112-120. Retrieved from https://revistas.udea.edu.co/index.php/ingenieria/article/view/14926
Copyright (c) 2018 Revista Facultad de Ingeniería
This work is licensed under a Creative Commons Attribution-NonCommercial-ShareAlike 4.0 International License.
Authors can archive the pre-print version (i.e., the version prior to peer review) and post-print version (that is, the final version after peer review and layout process) on their personal website, institutional repository and / or thematic repository

Upon acceptance of an article, it will be published online through the page https://revistas.udea.edu.co/index.php/ingenieria/issue/archive in PDF version with its correspondent DOI identifier
The Revista Facultad de Ingeniería -redin- encourages the Political Constitution of Colombia, chapter IV
Chapter IV Sanctions 51
The following shall be liable to imprisonment for two to five years and a fine of five to 20 times the legal minimum monthly wage: (1) any person who publishes an unpublished literary or artistic work, or part thereof, by any means, without the express prior authorization of the owner of rights; (2) any person who enters in the National Register of Copyright a literary, scientific or artistic work in the name of a person other than the true author, or with its title altered or deleted, or with its text altered, deformed, amended or distorted, or with a false mention of the name of the publisher or phonogram, film, videogram or software producer; (3) any person who in any way or by any means reproduces, disposes of, condenses, mutilates or otherwise transforms a literary, scientific or artistic work without the express prior authorization of the owners thereof; (4) any person who reproduces phonograms, videograms, software or cinematographic works without the express prior authorization of the owner, or transports, stores, stocks, distributes, imports, sells, offers for sale, acquires for sale or distribution or in any way deals in such reproductions. Paragraph. If either the material embodiment or title page of or the introduction to the literary work, phonogram, videogram, software or cinematographic work uses the name, business style, logotype or distinctive mark of the lawful owner of rights, the foregoing sanctions shall be increased by up to half.