Estudio de la fotodegradación del clorotalonilo usando las técnicas de fenton y fotocatálisis con dióxido de titanio mediante radiación solar
Keywords:
Fotodegradación, foto-Fenton, fotocatálisis, radiación UV, plaguicidas, oxidación avanzada
Abstract
Para el diseño de sistemas de tratamiento de afluentes residuales se requiere determinar el tiempo de degradación de los contaminantes a escala y con dicha información se puede calcular el tiempo de residencia del agua en el tratamiento seleccionado. En los sistemas de tratamiento con colectores solares, el tiempo de fotodegradación del contaminante dependerá de la intensidad de radiación solar, la cual varía con la hora del día y las condiciones ambientales. En el presente trabajo mediante un colector solar se evaluó la fotodegradación del plaguicida Clorotalonilo con dióxido de titanio y con el reactivo de Fenton, respectivamente, realizándose los ensayos en la ciudad de Medellín (6º latitud norte y 1570 metros sobre el nivel del mar, msnm). El 95% de la degradación del Clorotalonilo se alcanzó con 500 mg/l de TiO2 y 1,0 mg/l de persulfato de sodio en 4 horas de irradiación solar, con una energía acumulada de 15,1 kJ/l. Igual porcentaje se alcanzó con 10 mg/l de ión Férrico en 18 horas de irradiación solar con una energía acumulada de 38 kJ/l. La cinética de degradación fue de primer orden con ambas técnicas de tratamiento, pero con el dióxido de titanio se obtuvo una mayor constante de degradación y un mayor grado de mineralización (80%) que con el foto-Fenton (72%). Lamineralización de los compuestos orgánicos (Clorotalonilo y subproductos de degradación) se comprobó por la desaparición del carbono orgánico total (COT) y la formación de cloruros y nitratos. Se detectaron 6 productos de degradación que a pesar de su baja concentración pueden ser los responsables de la alta toxicidad del efluente final en los bioensayos con Dapnhia pulex.
|Abstract = 99 veces | PDF (ESPAÑOL (ESPAÑA)) = 20 veces|
Downloads
Download data is not yet available.
References
ICA, Instituto Colombiano Agropecuario. Comercialización de plaguicidas. División de Insumos Agrícolas. 1999.
M. A. Piero. Nuevas aportaciones en el desarrollo de metodologías en química verde. Tesis doctoral, Universidad Autónoma de Barcelona, Barcelona. 2003.
O. Alfano, A. Cassano, O. Alfano, R. Brandi, C. Martín. Mineralización de contaminantes por fotocatálisis heterogénea. CIEMAT. Madrid. 2004.
S. Malato, J. Blanco. Tecnología solar aplicada a la depuración de agua conteniendo plaguicidas Problemática de las aguas contaminadas con plaguicidas. Plataforma Solar de Almería CIEMAT - Ministerio de Educación y Ciencia Almería. Madrid. 2006.
G. Peñuela, D. Barcelo. "Photodegradation and stability of chlorothalonil in water studied by solid– phase disk extraction, followed by gas chromatographic techniques". Journal of Chromatography A. Vol. 823.1998. pp 81-90.
J. Kwon, K. Armbrust. "Degradation of Chlorothalonil in Irradiated Water/Sediment Systems". Journal of Agricultural and food chemistry. Vol.54. 2006.pp 3651-3657.
CYTED. Ciencia y tecnología para el desarrollo. Eliminación de Contaminantes por Fotocatálisis Heterogénea. Corporación Iberoamericana. 2003.
J. Park, S.Lee, I. Rhee, J. E. Kin. "Transformation of the fungicide by Fenton Reagent", Journal agricultural and food chemistry. Vol. 50. 2002. pp.7570-7575.
V. Sakkas, D. Lambropoulou, T. Albanis. "Study of chlorothalonil photodegradation in waters and the presence of humic substances". Journal of chromatography A. Vol. 930, 2002.pp 135-144.
V.Sakkas, T. Albanis. "Photocatalyzed degradation of the biocides chlorothalonil and dichlofluanid over aqueous TiO2 suspensions". Applied Catalysis B: Environmental, Vol. 46. 2003.pp 175 – 188.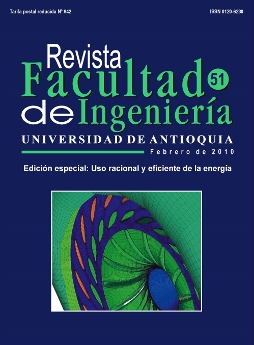 Downloads
How to Cite
Esmeralda, Gustavo, & Sergio. (2013). Estudio de la fotodegradación del clorotalonilo usando las técnicas de fenton y fotocatálisis con dióxido de titanio mediante radiación solar. Revista Facultad De Ingeniería Universidad De Antioquia, (51), 112–120. https://doi.org/10.17533/udea.redin.14926
License
Revista Facultad de Ingeniería, Universidad de Antioquia is licensed under the Creative Commons Attribution BY-NC-SA 4.0 license. https://creativecommons.org/licenses/by-nc-sa/4.0/deed.en
You are free to:
Share — copy and redistribute the material in any medium or format
Adapt — remix, transform, and build upon the material
Under the following terms:
Attribution — You must give appropriate credit, provide a link to the license, and indicate if changes were made. You may do so in any reasonable manner, but not in any way that suggests the licensor endorses you or your use.
NonCommercial — You may not use the material for commercial purposes.
ShareAlike — If you remix, transform, or build upon the material, you must distribute your contributions under the same license as the original.
The material published in the journal can be distributed, copied and exhibited by third parties if the respective credits are given to the journal. No commercial benefit can be obtained and derivative works must be under the same license terms as the original work.