Spectroscopic analysis of coal plasma emission produced by laser ablation
Keywords:
Laser ablation, Laser Induced Plasma Spectroscopy (LIPS), Optical Emission Spectroscopy (EOS), coal
Abstract
An analysis of plasma produced by laser ablation using 1,064 nm of laser radiation from a Q-switched Nd:YAG on coal mineral samples under air ambient, was performed. The emission of molecular band systems such as C2 Swan System , the First Negative System N2 (Band head at 501.53 nm) and different emission lines were investigated using the optical emission spectroscopy technique. The C2 molecular spectra (Swan band) were analyzed to determine vibrational temperature (0.62 eV). The density and electron temperature of the plasma have been evaluated using Stark broadening and the intensity of the nitrogen emission lines (N II). Values of 1.2 eV of electron temperature and 1.82×1019 cm-3 of electron density were found.
|Abstract = 77 veces | PDF = 82 veces|
Downloads
Download data is not yet available.
References
L. Kleiber, H. Fink, R. Niessner and U. Panne, "Strategies for the analysis of coal by laser ablation inductively coupled plasma mass spectroscopy", Analytical and Bioanalytical Chemistry, vol. 374, no. 1, pp. 109-114, 2002.
S. Harilal, R. Issac, C. Bindhu, V. Nampoori and C. Vallabhan, "Optical emission studies of C2 species in laser-produced plasma from carbon", Journal of Physics D: Applied Physics, vol. 30, no. 12, pp. 1703- 1709, 1997.
S. Harilal, R. Issac, C. Bindhu, V. Nampoori and C. Vallabhan, "Emission characteristics and dynamics of C2 from laser produced graphite plasma", J. Appl. Phys., vol. 81, no. 8, pp. 3637-3643, 1997.
C. Romero et al., "Laser-Induced Breakdown Spectroscopy for Coal Characterization and Assessing Slagging Propensity", Energy Fuels, vol. 24, no. 1, pp. 510-517, 2010.
K. Kohse, R. Barlow, M. Aldén and J. Wolfrum, "Combustion at the focus: laser diagnostics and control", Proceedings of the Combustion Institute, vol. 30, no. 1, pp. 89-123, 2005.
J. Qiu et al., "Coal gasification in steam and air medium under plasma conditions: a preliminary study", Fuel Processing Technology, vol. 85, no. 8-10, pp. 969-982, 2004.
H. Riascos, L. Franco and J. Pérez, "Optical spectroscopy of emission from CN plasma formed by laser ablation", Physica Scripta, vol. 131, 2008.
A. Rojas, J. Barraza and R. Barranco, "Cambios morfológicos de carbones pulverizados durante su desvolatilización", Revista Facultad de Ingeniería Universidad de Antioquia, no. 52, pp. 75-87, 2010.
L. Franco, J. Pérez and H. Riascos, "Estudio Espectroscópico de Plasmas del Aire Cobre y Aluminio Producidos por Láser Pulsado", Revista Colombiana de Física, vol. 40, pp. 176-179, 2008.
H. Griem, Plasma Spectroscopy, 1st ed. New York, USA: McGraw-Hill, 1964. 11. H. Griem, Spectral Line Broadening by Plasmas, 2nd ed. New York, USA: Academic Press, 1974.
National Institute of Standards and Technology (NIST), NIST Atomic Spectra Database Lines Form. [Onilne]. Available: http://physics.nist.gov/PhysRefData/ASD/lines_form.html. Accessed on: Apr. 5, 2012.
H. Griem, "Validity of Local Thermal Equilibrium in Plasma Spectroscopy", Phys. Rev., vol. 131, no. 3, pp. 1170-1176, 1963.
B. Man et al., "Line-broadening analysis of plasma emission produced by laser ablation of metal Cu", Journal of Optics A: Pure and Applied Optics, vol. 6, no. 1, pp. 17-21, 2003.
G. Bekefi, Principles of laser plasmas, 1st ed. New York, USA: Wiley-Interscience, 1976.
J. Hollas, Modern Spectroscopy, 1st ed. New York, USA: John Wiley & Sons, 1992.
R. Pearse and A. Gaydon, The identification of Molecular Spectra, 1st ed. London, England: Chapman and Hall, 1976.
M. Karim, D. Cameron and M. Hashmi, "Plasma diagnostics in the growth of c-BN films", Diamond Rel. Mater., vol. 3, no. 4-6, pp. 551-554, 1994.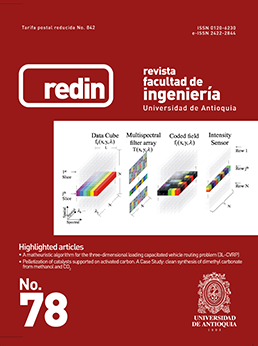 How to Cite
Vera Londoño L. P., Pérez-Taborda J. A., & Riascos Landázuri H. (2016). Spectroscopic analysis of coal plasma emission produced by laser ablation. Revista Facultad De Ingeniería Universidad De Antioquia, (78), 69-72. https://doi.org/10.17533/udea.redin.n78a09
Copyright (c) 2016 Revista Facultad de Ingeniería Universidad de Antioquia
This work is licensed under a Creative Commons Attribution-NonCommercial-ShareAlike 4.0 International License.
Authors can archive the pre-print version (i.e., the version prior to peer review) and post-print version (that is, the final version after peer review and layout process) on their personal website, institutional repository and / or thematic repository

Upon acceptance of an article, it will be published online through the page https://revistas.udea.edu.co/index.php/ingenieria/issue/archive in PDF version with its correspondent DOI identifier
The Revista Facultad de Ingeniería -redin- encourages the Political Constitution of Colombia, chapter IV
Chapter IV Sanctions 51
The following shall be liable to imprisonment for two to five years and a fine of five to 20 times the legal minimum monthly wage: (1) any person who publishes an unpublished literary or artistic work, or part thereof, by any means, without the express prior authorization of the owner of rights; (2) any person who enters in the National Register of Copyright a literary, scientific or artistic work in the name of a person other than the true author, or with its title altered or deleted, or with its text altered, deformed, amended or distorted, or with a false mention of the name of the publisher or phonogram, film, videogram or software producer; (3) any person who in any way or by any means reproduces, disposes of, condenses, mutilates or otherwise transforms a literary, scientific or artistic work without the express prior authorization of the owners thereof; (4) any person who reproduces phonograms, videograms, software or cinematographic works without the express prior authorization of the owner, or transports, stores, stocks, distributes, imports, sells, offers for sale, acquires for sale or distribution or in any way deals in such reproductions. Paragraph. If either the material embodiment or title page of or the introduction to the literary work, phonogram, videogram, software or cinematographic work uses the name, business style, logotype or distinctive mark of the lawful owner of rights, the foregoing sanctions shall be increased by up to half.