Virtual test bench as a complement to study thermal area: application in vapor compression systems
Keywords:
Education, simulator, refrigeration, engineering students, learning
Abstract
This paper describes an educational simulator developed in the software Engineering Equation Solver to simulate the behavior of a vapor compression system. The application is focused on educational purposes, specifi cally for handling skills in refrigeration facilities by students in engineering careers. Using this simulator, the students are able to analyze easily the infl uence of the measured parameters (such as the compressor rotation speed, volumetric fl ow rates and temperature of the secondary fl uids) on the energy performance of the facility and its components. The virtual test bench consists of a primary screen showing a general scheme of the vapor compression facility with input and output parameters. From this primary screen, the performance of the main components can be analyzed. Finally, this virtual test bench was tested by engineering students, concluding that the simulator is an interesting tool as improvement and support for learning in different subjects.
|Abstract = 79 veces | PDF = 80 veces|
Downloads
Download data is not yet available.
References
E. Smirnov and V. Bogun, "Information and communication technology in science learning as a tool for 'scientific thinking' in engineering education", Natural Science, vol. 2, no. 12, pp. 1400-1406, 2010.
P. Axaopoulos and G. Pitsilis, "Energy software programs for educational use", Renewable energy, vol. 32, no. 6, pp. 1045-1058, 2007.
J. Jiménez, J. Ramírez and J. González, "Collaborative robotics modular system used in education", Rev. Fac. Ing. Univ. Antioquia, no. 58, pp. 163-172, 2011.
D. Mendes, C. Marangoni, A. Meneguelo, R. Machado and A. Bolzan, "Educational simulator for multicomponent distillation research and teaching in chemical engineering", Comput. Appl. Eng. Educ., vol. 18, no. 1, pp. 175-182, 2010.
A. Rivas, T. Gómez and J. Ramos, "The application of spreadsheets to the analysis and optimization of systems and processes in teaching of hydraulic and thermal engineering", Comput. Appl. Eng. Educ., vol. 14, pp. 256-268, 2006.
A. Lopes, "A versatile software tool for the numerical simulation of fluid flow and heat transfer in simple geometries", Comput. Appl. Eng. Educ., vol. 18, no. 1, pp. 14-27, 2010.
K. Forbus et al., "CyclePad: An articulate virtual laboratory for engineering thermodynamics", Artificial Intelligence, vol. 114, no. 1-2, pp. 297-347, 1999.
F. Machuca and O. Urresta, "Educational software for the teaching of the dynamics and control of shell and tube heat exchangers", Rev. Fac. Ing. Univ. Antioquia, no. 44, pp. 52-60, 2008.
A. Martín and Mato, "Hint: An educational software for heat exchanger network design with the pinch method", Education for chemical engineers, vol. 3, no. 1, pp. 6-14, 2008.
S. Dormido, "Control learning: Present and future", Annual Rev. Control, vol. 28, no. 1, pp. 115-136, 2004.
M. Dubey, S. Rajput, P. Nag and R. Misra, "Energy analysis of a coupled power-refrigeration cycle", Proceedings of IMechE, Part A: Power and Energy, vol. 224, pp. 749-759, 2010.
L. Pérez, J. Ortiz and C. Pout, "A review on buildings energy consumption information", Energy and Buildings, vol. 40, pp. 394-398, 2008.
S. Ledesma and J. Belman, "Application of artificial neural networks for generation of energetic maps of a variable speed compression system working with R1234yf", Applied Thermal Engineering, vol. 69, no. 1-2, pp. 105-112, 2014.
B. Bolaji, S. Adejuyigbe and J. Olonila, "Performance simulation of vapour compression refrigeration systems using ozone-friendly hydro-fluorocarbon refrigerants", Annals of Faculty Engineering Hunedoara-International Journal of Engineering, vol. 12, no. 3, pp. 177-182, 2014.
L. Genik, R. Davis and C. Somerton, "Vapor-compression refrigeration simulation and tutorial", in American Society for Engineering Education (ASEE) Annual Conference, Montreal, Canada, 2000, pp. 6761-6770.
J. Sieres and J. Fernández, "Simulation of compression refrigeration systems", Comput. Appl. Eng. Educ., vol. 14, pp. 188-197, 2006.
IPU, CoolPack. [Online]. Available: http://en.ipu. dk/Indhold/refrigeration-and-energy-technology/coolpack.aspx. Accessed on: Aug. 15, 2014.
J. Corberán, J. Gonzalvez, P. Montes and R. Blasco, "'ART' a computer code to assist the design of refrigeration and A/C equipment", in 9th International Refrigeration and Air Conditioning Conference, West Lafayette, USA, 2002, pp. 347-354.
J. Brown, P. Domanski and E. Lemmon. "Cycle_D version 4.0: Theoretical vapor compression cycle design program", in 3rd IIR Conference on Thermophysical Properties and Transfer Processes of Refrigerants, Boulder, USA, 2009, pp. 170-177.
R. Antón, H. Jonsson, J. Ramos, T. Gómez and A. Rivas, "Refrigerating cycle simulator: system modelling, educational implementation and assessment", International Journal of Engineering Education, vol. 25, pp. 324-332, 2009.
I. Eames, T. Brown, J. Evans and G. Maidment, "Description and validation of a computer based refrigeration system simulator", Computers and Electronics in Agriculture, vol. 85, pp. 53-63, 2012.
J. Mendoza, J. Belman, A. Gallegos, A. Mota and J. Navarro, "Computational tool for experimental refrigeration system analysis using spreadsheets", Dyna, vol. 89, pp. 608-615, 2014.
J. Belman, J. Navarro, D. Ginestar and V. Milian, "Steady-state of a variable speed vapor compression system using R134a as working fluid", International Journal of Energy Research, vol. 34, pp. 933-945, 2010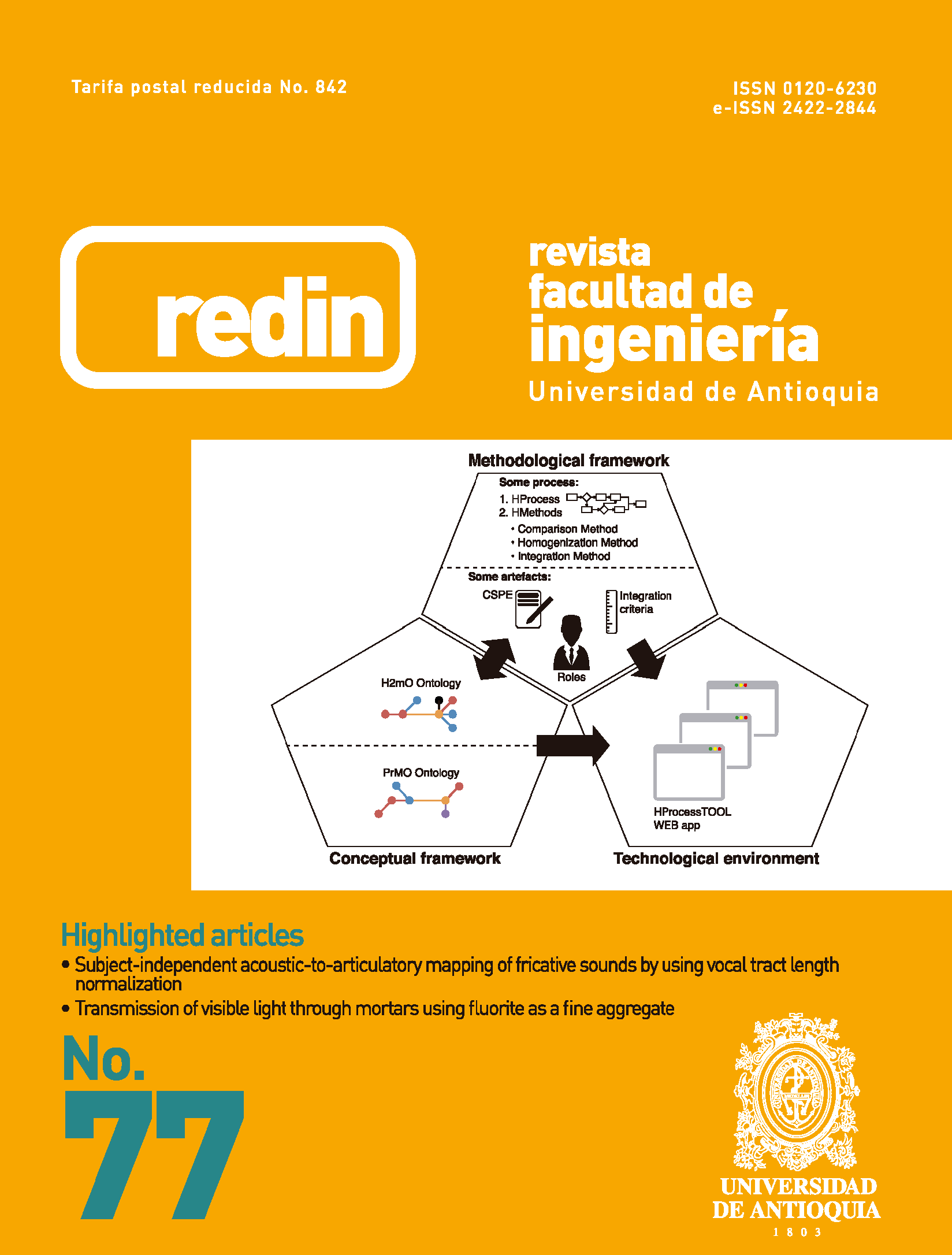 How to Cite
Belman-Flores J. M., Barroso-Maldonado J. M., Mendez-Díaz S., & Martínez Martínez S. (2015). Virtual test bench as a complement to study thermal area: application in vapor compression systems. Revista Facultad De Ingeniería Universidad De Antioquia, (77), 54-62. https://doi.org/10.17533/udea.redin.n77a08
Copyright (c) 2015 Revista Facultad de Ingeniería Universidad de Antioquia
This work is licensed under a Creative Commons Attribution-NonCommercial-ShareAlike 4.0 International License.
Authors can archive the pre-print version (i.e., the version prior to peer review) and post-print version (that is, the final version after peer review and layout process) on their personal website, institutional repository and / or thematic repository

Upon acceptance of an article, it will be published online through the page https://revistas.udea.edu.co/index.php/ingenieria/issue/archive in PDF version with its correspondent DOI identifier
The Revista Facultad de Ingeniería -redin- encourages the Political Constitution of Colombia, chapter IV
Chapter IV Sanctions 51
The following shall be liable to imprisonment for two to five years and a fine of five to 20 times the legal minimum monthly wage: (1) any person who publishes an unpublished literary or artistic work, or part thereof, by any means, without the express prior authorization of the owner of rights; (2) any person who enters in the National Register of Copyright a literary, scientific or artistic work in the name of a person other than the true author, or with its title altered or deleted, or with its text altered, deformed, amended or distorted, or with a false mention of the name of the publisher or phonogram, film, videogram or software producer; (3) any person who in any way or by any means reproduces, disposes of, condenses, mutilates or otherwise transforms a literary, scientific or artistic work without the express prior authorization of the owners thereof; (4) any person who reproduces phonograms, videograms, software or cinematographic works without the express prior authorization of the owner, or transports, stores, stocks, distributes, imports, sells, offers for sale, acquires for sale or distribution or in any way deals in such reproductions. Paragraph. If either the material embodiment or title page of or the introduction to the literary work, phonogram, videogram, software or cinematographic work uses the name, business style, logotype or distinctive mark of the lawful owner of rights, the foregoing sanctions shall be increased by up to half.