Remoción y recuperación de metales pesados de aguas residuales industriales
Edison Gil-Pavas

Universidad EAFIT
Keywords:
Flying ash, adsorbents, ion exchange, heavy metals, zeolites.
Abstract
En el siguiente trabajo se presenta el estado del arte sobre los diferentes métodos y tecnologías para la remoción y recuperación de metales pesados que actualmente se están utilizando para la descontaminación y control de las aguas residuales industriales. Además, se presenta una alternativa para la remoción de Cr(III) y Cr(VI), empleando como adsorbente un material sólido de desecho, con resultados satisfactorios, lo que hace que esta propuesta se circunscriba dentro del programa de tecnologías limpias y bolsa de residuos.

|Abstract = 187 veces | PDF (ESPAÑOL (ESPAÑA)) = 119 veces|
Downloads
Download data is not yet available.
References
PETRUZELLI, Dominico et-al. "Ion exchange process for chromium removal and recovery from tannery wastes". Ind. Eng. Chem. Res. Vol. 34, 1995, pp. 2612-2617.
CADENA, F. et-al. 47 th Purdue industrial waste conference proceedings. Michigan, USA. 1992, p.699.
ARRIAGADA, R. et-al. Informe FONDECYT, Chile, No. 195.0771
SON Kou et-al. Ciencia y Tecnología para el Desarrollo (CYTED) 1998. p.241
SLA VEE and PECKERING. Ciencia y Tecnologia para el Desarrollo (CYTED) 1998. P.198
BARNES, M. et-al. Wastewater. Vol. 35, 1990. p.446.
O'DWYER, T. F. et-al. "Recovery of chromium from tannery efluents using a redox-adsortion approach". J. Chem. Techn. Biotechnol. Vol. 62, 1995, p.30.
SAAD, A.K. et-al. "Adsortion of chromium (III), chromium (VI) and silver (l) on bentonita". Waste Management, Vol. 15 No.4, 1995. p.271.
MALLIOU, E. et-al. ''Uptake of lead and cadmium by clinoptilolita". The science of the total environment, Vol. 149, 1994, p. 139.
PÉREZ CANDELA, Manuel et-al. "Chromium (VI) removal with activated carbons". Water Res., Vol. 29, No. 9, 1995, p. 2174.
MUTHUKUMURA, K. et-al. "Removal and recovery of chromium from plating waste using chemically activates carbon". Metal Finisching, november 1995, p.46.
SAYED, S.A. "Exchange of Zn+2, V+2, Cd+2 and Hg+2, using zeolites and dinonylnaphalene-sulfonate". Zealite, Vol. 17, 1996, p. 261.
CHENG-F ANG, Lin; HSING-CHENG His .. "Resource recovery of waste fly ash synthesis of zeolite-like materials". Enviran. Sci. Technol., Vol. 29, 1995, p. 1109.
SINGER, Arieh and BERKGAUT Vadim, "Cation exchange properties of hidrotermally treated coal fly ash". Enviran. Sci. Technol., vol. 29, 1995 pp. 1748-1753.
AMRHEIN, Christopher; et-al. "Synthesis and propierties of zeolites from coal fly ash". Environ. Sci. Technol., Vol 30, No. 3, 1996, p. 735.
PERRY, Jhon H, "Chemical Engineers Handbook",Mcgraw-Hill Company, New York, fourth edition, pag. 2- 77, 1963.
APHA, A WWA, WPCF, "Standard Methods, for the examination of water and wastewater".1989
GIL PAVAS, Edison H. "Remoción de cromo de la industria de curtiembres utilizando mallas moleculares". Tesis de Maestría, Universidad Nacional de Colombia, Ingeniería Química, Santafé de Bogotá. (1997).
HAWASH, S.; FARAH, J. Y. "Investigation of nickel ion removal by means of activated e lay". Adsortion Science and Technology, Vol. 9, 1994, p. 254.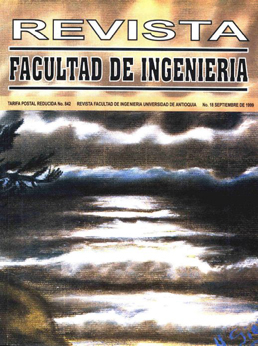 How to Cite
Gil-Pavas E. (1999). Remoción y recuperación de metales pesados de aguas residuales industriales. Revista Facultad De Ingeniería Universidad De Antioquia, (18), 38-47. Retrieved from https://revistas.udea.edu.co/index.php/ingenieria/article/view/325814
Copyright (c) 1999 Revista Facultad de Ingeniería
This work is licensed under a Creative Commons Attribution-NonCommercial-ShareAlike 4.0 International License.
Authors can archive the pre-print version (i.e., the version prior to peer review) and post-print version (that is, the final version after peer review and layout process) on their personal website, institutional repository and / or thematic repository

Upon acceptance of an article, it will be published online through the page https://revistas.udea.edu.co/index.php/ingenieria/issue/archive in PDF version with its correspondent DOI identifier
The Revista Facultad de Ingeniería -redin- encourages the Political Constitution of Colombia, chapter IV
Chapter IV Sanctions 51
The following shall be liable to imprisonment for two to five years and a fine of five to 20 times the legal minimum monthly wage: (1) any person who publishes an unpublished literary or artistic work, or part thereof, by any means, without the express prior authorization of the owner of rights; (2) any person who enters in the National Register of Copyright a literary, scientific or artistic work in the name of a person other than the true author, or with its title altered or deleted, or with its text altered, deformed, amended or distorted, or with a false mention of the name of the publisher or phonogram, film, videogram or software producer; (3) any person who in any way or by any means reproduces, disposes of, condenses, mutilates or otherwise transforms a literary, scientific or artistic work without the express prior authorization of the owners thereof; (4) any person who reproduces phonograms, videograms, software or cinematographic works without the express prior authorization of the owner, or transports, stores, stocks, distributes, imports, sells, offers for sale, acquires for sale or distribution or in any way deals in such reproductions. Paragraph. If either the material embodiment or title page of or the introduction to the literary work, phonogram, videogram, software or cinematographic work uses the name, business style, logotype or distinctive mark of the lawful owner of rights, the foregoing sanctions shall be increased by up to half.