Legislación colombiana para el control de la contaminación del aire
Gildardo Hernández

Universidad de Antioquia

Consuelo Montes de Correa

Universidad de Antioquia
Keywords:
Legislación, normas, atmósfera, calidad de aire, contaminación, política ambiental.
Abstract
Se presenta una revisión cronológica de las Leyes, Decretos y Resoluciones más relevantes expedidas por el Go­bierno Colombiano para el control de la contaminación del aire. Se hace especial énfasis en la reglamentación vi­gente según el Decreto 948 de 1995 modificado según el Decreto 2107 de 1995. Se describe el contenido del Ca­pítulo II acerca de las disposiciones generales sobre normas de calidad del aire, niveles de emisión, emisiones contaminantes, ruido y olores ofensivos, y de los Capítulos III-V que contienen las prohibiciones y restricciones a las emisiones de fuentes fijas, fuentes móviles y ruido. Se describen además, las resoluciones expedidas por el Ministerio del Medio Ambiente para reglamentar el Decreto 948 de 1995 en lo relacionado con la prevención y control de la contaminación atmosférica. Finalmente, se enuncian las principales filosofías consideradas a nivel mundial para el control de la contaminación: las normas sobre emisiones, las normas sobre la calidad del aire, la filosofía sobre los impuestos por emisiones y las normas del costo-beneficio.

|Abstract = 915 veces | PDF (ESPAÑOL (ESPAÑA)) = 830 veces|
Downloads
Download data is not yet available.
References
http:/www.ideam.gov.co/web/ideam /normas.
CORPORACIÓN AUTÓNOMA REGIONAL DEL CENTRO DE ANTIOQUIA. 1997. "Normatividad Ambiental Básica", Subdirección de Promoción y Educa­ción, pp. 463.
MINISTERIO DEL MEDIO AMBIENTE, 1996. "Normas para la Protección y el Control de la Calidad del Aire". Imprenta Nacional de Colombia. Santafé de Bogotá. pp. 162.
ASAMBLEA NACIONAL CONSTITUYENTE. 1991 "Constitución Política de la República de Colombia". Edito­rial Universidad de Antioquia. Medellín. pp. 195.
NOEL DE NEVERS. 1997. "Ingeniería de Control de la Contaminación del Aire". Editorial Revené, México. p. 38-50.
-----. "Air Pollution Control Philosophies". J. Air Pollut. Control Assoc. Vol. 27. p.197-205.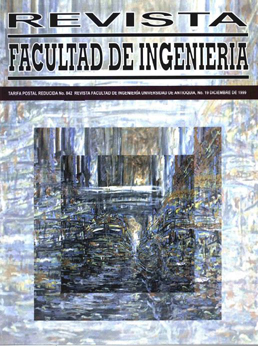 Copyright (c) 2018 Revista Facultad de Ingeniería
This work is licensed under a Creative Commons Attribution-NonCommercial-ShareAlike 4.0 International License.
All the texts included in the Revista Facultad de Ingenieria Universidad de Antioquia -redin- are protected by copyrights. According to the law, their reproduction through any means, physical or electronic, without written consent by the Editorial Committee is forbidden.  Complete texts of the articles will be fully and publically available, which means that they can be read, downloaded, copied, distributed, printed, searched for, or linked to. The opinions expressed in the published articles specifically belong to the authors and are not necessarily the same of the Editorial Committee or of the School of Engineering Management.