Verificación experimental del efecto de la altitud sobre la potencia térmica de un quemador atmosférico
Andrés Amell-Arrieta

Universidad de Antioquia

John Ramiro Agudelo

Universidad de Antioquia

Jaime Cortés
Keywords:
Efecto de altitud, quemador atmosférico, reducción de potencia, combustión atmosférica.
Abstract
El plan de masificación del gas natural en Colombia se realiza en una diversidad de pisos térmicos, que van desde cero a dos mil seiscientos metros de altitud, el mayor mercado se sitúa en La región andina, que se caracteriza por La ubicación de importantes centros urbanos con altitudes que oscilan entre mil y dos mil seiscientos metros. En aplicaciones comerciales y residenciales los sistemas de combustión aplicados son quemadores atmosféricos cuya potencia e afectada por la altitud.
En el presente trabajo se realiza una verificación experimental del efecto de altitud en la potencia de quemadores atmosféricos que usan combustibles gaseosos, con el propósito de precisar el orden de magnitud en la disminución de este parámetro, para sustentar acciones normativas y posibles investigaciones que atenúen este efecto. Se encontró que la potencia de los quemadores atmosféricos disminuye 1,5% por cada 304 m de altitud
|Abstract = 35 veces | PDF (ESPAÑOL (ESPAÑA)) = 17 veces|
Downloads
Download data is not yet available.
References
Kam, Y. P. "High Altitude lnstallation of Gas-Fired Appliances", lnternational Gas Research Conference. Cannes. Francia. 6-9 de noviembre de 1995.
Eiseman, J. H. "The Effect of Altitude on the Limits of Safe Operation of Operation of Gas Appliances". NBS Report 553. Mayo, 1993.
"Effect of High Altitude Upon Gas Furnace Operation". Muller, J.C. and Morris. L.C., 1938 P.C.G.A. Proceeding, p.209.
Suffron. F.O and Simmons. O.N. ''The Effect of Altitude on the Performance of Gas Appliance". AGA, mensual. Sept., 1939.
"Effect of Altitude on Gas Appliance Performance", Laboratories Managin and Approval Requirements Committee lnvestigation, Report No l004-A. The American Gas Association Testing Laboratories. Febrero, 1944.
R.D. Sheridan. ''The Effect of Altitude on the Operation of Gas Appliance", Gas Research lnstitute. Diciembre, 1988.
Gas Research lnstitute. "High Altitude Instalation of Natural Gas-Fired Appliaces with Fan-Assisted Combustion Systems". American Gas Association Laboratories. January 1995.
A. Amell, E. Gil., Cadavid F. "Incidencia de factores geométricos y de flujo sobre la aireación primaria de un quemador atmosférico a gas". Energética No. 21. Agosto, 1999. pp. 65-81.
A. Amell. "Teoría de descarga en inyectores u orificios de combustibles gaseosos". Documento en edición pre­via, CESET Universidad de Antioquia. Agosto de 2000.
Instituto Colombiano de Normas Técnicas. NTC 2832-1: Ensayos de comportamiento de gasodomésticos.
Gas research institute. The effect altitude on the operation gas appliance. Diciembre, 1998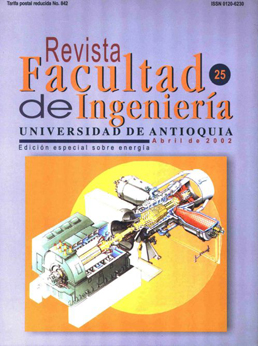 How to Cite
Amell-Arrieta A., Agudelo J. R., & Cortés J. (2002). Verificación experimental del efecto de la altitud sobre la potencia térmica de un quemador atmosférico. Revista Facultad De Ingeniería Universidad De Antioquia, (25), 26-35. Retrieved from https://revistas.udea.edu.co/index.php/ingenieria/article/view/326340
Copyright (c) 2002 Revista Facultad de Ingeniería
This work is licensed under a Creative Commons Attribution-NonCommercial-ShareAlike 4.0 International License.
Authors can archive the pre-print version (i.e., the version prior to peer review) and post-print version (that is, the final version after peer review and layout process) on their personal website, institutional repository and / or thematic repository

Upon acceptance of an article, it will be published online through the page https://revistas.udea.edu.co/index.php/ingenieria/issue/archive in PDF version with its correspondent DOI identifier
The Revista Facultad de Ingeniería -redin- encourages the Political Constitution of Colombia, chapter IV
Chapter IV Sanctions 51
The following shall be liable to imprisonment for two to five years and a fine of five to 20 times the legal minimum monthly wage: (1) any person who publishes an unpublished literary or artistic work, or part thereof, by any means, without the express prior authorization of the owner of rights; (2) any person who enters in the National Register of Copyright a literary, scientific or artistic work in the name of a person other than the true author, or with its title altered or deleted, or with its text altered, deformed, amended or distorted, or with a false mention of the name of the publisher or phonogram, film, videogram or software producer; (3) any person who in any way or by any means reproduces, disposes of, condenses, mutilates or otherwise transforms a literary, scientific or artistic work without the express prior authorization of the owners thereof; (4) any person who reproduces phonograms, videograms, software or cinematographic works without the express prior authorization of the owner, or transports, stores, stocks, distributes, imports, sells, offers for sale, acquires for sale or distribution or in any way deals in such reproductions. Paragraph. If either the material embodiment or title page of or the introduction to the literary work, phonogram, videogram, software or cinematographic work uses the name, business style, logotype or distinctive mark of the lawful owner of rights, the foregoing sanctions shall be increased by up to half.