Posibilidades de innovación en la industrial de procesos químicos en Colombia
Heberto Tapias-García

Universidad de Antioquia

Xiomara Monsalve-Meléndez

Universidad Pontificia Bolivariana

Álvaro Quintero-Posada

Universidad de Antioquia
Keywords:
Innovación, evolución industrial, procesos químicos, retos y problemas, nuevas tecnologías.
Abstract
El artículo señala posibilidades de innovación en materias primas, procesos, productos, unidades de transformación (operaciones unitarias y reactores), así como en prácticas de organización, gestión y de relaciones en la industria de procesos químicos en Colombia. El universo de oportunidades sugerido nace del análisis de tendencias, retos y problemas identificados de la evolu­ción histórica de este sector industrial en los ámbitos mundial y local, y de la necesidad de superar el proceso de desindustrialización del país corno resulta­do de la apertura y globalización de la economía.

|Abstract = 71 veces | PDF (ESPAÑOL (ESPAÑA)) = 53 veces|
Downloads
Download data is not yet available.
References
Bhagat, Phiz, "An introduction to neural nets". Chemical Engineering Progress. August, 1990.
Crowe, Edward R., Vassiliadis, A. "Artificial Intelligence: Starting to realize its practical promise". Chemical Engineering Progress. January, 1995.
Chenier, P., J. Survey of industrial Chemistry. 2nd Revised Edition. VCH Publisher Inc. New York, 1992.
Chopey, N.P., Ondrey, G., Parkinson, G., "Microreactors find new niches". Chemical Engineering. March, 1997.
Díaz, Manuel. "La ingeniería química en los albores del siglo XXI". Ingeniería Química. No. 344. Marzo, 1998.
Drucker, P. La innovación y el empresariado innovador: La práctica y los principios. Editorial Norma. Bogotá, 1986.Gervasio G.J., Pelletier M.J. "Monitor with improved Raman spectroscopy". Chemical Engineering. February, 1997.
Heaton, A. ( Editor). The Chemical Industry. Blackie Academic & Professional. London, 1994.
Koch, David H. "The future: Benefiting from new tools, techniques, and teaching". Chemical Engineering Progress. January, 1997.
Lagowski, J.J. "Viewpoints: Chemist on Chemistry. Chemical Education: Past, Present and Future". Journal of Chemical Education. Vol. 75, No. 4. April, 1998.
Neffa, J.C. Las innovaciones científicas y tecnológicas. Una introducción a su economía política. Editorial Lumen/hVmanitas. Buenos Aires, 2000.
Ondrey Gerald, Kim Irene, Parkinson Gerald. "Reactors for 21st century", Chemical Engineering. June, 1996.
Plásticos Universales. "Cuando el caucho se convirtió en goma. Historia de un asunto pegajoso". http://www.plastunivers.es/pu/S9/R59PNcauchgoma.htm.
Poveda, G. La química en Colombia. Ciencia, ingeniería, industria e historia, en edición, Medellín, noviembre de 2001.
Reuben, B.G., Burstall, M.L. The Chemical economy. Longman Group Limited. London, 1973.
Shinnar, Reuel, "The future of Chemical Engineering". Chemical Engineering Progress. September, 1991.
Sander, John H. "Cbemical Engineering in the 80s: Turning problems into opportunities". Chemical Engineering Progress. February, 1981.
Shanley, Agnes. "Molecular modeling it's not just for chemist anymore". Chemical Engineering. January, 1996.
Shinnar, Reuel. "Tbe future of the chemical industries". Chemtech. January, 1991.
Tidd, J., Bessant, J., Pavitt, K. Managing innovation. Integrating technological, market and organizational change. John Wiley & Sons. New York, 1997.
www.pafko.com.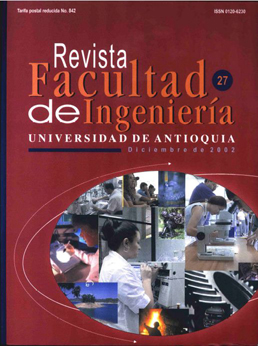 How to Cite
Tapias-García H., Monsalve-Meléndez X., & Quintero-Posada Álvaro. (2002). Posibilidades de innovación en la industrial de procesos químicos en Colombia. Revista Facultad De Ingeniería Universidad De Antioquia, (27), 64-82. Retrieved from https://revistas.udea.edu.co/index.php/ingenieria/article/view/326410
Copyright (c) 2002 Revista Facultad de Ingeniería
This work is licensed under a Creative Commons Attribution-NonCommercial-ShareAlike 4.0 International License.
Authors can archive the pre-print version (i.e., the version prior to peer review) and post-print version (that is, the final version after peer review and layout process) on their personal website, institutional repository and / or thematic repository

Upon acceptance of an article, it will be published online through the page https://revistas.udea.edu.co/index.php/ingenieria/issue/archive in PDF version with its correspondent DOI identifier
The Revista Facultad de Ingeniería -redin- encourages the Political Constitution of Colombia, chapter IV
Chapter IV Sanctions 51
The following shall be liable to imprisonment for two to five years and a fine of five to 20 times the legal minimum monthly wage: (1) any person who publishes an unpublished literary or artistic work, or part thereof, by any means, without the express prior authorization of the owner of rights; (2) any person who enters in the National Register of Copyright a literary, scientific or artistic work in the name of a person other than the true author, or with its title altered or deleted, or with its text altered, deformed, amended or distorted, or with a false mention of the name of the publisher or phonogram, film, videogram or software producer; (3) any person who in any way or by any means reproduces, disposes of, condenses, mutilates or otherwise transforms a literary, scientific or artistic work without the express prior authorization of the owners thereof; (4) any person who reproduces phonograms, videograms, software or cinematographic works without the express prior authorization of the owner, or transports, stores, stocks, distributes, imports, sells, offers for sale, acquires for sale or distribution or in any way deals in such reproductions. Paragraph. If either the material embodiment or title page of or the introduction to the literary work, phonogram, videogram, software or cinematographic work uses the name, business style, logotype or distinctive mark of the lawful owner of rights, the foregoing sanctions shall be increased by up to half.