Descripción de varios métodos y aplicaciones de la radiolocalización a servicios para usuarios móviles
Luis Alberto Flórez-Serna

Universidad de Antioquia

Sergio Román Obando-Cadavid

Universidad de Antioquia
Keywords:
AOA, TDOA, TOA, E-OTD, A-GPS, radiocamera, LBS, E-911, radiolocalización.
Abstract
La tecnología inalámbrica ha abierto un nuevo mundo, dando a los usuarios móviles la libertad para tener conocimiento y comunicarse a voluntad con otros usuarios. Las nuevas plataformas de tecnología han evolucionado para unir a los usuarios en una gran comunidad móvil que comparte amistad, infor­mación e intereses comunes. Esta tendencia en la evolución esta ligada al aumento del uso móvil y son excelentes noticias para los operadores móviles quienes prevén hacer los servicios basados en la posición su prioridad. La tecnología geoespacial ha sumado una nueva dimensión a la experiencia móvil y el advenimiento de los servicios basados en la posición ha extendido estas libertades. Los sistemas basados en la posición serán la piedra angular de la Internet móvil, y el tiempo y el lugar serán valores añadidos a la infomtación pedida. 
Este documento contiene información necesaria para comprender el funcio­namiento de los nuevos servicios que se ven venir con las mejoras en implementación que se están haciendo en las redes celulares del mundo, ade­más posee una descripción de que son los servicios basados en la radiolocalización, un poco de historia, cómo funcionan, de qué se sirven para operar, sus principales características y una mirada hacia el futuro de qué nuevos servicios se pueden sumar a los ya existentes. 
|Abstract = 127 veces | PDF (ESPAÑOL (ESPAÑA)) = 127 veces|
Downloads
Download data is not yet available.
References
www.sigma-l.com.
Airbiquity lnc. Location Commerce White Paper. p. 1 . Mayo, 2000. www.airbiquity.com/Whitepapers.html.
www.geometrix911.com.
Caffery James, Stüber Gordon e Hijo. "Overview of Radiolocation in COMA Cellular Systems". IEEE Communications Magazine. Abril 1998. pp. 38-40.
www.etsi.org.
Maneesh Prasad, Location Based Services. 2001. gisdevelopment.org/application/lbs/lbs002pf.htm.
Göran Swedberg. "La solución de localización móvil de Ericsson", Ericsson review. No. 4, 1999. p. 216.
US Wireless Corporation. "Intelligent Transportation Systems".2001. www.uswcorp.com/USWCMainPages/Applications/its_ whitepaper.htm.
US Wireless Corporation. Metropolitan E-911. 2001. www.uswcorp.com/USWCMainPages/applications/E-911.htm.
www.uswcorp.com.
Roche Charles. "W3C + WAP Workshop Position Paper". Febrero, 2000. www.w3.org/Mobile/posdep/mgisw3cwappp.htm.
Trueposition Company. "Imagine the Posibilities". 2000. www.trueposition.com/sol_app.html.
Cherrill David. "Trust Opportunity in Mobile Commerce". www.logica.com/views/issue7/trust.htm1.
www.geovector.com.
Dixon Douglas. "Location-based Services". Noviembre, 2000.www.princetoninfo.com/200011/01129c02.html.
www.cti-celltrax.com.
www.fonefinder.com.
Hades Todd, Katz Randy. Composable Ad Hoc Location-Based services for Heterogeneus Mobile Clients. University of California. pp. 2-3. Noviembre, 1997.
Driscoll-Wolfe Marketing & Research Consulting.
Cellpoint Inc. Cellpoint Annual Report. p. 25. Junio, 1999-2000. www.cellpoint.com.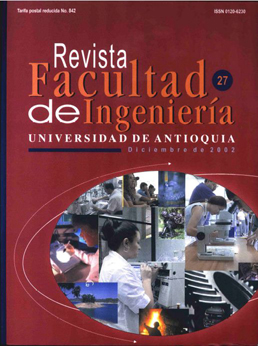 Copyright (c) 2018 Revista Facultad de Ingeniería
This work is licensed under a Creative Commons Attribution-NonCommercial-ShareAlike 4.0 International License.
All the texts included in the Revista Facultad de Ingenieria Universidad de Antioquia -redin- are protected by copyrights. According to the law, their reproduction through any means, physical or electronic, without written consent by the Editorial Committee is forbidden.  Complete texts of the articles will be fully and publically available, which means that they can be read, downloaded, copied, distributed, printed, searched for, or linked to. The opinions expressed in the published articles specifically belong to the authors and are not necessarily the same of the Editorial Committee or of the School of Engineering Management.