Destilería diversificada de alcohol
Pedro A. Rodriguez-R.

ISPJAE.

Gerardo Lombardi

Universidad San Pablo.

Romeu Corsini

Universidad San Pablo.

Osney Pérez-Ones

ISPJAE.
Keywords:
Etanol, diversificación, tecnología, alcohol, destilería, proceso, evaluación económica, evaluación emergética.
Abstract
Se presenta el proceso tecnológico y la evaluación de la factibilidad económi­ca y emergética de una destilería diversificada de alcohol (DDA) proyectada para operar como agroindustria. El proyecto está concebido bajo la concep­ción de máxima eficiencia termodinámica y productiva, calidad ambiental y social, con lo que se da respuesta a los conceptos de desarrollo sostenible y producción más limpia. Se emplean el control biológico de plagas y procesos regenerativos y reciclables, ton significativos resultados económicos y ecológicos. El proyecto tiene en cuenta las normas internacionales de preser­vación ambiental, pues destina el 20% de sus áreas para este fin.

|Abstract = 25 veces | PDF (ESPAÑOL (ESPAÑA)) = 15 veces|
Downloads
Download data is not yet available.
References
Corsini, Romeu. Viabilidade económica de Mini Usina de álcool lntegrada. Monografia. EESC, Brasil, 1999.
Horta, L. A. et al. Estudio alternativo de la caña de azúcar como recurso alimenticio y energético -un modelo integrado. Escuela Federal de Ingeniería de ltajubá -EFEI, ltajubá -MG -Brasil. http://www.fao.org/sd/SPdirect/EGre0056.htm.2000.
Ramos, P.A.R. e Lombardi, G Viabilidade Económica do Projeto Conceitual para Execurçao do Projeto Di­mensional da MUAI. Relatório de Pesquisa FAPESP. NETeF, Escola Engenharia So Carlos. USP, S.P. Bra­sil. 2001.
Especificaciones técnicas de 31 fabricantes.
Informaciones de 49 sitios web (febrero/2001/-noviembre/2001).
JESP, Sardemberg, RM-16/11/01.
Ocampo, Aquiles. "Gasohol: un combustible limpio para Colombia". Revista Facultad de Ingeniería, No.17. Noviembre, 1998.
Odum, H. T. Environmental Accounting, Emergy and Decision Making. New York, USA. John Wil.ey & Sons Inc. 1996. 370 p.
Ortega, E. y M. Miller, Avaliaçâo ecossistêmica - emergética de processos agrícolas e agroindustriais. Estudo de caso: a produçâo de soja. UNICAMP, 2001.
Ortega, E. http://www.unicamp.br/fea/ortega/engenhariaecologica/,20/09/01.
CONSPEL. Destilaría Autônoma com Capacidade de Producción de 60000 L/d de Alcohol Anidro. Pres­Analise Econômica. 1984.
Samuelson, A. P. Fundamientos da Análise Econômica, Nova Cultural, S.P, 1986.
Raznjevic, K. Handbook of Thermodynamics Tables and Charts, McGraw-Hill, 1976.
Obert, E.F. lnternal Combustion Engines, International Textbook Co-2nd Ed, 1955.
Vasconcelos, J.N. y J.S. Torres, "Retrospectiva e Resultados Experimentais de Avaliación da Viabilidade Tecnica de una Microdestilaria de Alcohol Etílico", Revista Tecnológica da lndústria Açucareira e Alcooleira, Año VIII, No. 39. 1985.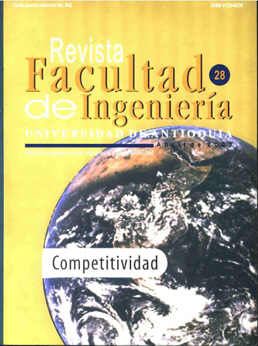 How to Cite
Rodriguez-R. P. A., Lombardi G., Corsini R., & Pérez-Ones O. (2003). Destilería diversificada de alcohol. Revista Facultad De Ingeniería Universidad De Antioquia, (28), 37-49. Retrieved from https://revistas.udea.edu.co/index.php/ingenieria/article/view/326423
Copyright (c) 2003 Revista Facultad de Ingeniería
This work is licensed under a Creative Commons Attribution-NonCommercial-ShareAlike 4.0 International License.
Authors can archive the pre-print version (i.e., the version prior to peer review) and post-print version (that is, the final version after peer review and layout process) on their personal website, institutional repository and / or thematic repository

Upon acceptance of an article, it will be published online through the page https://revistas.udea.edu.co/index.php/ingenieria/issue/archive in PDF version with its correspondent DOI identifier
The Revista Facultad de Ingeniería -redin- encourages the Political Constitution of Colombia, chapter IV
Chapter IV Sanctions 51
The following shall be liable to imprisonment for two to five years and a fine of five to 20 times the legal minimum monthly wage: (1) any person who publishes an unpublished literary or artistic work, or part thereof, by any means, without the express prior authorization of the owner of rights; (2) any person who enters in the National Register of Copyright a literary, scientific or artistic work in the name of a person other than the true author, or with its title altered or deleted, or with its text altered, deformed, amended or distorted, or with a false mention of the name of the publisher or phonogram, film, videogram or software producer; (3) any person who in any way or by any means reproduces, disposes of, condenses, mutilates or otherwise transforms a literary, scientific or artistic work without the express prior authorization of the owners thereof; (4) any person who reproduces phonograms, videograms, software or cinematographic works without the express prior authorization of the owner, or transports, stores, stocks, distributes, imports, sells, offers for sale, acquires for sale or distribution or in any way deals in such reproductions. Paragraph. If either the material embodiment or title page of or the introduction to the literary work, phonogram, videogram, software or cinematographic work uses the name, business style, logotype or distinctive mark of the lawful owner of rights, the foregoing sanctions shall be increased by up to half.