Incremento de productividad por recuperación de calor en gases de chimenea de un horno de cubilote
Hector Daniel Mejía

Universidad de Antioquia

Claudia Silva

Ricardo Aristizábal

Universidad de Antioquia
Keywords:
Horno de cubilote, recuperadores de calor, eficiencia térmica, balance de calor.
Abstract
Sobre la base de la primera ley de la termodinámica se realiza el balance de calor para dos cubilotes típicos y para el cubilote de la Universidad de Antioquia, en este último, antes y después de ser instalado y puesto a punto el sistema de recuperación de calor, que opera con dos regeneradores de lecho empacado. Con los resultados obtenidos en el prototipo eco-eficiente se demuestran las ventajas de trabajar un cubilote con sistemas que recuperen calor de los gases de chimenea, resaltando en este caso, el incremento en la productividad (52,4%) y en la temperatura del metal de salida (7,3%), además del cumplimiento de las normas ambientales vigentes en Colombia. Se destaca la necesidad de recupe­rar el calor de los gases de salida en todos los equipos donde se usan sistemas de combustión.

|Abstract = 104 veces | PDF (ESPAÑOL (ESPAÑA)) = 52 veces|
Downloads
Download data is not yet available.
References
Sáenz, Alejandro, et al. Mejoramiento de la eco-eficiencia en el sub-sector de la fundición, proyecto de desarrollo empresarial patrocinado por Fedemetal, Propel y la Universidad de Antioquia, Medellín. 1995.
A.F.S, American Foundrymen Society. El horno de cubilote y su operación. Traducción. CECSA. México. 1967.
Mazarella, Vicente. Informe final del proyecto: Asistencia al sub-sector de la fundición. Fedemetal, Onudi, PNUD, Sena. Memorias del 1 er Congreso Nacional de Fundición. Sena. Medellín. 1994.
Mejía, Héctor Daniel. "Horno de cubilote eco-eficiente en la Universidad de Antioquia". En: Carta Metalúrgica. Nº 396. Bogotá. Octubre-diciembre, 1996.
Echeverri, Carlos. Muestreo isocinético de material particulado en el horno de cubilote del taller de fundición del departamento de Ingeniería Metalúrgica. Grupo de Higiene Ambiental e Industrial, U de A, Informes de Febrero y Agosto de 1996.
Aristizábal, Ricardo. Modelo matemático para la temperatura del metal en horno de cubilote de soplo caliente. Tesis de grado en Ingeniería Metalúrgica. Grupo Gipimme, Universidad de Antioquia. Medellín. Agosto de 2001.
Lillybeck, Norman. "lnfluence of Fuel Costs on Cupla Design and Operation", Modern Casting Tech. Report Nº 7.515. AFS 1975.
Stanek, Vladimir et al. "Mathematical Model of a Cupola Fumace-Part III: Effect of Operating Conditions on Cupola Performance".
AFS Transactions. Vol. 100, p. 447 (1992). 9. AFS. Cupola Handbook .. 6th Edition. Chicago, 1999.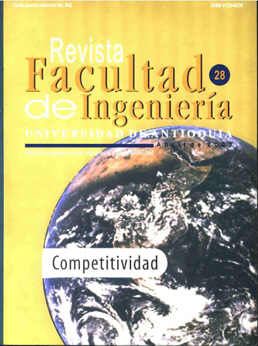 How to Cite
Mejía H. D., Silva C., & Aristizábal R. (2003). Incremento de productividad por recuperación de calor en gases de chimenea de un horno de cubilote. Revista Facultad De Ingeniería Universidad De Antioquia, (28), 76-85. Retrieved from https://revistas.udea.edu.co/index.php/ingenieria/article/view/326426
Copyright (c) 2003 Revista Facultad de Ingeniería
This work is licensed under a Creative Commons Attribution-NonCommercial-ShareAlike 4.0 International License.
Authors can archive the pre-print version (i.e., the version prior to peer review) and post-print version (that is, the final version after peer review and layout process) on their personal website, institutional repository and / or thematic repository

Upon acceptance of an article, it will be published online through the page https://revistas.udea.edu.co/index.php/ingenieria/issue/archive in PDF version with its correspondent DOI identifier
The Revista Facultad de Ingeniería -redin- encourages the Political Constitution of Colombia, chapter IV
Chapter IV Sanctions 51
The following shall be liable to imprisonment for two to five years and a fine of five to 20 times the legal minimum monthly wage: (1) any person who publishes an unpublished literary or artistic work, or part thereof, by any means, without the express prior authorization of the owner of rights; (2) any person who enters in the National Register of Copyright a literary, scientific or artistic work in the name of a person other than the true author, or with its title altered or deleted, or with its text altered, deformed, amended or distorted, or with a false mention of the name of the publisher or phonogram, film, videogram or software producer; (3) any person who in any way or by any means reproduces, disposes of, condenses, mutilates or otherwise transforms a literary, scientific or artistic work without the express prior authorization of the owners thereof; (4) any person who reproduces phonograms, videograms, software or cinematographic works without the express prior authorization of the owner, or transports, stores, stocks, distributes, imports, sells, offers for sale, acquires for sale or distribution or in any way deals in such reproductions. Paragraph. If either the material embodiment or title page of or the introduction to the literary work, phonogram, videogram, software or cinematographic work uses the name, business style, logotype or distinctive mark of the lawful owner of rights, the foregoing sanctions shall be increased by up to half.