Catalytic behavior of Zn(II) and Co(II) molypdates
Luz Amparo Palacio

Universidad de Antioquia

Carlos Saldarriaga

Eduardo Lombardo

-Incape-Santiago del Estero
Keywords:
Transition metal molybdates, hydrothermal synthesis, cyclohexene hydroxylation.
Abstract
Isotypic molybdates of Zn(Il) and Co(II) were hydro thermally prepared and the solid products characterized by XRD, TGA, AA, SEM, CHN analysis and N2 adsorption. The materials are layered type and exhibit structures formed by Zn and Co octahedrons and molybdenum tetrahedrons with one vertex unconnected which protrudes into the interlayer space. The catalytic behavior was tested by means of the reaction of cyclohexene hydroxylation with hydrogen peroxide. ZnMo shows high selectivity to 2-cyclohexene-1-ol while CoMo shows lower activity than the blank.

|Abstract = 9 veces | PDF = 5 veces|
Downloads
Download data is not yet available.
References
Trifiró, F. "Cat. Today". 1998. pp. 41-21.
Trifiró, F. et al. "Fourth lnternational Congress on Catalysis". Moscow. 1968. pp. 18.
Pitchai, R. et al. "Cat. Rev-Sci. ". England. 1986. pp. 28-13.
Mugdan, M. and D. Young. "J. Chem. Soc.". No. 631. 1949. pp. 2.988.
Zhang, Z. et al. "Chem. Commun.". 1998. p.p. 242.
Zhang, Z. et al. "Appl. Cat. A-Gen.". 1999. 179. pp. 11.
POV-Ray™, Version 3.1. 1999.
Kraus, W. and G. Nolze "Powder Cell for Windows, version 2.3". En: Federal Institute for MateRial Research and Testing. No. 5. Berlin. Rudower Chaussee. pp. 12.489
Clearfield, A. et al. "Inor. Chem. ". No. 15. 1976. pp. 335.
Palacio, L. and C. Saldarriaga. "X-ray powder diffraction data for zinc molybdate, Na(OH)Zn2(MoO4)2.2.5H2O", En: Powder Diffraction. No. 15. 2000. pp. 191.
Cotton, A. and G. Wilkinson. "Advanced inorganic chemistry". John Wiley and Sons. Ed. 2. 1966. pp. 373.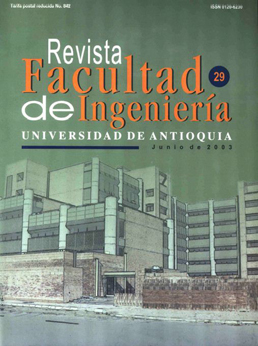 How to Cite
Palacio L. A., Saldarriaga C., & Lombardo E. (2003). Catalytic behavior of Zn(II) and Co(II) molypdates. Revista Facultad De Ingeniería Universidad De Antioquia, (29), 24-29. Retrieved from https://revistas.udea.edu.co/index.php/ingenieria/article/view/326570
Copyright (c) 2003 Revista Facultad de Ingeniería
This work is licensed under a Creative Commons Attribution-NonCommercial-ShareAlike 4.0 International License.
Authors can archive the pre-print version (i.e., the version prior to peer review) and post-print version (that is, the final version after peer review and layout process) on their personal website, institutional repository and / or thematic repository

Upon acceptance of an article, it will be published online through the page https://revistas.udea.edu.co/index.php/ingenieria/issue/archive in PDF version with its correspondent DOI identifier
The Revista Facultad de Ingeniería -redin- encourages the Political Constitution of Colombia, chapter IV
Chapter IV Sanctions 51
The following shall be liable to imprisonment for two to five years and a fine of five to 20 times the legal minimum monthly wage: (1) any person who publishes an unpublished literary or artistic work, or part thereof, by any means, without the express prior authorization of the owner of rights; (2) any person who enters in the National Register of Copyright a literary, scientific or artistic work in the name of a person other than the true author, or with its title altered or deleted, or with its text altered, deformed, amended or distorted, or with a false mention of the name of the publisher or phonogram, film, videogram or software producer; (3) any person who in any way or by any means reproduces, disposes of, condenses, mutilates or otherwise transforms a literary, scientific or artistic work without the express prior authorization of the owners thereof; (4) any person who reproduces phonograms, videograms, software or cinematographic works without the express prior authorization of the owner, or transports, stores, stocks, distributes, imports, sells, offers for sale, acquires for sale or distribution or in any way deals in such reproductions. Paragraph. If either the material embodiment or title page of or the introduction to the literary work, phonogram, videogram, software or cinematographic work uses the name, business style, logotype or distinctive mark of the lawful owner of rights, the foregoing sanctions shall be increased by up to half.