Sulfuros másicos obtenidos a partir de óxidos mixtos de alta área específica como catalizadores de hidrotratamiento
Sandra Amaya

Universidad de Antioquia

Yordy Licea

Universidad Federal de Rio de Janeiro

Maurin Salamanca

Universidad de Antioquia

Arnaldo Faro

Universidad Federal de Rio de Janeiro

Adriana Echavarría

Universidad de Antioquia

Luz Amparo Palacio

Universidad de Antioquia
Abstract
Se prepararon materiales bimetálicos Ni-Mo, Co-Mo y Co-W por medio coprecipitación y Ni-W mediante síntesis hidrotérmica. La caracterización por difracción de rayos X (XRD) confirmó la formación de fases laminares fy en los molibdatos, mientras que los tungstatos exhibieron fases fy semi-cristalina y wolframita. Los análisis térmicos (TGA y DTA) de estos materiales mostraron transiciones de fase alrededor de 400°C, excepto el CoMofy a 350°C; a estas temperaturas se calcinaron los precursores bimetálicos para producir óxidos mixtos, los cuales presentaron altas áreas específicas, si se comparan con materiales análogos reportados por rutas de síntesis diferentes. Los análisis de espectroscopía infrarroja con transformada de Fourier (FTIR) confirmaron la obtención de las fases en las especies precursoras y calcinadas. La actividad catalítica de los óxidos mixtos sulfurados fue evaluada simultáneamente en las reacciones de hidrodesulfuración (HDS) de dibenzotiofeno (DBT) e hidrogenación (HYD) de tetralina. Los resultados mostraron un comportamiento similar a los catalizadores comerciales y se observó además el efecto del promotor (Ni y Co) en las reacciones.

|Abstract = 11 veces | PDF (ESPAÑOL (ESPAÑA)) = 10 veces|
Downloads
Download data is not yet available.
References
S. Mignard, S. Kaztelan, M. Dorbon. A. Billon, P. Zarrasin. "Deep HDS of middle destillates using a high loading CoMo catalyst". Stud. Surf. Sci. Catal. Vol. 100. 1996. pp. 209-216.
S. Eijsbouts, S. W. Mayo, K. Fujita. "Unsupported transition metal sulfide catalysts: From fundamentals to industrial application". Appl. Cat. A. Vol. 322. 2007. pp. 58-66.
H. Topsoe, B. S. Clausen, F. E. Massoth. Hydrotreating Catalysis. Science and Technology. Springer-Verlag. New York. 1996. pp.14-65.
S. Pergher, A. Corma, V. Fornes. "Materiales laminares pilareados: preparación y propiedades". Quim Nova. Vol. 22. .1999. pp. 693-709.
D. Levin, S. L. Soled, J. Y. Ying. "Crystal Structure of an Ammonium Nickel Molybdate Prepared by Chemical Precipitation". Inorg. Chem. Vol. 35. 1996. pp. 4191-4197.
H. Pezerat. "Problemes de non-stoechiométrie dans certains molybdates hydratés de zinc, cobalt et nickel". Bull. Soc. Fr. Minéral. Cristallogr. Vol. 90. 1967. pp. 549-557.
C. Mazzocchia, A. Kaddouri, R. Anouchinsky. "On the NiO, MoO3 mixed oxide correlation between preparative procedures thermal activation and catalytic properties". Solid State Ionics. Vol. 63-65. 1993. pp. 731-735.
J. L. Brito, J. Laine, K. C. Pratt. "Temperatureprogrammed reduction of Ni-Mo oxides". J. Mater. Sci. Vol. 24. 1989. pp. 425-431.
I. Matsuura, S. Mizuno, H. Hashiba. "Acidic properties of molybdate based catalysts for propylene oxidation". Polyhedron. Vol. 5. 1986. pp. 111-117.
J. A. Rodriguez, S. Chaturvedi, J. C. Hanson, A. Albornoz, J. L. Brito. "Electronic Properties and Phase Transformations in CoMoO4 and NiMoO4: XANES and Time-Resolved Synchrotron XRD Studies". J. Phys. Chem. B. Vol. 102. 1998. pp. 1347-1355.
J. A. Rodriguez, J. C. Hanson, S. Chaturvedi, A. Maiti, J. L. Brito. "Phase transformations and electronic properties in mixed-metal oxides: Experimental and theoretical studies on the behavior of NiMoO4 and MgMoO4". J Chem. Phy. Vol. 112. 2000. pp. 935-945.
D. Levin, J. Y. Ying. "Oxidative Dehydrogenation of Propane by Non-Stoichiometric Nickel Molybdate". Studies in Surface Science and Catalysis. Vol. 110. 1997. pp. 367-373.
S. Chaturvedia, J. A. Rodriguez, J. L. Brito. "Characterization of pure and sulfided NiMoO4 catalysts using synchrotron-based X-ray absorption spectroscopy (XAS) and temperature-programmed reduction (TPR)". Catal. Lett. Vol. 51. 1998. pp. 85-93
K. S. W. Sing, D. H. Everett, R. A. W. Haul, L. Moscou, R. A. Perotti, J. Rouquérol, T. Siemieniewska. "Reporting physisorption data for gas/solid systems with special reference to the determination of surface area and porosity". Pure & Appli. Chem. Vol. 57. 1985. pp. 603-619.
D. Vie, E. Martinez, F. Sapiña, J. V. Folgado, A. Beltrán, R. X. Valenzuela, V. Cortés-Corberán. "Freeze-Dried Precursor - based Synthesis of Nanostructured Cobalt- Nickel Molybdates Co1-xNixMoO4". Chem. Mater. Vol. 16. 2004. pp. 1697-1703.
J. Vila, F. Sapiña, E. Martínez, V. Cortés, J. Podobinski. "Synthesis and characterization of nanostructured Co1-xNixMoO4 catalysts active in the ODH of propane". Contrib. Sci. Vol. 4. 2008. pp. 223–229.
J. M. Quintana-Melgoza, J. Cruz-Reyes, M. Avalos- Borja. "Synthesis and characterization of NiWO4 crystals". Mater. Lett. Vol. 47. 2001. pp. 314-318.
M. J. Girgis, B. C. Gates. "Reactivities, Reaction Networks, and Kinetics in High-pressure Catalytic Hydroprocessing". Ind. Eng. Chem. Res. Vol. 30. 1991. pp. 2021-2058.
I.V. Babich, J.A. Moulijn. "Science and technology of novel processes for deep desulfurization of oil refinery streams: a review". Fuel. Vol. 82. 2003. pp. 607-631.
J. A. Rodriguez, S. Chaturvedy, J. C. Hanson, J. L. Brito. "Reaction of H2 and H2S with CoMoO4 and NiMoO4: TPR, XANES, Time-Resolved XRD, and Molecular-Orbital Studies". J. Phys. Chem. B. Vol. 103. 1999. pp. 770-781.
P. Grange, X. Vanhaeren. "Hydrotreating catalysts, an old story with new challenges". Catal. Today. Vol. 36. 1997. pp. 375-391.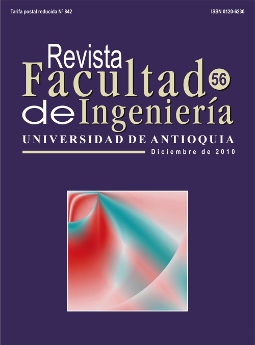 How to Cite
Amaya S., Licea Y., Salamanca M., Faro A., Echavarría A., & Palacio L. A. (2013). Sulfuros másicos obtenidos a partir de óxidos mixtos de alta área específica como catalizadores de hidrotratamiento. Revista Facultad De Ingeniería Universidad De Antioquia, (56), 58-67. Retrieved from https://revistas.udea.edu.co/index.php/ingenieria/article/view/14653
Copyright (c) 2018 Revista Facultad de Ingeniería
This work is licensed under a Creative Commons Attribution-NonCommercial-ShareAlike 4.0 International License.
Authors can archive the pre-print version (i.e., the version prior to peer review) and post-print version (that is, the final version after peer review and layout process) on their personal website, institutional repository and / or thematic repository

Upon acceptance of an article, it will be published online through the page https://revistas.udea.edu.co/index.php/ingenieria/issue/archive in PDF version with its correspondent DOI identifier
The Revista Facultad de Ingeniería -redin- encourages the Political Constitution of Colombia, chapter IV
Chapter IV Sanctions 51
The following shall be liable to imprisonment for two to five years and a fine of five to 20 times the legal minimum monthly wage: (1) any person who publishes an unpublished literary or artistic work, or part thereof, by any means, without the express prior authorization of the owner of rights; (2) any person who enters in the National Register of Copyright a literary, scientific or artistic work in the name of a person other than the true author, or with its title altered or deleted, or with its text altered, deformed, amended or distorted, or with a false mention of the name of the publisher or phonogram, film, videogram or software producer; (3) any person who in any way or by any means reproduces, disposes of, condenses, mutilates or otherwise transforms a literary, scientific or artistic work without the express prior authorization of the owners thereof; (4) any person who reproduces phonograms, videograms, software or cinematographic works without the express prior authorization of the owner, or transports, stores, stocks, distributes, imports, sells, offers for sale, acquires for sale or distribution or in any way deals in such reproductions. Paragraph. If either the material embodiment or title page of or the introduction to the literary work, phonogram, videogram, software or cinematographic work uses the name, business style, logotype or distinctive mark of the lawful owner of rights, the foregoing sanctions shall be increased by up to half.