Key factors in the perception of the quality of dental services provided by undergraduate students
Keywords:
Health care quality, Teaching, patients, Quality and assessment of health care services
Abstract
Introduction: teaching clinics in health education in Colombia have been extremely important due to the connections between Higher Education Institutions and Health Services Providers, enabling internship services. This study seeks to identify the key factors in the perception of the quality of dental services provided by undergraduate students. Methods: this was a cross-sectional study observing the socio-demographic characteristics of students and patients related to the quality of the health care provided at dental clinics according to factors of students, patients, service assessment, and dental clinics agreements. Results: 70.8% of patients receiving dental services offered through dental clinics perceived the overall quality of the service as excellent; as per distribution by sex, the percentage of women seeking dental services is higher, accounting for 69.3% of the study population. Conclusions: most patients consider that the dental services they receive are excellent, considering both management of their disease and student's knowledge.
|Abstract = 144 veces | PDF = 127 veces|
Downloads
Download data is not yet available.
References
López-Portilla JE, Pilataxi-Sánchez S, Rodríguez-Escobar LD, Velásquez-Rivera AC, López-Blandón MA, Martínez-Delgado CM et al. Determinantes de la satisfacción de la atención odontológica en un grupo de pacientes atendidos en la Clínica del Adulto de la Facultad de Odontología de la Universidad de Antioquia. Rev Gerenc Polít Salud 2013; 12(24): 209–225.
Chuenjitwongsa S, Oliver RG, Bullock AD. Competence, competency-based education, and undergraduate dental education: a discussion paper. Eur J Dent Educ 2016; Epub ahead of print. DOI: 10.1111/eje.12213 URL: https://doi.org/10.1111/eje.12213
Donabedian A. Evaluating the quality of medical care. Milbank Q 2005; 83(4): 691–729. DOI: 10.1111/j.1468-0009.2005.00397.x URL: https://dx.doi.org/10.1111/j.1468-0009.2005.00397.x
Payares-González CL, Arango-Botero LA, Garcés-Velez JE. La enseñanza de la odontología: seminario-taller sobre la reforma académico-administrativa de la Facultad de Odontología. Medellín: Universidad de Antioquia; 1990.
Elizondo-Elizondo J, Quiroga-García MA, Palomares-Gorham PI, Martínez -González GI. La satisfacción del paciente con la atención técnica del servicio odontológico. Rev Salud Pública Nutr 2011; 12(1): [about 11 screens]
Sun N, Burnside G, Harris R. Patient satisfaction with care by dental therapists. Br Dent J 2010 Mar 13; 208(5): E9. DOI: 10.1038/sj.bdj.2010.209 URL: https://doi.org/10.1038/sj.bdj.2010.209
Newsome PR, Wright GH. A review of patient satisfaction: 2. Dental patient satisfaction: an appraisal of recent literature. Br Dent J 1999; 186(4): 166–170.
Ebn-Ahmady A, Pakkhesal M, Zafarmand AH, Lando HA. Patient satisfaction surveys in dental school clinics: a review and comparison. J Dent Educ 2015; 79(4): 388–393.
Ordoñez-Molina JE, Domínguez RP, Gómez-Angarita CF, Laguado LD, Prada-Uribe DM. Validación de una encuesta para evaluar la satisfacción del paciente en la consulta externa. Rev CES Salud Pública 2010; 1(1): 49–64.
Agudelo AA, Valencia LY, Oullón E, Betancur LG, Restrepo LM, Peláez LV. Satisfacción y factores asociados en estudiantes usuarios del servicio odontológico de la institución prestadora de servicios de salud "IPS Universitaria" (Medellín). Rev Fac Odontol Univ Antioq 2008; 19(2) 13-23.
Betin-Portacio A, Guardela-Simancas A, Infante-Franco K, Díaz-Caballero A, Gonzalez-Martinez FD. Satisfacción de los pacientes respecto a calidad de la atención odontológica en una institución pública universitaria de la ciudad de Cartagena. Duazary 2009; 6(2): 95-101.
Hincapié A, Carvajal Á, Sánchez LA, Arias Ó. Satisfacción de los usuarios frente a la calidad de la atención en el programa de odontología integral del adolescente y ortodoncia de la Facultad de Odontología de la Universidad de Antioquia. Rev Fac Odont Univ Ant 2004; 15(2): 5-11.
George AC, Hoshing A, Joshi N. A study of the reasons for irregular dental attendance in a private dental college in a rural setup. Indian J Dent Res 2007; 18(2): 78-81.
Lara-Flores N, López-Cámara V, Morales-Estrella SL, Cortés-Velázquez E. Satisfacción de usuarios de dos servicios odontológicos en Tláhuac, Distrito Federal. Rev ADM 2000; 57(2): 45-49.
Orenuga OO, Sofola OO, Uti OO. Patient satisfaction: a survey of dental outpatients at the Lagos University Teaching Hospital, Nigeria. Nig Q J Hosp Med 2009; 19(1): 47-52.
Lang-Ovalle JV. Percepción del paciente que asiste a las clínicas de la facultad de odontología de la universidad de san Carlos de Guatemala, acerca del servicio y atención odontológica, otorgados por los estudiantes, personal docente y administrativo. [Trabajo de grado para optar al título de Cirujana Dentista]. Guatemala: Universidad de San Carlos Guatemala. Facultad de Odontología; 2004.
Matee MI, Scheutz F, Simon EN, Lembariti BS. Patients' satisfaction with dental care provided by public dental clinics in Dar es Salaam, Tanzania. East Afr Med J 2006; 83(4): 98-104.
Jacinto-Núñez JL. Percepción de la calidad de atención del paciente que acude a la Clínica de la Facultad de Odontología de la UNMSM durante el año 2007. [Trabajo de grado para optar al título de Cirujano Dentista]. Lima: Universidad Nacional Mayor de San Marcos. Facultad de Odontología; 2008.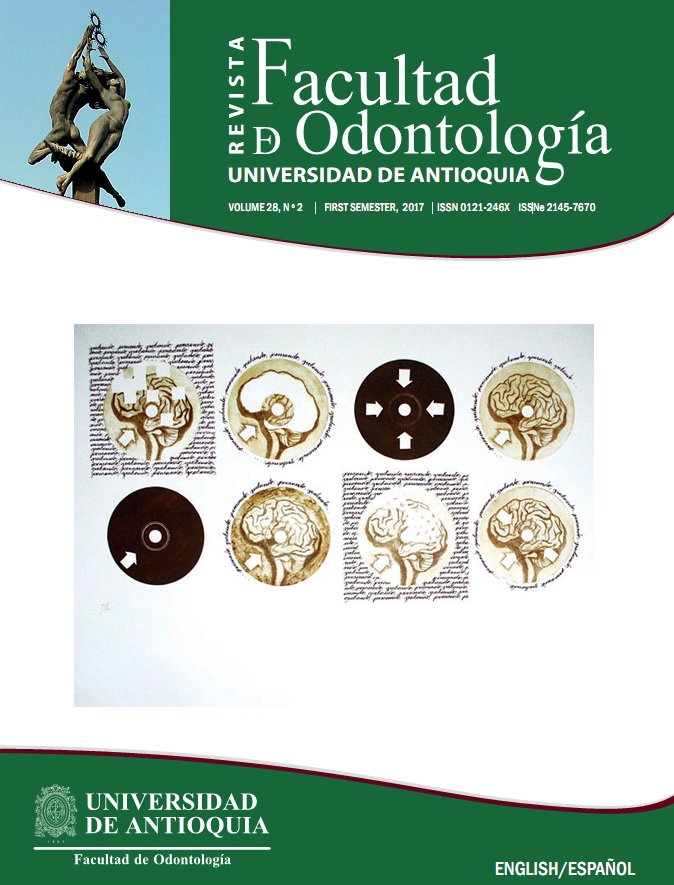 Downloads
How to Cite
Giraldo-Molina, A. M., & Berbesi-Fernández, D. Y. (2017). Key factors in the perception of the quality of dental services provided by undergraduate students. Revista Facultad De Odontología Universidad De Antioquia, 28(2), 311–326. https://doi.org/10.17533/udea.rfo.v28n2a5
License
Copyright Notice
Copyright comprises moral and patrimonial rights.
1. Moral rights: are born at the moment of the creation of the work, without the need to register it. They belong to the author in a personal and unrelinquishable manner; also, they are imprescriptible, unalienable and non negotiable. Moral rights are the right to paternity of the work, the right to integrity of the work, the right to maintain the work unedited or to publish it under a pseudonym or anonymously, the right to modify the work, the right to repent and, the right to be mentioned, in accordance with the definitions established in article 40 of Intellectual property bylaws of the Universidad (RECTORAL RESOLUTION 21231 of 2005).
2. Patrimonial rights: they consist of the capacity of financially dispose and benefit from the work trough any mean. Also, the patrimonial rights are relinquishable, attachable, prescriptive, temporary and transmissible, and they are caused with the publication or divulgation of the work. To the effect of publication of articles in the journal Revista de la Facultad de Odontología, it is understood that Universidad de Antioquia is the owner of the patrimonial rights of the contents of the publication.
The content of the publications is the exclusive responsibility of the authors. Neither the printing press, nor the editors, nor the Editorial Board will be responsible for the use of the information contained in the articles.
I, we, the author(s), and through me (us), the Entity for which I, am (are) working, hereby transfer in a total and definitive manner and without any limitation, to the Revista Facultad de Odontología Universidad de Antioquia, the patrimonial rights corresponding to the article presented for physical and digital publication. I also declare that neither this article, nor part of it has been published in another journal.
Open Access Policy
The articles published in our Journal are fully open access, as we consider that providing the public with free access to research contributes to a greater global exchange of knowledge.
Creative Commons License
The Journal offers its content to third parties without any kind of economic compensation or embargo on the articles. Articles are published under the terms of a Creative Commons license, known as Attribution – NonCommercial – Share Alike (BY-NC-SA), which permits use, distribution and reproduction in any medium, provided that the original work is properly cited and that the new productions are licensed under the same conditions.

This work is licensed under a Creative Commons Attribution-NonCommercial-ShareAlike 4.0 International License.