Apical surgery as cystic lesion treatment for Barodontalgia prevention: a case report
Keywords:
Apical pathology, Atmospheric pressure, Barodontalgia, Dental pain
Abstract
Barodontalgia is not a pathology but a symptom of a subclinical oral problem that, although rare, may affect patients subjected to atmospheric pressure changes and have an influence on flights. This paper aims to discuss the clinical characteristics of pathologies related to the etiology of barodontalgia, as well as differential diagnoses, treatments, and prevention. This paper reports a case of a Brazilian air force officer who went to the Santos Dumont Air Force Dental Clinic reporting pain in the anterior maxillary during a flight. An endodontic treatment followed by periradicular surgery was performed, in order to quickly seal the bone lesion and to avoid new cases of barodontalgia. This work demonstrated a successful approach of a periradicular lesion solved by surgical treatment in order to avoid new cases of barodontalgia during flights. In addition, this paper highlights the importance of deepening knowledge on this event and the need for periodic oral and dental assessment, as well as conclusive treatment in aircrew members in order to prevent aircraft accidents.
|Abstract = 236 veces | PDF = 431 veces|
Downloads
Download data is not yet available.
References
Zadik Y. Barodontalgia: what have we learned in the past decade? Oral Surg Oral Med Oral Pathol Oral Radiol Endod. 2010; 109(4): e65-e69. DOI: https://doi.org/10.1016/j.tripleo.2009.12.001
Marceliano-Alves MFV, Medeiros UV, Fidel SR, Fidel RAS, 2011. Barodontalgia em voo e diagnóstico diferencial de dor odontogênica. Full Dent Sci. 2011; 2(8): 449-454.
Ferjentsik E, Aker F. Barodontalgia: a system of classification. Mil Med. 1982; 147(4): 299-304.
Kollmann W. Incidence and possible causes of dental pain during simulated high altitude flights. J Endod. 1993; 19(3):154-159. DOI: https://doi.org/10.1016/S0099-2399(06)80512-1
Laval-Meunier F, Bertran PE, Arrivé E, Paris JF, Monteil M, Nguyen S et al. Frequency of barodontalgia among military or civilian pilots and aircrew members. Aviat Space Environ Med. 2013; 84(10): 1055-1060.
Stoetzer M, Kuehlhorn C, Ruecker M, Ziebolz D, Gellrich NC, Von-See C. Pathophysiology of barodontalgia: a case report and review of the literature. Case Rep Dent. 2012; 2012: 1-4. DOI: http://dx.doi.org/10.1155/2012/453415
Senia ES, Cunningham KW, Marx RE. The diagnostic dilemma of barodontalgia: report of two cases. Oral Surg Oral Med Pathol. 1985; 60(2): 212-217.
Zadik Y. Barodontalgia. J Endod. 2009; 35(4): 481-485. DOI: https://doi.org/10.1016/j.joen.2008.12.004
Robichaud R, McNally ME. Barodontalgia as a differential diagnosis: symptoms and findings. J Can Dent Assoc. 2005; 71(1): 39-42.
Kennebeck R, Knudtzon KF, Goldhush AA, et al. Symposium on problems of aviation dentistry. J Am Dent Assoc. 1946; 33:827-44.
Harvey W. Dental pain while flying or during decompression tests. Br Dent J. 1947; 82: 113-118.
Rossi DG. Health Policy Directive no. 411: aviation and diving–dental considerations. Camberra: Surgeon General, Australian Defence Force; 1995.
Zadik Y. Barodontalgia due to odontogenic inflammation in the jawbone. Aviat Space Environ Med. 2006; 77(8): 864-866.
Gonzalez-Santiago M del M, Martinez-Sahuquillo-Marquez A, Bullon-Fernandez P. Incidence of barodontalgias and their relation to oral/dental condition in personnel with responsibility in military flight. Med Oral. 2004; 9(2): 98-98.
Shivashankar VY, Johns DA, Vidyanath S, Sam G. Combination of platelet rich fibrin, hydroxyapatite and PRF membrane in the management of large inflammatory periradicular lesion. J Conserv Dent. 2013; 16(3): 261-264. https://doi.org/10.4103/0972-0707.111329.
Lakshmi, Sakthi DS. Aviation dentistry. J Clin Diagn Res. 2014; 8(3): 288-290. DOI: https://doi.org/10.7860/JCDR/2014/7232.4189
Murray PE, Windsor LJ, Smyth TW, Hafez AA, Cox CF. Analysis of pulpal reactions to restorative procedures, materials, pulp capping and future therapies. Crit Rev Oral Biol Med. 2002;13: 509-520.
Zadik Y, Chapnick L, Goldstein L. In-flight barodontalgia: analysis of 29 cases in military aircrew. Aviat Space Environ Med. 2007;78: 593-596.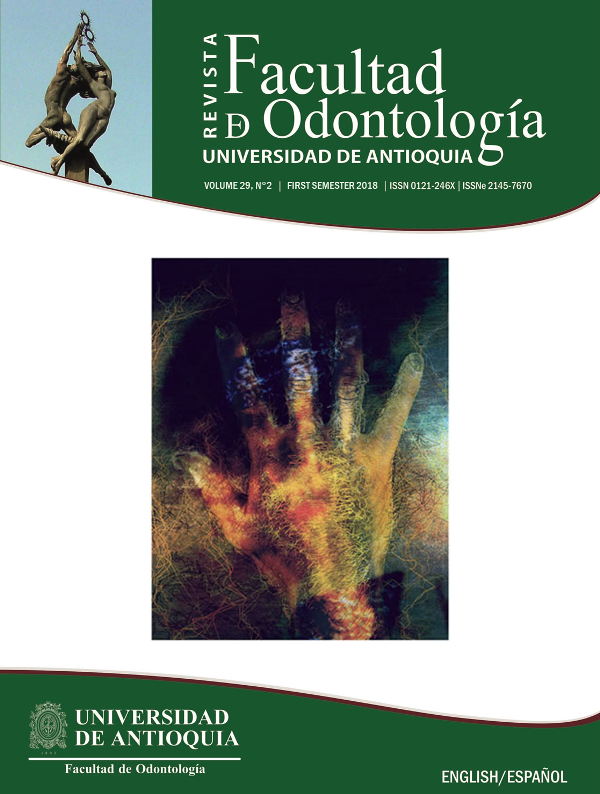 Downloads
How to Cite
Marceliano-Alves, M. F. V., Andrade-Junior, C. V., Ferreira-Alves, F. R., Perez, A. R., & Verma, S. (2018). Apical surgery as cystic lesion treatment for Barodontalgia prevention: a case report. Revista Facultad De Odontología Universidad De Antioquia, 29(2), 420–430. https://doi.org/10.17533/udea.rfo.v29n2a10
License
Copyright (c) 2018 Revista Facultad de Odontología Universidad de Antioquia
This work is licensed under a Creative Commons Attribution-NonCommercial-ShareAlike 4.0 International License.
Copyright Notice
Copyright comprises moral and patrimonial rights.
1. Moral rights: are born at the moment of the creation of the work, without the need to register it. They belong to the author in a personal and unrelinquishable manner; also, they are imprescriptible, unalienable and non negotiable. Moral rights are the right to paternity of the work, the right to integrity of the work, the right to maintain the work unedited or to publish it under a pseudonym or anonymously, the right to modify the work, the right to repent and, the right to be mentioned, in accordance with the definitions established in article 40 of Intellectual property bylaws of the Universidad (RECTORAL RESOLUTION 21231 of 2005).
2. Patrimonial rights: they consist of the capacity of financially dispose and benefit from the work trough any mean. Also, the patrimonial rights are relinquishable, attachable, prescriptive, temporary and transmissible, and they are caused with the publication or divulgation of the work. To the effect of publication of articles in the journal Revista de la Facultad de Odontología, it is understood that Universidad de Antioquia is the owner of the patrimonial rights of the contents of the publication.
The content of the publications is the exclusive responsibility of the authors. Neither the printing press, nor the editors, nor the Editorial Board will be responsible for the use of the information contained in the articles.
I, we, the author(s), and through me (us), the Entity for which I, am (are) working, hereby transfer in a total and definitive manner and without any limitation, to the Revista Facultad de Odontología Universidad de Antioquia, the patrimonial rights corresponding to the article presented for physical and digital publication. I also declare that neither this article, nor part of it has been published in another journal.
Open Access Policy
The articles published in our Journal are fully open access, as we consider that providing the public with free access to research contributes to a greater global exchange of knowledge.
Creative Commons License
The Journal offers its content to third parties without any kind of economic compensation or embargo on the articles. Articles are published under the terms of a Creative Commons license, known as Attribution – NonCommercial – Share Alike (BY-NC-SA), which permits use, distribution and reproduction in any medium, provided that the original work is properly cited and that the new productions are licensed under the same conditions.

This work is licensed under a Creative Commons Attribution-NonCommercial-ShareAlike 4.0 International License.