Oral health and dental care in pregnant women: bibliometric study, systematic review, and content analysis
Keywords:
Oral health, dental care, Pregnant women, Bibliometrics, Systematic review, Content analysis
Abstract
Introduction: the oral condition of pregnant women and the attention it needs affect the overall health of these women and their children. A variety of perspectives have been used to understand and approach research on this field. The objectives of this study were: conduct a bibliometric analysis, assess the quality of the available evidence, and conduct content analysis of articles related to the topics. Methodology: publications related to the topics were identified through a systematic search of the literature, identifying authors, years, and countries with the most publications; in addition, quality of the reports was assessed through the STROBE Guide on the studies that were retrieved in full text, conducting content analysis on thematic, methodological, and epistemological aspects. Results: the systematic review was conducted in three databases (PubMed, Scopus, and Web of Science). Institutions, authors, institutional affiliation, and co-authorship networks were identified with the bibliometric analysis. The systematic review showed predominance of cross-sectional observational studies; there were few controlled clinical trials and they generally emphasized treatments for periodontal disease in pregnant women. The evidence on this subject tends to be low. Content analysis showed that, in ontological terms, research focuses on three main areas: a) biological differences between men and women; b) impact of pregnant women's oral health on the oral and overall health of their babies, c) relationship between pregnancy, oral health, and its impact on the oral and overall health of women. Few studies explore social determinants. In epistemological terms, studies from positivist perspectives were predominant. In methodological terms, the emphasis is placed on research with quantitative approaches. Conclusion: it is necessary to strengthen the relationship between biological and social aspects of pregnant women's oral health and dental care from different epistemological perspectives, seeking a comprehensive view of these aspects and improving dental care in pregnant women
|Abstract = 535 veces | PDF = 366 veces|
Downloads
Download data is not yet available.
References
Blázquez-Rodríguez MI Aproximación a la antropología de la reproducción [Internet]. AIBR Revista de Antropología Iberoamericana 2005; 42. URL: http://www.aibr.org/antropologia/42jul/articulos/jul0506.php
Concha-Sánchez SC, Morales-Borrero C. La inequidad en el acceso a la atención odontológica de las mujeres gestantes en Santander. Rev Univ Ind Santander Salud 2014; 46(1): 35-45
Galarraga-Rodríguez NR. Epistemología para los odontólogos [Internet]. Acta Odontológica Venezolana. 2004; 42(2). URL: http://www.actaodontologica.com/ediciones/2004/2/epistemologia_odontologos.asp
Montilla-Peña LJ. Análisis bibliométrico sobre la producción científica archivística en la Red de Revistas Científicas de América Latina y el Caribe (Redalyc) durante el periodo 2001-2011. Biblios 2012; 48. DOI: 10.5195/biblios.2012.65 URL: https://doi.org/10.5195/biblios.2012.65
Von-Elm E, Altman DG, Egger M, Pocok SJ, Gøtzsche PC, Vandenbroucke JP. Declaración de la iniciativa STROBE (Strengthening the reporting of observational studies in epidemiology): directrices para la comunicación de estudios observacionales. Gac Sanit 2008; 22(2): 144-150
Cobos-Carbó A, Augustovski F. Declaración CONSORT 2010: actualización de la lista de comprobación para informar ensayos clínicos aleatorizados de grupos paralelos. Med Clin 2011; 137(5): 213-215. DOI: 10.1016/j.medcli.2010.09.034 URL: http://dx.doi.org/10.1016/j.medcli.2010.09.034
Liberati A, Altman DG, Tetzlaff J, Mulrow C, Gøtzsche PC, Ioannidis JPA et al. The PRISMA statement for reporting systematic reviews and meta-analyses of studies that evaluate healthcare interventions: explanation and elaboration. BMJ 2009; 339: b2700. DOI: 10.1136%2Fbmj.b2700 URL: https://dx.doi.org/10.1136%2Fbmj.b2700
Piñuel-Raigada JL. Epistemología, metodología y técnicas de análisis de contenido. Estudios de Sociolingüística 2002; 3(1): 1-42
Breilh J. La determinación social de la salud como herramienta de transformación hacia una nueva salud pública (salud colectiva). Rev Fac Nac Salud Pública 2013; 31(supl 1): S13-S27
IAMP. A call for action to strengthen health research capacity in low and middle income countries. Trieste, Italia: IAMP; 2013. URL: http://www.iamp-online.org/sites/iamp-online.org/files/IAMP%20Call%20for%20Action%20on%20RSC%20.pdf
Lansang MA, Dennis R. Building capacity in health research in the developing world. Bull World Health Organ 2004; 82(10): 764-770
Sutherland SE. Evidence-based dentistry: part IV. Research design and levels of evidence. J Can Dent Assoc 2001; 67(7): 375-378.
Concha SC, Pieschacón MP, Rodríguez MJ. Caracterización de los grupos de investigación en el área de odontología registrados en Colciencias a diciembre de 2012. Rev Fac Odontol Univ Antioq 2014; 25(2): 233-264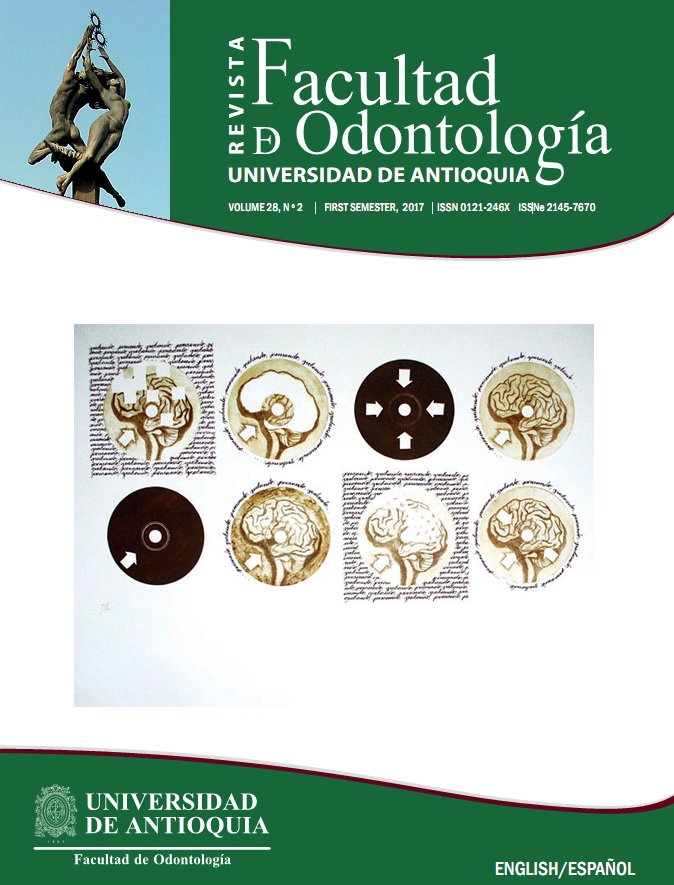 Downloads
How to Cite
Almario-Barrera, A. J., Acevedo-Argüello, C., Villarreal-Neira, C., Morales-Borrero, C., & Concha-Sánchez, S. C. (2017). Oral health and dental care in pregnant women: bibliometric study, systematic review, and content analysis. Revista Facultad De Odontología Universidad De Antioquia, 28(2), 374–407. https://doi.org/10.17533/udea.rfo.v28n2a9
Section
SYSTEMATIC REVIEW
License
Copyright (c) 2017 Revista Facultad de Odontología Universidad de Antioquia
This work is licensed under a Creative Commons Attribution-NonCommercial-ShareAlike 4.0 International License.
Copyright Notice
Copyright comprises moral and patrimonial rights.
1. Moral rights: are born at the moment of the creation of the work, without the need to register it. They belong to the author in a personal and unrelinquishable manner; also, they are imprescriptible, unalienable and non negotiable. Moral rights are the right to paternity of the work, the right to integrity of the work, the right to maintain the work unedited or to publish it under a pseudonym or anonymously, the right to modify the work, the right to repent and, the right to be mentioned, in accordance with the definitions established in article 40 of Intellectual property bylaws of the Universidad (RECTORAL RESOLUTION 21231 of 2005).
2. Patrimonial rights: they consist of the capacity of financially dispose and benefit from the work trough any mean. Also, the patrimonial rights are relinquishable, attachable, prescriptive, temporary and transmissible, and they are caused with the publication or divulgation of the work. To the effect of publication of articles in the journal Revista de la Facultad de Odontología, it is understood that Universidad de Antioquia is the owner of the patrimonial rights of the contents of the publication.
The content of the publications is the exclusive responsibility of the authors. Neither the printing press, nor the editors, nor the Editorial Board will be responsible for the use of the information contained in the articles.
I, we, the author(s), and through me (us), the Entity for which I, am (are) working, hereby transfer in a total and definitive manner and without any limitation, to the Revista Facultad de Odontología Universidad de Antioquia, the patrimonial rights corresponding to the article presented for physical and digital publication. I also declare that neither this article, nor part of it has been published in another journal.
Open Access Policy
The articles published in our Journal are fully open access, as we consider that providing the public with free access to research contributes to a greater global exchange of knowledge.
Creative Commons License
The Journal offers its content to third parties without any kind of economic compensation or embargo on the articles. Articles are published under the terms of a Creative Commons license, known as Attribution – NonCommercial – Share Alike (BY-NC-SA), which permits use, distribution and reproduction in any medium, provided that the original work is properly cited and that the new productions are licensed under the same conditions.

This work is licensed under a Creative Commons Attribution-NonCommercial-ShareAlike 4.0 International License.