EVALUACION CLINICA Y RADIOGRAFICA DE IMPLANTES REHABILITADOS CON SOBREDENTADURAS MANDIBULARES Y SOMETIDOS A CARGA INMEDIATA. 36 MESES DE OBSERVACION
Juan Alberto Aristizabal Hoyos

Universidad Autonoma de Manizales facultad de Salud , Coordinador especialización en Rehabilitación oral

Diego Fernando Zuñiga Diaz

Universidad Autonoma de Manizales

Paula Tatiana Chacón Arboleda

Universidad Autonoma de Manizales
Abstract
Introducción : El objetivo de este estudio fue evaluar clínica y radiográficamente después de 36 meses de función, 54 implantes colocados en el maxilar inferior y rehabilitados con sobredentaduras  bajo el protocolo de carga inmediata, utilizando sistema de retención tipo bola. Métodos: 27 pacientes totalmente edéntulos quienes atendieron el llamado de control después de 36 meses de haber recibido cada uno dos implantes marca  BioHorizons de conexión interna, instalados en la región inter foraminal del maxilar inferior. Los 54 implantes fueron evaluados en términos de supervivencia, cantidad de pérdida ósea peri-implantar, estado de los tejidos peri-implantares, el comportamiento de la prótesis y el grado de satisfacción de los pacientes. Resultados: La tasa de supervivencia a los 36 meses fue de 98.14%, el promedio de perdida ósea radiográfica  fue de 0,74 ±0,5, el  60,1% de los implantes presentaron nivel de placa grado 0, el 33,2% evidenció placa únicamente cuando se instrumentó con la sonda alrededor del implante, el promedio de profundidad al sondaje fue de  1,75 ±0,75 mm. Se encontró que el  57% de las prótesis tenían retención activa , El 43% no presentó retención o su retención estaba dada por uno solo de sus elementos,  el 53,8% de las sobredentaduras se encontraron estables en el momento de la evaluación , el 100% de los pacientes manifestaron satisfacción total. Conclusión: a 36 meses de observación una sobre dentadura mandibular retenida por pilares en bola colocada sobre  dos implantes no ferulizados y cargados inmediatamente parece ser un tratamiento predecible para pacientes con desdentación total inferior con una alta tasa de supervivencia de los implantes, con unos niveles de pérdida ósea peri implantar dentro de los estándares reportados por la literatura y con un alto grado de satisfacción de los pacientes.
|Abstract = 449 veces | PDF = 195 veces|
Downloads
Download data is not yet available.
References
Gunnar E Carlsson. Implant and Root Supported Overdentures, a Literature Review and Some Data on Bone Loss in Edentulous Jaws. The Journal of Advanced Prosthodontics; 6:245-52. 2014.
Mojon P. The world without teeth: demographic trends. In: Feine JS, Carlsson GE, Eds. Implant overdentures. The standard of care for edentulous patients. Chicago; Quintessence; p. 3-14. 2003.
Awad MA, Lund JP, Stanley H. Shapiro , David Locker D, Esa Klemetti E, Antoine Chehade, Andre Savard A. Oral Health Status and Treatment Satisfaction with Mandibular Implant Overdentures and Conventional Dentures: A Randomized Clinical Trial in a Senior Population. Int J Prosthodont 16:390-396. 2003.
Van Kampen FM, Cune MS, van der Bilt A, Bosman F. Retention and post-insertion maintenance of bar-clip, ball, and magnet attachments in mandibular implant overdenture treatment; and in vivo comparison after three months of function. Clin Oral Implants Res; 14:720-6. 2003.
Albrektsson T, Zarb G, Worthington P, Eriksson A. The Long-Term Efficacy of Currently Used Dental Implants: A Review and Proposed Criteria of Success. International Journal Of Oral & Maxillofacial Implants, 1(1): 11-25. 1986.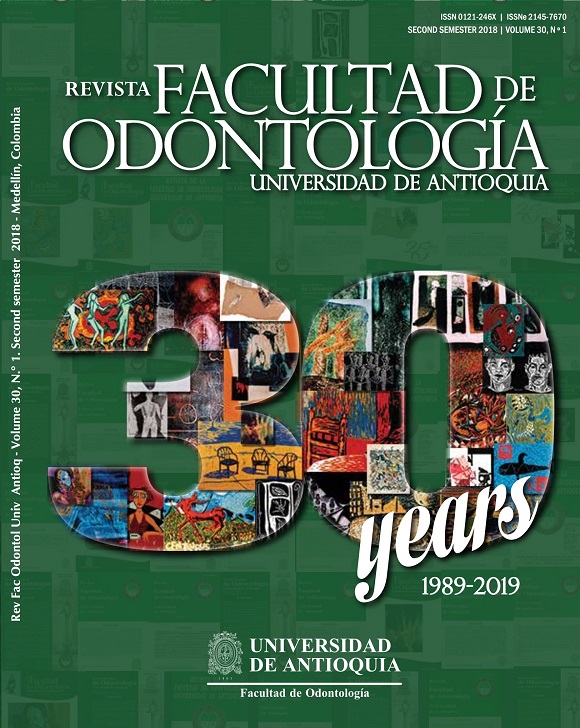 How to Cite
Aristizabal Hoyos, J. A., Zuñiga Diaz, D. F., & Chacón Arboleda, P. T. (2018). EVALUACION CLINICA Y RADIOGRAFICA DE IMPLANTES REHABILITADOS CON SOBREDENTADURAS MANDIBULARES Y SOMETIDOS A CARGA INMEDIATA. 36 MESES DE OBSERVACION. Revista Facultad De Odontología Universidad De Antioquia, 30(1). https://doi.org/10.17533/udea.rfo.v30n1a2
Copyright Notice
Copyright comprises moral and patrimonial rights.
1. Moral rights: are born at the moment of the creation of the work, without the need to register it. They belong to the author in a personal and unrelinquishable manner; also, they are imprescriptible, unalienable and non negotiable. Moral rights are the right to paternity of the work, the right to integrity of the work, the right to maintain the work unedited or to publish it under a pseudonym or anonymously, the right to modify the work, the right to repent and, the right to be mentioned, in accordance with the definitions established in article 40 of Intellectual property bylaws of the Universidad (RECTORAL RESOLUTION 21231 of 2005).
2. Patrimonial rights: they consist of the capacity of financially dispose and benefit from the work trough any mean. Also, the patrimonial rights are relinquishable, attachable, prescriptive, temporary and transmissible, and they are caused with the publication or divulgation of the work. To the effect of publication of articles in the journal Revista de la Facultad de Odontología, it is understood that Universidad de Antioquia is the owner of the patrimonial rights of the contents of the publication.
The content of the publications is the exclusive responsibility of the authors. Neither the printing press, nor the editors, nor the Editorial Board will be responsible for the use of the information contained in the articles.
I, we, the author(s), and through me (us), the Entity for which I, am (are) working, hereby transfer in a total and definitive manner and without any limitation, to the Revista Facultad de Odontología Universidad de Antioquia, the patrimonial rights corresponding to the article presented for physical and digital publication. I also declare that neither this article, nor part of it has been published in another journal.
Open Access Policy
The articles published in our Journal are fully open access, as we consider that providing the public with free access to research contributes to a greater global exchange of knowledge.
Creative Commons License
The Journal offers its content to third parties without any kind of economic compensation or embargo on the articles. Articles are published under the terms of a Creative Commons license, known as Attribution – NonCommercial – Share Alike (BY-NC-SA), which permits use, distribution and reproduction in any medium, provided that the original work is properly cited and that the new productions are licensed under the same conditions.

This work is licensed under a Creative Commons Attribution-NonCommercial-ShareAlike 4.0 International License.