Excision of a traumatic fibroma with diode laser in a pediatric patient: case report
Keywords:
Diode laser, Fibroma, Reactive hyperplasia, Chromophores
Abstract
Fibroma is currently considered the most common reactive hyperplasia of fibrous connective tissue in response to local trauma in the oral cavity. This case deals with the excision of a traumatic fibroma using diode laser (Epic X, wavelength of 940nm, continuous mode, 5W power), whose energy is absorbed by hemoglobin and melanin (chromophores) and is indicated in soft tissue surgeries, favoring coagulation. The results are consistent with the benefits demonstrated in the scientific literature: better visibility in the surgical act due to achieved hemostasis, excellent postoperative phase due to the absence of pain and inflammation, with no need for analgesic medication, no use of sutures, no scarring and no recurrence. It is a safe and fast procedure that also allows performing a histopathological study without altering the tissues to be examined. In the case presented here, the histopathological study confirmed the presumptive diagnosis of fibroma.
|Abstract = 696 veces | PDF (ESPAÑOL (ESPAÑA)) = 254 veces| | HTML = 15 veces|
Downloads
Download data is not yet available.
References
Neville BW, Damm DD, Bouquot JE, Allen C. Oral and maxillofacial pathology. 4th ed. St. Louis: Elsevier; 2009.
Toida M, Murakami T, Kato K, Kusunoki Y, Yasuda S, Fujitsuka H et al. Irritation fibroma of the oral mucosa:
a clinicopathological study of 129 lesions in 124 cases. Oral Med Pathol. 2001; 6: 91-4.
Pérez-Salcedo L, Bascones-Martínez A. Tumores benignos de la mucosa oral. Av. Odontoestomatol. 2010; 26(1): 11-8.
Santana Santos T, Martins-Filho PS, Piva MR, de Souza Andrade ES. Focal fibrous hyperplasia: a review of 193 cases. J Oral Maxillofac Pathol. 2014; 18(Suppl 1): S86-9. DOI: https://dx.doi.org/10.4103%2F0973-029X.141328
Casian Romero A, Trejo Quiroz P, De León Torres C, Carmona Ruiz D. Hiperplasia fibrosa inflamatoria: reporte de un caso. Periodoncia Implantol Rehabiltac Oral. 2011; 4(2): 74-9. DOI: http://dx.doi.org/10.4067/S0719-01072011000200007
Esmeili T; Lozada-Nur F; Epstein J. Common benign oral soft tissue masses. Dent Clin North Am. 2005; 49(1): 223-40. DOI: https://doi.org/10.1016/j.cden.2004.07.001
Halim DS, Pohchi A, Pang EE. The prevalence of fibroma in oral mucosa among patient attending USM dental clinic year 2006-2010. Indonesian J Dent Res. 2010; 1(1): 61-6.
Rossmann JA. Reactive lesions of the gingiva: diagnosis and treatment options. The Open Pathology Journal. 2011; 5: 23-32.
Bornstein MM, Winzap-Kälin C, Cochran DL, Buser D. The CO2 laser for excisional biopsies of oral lesions: a case series study. Int J Periodontics Restorative Dent. 2005; 25(3): 221-9.
Rossmann JA, Cobb CM. Lasers in periodontal therapy. Periodontology 2000. 1995; 9: 150-64.
Shalawe WS, Ibrahim ZA, Sulaiman AD. Clinical comparison between diode laser and scalpel incisions in
oral soft tissue biopsy. Al-Rafidain Dent J. 2012; 12(2): 337-43.
Torres-Domingo S, Bagan JV, Jiménez Y, Poveda R, Murillo J, Díaz JM et al. Benign tumors of the oral mucosa: a study of 300 patients. Med Oral Patol Oral Cir Bucal. 2008; 13(3): E161-6.
Ortega-Concepción D, Cano-Durán JA, Peña-Cardelles JF, Paredes-Rodríguez VM, González-Serrano J, López-Quilles J. The application of diode laser in the treatment of oral soft tissues lesions: a literature review. J Clin Exp Dent. 2017; 9(7): e925-28. DOI: https://dx.doi.or/10.4317%2Fjced.53795
López-Labady J, Villarroel M, Lazarde J, Rivera H. Fibroma traumático: revisión de la literatura y reporte de dos casos. Acta Odontol Venez. 2000; 38(1): 47-9.
Allon I, Kaplan I, Gal G, Chaushu G, Allon DM. The clinical characteristics of benign oral mucosal tumors. Med Oral Patol Oral Cir Bucal. 2014; 19(5): e438-43. DOI: https://doi.org/10.4317/medoral.19387
Correa PE, Arias S. Resección de fibroma en mucosa oral: técnica del estrangulamiento. Rev. CES Odont. 2016; 29(1): 82-7.
Silverman EB, Read RW, Boyle CR, Cooper R, Miller WW, McLaughlin RM. Histologic comparison of canine skin biopsies collected using monopolar electrosurgery, CO2 laser, radiowave radiosurgery, skin biopsy punch, and scalpel. Vet Surg. 2007; 36(1): 50-6. DOI: https://doi.org/10.1111/j.1532-950X.2007.00234.x
Funde S, Baburaj MD, Pimpale SK. Comparison between laser, electrocautery and scalpel in the treatment of drug-induced gingival overgrowth: a case report. IJSS Case Rep Rev. 2015; 1(10): 27-30. DOI: https://doi.org/10.17354/cr/2015/43
Pang P, Andreana S, Aoki A, Coluzzi D, Obeidi A, Olivi G et al. Laser energy in oral soft tissue applications: position paper. J Laser Dent. 2010; 18(3): 123-31.
Carroll J, Milward M, Cooper PR, Hadis M, Palin WM. Developments in low level light therapy (LLLT) for dentistry. Dent Mater. 2014; 30(5): 465-75. DOI: https://doi.org/10.1016/j.dental.2014.02.006
Chandna S, Kedige SD. Evaluation of pain on use of electrosurgery and diode lasers in the management of gingival hyperpigmentation: a comparative study. J Indian Soc Periodontol. 2015; 19(1): 49-55. DOI: https://doi.org/10.4103/0972-124X.145823
Patel H, Fernandes S, Ranadheer E. Excision of irritation fibroma in a child with diode laser: a case report. J Dent Lasers. 2014; 8: 34-8. DOI: https://doi.org/10.4103/0976-2868.134124
Desiate A, Cantone S, Profeta G, Grassi F R, Ballini A, Tullo D. 980nm diode lasers in oral facial practice: current state of the science and art. Int J Med Sci. 2009; 6(6): 358-64. DOI: https://doi.org/10.7150/ijms.6.358
Yagüe-García J, España-Tost AJ, Berini-Aytés L, Gay-Escoda C. Treatment of oral mucocele-scalpel versus C02 laser. Med Oral Patol Oral Cir Bucal. 2009; 14(9): e469-74.
Strauss RA, Jones G, Wojtkowski DE. A comparison of postoperative pain parameters between CO2 laser and scalpel biopsies. J Oral Laser Appl. 2006; 6(1): 39-42.
Kafas P, Angouridakis N, Dabarakis N, Jerjes W. Diode laser lingual frenectomy may be performed without local anesthesia. Int J Orofac Sci. 2008; 1: 1.
Kafas P, Stavrianos C, Jerjes W, Upile T, Vourvachis M, Theodoridis M et al. Upper-lip laser frenectomy without infiltrated anesthesia in a paediatric patient: a case report. Cases J. 2009; 2: 7138. DOI: https://doi.org/10.1186/1757-1626-2-7138
Kafas P, Dabarakis N, Theodoridis M. Performing gingivoplasty without injected anaesthesia: a case report. Surg J. 2008; 3(2): 27-9.
Öncü E. Comparison of gingivectomy procedures for patient satisfaction: conventional and diode laser surgery. Seljuk Dent J. 2017; 4(1): 6-9. DOI: https://doi.org/10.15311/1441.309572
Amid R, Kadkhodazadeh M, Talebi MR, Hemmatzadeh S, Refoua S, Iranparvar P et al. Using diode laser for soft tissue incision of oral cavity. J Lasers Med Sci. 2012; 3(1): 36-43.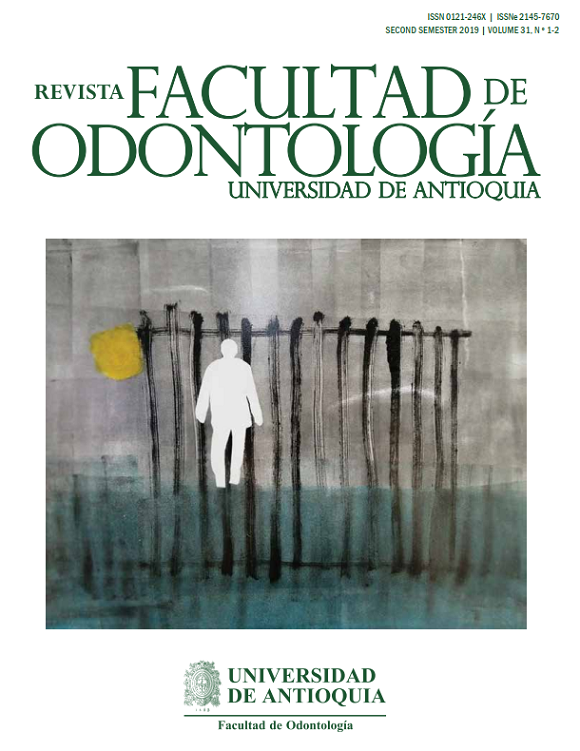 Downloads
How to Cite
Silva-Mancera, I. C., Triana-Escobar, F. E., & Soto-Llanos, L. (2019). Excision of a traumatic fibroma with diode laser in a pediatric patient: case report. Revista Facultad De Odontología Universidad De Antioquia, 31(1-2), 162–170. https://doi.org/10.17533/udea.rfo.v31n1-2a14
License
Copyright (c) 2019 Revista Facultad de Odontología Universidad de Antioquia
This work is licensed under a Creative Commons Attribution-NonCommercial-ShareAlike 4.0 International License.
Copyright Notice
Copyright comprises moral and patrimonial rights.
1. Moral rights: are born at the moment of the creation of the work, without the need to register it. They belong to the author in a personal and unrelinquishable manner; also, they are imprescriptible, unalienable and non negotiable. Moral rights are the right to paternity of the work, the right to integrity of the work, the right to maintain the work unedited or to publish it under a pseudonym or anonymously, the right to modify the work, the right to repent and, the right to be mentioned, in accordance with the definitions established in article 40 of Intellectual property bylaws of the Universidad (RECTORAL RESOLUTION 21231 of 2005).
2. Patrimonial rights: they consist of the capacity of financially dispose and benefit from the work trough any mean. Also, the patrimonial rights are relinquishable, attachable, prescriptive, temporary and transmissible, and they are caused with the publication or divulgation of the work. To the effect of publication of articles in the journal Revista de la Facultad de Odontología, it is understood that Universidad de Antioquia is the owner of the patrimonial rights of the contents of the publication.
The content of the publications is the exclusive responsibility of the authors. Neither the printing press, nor the editors, nor the Editorial Board will be responsible for the use of the information contained in the articles.
I, we, the author(s), and through me (us), the Entity for which I, am (are) working, hereby transfer in a total and definitive manner and without any limitation, to the Revista Facultad de Odontología Universidad de Antioquia, the patrimonial rights corresponding to the article presented for physical and digital publication. I also declare that neither this article, nor part of it has been published in another journal.
Open Access Policy
The articles published in our Journal are fully open access, as we consider that providing the public with free access to research contributes to a greater global exchange of knowledge.
Creative Commons License
The Journal offers its content to third parties without any kind of economic compensation or embargo on the articles. Articles are published under the terms of a Creative Commons license, known as Attribution – NonCommercial – Share Alike (BY-NC-SA), which permits use, distribution and reproduction in any medium, provided that the original work is properly cited and that the new productions are licensed under the same conditions.

This work is licensed under a Creative Commons Attribution-NonCommercial-ShareAlike 4.0 International License.