Impact of the Covid-19 pandemic on Colombia's dentistry
Keywords:
Covid-19, Pandemic, Impact, Colombia
|Abstract = 218 veces | PDF = 167 veces|
Downloads
Download data is not yet available.
References
Nguyen LH, Drew DA, Joshi AD, Guo CG, Ma W, Mehts RS et al. Risk of COVID-19 among front-line health-care workers and the general community: a prospective cohort study. Lancet Public Health. 2020; 5: e475–83. DOI: https://doi.org/10.1016/s2468-2667(20)30164-x

Epstein JB, Chow K, Mathias R. Dental procedure aerosols and COVID-19. Lancet Infect Dis. 2020. DOI: https://doi.org/10.1016/S1473-3099(20)30636-8

Singh Gambhir R, Singh Dhaliwal J, Aggarwal A, Anand S, Anand V, Kaur Bhangu A. Covid-19: a survey on knowledge, awareness and hygiene practices among dental health professionals in an Indian scenario. Rocz Panstw Zakl Hig. 2020; 71(2): 223–9. DOI: https://doi.org/10.32394/rpzh.2020.0115

Putrino A, Raso M, Magazzino C, Galluccio G. Coronavirus (COVID-19) in Italy: knowledge, management of patients and clinical experience of Italian dentists during the spread of contagion. BMC Oral Health. 2020; 20: 200.

Kamate SK, Sharma S, Thakar S, Srivastava D, Sengupta K, Jhurry Hadi A et al. Assessing knowledge, attitudes and practices of dental practitioners regarding the COVID-19 pandemic: a multinational study. Dent Med Probl. 2020; 57(1):11–7. DOI: https://doi.org/10.17219/dmp/119743

Tysiąc-Miśta M, Dziedzic A. The attitudes and professional approaches of dental practitioners during the COVID-19 outbreak in poland: a cross-sectional survey. Int J Environ Res Public Health. 2020;17(13): 4703. DOI: https://dx.doi.org/10.3390%2Fijerph17134703

Ahmed MA, Jouhar R, Ahmed N, Adnan S, Aftab M, Sohail Zafar M et al. Fear and Practice Modifications among Dentists to Combat Novel Coronavirus Disease (COVID-19) outbreak. Int J Environ Res Public Health. 2020; 17(8): 2821. DOI: https://doi.org/10.3390/ijerph17082821

Campus G, Diaz-Betancourt M, Cagetti MG, Carvalho JC, Carvalho TS, Cortés Martinicorena J et al. Study protocol for an online questionnaire survey on symptoms/signs, protective measures, level of awareness and perception regarding COVID-19 outbreak among dentists: a global survey. Int J Environ Res Public Health. 2020;17(15). DOI: https://dx.doi.org/10.3390%2Fijerph17155598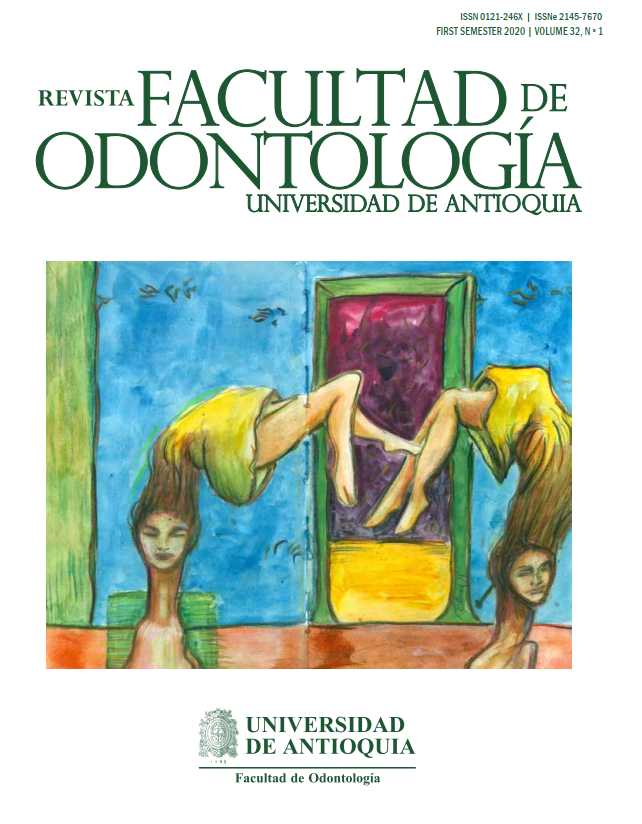 Downloads
How to Cite
Plaza-Ruíz, S. P. (2020). Impact of the Covid-19 pandemic on Colombia's dentistry. Revista Facultad De Odontología Universidad De Antioquia, 32(2), 3–5. Retrieved from https://revistas.udea.edu.co/index.php/odont/article/view/344064
License
Copyright Notice
Copyright comprises moral and patrimonial rights.
1. Moral rights: are born at the moment of the creation of the work, without the need to register it. They belong to the author in a personal and unrelinquishable manner; also, they are imprescriptible, unalienable and non negotiable. Moral rights are the right to paternity of the work, the right to integrity of the work, the right to maintain the work unedited or to publish it under a pseudonym or anonymously, the right to modify the work, the right to repent and, the right to be mentioned, in accordance with the definitions established in article 40 of Intellectual property bylaws of the Universidad (RECTORAL RESOLUTION 21231 of 2005).
2. Patrimonial rights: they consist of the capacity of financially dispose and benefit from the work trough any mean. Also, the patrimonial rights are relinquishable, attachable, prescriptive, temporary and transmissible, and they are caused with the publication or divulgation of the work. To the effect of publication of articles in the journal Revista de la Facultad de Odontología, it is understood that Universidad de Antioquia is the owner of the patrimonial rights of the contents of the publication.
The content of the publications is the exclusive responsibility of the authors. Neither the printing press, nor the editors, nor the Editorial Board will be responsible for the use of the information contained in the articles.
I, we, the author(s), and through me (us), the Entity for which I, am (are) working, hereby transfer in a total and definitive manner and without any limitation, to the Revista Facultad de Odontología Universidad de Antioquia, the patrimonial rights corresponding to the article presented for physical and digital publication. I also declare that neither this article, nor part of it has been published in another journal.
Open Access Policy
The articles published in our Journal are fully open access, as we consider that providing the public with free access to research contributes to a greater global exchange of knowledge.
Creative Commons License
The Journal offers its content to third parties without any kind of economic compensation or embargo on the articles. Articles are published under the terms of a Creative Commons license, known as Attribution – NonCommercial – Share Alike (BY-NC-SA), which permits use, distribution and reproduction in any medium, provided that the original work is properly cited and that the new productions are licensed under the same conditions.

This work is licensed under a Creative Commons Attribution-NonCommercial-ShareAlike 4.0 International License.