Naphthoquinones: biological properties and synthesis of lawsone and derivates - a structured review
Keywords:
Naphthoquinone, lawsone, chemical synthesis, pharmacological actions
Abstract
Background: Naphthoquinones are natural pigments that are widely distributed in nature and have important biological activities. Lawsone (2-hydroxy-1,4-naphthoquinone) and its synthetic derivatives, and especially those containing nitrogen, have promising potential for the treatment of different diseases due to their antibacterial, antifungal, antiviral, antitumor and antiparasitic effects, and for pest control via their molluscicidal and insecticidal activities. Their pharmacological activities and mechanisms of action are related to their oxide/reduction and acid/base properties, and can be modulated by directly adding a substituted to the 1,4-naphthoquinone ring. Due to this, naphthoquinones and their derivatives are at the center of multiple areas of research. In this manuscript, we present a structured review of lawsone, a hydroxyl derivative of naphthoquinone, and discuss relevant reports about the chemistry and synthesis of derivatives. Finally, we present the pharmacological activities and mechanism of action reported. Objective: The purpose of this review is to present recent reports from the literature about the chemistry, synthesis and pharmacological properties of lawsone and its amine derivatives. Methods: This structured review presents a discussion about lawsone literature over the last ten years. The most representative studies including those about the chemistry of lawsone, the synthesis of its derivatives, and pharmacological properties were identified and selected. The information has been compiled, organized and presented into logical topics in order to provide a current review for the field of lawsone chemistry. Results: A general overview of the principal aspects of lawsone chemistry, the synthesis of its derivatives and their pharmacological activities and mechanism of action has been obtained. This provides researchers in the area with a framework from which to investigate further. Conclusions: Lawsone and its derivatives have promising potential for treating several diseases due to their antibacterial, antifungal, antiviral, antitumor and antiparasitic effects and have the potential to control pests via their molluscicidal and insecticidal properties. For this reason, it would be of interest to evaluate the synthetic derivatives of this compound for their pharmacologic actions; in the future, synthetic derivatives of lawsone could potentially be used to treat disease and be used as pesticides.
|Abstract = 171 veces | PDF = 75 veces|
Downloads
Download data is not yet available.
References
Kollef MH, Golan Y, Micek ST, Shorr AE, Restrepo MI. Appraising contemporary strategies to combat multidrug resistant Gram-negative bacterial infections -proceedings and data from the Gram-negative resistance summit. Clin Infect Dis. 2011 Sep; 53 (2): S33-S55.
Hughes LM, Lanteri CA, O'Neil MT, Johnson JD, Gribble GW, Trumpower BL. Design of anti-parasitic and anti-fungal hydroxynaphthoquinones that are less susceptible to drug resistance. Mol Biochem Parasit. 2011 May; 177 (1): 12-19.
Kosmidis C, Schindler BD, Jacinto PL, Patel D, Bains K, Seo SM, Kaatz GW. Expression of multidrug resistance efflux pump genes in clinical and environmental isolates of Staphylococcus aureus. Int J Antimicrob Ag. 2012 Sep; 40 (3): 204-209.
Kempker RR, Rabin AS, Nikolaishvili K, Kalandadze I, Gogishvili S, Blumberg HM, Vashakidze S. Additional drug resistance in Mycobacterium tuberculosis isolates from resected cavities among patients with multidrug-resistant or extensively drug-resistant pulmonary tuberculosis. Clin Infect Dis. 2012 Mar; 54 (6): e51- e54.
Patra A. An Overview of antimicrobial properties of different classes of phytochemicals. Dietary phytochemicals and microbes. New York, USA: Springer; 2012, 1-32 p.
Sharma U, Katoch D, Sood S, Kumar N, Singh B, Thakur A, Gulati A. Synthesis, antibacterial and antifungal activity of 2-amino-1,4-naphthoquinone using silica-supported perchloric acid (HClO4-SiO2 ) as a mild recyclable and highly efficient heterogeneous catalyst. Indian J Chem. 2013 Nov; 52B: 1431-1140.
Nasiri HR, Madej MG, Panisch R, Lafontaine M, Bats JW, Lancaster CRD, Schwalbe H. Design, synthesis, and biological testing of novel naphthoquinones as substrate-based inhibitors of the quinol/fumarate reductase from Wolinella succinogenes. J Med Chem. 2013 Nov; 56 (23): 9530-9541.
Sritrairat N, Nukul N, Inthasame P, Sansuk A, Prasirt J, Leewatthanakorn T, Piamsawad U, Dejrudee A, Panichayupakaranant P, Pangsomboon K, Chanowanna N, Hintao J, Teanpaisan R, Chaethong W, Yongstar P, Pruphetkaew N, Chongsuvivatwong V, Nittayananta W. Antifungal activity of lawsone methyl ether in comparison with chlorhexidine. J Oral Pathol Med. 2011 Jan; 40 (1): 90-96.
Bergeron F, Klarskov K, Hunting DJ, Wagner JR. Near-UV
photolysis of 2-methyl-1,4-naphthoquinone-DNA duplexes:
characterization of reversible and stable interstrand cross-links
between quinones and adenine moieties. Chem Res Toxicol.
Mar; 20 (5): 745-756.
Valle-Bourroueta G, Ugalde-Saldívar VM, Gómez M, OrtizFrade LA, González I, Frontana C. Magnetic interactions as a
stabilizing factor of semiquinone species of lawsone by metal
complexation. Electrochim Acta. 2010 Dec; 55 (28): 9042-9050.
Cunha A, Lima E, Pinto A, Esteves A, Echevarria A, Camara
C, Vargas M, Torres J. Synthesis of novel naphthoquinonespermidine conjugates and their effects on DNA-topoisomerases
I and II-α. J Braz Chem Soc. 2006 May-Jun; 17 (3): 439-442.
Kulkarni S, Patil P, Virupaksha B, Alpana G, Prashant K, Baikerikar S. Molecular dynamics, docking and QSAR analysis of
napthoquinone derivatives as topoisomerase I inhibitors. Int J
Comput Bioinfo In Silico. 2013 Sep; 2 (5): 223-233.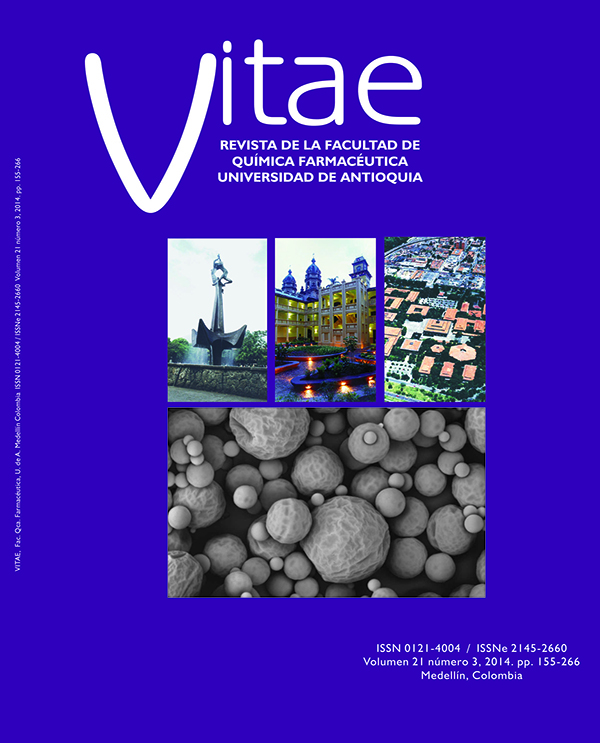 Downloads
How to Cite
LÓPEZ LÓPEZ, L. I., NERY FLORES, S. D., SILVA BELMARES, S. Y., & SÁENZ GALINDO, A. (2014). Naphthoquinones: biological properties and synthesis of lawsone and derivates - a structured review. Vitae, 21(3), 248–258. Retrieved from https://revistas.udea.edu.co/index.php/vitae/article/view/17322
License
Copyright Notice and Open Access Statement
The Journal Vitae works under the Open Access license, and the published manuscripts remain available for the public, both on the Journal's website and in databases, under the Creative Commons license, "Noncommercial Attribution" and "Share alike" systems, adopted in Colombia. Hence, when the authors agree to publish in the Journal Vitae, they will not have the right to economic retributions on publications and reproductions through different diffusion media. The documents are freely available to the internet public, permitting users to read, download, copy, distribute, print, search, or link to the full texts and pass them as data to software. The only constraint on reproduction and distribution, and the only role for copyright in this domain, should be to give authors control over the integrity of their work and the right to be appropriately acknowledged and cited.
Authors declare that:
They are the intellectual property owners and are responsible for all the information stated in the article.

This manuscript has not been submitted or published in other printed or digital media. They accept the responsibility for the judgments, opinions, and points of view expressed in the published article and, therefore, they exonerate Universidad de Antioquia and Journal Vitae from any process.

They exempt Universidad de Antioquia and Journal Vitae from settling conflicts or disputes related to the authorship of the referred article.

They accept the revision of the original manuscript by suitable personnel, and they bind themselves to perform the corrections appointed or suggested by the assessors.

Therefore, they know the editorial process and will not bind the Editorial Board of the Journal to assume any obligations regarding the volume and issue in which the article is published.

They transfer the rights of publication, reprinting, and distribution of the article from the moment of its approval, in print and digital format, without the right to economic rewards, and under the licensing conditions considered relevant by Journal Vitae.

They fully authorize Universidad de Antioquia and Journal Vitae to submit the published material to the diverse databases and indexing systems where the Journal can be found to comply with the requirements of the regulatory authorities to maintain the national classification of journals.

They will assume the article publication costs established for the current issue, and they will make the payment as soon as they are informed about the volume and the issue in which the final version of the article is published.

After the article is published, you can share digital or printed copies in a noncommercial manner. You will be able to use the paper in your institution or company for educational or research purposes, including the use in course programs.
Conflict of interest: Authors are responsible for recognizing and disclosing any financial or other benefits that could be perceived to bias their work, acknowledging all financial support and any personal connections with potential sponsors. Examples of such conflicts include receiving research funds or honoraria, serving on advisory boards, stock ownership, or employment and consulting arrangements. Authors without such connections should clearly state that they have no financial support or personal relationships that could be perceived to bias their work. All conflicts of interest should be disclosed on the author's identification page of the manuscript.