CONJUGATED LINOLEIC ACID IN MILK AND FERMENTED MILKS: VARIATION AND EFFECTS OF THE TECHNOLOGICAL PROCESSES
Keywords:
Conjugated linoleic acid, functional foods, milk, probiotics, yogurt
Abstract
Background: Conjugated linoleic acid (CLA) is a generic term used to describe a group of geometric and positional isomers of linoleic acid with a conjugated double bond system. CLA-isomers have been widely studied because of their important biological activity and their protective effects against several diseases, such as obesity, atherosclerosis, chronic inflammatory diseases, and cancer. Consequently, these biomolecules have attracted much attention from the dairy industry, since they are naturally found in ruminants' milk, and because the development of CLA-enriched dairy foods can be a good economic opportunity given the growth of the functional foods market, in which the dairy industry plays an important role. Objectives: This work presents a comprehensive review of the following aspects: (i) The synthesis and concentration of the CLA-isomers in milk, and the main strategies employed to increase their content in a natural manner; (ii) The influence of the main technological treatments applied to milk on the concentration of CLA-isomers; and (iii) The effects of milk fermentation on the content of CLA-isomers, and the challenges of this technological process, which has been though as a promissory alternative to naturally increase the content of CLA in fermented dairy products. Methods: Information available in various databases was reviewed. A total of 103 articles were selected on the basis of their relevance and scientific-technical quality. Results: The CLA concentration in cows' milk normally ranges between 2 and 37 mg/g fat, and is mainly affected by the dietary regime offered to the animals. From the total CLA-isomers, rumenic acid represents between 75 and 90%. The technological processes normally applied to milk (thermal processing, high pressure processing, and fermentation) might cause slight changes on the CLA concentration, but the mechanisms causing these changes have not been still established. The increase in CLA concentration by milk fermentation is strain-dependent, because of the different linoleate isomerase activity of the species. . Conclusions: Although several studies have reported increases in the concentration of CLA in milk and fermented milks in a natural manner, they are fairly moderate, and the obtained levels of CLA are significantly lower than those recommended to achieve therapeutic effects.
|Abstract = 354 veces | PDF = 232 veces| | MANUSCRITO CON NOMBRE DE AUTOR Y AFILIACIÓN = 0 veces| | F-8516 = 0 veces| | FORMATO F-8516-08 = 0 veces| | LICENCIA DE ACCESO ABIERTO A LA PUBLICACIÓN 1 = 0 veces| | LICENCIA DE ACCESO ABIERTO A LA PUBLICACIÓN 2 = 0 veces|
Downloads
Download data is not yet available.
References
Mills S, Ross RP, Hill C, Fitzgerald GF, Stanton C. Milk intelligence: Mining milk for bioactive substances associated with human health. International Dairy Journal. 2011;21(6):377-401.
Pereira PC. Milk nutritional composition and its role in human health. Nutrition. 2014;30(6):619-27.
Stergiadis S, Leifert C, Seal CJ, Eyre MD, Steinshamn H, Butler G. Improving the fatty acid profile of winter milk from housed cows with contrasting feeding regimes by oilseed supplementation. Food Chemistry. 2014;164:293-300.
Yuan G-F, Chen X-E, Li D. Conjugated linolenic acids and their bioactivities: a review. Food & Function. 2014;5(7):1360-8.
Gutierrez L-F, Rosada L-M, Jiménez A. Chemical composition of Sacha Inchi (Plukenetia volubilis L.) seeds and characteristics of their lipid fraction. Grasas y Aceites. 2011;62(1):76-83.
Glasser F, Ferlay A, Chilliard Y. Oilseed Lipid Supplements and Fatty Acid Composition of Cow Milk: A Meta-Analysis. Journal of Dairy Science. 2008;91(12):4687-703.
Schroeder GF, Gagliostro GA, Bargo F, Delahoy JE, Muller LD. Effects of fat supplementation on milk production and composition by dairy cows on pasture: a review. Livestock Production Science. 2004;86(1–3):1-18.
Chilliard Y, Martin C, Rouel J, Doreau M. Milk fatty acids in dairy cows fed whole crude linseed, extruded linseed, or linseed oil, and their relationship with methane output. Journal of Dairy Science. 2009;92(10):5199-211.
Fox PF, McSweeney PLH. Advanced Dairy Chemistry Volume 2: Lipids. 3rd ed. Springer, editor: P.F. Fox and P.L.H. McSweeney; 2006.
Aneja RP, Murthi TN. Conjugated linoleic acid contents of Indian curds and ghee. Indian Journal of Dairy Science.
;43:231-8.
Herzallah SM, Humeid MA, Al-Ismail KM. Effect of heating and processing methods of milk and dairy products on conjugated linoleic acid and trans fatty acid isomer content. Journal of Dairy Science. 2005;88(4):1301-10.
Costa EN, Lacerda ECQ, Santos SMS, Santos CMS, Franco M, Silva RR, et al. Action of successive heat treatments in bovine milk fatty acids. Journal of the Brazilian Chemical Society. 2011;22:2115-20.
Campbell W, Drake MA, Larick DK. The impact of fortification with conjugated linoleic acid (CLA) on the quality of fluid milk. Journal of Dairy Science. 2003;86(1):43-51.
Martínez-Monteagudo SI, Saldaña MDA. Modeling the retention kinetics of conjugated linoleic acid during high-pressure sterilization of milk. Food Research International. 2014;62(0):169-76.
Glover KE, Budge S, Rose M, Rupasinghe HPV, MacLaren L, Green-Johnson J, et al. Effect of feeding fresh forage and marine algae on the fatty acid composition and oxidation of milk and butter. Journal of Dairy Science. 2012;95(6):2797-809.
Pandit A, Anand S, Kalscheur K, Hassan A. Production of conjugated linoleic acid by lactic acid bacteria in milk without any additional substrate. International Journal of Dairy Technology. 2012;65(4):603-8.
Jones EL, Shingfield KJ, Kohen C, Jones AK, Lupoli B, Grandison AS, et al. Chemical, physical, and sensory properties of dairy products enriched with conjugated linoleic acid. Journal of Dairy Science. 2005;88(8):2923-37.
Collomb M, Schmid A, Sieber R, Wechsler D, Ryhanen EL. Conjugated linoleic acids in milk fat: Variation and physiological effects. International Dairy Journal. 2006;16(11):1347-61.
Bauman DE, Lock AL. Conjugated Linoleic Acid: Biosynthesis and Nutritional Significance. In: Fox PF, McSweeney PLH, editors. Advanced Dairy Chemistry Volume 2: Lipids: Springer; 2006.
Parodi PW. Milk fat in human nutrition. Australian Journal of Dairy Technology. 2004;59(1):3-59.
Kennedy A, Martinez K, Schmidt S, Mandrup S, LaPoint K, McIntosh M. Antiobesity mechanisms of action of conjugated linoleic acid. Journal of Nutritional Biochemistry. 2010;21(3):171-9.
Whigham LD, Watras AC, Schoeller DA. Efficacy of conjugated linoleic acid for reducing fat mass: a meta-analysis in humans. American Journal of Clinical Nutrition. 2007;85(5):1203-11.
Toomey S, Harhen B, Roche HM, Fitzgerald D, Belton O. Profound resolution of early atherosclerosis with conjugated linoleic acid. Atherosclerosis. 2006;187(1):40-9.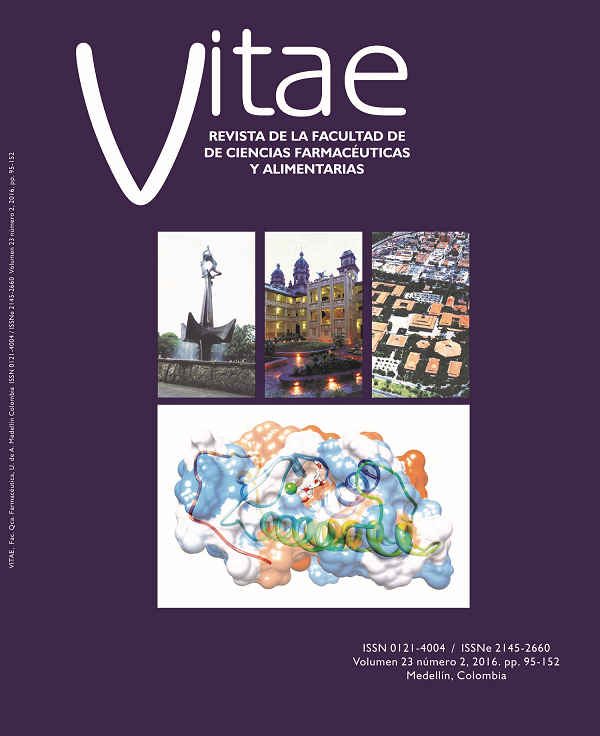 Downloads
How to Cite
Gutiérrez Alvarez, L. F. (2016). CONJUGATED LINOLEIC ACID IN MILK AND FERMENTED MILKS: VARIATION AND EFFECTS OF THE TECHNOLOGICAL PROCESSES. Vitae, 23(2), 134–145. https://doi.org/10.17533/udea.vitae.v23n2a06
License
This work is licensed under a Creative Commons Attribution-NonCommercial-ShareAlike 4.0 International License.
Copyright Notice and Open Access Statement
The Journal Vitae works under the Open Access license, and the published manuscripts remain available for the public, both on the Journal's website and in databases, under the Creative Commons license, "Noncommercial Attribution" and "Share alike" systems, adopted in Colombia. Hence, when the authors agree to publish in the Journal Vitae, they will not have the right to economic retributions on publications and reproductions through different diffusion media. The documents are freely available to the internet public, permitting users to read, download, copy, distribute, print, search, or link to the full texts and pass them as data to software. The only constraint on reproduction and distribution, should be to give authors control over the integrity of their work and the right to be appropriately acknowledged and cited.
Authors declare that:
They are the intellectual property owners and are responsible for all the information stated in the article.

This manuscript has not been submitted or published in other printed or digital media. They accept the responsibility for the judgments, opinions, and points of view expressed in the published article and, therefore, they exonerate Universidad de Antioquia and Journal Vitae from any process.

They exempt Universidad de Antioquia and Journal Vitae from settling conflicts or disputes related to the authorship of the referred article.

They accept the revision of the original manuscript by suitable personnel, and they bind themselves to perform the corrections appointed or suggested by the assessors.

Therefore, they know the editorial process and will not bind the Editorial Board of the Journal to assume any obligations regarding the volume and issue in which the article is published.

They transfer the rights of publication, reprinting, and distribution of the article from the moment of its approval, in print and digital format, without the right to economic rewards, and under the licensing conditions considered relevant by Journal Vitae.

They fully authorize Universidad de Antioquia and Journal Vitae to submit the published material to the diverse databases and indexing systems where the Journal can be found to comply with the requirements of the regulatory authorities to maintain the national classification of journals.

They will assume the article publication costs established for the current issue, and they will make the payment as soon as they are informed about the volume and the issue in which the final version of the article is published.

After the article is published, you can share digital or printed copies in a noncommercial manner. You will be able to use the paper in your institution or company for educational or research purposes, including the use in course programs.
Conflict of interest: Authors are responsible for recognizing and disclosing any financial or other benefits that could be perceived to bias their work, acknowledging all financial support and any personal connections with potential sponsors. Examples of such conflicts include receiving research funds or honoraria, serving on advisory boards, stock ownership, or employment and consulting arrangements. Authors without such connections should clearly state that they have no financial support or personal relationships that could be perceived to bias their work. All conflicts of interest should be disclosed on the author's identification page of the manuscript.