Lectins: a brief review
Abstract
The ability of plant agglutinins to distinguish between erythrocytes of different blood types led Boyd and Shapleigh (1954) to propose for them the name lectins, from the Latin "legere", to pick out or choose. This term was later generalized to embrace all sugar-specific agglutinins of non-immune origin, irrespective of source and blood type specificity. It was toward the end of the 19th century that evidence first started to accumulate for the presence in nature of proteins possessing the ability to agglutinate erythrocytes. Such proteins were referred to as hemagglutinins, or phytoagglutinins, because they were originally found in extracts of plants. It is generally believed that the earliest description of such a hemagglutinin was by Peter Hermann Stillmark in 1888. This hemagglutinin, which was also highly toxic, was isolated from seeds of the castor tree (Ricinus communis) and was named ricin. Subsequently, H. Hellin demonstrated the presence of another toxic hemagglutinin, abrin, in extracts of the jequirity bean (Abrus precatorius). Well known for being the first to crystallize the enzyme urease, for which he was later awarded the Nobel Prize, James B. Sumner in 1919 isolated from jack bean (Canavalia ensiformis) a crystalline protein that he named concanavalin A, unknowingly obtaining a pure hemagglutinin for the first time. Nearly two decades passed before Sumner and Howel (1936) reported that concanavalin A agglutinates cells such as erythrocytes and yeasts and also precipitates glycogen from solution. They further showed that hemagglutination by concanavalin A was inhibited by sucrose, demonstrating for the first time the sugar specificity of lectins.
|Abstract = 299 veces | PDF = 221 veces|
Downloads
Download data is not yet available.
References
Boyd, W.C. and E. Shapleigh, Specific Precipitating Activity of Plant Agglutinins (Lectins). Science, 1954. 119(3091): p. 419.
Sharon, N. and H. Lis, Lectins: cell-agglutinating and sugar-specific proteins. Science, 1972. 177(4053): p. 949-59.
Sumner, J.B. and S.F. Howell, Identification of Hemagglutinin of Jack Bean with Concanavalin A. J Bacteriol, 1936. 32(2): p. 227-37.
Nowell, P.C., Phytohemagglutinin: an initiator of mitosis in cultures of normal human leukocytes. Cancer Res, 1960. 20: p. 462-6.
Morgan, D.A., F.W. Ruscetti, and R. Gallo, Selective in vitro growth of T lymphocytes from normal human bone marrows. Science, 1976. 193(4257): p. 1007-8.
Aub, J.C., B.H. Sanford, and M.N. Cote, Studies on reactivity of tumor and normal cells to a wheat germ agglutinin. Proc Natl Acad Sci U S A, 1965. 54(2): p. 396-9.
Aub, J.C., C. Tieslau, and A. Lankester, Reactions of Normal and Tumor Cell Surfaces to Enzymes. I. Wheat-Germ Lipase and Associated Mucopolysaccharides. Proc Natl Acad Sci U S A, 1963. 50: p. 613-9.
Watkins, W.M. and W.T. Morgan, Neutralization of the anti-H agglutinin in eel serum by simple sugars. Nature, 1952. 169(4307): p. 825-6.
Hudgin, R.L., et al., The isolation and properties of a rabbit liver binding protein specific for asialoglycoproteins. J Biol Chem, 1974. 249(17): p. 5536-43.
Stockert, R.J., A.G. Morell, and I.H. Scheinberg, Mammalian hepatic lectin. Science, 1974. 186(4161): p. 365-6.
Drickamer, K., Two distinct classes of carbohydrate-recognition domains in animal lectins. J Biol Chem, 1988. 263(20): p. 9557-60.
Hoving, J.C., G.J. Wilson, and G.D. Brown, Signalling C-type lectin receptors, microbial recognition and immunity. Cell Microbiol, 2014. 16(2): p. 185-94.
Sancho, D. and C. Reis e Sousa, Signaling by myeloid C-type lectin receptors in immunity and homeostasis. Annu Rev Immunol, 2012. 30: p. 491-529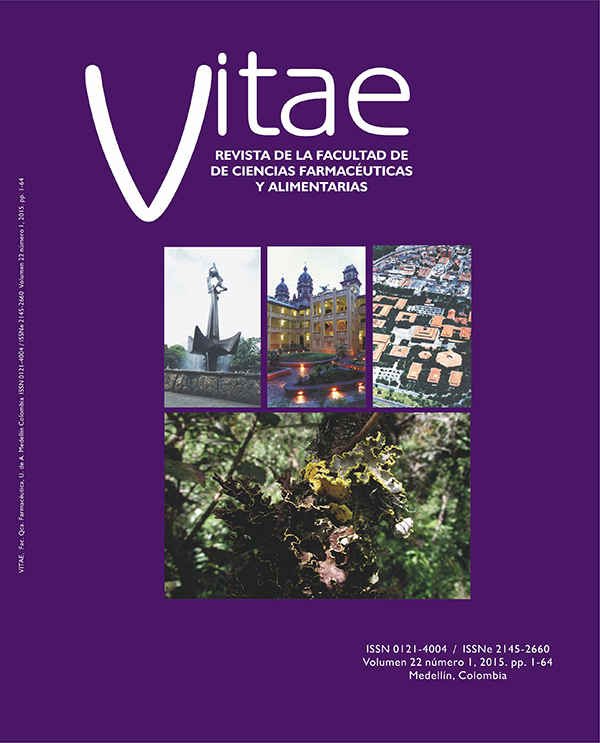 Downloads
How to Cite
ESPINO-SOLIS, G. P. (2015). Lectins: a brief review. Vitae, 22(1), 9–11. https://doi.org/10.17533/udea.vitae.v22n1a01
License
Copyright Notice and Open Access Statement
The Journal Vitae works under the Open Access license, and the published manuscripts remain available for the public, both on the Journal's website and in databases, under the Creative Commons license, "Noncommercial Attribution" and "Share alike" systems, adopted in Colombia. Hence, when the authors agree to publish in the Journal Vitae, they will not have the right to economic retributions on publications and reproductions through different diffusion media. The documents are freely available to the internet public, permitting users to read, download, copy, distribute, print, search, or link to the full texts and pass them as data to software. The only constraint on reproduction and distribution, should be to give authors control over the integrity of their work and the right to be appropriately acknowledged and cited.
Authors declare that:
They are the intellectual property owners and are responsible for all the information stated in the article.

This manuscript has not been submitted or published in other printed or digital media. They accept the responsibility for the judgments, opinions, and points of view expressed in the published article and, therefore, they exonerate Universidad de Antioquia and Journal Vitae from any process.

They exempt Universidad de Antioquia and Journal Vitae from settling conflicts or disputes related to the authorship of the referred article.

They accept the revision of the original manuscript by suitable personnel, and they bind themselves to perform the corrections appointed or suggested by the assessors.

Therefore, they know the editorial process and will not bind the Editorial Board of the Journal to assume any obligations regarding the volume and issue in which the article is published.

They transfer the rights of publication, reprinting, and distribution of the article from the moment of its approval, in print and digital format, without the right to economic rewards, and under the licensing conditions considered relevant by Journal Vitae.

They fully authorize Universidad de Antioquia and Journal Vitae to submit the published material to the diverse databases and indexing systems where the Journal can be found to comply with the requirements of the regulatory authorities to maintain the national classification of journals.

They will assume the article publication costs established for the current issue, and they will make the payment as soon as they are informed about the volume and the issue in which the final version of the article is published.

After the article is published, you can share digital or printed copies in a noncommercial manner. You will be able to use the paper in your institution or company for educational or research purposes, including the use in course programs.
Conflict of interest: Authors are responsible for recognizing and disclosing any financial or other benefits that could be perceived to bias their work, acknowledging all financial support and any personal connections with potential sponsors. Examples of such conflicts include receiving research funds or honoraria, serving on advisory boards, stock ownership, or employment and consulting arrangements. Authors without such connections should clearly state that they have no financial support or personal relationships that could be perceived to bias their work. All conflicts of interest should be disclosed on the author's identification page of the manuscript.