Virtual screening: identification of compounds with possible quorum sensing agonistic activity in Pseudomonas aeruginosa
Keywords:
Quorum sensing, virtual screening, Pseudomonas aeruginosa, Docking
Abstract

Background: Quorum sensing (QS) is a cell density dependent mechanism that allows bacteria to regulate the expression of specific genes in response to changes in their population density, thus controlling their activities in order to produce a response as a unit multicellular. These responses include production of virulence factors, formation of biofilm, bioluminescence, sporulation, among other behavior.Objectives: The objective of this work was to obtain pharmacophore models able to filter and identify molecules with possible agonist activity of quorum sensing and to find possible candidates based on calculations of molecular docking Methods: The structure of the receptor was taken from the Protein Data Bank (PDB). The program AutoDock 4.2 was used to perform docking calculations. The 3D structure of the ligand TP1 was extracted from the complex co-crystallized identified with the code PDB 3IX3. The geometries of ligands were optimized using the PM3 semiempirical method. Results: Two pharmacophoric models were designed, the first one was made using the most active compound (TP-1), highlighting the most important chemical characteristics for molecular recognition. The second model was based on the alignment of three of the most active ligands (TP-1, TP-3 and TP-4). These models were used as a filter in a screening on a database of conformations of several compounds with possible agonist activity of the main circuit of QS present in Pseudomona aeruginosa.The pharmacophoric model based on alignment of the most active compounds showed greater capacity to select or identify compounds exhibiting significant structural and chemical characteristics to be considered possible hit. With this model, 22 compounds were identified.These compounds were subjected to a series of calculations of docking. The outcomes of the docking were used to identify interactions making a SAR analysis and were used as support to understand how chemically distinct compounds can be accommodated by a highly selective receptor, and provide the framework for the development of novel quorum-sensing regulators, utilizing the 2-(benzamido)methyl)phenyl benzoate scaffold and to assess the possibility of synthetic routes, considering the structural similarity presenting between these compounds, generating in this way an alternative to find new compounds with modulating activity QS. These two strategies were used to select a list of potential modulators of quorum sensing or new pharmacophoric candidates. Conclusions: The two pharmacophoric models designed in this study, the number 2 (model based on the alignment of the most active compounds) showed greater ability to select or identify compounds that had important structural and chemical characteristics to be considered possible hits. With this model, 22 compounds were identified, which were subsequently subjected to docking calculations. In general, the docking protocol used is adequate, since in validating the conformation of the co-crystallized ligand.
|Abstract = 162 veces | PDF (ESPAÑOL (ESPAÑA)) = 150 veces|
Downloads
Download data is not yet available.
References
Miller MB, Bassler BL. Ensing in. Annu Rev Microbiol. 2001; 55:165-99.
Galloway WRJD, Hodgkinson JT, Bowden S, Welch M, Spring DR. Applications of small molecule activators and inhibitors of quorum sensing in Gram-negative bacteria. Trends Microbiol [Internet]. 2012; 20(9):449-58.
Higgins DA, Pomianek ME, Kraml CM, Taylor RK, Semmelhack MF, Bassler BL. The major Vibrio cholerae autoinducer and its role in virulence factor production. Nature. 2007; 450(7171):883-6.
Marketon MM, Gronquist MR, Eberhard A, González JE. Characterization of the Sinorhizobium meliloti sinR/sinI locus and the production of novel N-acyl homoserine lactones. J Bacteriol. 2002;184(20):5686-95.
Kleerebezem M, Beerthuyzen MM, Vaughan EE, De Vos WM, Kuipers OP. Controlled gene expression systems for lactic acid bacteria: Transferable nisin-inducible expression cassettes for Lactococcus, Leuconostoc, and Lactobacillus spp. Appl Environ Microbiol. 1997;63(11):4581-4.
Beck Von S, Farrand S. Capsular Polysaccharide Biosynthesis and Pathogenicity in. Microbiology. 1995; 177(17):5000-8.
González JE, Marketon MM. Quorum sensing in nitrogenfixing rhizobia. Microbiol Mol Biol Rev. 2003; 67(4):574-92.
Henke JM, Bassler BL. Bacterial social engagements. Trends Cell Biol. 2004; 4(11):648-56.
Bainton NJ, Bycroft BW, Chhabra SR, Stead P, Gledhill L, Hill PJ, et al. A general role for the lux autoinducer in bacterial cell signalling: control of antibiotic biosynthesis in Erwinia. Gene.
;116(1):87-91.
Costerton JW. Cystic fibrosis pathogenesis and the role of biofilms in persistent infection. Trends Microbiol. 2001; 9(2):50-2.
Lyczak JB, Cannon CL, Pier GB. Establishment of Pseudomona aeruginosa infection: Lessons from a versatile opportunist. Microbes Infect. 2000;2(9):1051-60.
Frisch, M. J.; Trucks, G. W.; Schlegel, H. B.; Scuseria, G. E.; Robb, M. A.; Cheeseman, J. R.; Montgomery, J. A.; Vreven, Jr., T.; Kudin, K. N.; Burant, J. C.; Millam, J. M.; Iyengar, S. S.; Tomasi, J.; Barone, V.; Mennucci, B.; Cossi, M.; Scalmani, G.; Rega, N. G.A.P.G. Gaussian03. 3AD.
Sanner F. M. Python: A Programming Language for Software Integration and Development. 1999; 57-61 p.
Gasteiger J, Marsili M. Tetrahedron. 1980. 3219-3288 p..
Morris GM, Goodsell DS, Halliday RS, Huey R, Hart WE, Belew RK, et al. Automated docking using a lamarckian genetic algorithm and an empirical binding free energy function. J Comput Chem. 1998; 19(14):1639-62.
Ahumedo M, Díaz A, Vivas-Reyes R. Theoretical and structural analysis of the active site of the transcriptional regulators LasR and TraR, using molecular docking methodology for identifying potential analogues of acyl homoserine lactones (AHLs) with anti-quorum sensing activity. Eur J Med Chem. 2010; 45(2):608-15.
Ahumedo M, Drosos JC, Vivas-Reyes R. Application of molecular docking and ONIOM methods for the description of interactions between anti-quorum sensing active (AHL) analogues and the Pseudomona aeruginosa LasR binding site. Mol Biosyst [Internet]. 2014;10(5):1162-71.
Soulère L, Frezza M, Queneau Y, Doutheau A. Exploring the active site of acyl homoserine lactones-dependent transcriptional regulators with bacterial quorum sensing modulators using molecular mechanics and docking studies. J Mol Graph Model. 2007; 26(2):581-90.
Warren GL, Andrews C V, Capelli a, Clarke B, LaLonde J, Lambert MH, et al. A critical assessment of docking programs and scoring functions.Capelli, A.LaLonde, J.Semus, S. F.Head, M. S. J Med Chem. 2006;(49):5912-31.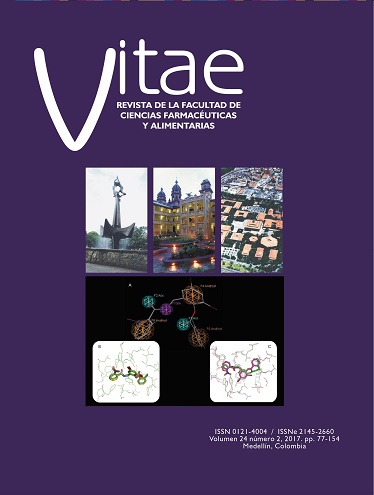 Downloads
How to Cite
Ahumedo, M., Velásquez, M., & Vivas Reyes, R. (2017). Virtual screening: identification of compounds with possible quorum sensing agonistic activity in Pseudomonas aeruginosa. Vitae, 24(2), 89–101. https://doi.org/10.17533/udea.vitae.v24n2a02
Section
Pharmacology and Toxicology
License
Copyright Notice and Open Access Statement
The Journal Vitae works under the Open Access license, and the published manuscripts remain available for the public, both on the Journal's website and in databases, under the Creative Commons license, "Noncommercial Attribution" and "Share alike" systems, adopted in Colombia. Hence, when the authors agree to publish in the Journal Vitae, they will not have the right to economic retributions on publications and reproductions through different diffusion media. The documents are freely available to the internet public, permitting users to read, download, copy, distribute, print, search, or link to the full texts and pass them as data to software. The only constraint on reproduction and distribution, and the only role for copyright in this domain, should be to give authors control over the integrity of their work and the right to be appropriately acknowledged and cited.
Authors declare that:
They are the intellectual property owners and are responsible for all the information stated in the article.

This manuscript has not been submitted or published in other printed or digital media. They accept the responsibility for the judgments, opinions, and points of view expressed in the published article and, therefore, they exonerate Universidad de Antioquia and Journal Vitae from any process.

They exempt Universidad de Antioquia and Journal Vitae from settling conflicts or disputes related to the authorship of the referred article.

They accept the revision of the original manuscript by suitable personnel, and they bind themselves to perform the corrections appointed or suggested by the assessors.

Therefore, they know the editorial process and will not bind the Editorial Board of the Journal to assume any obligations regarding the volume and issue in which the article is published.

They transfer the rights of publication, reprinting, and distribution of the article from the moment of its approval, in print and digital format, without the right to economic rewards, and under the licensing conditions considered relevant by Journal Vitae.

They fully authorize Universidad de Antioquia and Journal Vitae to submit the published material to the diverse databases and indexing systems where the Journal can be found to comply with the requirements of the regulatory authorities to maintain the national classification of journals.

They will assume the article publication costs established for the current issue, and they will make the payment as soon as they are informed about the volume and the issue in which the final version of the article is published.

After the article is published, you can share digital or printed copies in a noncommercial manner. You will be able to use the paper in your institution or company for educational or research purposes, including the use in course programs.
Conflict of interest: Authors are responsible for recognizing and disclosing any financial or other benefits that could be perceived to bias their work, acknowledging all financial support and any personal connections with potential sponsors. Examples of such conflicts include receiving research funds or honoraria, serving on advisory boards, stock ownership, or employment and consulting arrangements. Authors without such connections should clearly state that they have no financial support or personal relationships that could be perceived to bias their work. All conflicts of interest should be disclosed on the author's identification page of the manuscript.