Comparative study of the antioxidant capacity in green tea by extraction at different temperatures of four brands sold in Colombia
Keywords:
Antioxidant activity, green tea, hot temperature, cold temperature
Abstract
Background: Tea (Camellia sinensis) is the most highly consumed beverage in the world in addition to water. The most common way of preparation is steeping it in hot or cold water.(1) In Colombia, this is a recent trend and the market is growing continuously. Objectives: The goal of this study is to compare the antioxidant characteristics of green tea of four brands sold in Colombia at room and hot-temperature in relation to brewing conditions. Methods: A set of four commercial brands of green tea (Oriental®, Lipton®, Hindú®, Jaibel®) was used in an aqueous extraction at two temperatures: Cold tea extract (25°C) and hot tea extract (80°C). Total polyphenol concentration (TPC) was determined by Folin-Ciocalteu method; Total flavonoid content (TFC) was determined using a spectrophotometric method and the antioxidant capacity was determined by means of both the scavenging of (DPPH) free radical assay, and the oxygen radical absorbance capacity (ORAC) assay. Finally, a method for quantifying the catechins present in tea extracts were developed applying high performance liquid chromatography (HPLC). Results: The TPC obtained was: 2.53 – 14.63 mg EAG / g sample for cold tea extract and 29.34 - 55.06 mg EAG/g sample for hot tea extract. The TFC was found to vary: 2.67 – 7.08 mg EC/ g sample for the cold tea extract and 5.43– 8.41 mg EC/ g sample for hot tea extract. A similar profile was observed for the antioxidant capacity determined by both methods: for cold tea extract: 22.36 – 41.29 mg TE /g sample for DPPH and 22.95 – 46.25 mg TE/g sample for ORAC. Similarly, for hot tea extract the following ranges were: 38.50 – 110.01 mg TE/g sample for DPPH and 23.40- 113.60 mg TE/g sample for ORAC. In general, the behavior of the two extraction concerning the assay, starting from the best followed this order: Oriental®> Lipton®> Hindú®> Jaibel®. The chromatographic profiles showed the presence of ten compounds. Conclusions: compounds with higher antioxidant capacity in comparison to extractions at room temperature. This results confirm the fact that extraction of green tea carried out with water at hot temperature leads to the formation of infusions rich in compounds with higher antioxidant capacity in comparison to extractions at room temperature..
|Abstract = 259 veces | PDF = 185 veces|
Downloads
Download data is not yet available.
References
Damiani E, Bacchetti T, Padella L, Tiano L, Carloni P. Antioxidant activity of different white teas: Comparison of hot and cold tea infusions. J Food Compos Anal. 2014; 33(1):59-66.
Komes D, Horžić D, Belščak A, Ganić KK, Vulić I. Green tea preparation and its influence on the content of bioactive compounds. Food Res Int. 2010; 43(1):167-76.
Pasrija D, Anandharamakrishnan C. Techniques for Extraction of Green Tea Polyphenols: A Review. Food Bioprocess Technol. 2015; 8(5):935-50.
Lei Y, Yan-hua GAO, Yuan-gang ZU, Xiao-na LIU, Lei W, Shu-chong ZU. Epigallocatechin gallate content change of the fresh tea leaf homogenates ex- tracted by different methods in extraction and preservation. J For. 2006;17(4):329-31.
Vuong Q V, Tan SP, Stathopoulos CE, Roach PD. Improved extraction of green tea components from teabags using the microwave oven. J Food Compos Anal. 2012; 27(1):95-101.
Labbé D, Tremblay A, Bazinet L. Effect of brewing temperature and duration on green tea catechin solubilization: Basis for production of EGC and EGCG-enriched fractions. Sep Purif Technol. 2006; 49(1):19.
Hajiaghaalipour F, Sanusi J, Kanthimathi MS. Temperature and Time of Steeping Affect the Antioxidant Properties of White, Green, and Black Tea Infusions. J Food Sci. 2016; 81(1):H246-54.
Venditti E, Bacchetti T, Tiano L, Carloni P, Greci L, Damiani E. Hot vs. cold water steeping of different teas: Do they affect antioxidant activity? Food Chem. 2010;119(4):1597-604.
Ramiréz-Aristizabal LS, Ortiz A, Restrepo-Aristizabal MF, Salinas-Villada JF. Evaluation of the antioxidant capacity and content of polyphenols obtained from tea (Camellia sinensis) of four brands sold in colombia by extraction at room temperature. PharmacologyOnline. 2016; 1:22-30.
Singleton VL, Orthofer R, Lamuela-Raventós RM. Analysis of total phenols and other oxidation substrates and antioxidants by means of folin-ciocalteu reagent. Methods Enzymol. 1998; 299(1974):152-78.
Kim DO, Lee KW, Lee HJ, Lee CY. Vitamin C equivalent antioxidant capacity (VCEAC) of phenolic phytochemicals. J Agric Food Chem. 2002; 50(13):3713-7.
Zhishen J, Mengcheng T, Jianming W. The determination of flavonoid contents in mulberry and their scavenging effects on superoxide radicals. Food Chem. 1999; 64(4):555-9.
Sharma OP, Bhat TK. DPPH antioxidant assay revisited. Food Chem; 2009;113(4):1202-5.
Shuyuan L, Zeyi A, Fengfeng Q, Yuqiong C, Dejiang N. Effect of steeping temperature on antioxidant and inhibitory activities of green tea extracts against a -amylase , a -glucosidase and intestinal glucose uptake. Food Chem. 2017;234:168–73.
Kopjar M, Tadic M, Pilizota V. Phenol content and antioxidant activity of green, yellow and black tea leaves. Chem Biol Technol Agric. 2015; 2(1):1-6.
Taheri M, Giahi M, Shahmohamadi R, Ghafoori H, Aghamaali MR, Sariri R. Screening Antioxidant Activity of Extracts From Different Tea Samples. PharmacologyOnline. 2011;3:442-448.
Sharpe E, Hua F, Schuckers S, Andreescu S, Bradley R. Effects of brewing conditions on the antioxidant capacity of twenty-four commercial green tea varieties. Food Chem. 2016;192:380–7. [Internet] Available from: http://dx.doi.org /10.1016/j.foodchem.2015.07.005
Roychoudhury S, Agarwal A, Virk G, Cho CL (2017) Potential role of green tea catechins in the management of oxidative stressassociated infertility. Reprod Biomed Online 34:487–498.
Gupta RC (Ramesh C (2016) Nutraceuticals: efficacy, safety and toxicity., 1st ed. Elsevier, Hopkinsville, Kentucky, USA.
Jeszka-Skowron M, Zgoła-Grześkowiak A. Analysis of Antioxidant Activity, Chlorogenic Acid, and Rutin Content
of Camellia sinensis Infusions Using Response Surface Methodology Optimization. Food Anal Methods. 2014;
(10):2033-2041.
Kopjar M, Tadic M, Pilizota V. Phenol content and antioxidant activity of green, yellow and black tea leaves. Chem Biol Technol Agric. 2015;2(1):1–6.
Fumio Nanjo, Keiichi Goto, Ryota Seto, Masayuki Suzuki MS Effects of Tea Catechins and Their Derivatives. Science. (80-1996) 21:895–902.
Likic S, Horz D, Kovac M, Rusak G. Phenolic content and antioxidative capacity of green and white tea extracts depending on extraction conditions and the solvent used Food Chem. 2008;110:852-8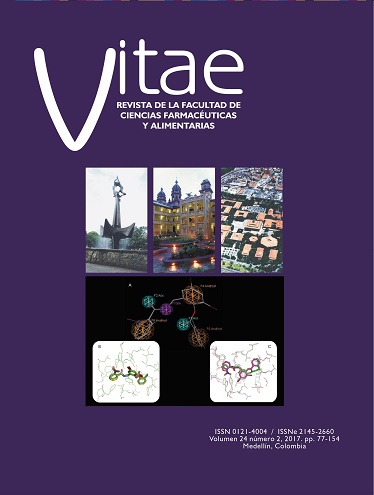 Downloads
How to Cite
RAMÍREZ ARISTIZABAL, L. S., ORTÍZ, A., RESTREPO-ARISTIZABAL, M. F., & SALINAS-VILLADA, J. F. (2017). Comparative study of the antioxidant capacity in green tea by extraction at different temperatures of four brands sold in Colombia. Vitae, 24(2), 132–145. https://doi.org/10.17533/udea.vitae.v24n2a06
License
Copyright (c) 2017 Vitae
This work is licensed under a Creative Commons Attribution-NonCommercial-ShareAlike 4.0 International License.
Copyright Notice and Open Access Statement
The Journal Vitae works under the Open Access license, and the published manuscripts remain available for the public, both on the Journal's website and in databases, under the Creative Commons license, "Noncommercial Attribution" and "Share alike" systems, adopted in Colombia. Hence, when the authors agree to publish in the Journal Vitae, they will not have the right to economic retributions on publications and reproductions through different diffusion media. The documents are freely available to the internet public, permitting users to read, download, copy, distribute, print, search, or link to the full texts and pass them as data to software. The only constraint on reproduction and distribution, and the only role for copyright in this domain, should be to give authors control over the integrity of their work and the right to be appropriately acknowledged and cited.
Authors declare that:
They are the intellectual property owners and are responsible for all the information stated in the article.

This manuscript has not been submitted or published in other printed or digital media. They accept the responsibility for the judgments, opinions, and points of view expressed in the published article and, therefore, they exonerate Universidad de Antioquia and Journal Vitae from any process.

They exempt Universidad de Antioquia and Journal Vitae from settling conflicts or disputes related to the authorship of the referred article.

They accept the revision of the original manuscript by suitable personnel, and they bind themselves to perform the corrections appointed or suggested by the assessors.

Therefore, they know the editorial process and will not bind the Editorial Board of the Journal to assume any obligations regarding the volume and issue in which the article is published.

They transfer the rights of publication, reprinting, and distribution of the article from the moment of its approval, in print and digital format, without the right to economic rewards, and under the licensing conditions considered relevant by Journal Vitae.

They fully authorize Universidad de Antioquia and Journal Vitae to submit the published material to the diverse databases and indexing systems where the Journal can be found to comply with the requirements of the regulatory authorities to maintain the national classification of journals.

They will assume the article publication costs established for the current issue, and they will make the payment as soon as they are informed about the volume and the issue in which the final version of the article is published.

After the article is published, you can share digital or printed copies in a noncommercial manner. You will be able to use the paper in your institution or company for educational or research purposes, including the use in course programs.
Conflict of interest: Authors are responsible for recognizing and disclosing any financial or other benefits that could be perceived to bias their work, acknowledging all financial support and any personal connections with potential sponsors. Examples of such conflicts include receiving research funds or honoraria, serving on advisory boards, stock ownership, or employment and consulting arrangements. Authors without such connections should clearly state that they have no financial support or personal relationships that could be perceived to bias their work. All conflicts of interest should be disclosed on the author's identification page of the manuscript.