Evaluación de citotoxicidad de nuevos análogos de estirilquinolinas en células leucemoides Jurkat
Andrés F. Soto-López

Universidad de Antioquia

Juan P. Meneses

Universidad de Antioquia

Jairo Sáez-Vega

Universidad de Antioquia

Mauricio Camargo

Universidad de Antioquia
Palabras clave:
estirilquinolina, Jurkat, leucemia, MTT, S9, viabilidad
Resumen
Algunas de las drogas más usadas y efectivas en los tratamientos antileucémicos poseen como estructura química principal anillos de quinolina y grupos estireno, lo que podría sugerir que compuestos análogos a estos servirían como posibles nuevos agentes antiproliferativos. Recientemente, uno de nuestros laboratorios sintetizó 6 nuevos análogos de estirilquinolina, candidatas para efectos antiproliferativos y/o anticancerígenos. Así, mediante el ensayo colorimétrico (MTT) se evaluó la citotoxicidad de los seis compuestos en la línea celular Jurkat de origen leucemoide. Los resultados muestran ausencia de efecto citotóxico en las concentraciones y tiempos evaluados. Además, cuando los tratamientos fueron aplicados en presencia de la fracción microsomal S9, no se alteró la viabilidad en este modelo celular leucemoide in vitro. Queda abierta la posibilidad de evaluar estas estirilquinolinas en otras líneas celulares y/o que representen otro modelo de enfermedades, con miras a tamizar efectos biomédicos promisorios.
Descargas
La descarga de datos todavía no está disponible.
Citas
Cortes JE, Kantarjian HM. 1995. Acute lymphoblastic leukemia. Cancer, 76 (12): 2393-2417.
Danizot F, Lang R. 1986. Rapid colorimetric assay for cell growth and survival. Modifications to the tetrazolium dye procedure giving improved sensitivity and reliability. Journal of Immunological Methods, 89 (2): 271-277.
Hirano Y, Uehara M, Saeki K, Kato T, Takahashi K, Miztutani T. 2002. The influence of quinolines on coumarine 7-hydroxylation in bovine liver microsomes and human CYP2A6. Journal of Health Sciences 48 (2): 118-125.
Hranjec M, Kralj M, Piantanida I, Sedic M, Suman L, Pavelic K, Karminski-Zamola G. 2007. Novel cyano- and amidino-substituted derivatives of styryl-2- benzimidazoles and benzimidazo [1, 2-a] quinolines. Synthesis, photochemical synthesis, DNA binding,
and antitumor evaluation, part 3. Journal of Medicinal Chemistry, 50 (23): 5696-5711.
Kaspers GJ, Veerman AJ, Pieters R, Van Zantwijk CH, Smets LA, Van Wering ER, Van Der Does-Van Den Berg A. 1997. In vitro cellular drug resistance and prognosisin newly diagnosed childhood acute lymphoblastic leukemia. Blood, 90 (7): 2723-2729.
Kim Y, Shin K, Lee T, Kim E, Lee M, Ryu S, Suh P. 2005. G2 arrest and apoptosis by 2-amino-N-quinoline-8-yl-benzenesulfonamide (QBS), a novel cytotoxic compound. Biochemical Pharmacology, 69 (9): 1333-1341.
Knasmüller S, Majer BJ, Kassie F, Sasaki Y, Pfauc W, Glatt H, Meinl W, Darroudi F. 2004. Investigation of the genotoxic effects of 2-amino-9H-pyrido[2,3-b]indole in different organs of rodents and in human derived cells. Journal of Chromatography B, 802 (1): 167-173.
Lebsanft J, McMahon JB, Steinmann GG, Shoemaker RH. 1989. A rapid in vitro method for the evaluation of potential antitumor drugs requiring metabolic activation by hepatic s9 enzymes. Biochemical Pharmacology, 38 (24): 4477-4483.
Lee E, Min H, Park H, Chung H, Kim S, Han Y, Lee S. 2004. G2/M cell cycle arrest and induction of apoptosis by a stilbenoid, 3, 4, 5-trimethoxy-4'-bromo-cis-stilbene, in human lung cancer cells. Life Sciences, 75 (23): 2829-2839.
Martirosyan AR, Rahim-Bata R, Freeman AB, Clarke CD, Howard RL, Strobl JS. 2004. Differentiation-inducing quinolines as experimental breast cancer agents in the MCF-7 human breast cancer model. Biochemical Pharmacology, 68 (9): 1729-1738.
MusiolR,Jampilek J,KralovaK,RichardsonDR,Kali•nowski D, Podeszwa B, Finster J, Niedbala H, Palka A, Polanski J. 2007. Investigating biological activity spectrum for novel quinoline analogues. Bioorganic and Medicinal Chemistry, 15 (3): 1280-1288.
Reigh G, McMahon H, Ishizaki M, Ohara T, Shimane K, Esumi Y, Green C, Tyson C, Ninomiya S. 1996. Cytochrome P450 species involved in the metabolism of quinoline. Carcinogenesis 17 (9): 1989-1996.
Soto-Cerrato V, Montaner B, Martinell M, Vilaseca M, Giralt E, Pérez R. 2005. Cell cycle arrest and proapoptotic effects of the anticancer cyclodepsipeptide serratamolide (AT514) are independent of p53 status in breast cancer cells. Biochemical Pharmacology, 71 (1-2): 32-41.
Vezmar M, Georges E. 2000. Reversal of MRP-mediated doxorubicin resistance with quinoline-based drugs. Biochemical Pharmacology, 59 (10): 1245-1252.
Vieira NC, Herrenknecht C, Vacus J, Fournet A, Bories C, Figadere B, Espindola LS, Loiseau PM. 2008. Selection of the most promising 2-substituted quinoline as antileishmanial candidate for clinical
trials. Biomedicine and Pharmacotherapy, 62 (10): 684-689.
Volkova T, Zykina N, Malycheva I, Nemova N. 2007. Cell mechanisms for apoptosis induction in K562 human erythroleukemia cell line treated with quinoline-N-oxide derivatives. Biochemistry (Moscow) Supplemental Series B: Biomedical Chemistry, 1 (1): 82-86.
Yoshie H, Mayumi U, Ken-ichi S, Taka-aki K, Kazuhiko T, Takaharu M. 2002. The influenze of quinolines on coumarin 7-hydroxylation in bovine liver microsomes and human CYP2A6. Journal of Health Sciences, 48 (2): 118-125.
Zhang H, Kasibhatla S, Wang Y, Herich J, Guastella, J, Tseng B, Drewe J, Cai S. 2004. Discovery, characterization and SAR of gambogic acid as a potent apoptosis inducer by a HTS assay. Bioorganic and Medicinal Chemistry, 12 (2): 309-317.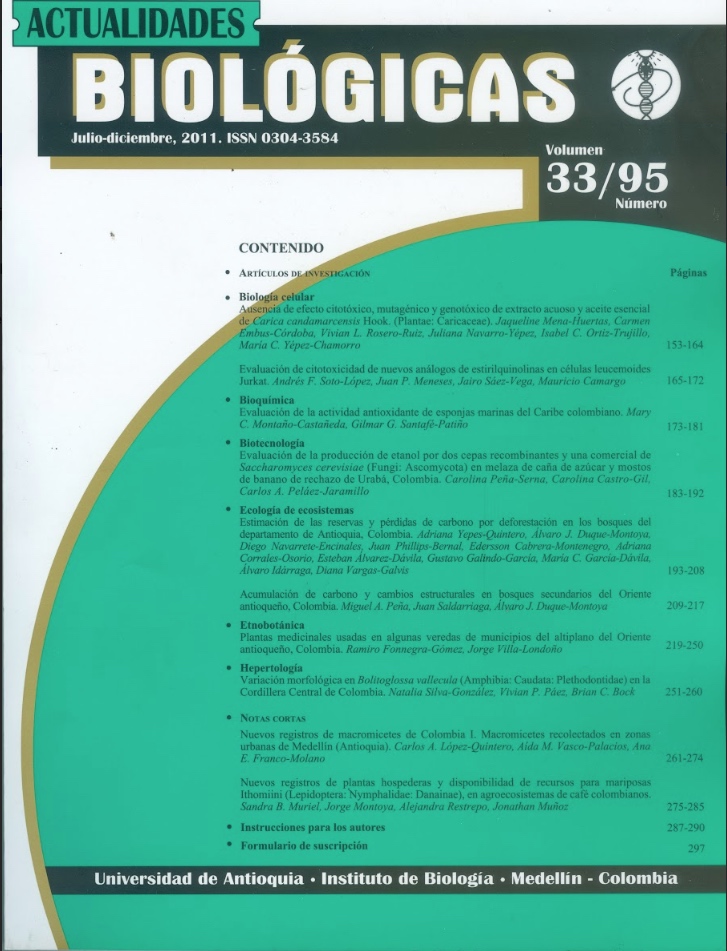 Sección
Artículos completos
Los autores autorizan de forma exclusiva, a la revista Actualidades Biológicas a editar y publicar el manuscrito sometido en caso de ser recomendada y aceptada su publicación, sin que esto represente costo alguno para la Revista o para la Universidad de Antioquia.
Todas las ideas y opiniones contenidas en los artículos son de entera responsabilidad de los autores. El contenido total de los números o suplementos de la revista, está protegido bajo Licencia Creative Commons Reconocimiento-NoComercial-CompartirIgual 4.0 Internacional, por lo que no pueden ser empleados para usos comerciales, pero sí para fines educativos. Sin embargo, por favor, mencionar como fuente a la revista Actualidades Biológicas y enviar una copia de la publicación en que fue reproducido el contenido.