Presencia de parásitos y enterobacterias en palomas ferales (Columba livia) en áreas urbanas en Envigado, Colombia
Janeth Pérez-García

Universidad CES

Daniela Monsalve-Arcila

Universidad CES

Camilo Márquez-Villegas
Palabras clave:
Columbidae, zoonosis, protozoarios, infección bacteriana, ectoparásitos
Resumen
Objetivo: diagnosticar la presencia de parásitos y enterobacterias de importancia en Salud Pública en poblaciones ferales de Columba livia en zonas urbanas del municipio de Envigado, Colombia. Metodología: Estudio descriptivo transversal prospectivo con cuarenta palomas en seis lugares diferentes. Se evaluó plumaje para determinar ectoparásitos, hisopado coanal y cloacal, y muestra de sangre de la vena axilar. Se realizó examen directo con solución salina y yodada; técnica de flotación y tinción de Ziehl-Neelsen. El diagnóstico de hemoparásitos se efectuó mediante método de gota gruesa, coloración de Wright y tinción Hemacolor®. Se utilizó API 20e® para Enterobacterias. Se realizó estadística descriptiva y análisis de correlación entre hemoparásitos y ectoparásitos. Resultados: Escherichia coli (95%), Haemoproteus spp. (73%), Columbicola columbae (64%), ooquistes compatibles con Eimeria spp. (55%), Pseudolynchia canariensis (52%), Trichomona spp. (40%), Capillaria spp. (28%), Menopon gallinae (24%), Ascaridia spp. (8%), y un caso de Enterobacter cloacae. Se identificó la presencia de Ornithonyssus bursa en nidos de algunas de las aves muestreadas. Discusión: Aunque se han presentado reportes de casos eventuales de ellos en personas dentro de la revisión de literatura, los microorganismos aislados tienen un bajo riesgo de transmisión en humanos; sin embargo pueden convertirse en un problema de salud pública veterinaria al ser potenciales fuentes de infección a la fauna silvestre urbana con quienes comparten albergue, fuentes de agua y alimento. Conclusión: El mayor porcentaje fue ooquistes compatibles con Eimeria spp (55%) y enterobacterias como E. coli (95%).Ornithonyssus bursa en las palomeras evidencia la presencia de un patógeno potencialmente zoonótico
|Resumen = 27 veces | PDF = 12 veces|
Descargas
La descarga de datos todavía no está disponible.
Citas
(1). Scherf B. World watch list for domestic animal diversity. Rome: Food and Agriculture Organization of the United Nations; 2000.
(2). González Acuña Daniel. Detección de algunos agentes zoonóticos en la paloma doméstica (Columba Livia) en la ciudad de Chillán, Chile. Rev Chil Infectol. 2007; 24(3):199-203.
(3). Marques SM, Quadros MD. Parasites of Columba livia in urban areas of lages, southern Brazil. Parasitol Latinoam. 62:183.
(4). Nivel de impacto de la sobrepoblación de palomas (Columba Li-via domestica) en los habitantes del perímetro del parque principal del municipio de Envigado en el año 2011. [Internet]. [Citado 23 de mayo de 2013]. Disponible en: http://marthanellymesag.wee-bly.com/uploads/6/5/6/5/6565796/palomas.pdf
(5). Cano Sara. Palomas y tórtolas provocaron evacuación de cole-gio en Envigado. El Colombiano [Internet]. Medellín, Colombia; abril de 2011; Disponible en: http://www.elcolombiano.com/BancoConocimiento/P/palomas_y_tortolas_provocaron_evacua-cion_de_colegio_en_envigado/palomas_y_tortolas_provocaron_evacuacion_de_colegio_en_envigado.asp
(6). Samour J. Medicina aviaria. Ámsterdam; Barcelona [etc.]: Else-vier; 2010.
(7). Harlin R, Wade L. Bacterial and Parasitic Diseases of Columbifor-mes. Veterinary Clin North Am Exot Anim Pract. septiembre de 2009; 12(3):453-73.
(8). Quiroz Romero H. Parasitología y enfermedades parasitarias de animales domésticos. México: Limusa; 1984.
(9). Krautwald-Junghanns M-E, Zebisch R, Schmidt V. Relevance and treatment of coccidiosis in domestic pigeons (Columba livia forma domestica) with particular emphasis on toltrazuril. J Avian Med Surg. marzo de 2009;23(1):1-5.
(10). Tietz Marques S, Marinho De Quadros R. Parasites of pigeons (Columba livia) in urban areas of lages, Southern Brazil. Parasitol Latinoam. 2007; 62:183-7.
(11). A Survey of Parasites of Domestic Pigeons (Columba livia do-mestica) in South Khorasan, Iran. Vet Res. 2011; 4(1):18-23.
(12). Tanveer MK, Kamran A, Abbas M, Umer NC, Azhar MA, Munir M. Prevalence and chemo-therapeutical investigations of gas-trointestinal nematodes in domestic pigeons in Lahore, Pakistan. Trop Biomed. abril de 2011; 28(1):102-10.
(13). Parasitic diseases of wild birds. Ames, Iowa: Wiley-Blackwell; 2008. 595 p.
(14). Coimbra MAA, Mascarenhas CS, Krüger C, Muller G. Helminths Parasitizing Columbina picui (Columbiformes: Columbidae) in Brazil. J Parasitol. agosto de 2009; 95(4):1011-2.
(15). Essentials of avian medicine and surgery. 3rd ed. Oxford, UK ; Ames, Iowa: Blackwell Pub; 2007. 397 p.
(16). Farooq S, Hussain I, Mir MA, Bhat MA, Wani SA. Isolation of atypical enteropathogenic Escherichia coli and Shiga toxin 1 and 2f-producing Escherichia coli from avian species in India. Lett Appl Microbiol [Internet]. marzo de 2009 [citado 12 de septiem-bre de 2013]; Disponible en: http://doi.wiley.com/10.1111/j.1472-765X.2009.02594.x
(17). Paauw A, Caspers MPM, Schuren FHJ, Leverstein-van Hall MA, Delétoile A, Montijn RC, et al. Genomic Diversity within the En-terobacter cloacae Complex. Redfield RJ, editor. PLoS ONE. 21 de agosto de 2008; 3(8):e3018.
(18). Al-Barwari S, Saeed I. The Parasitic Communities of the Rock Pi-geon Columba livia from Iraq: Component and Importance. Turk J Parasitol. 25 de enero de 2013; 36(4):232-9.
(19). Nematollahi A, Ebrahimi M, Ahmadi A, Himan M. Prevalence of Haemoproteus columbae and Trichomonas gallinae in pigeons (Columba domestica) in Isfahan, Iran. J Parasit Dis. 8 de diciem-bre de 2011; 36(1):141-2.
(20). Mushi EZ, Binta MG, Chabo RG, Ndebele R, Panzirah R. Para-sites of domestic pigeons (Columba livia domestica) in Sebele, Gaborone, Botswana : short communication. J S Afr Vet Assoc [Internet]. 10 de julio de 2000 [citado 8 de septiembre de 2013]; 71(4). Disponible en: http://www.jsava.co.za/index.php/jsava/ar-ticle/view/726
(21). Foronda P, Valladares B, Rivera-Medina JA, Figueruelo E, Abreu N, Casanova JC. Parasites of Columba livia (Aves: Columbifor-mes) in Tenerife (Canary Islands) and their role in the conserva-tion biology of the laurel pigeons. Parasite Paris Fr. septiembre de 2004; 11(3):311-6.
(22). Bennett GF, Borrero JI. Blood parasites of some birds from Co-lombia. J Wildl Dis. julio de 1976; 12(3):454-8.
(23). Londoño A, Pulgarín P. Blood parasites in Birds from the lowlands of northern Colombia. Caribb Jorunal Sci. 2007; 43(1):87-93.
(24). Msoffe PLM, Muhairwa AP, Chiwanga GH. A study of ecto - and endo - parasites of domestic pigeons in Morogoro Municipality, Tanzania. Afr J Agric Res. 2010;5(3):264-7.
(25). Belmonte Oliveira C, Tonin AA, González Monteiro S. Parasitis-mo do ácaro Ornithonyssus bursa em humanos no Sul do Brasil. Acta Sci Vet. 2012;40(4).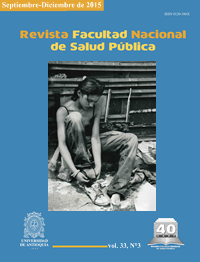 Cómo citar
Pérez-García, J., Monsalve-Arcila, D., & Márquez-Villegas, C. (2015). Presencia de parásitos y enterobacterias en palomas ferales (Columba livia) en áreas urbanas en Envigado, Colombia. Revista Facultad Nacional De Salud Pública, 33(3), 370-376. Recuperado a partir de https://revistas.udea.edu.co/index.php/fnsp/article/view/19996
El autor o los autores conserva(n) los derechos morales y cede(n) los derechos patrimoniales que corresponderán a la Universidad de Antioquia, para publicarlo, distribuir copias electrónicas, incluirlas en servicios de indización, directorios o bases de datos nacionales e internacionales en Acceso Abierto, bajo la licencia Creative Commons Atribución-No Comercial-Compartir Igual 4.0 Internacional Comercial (CC BY-NC-SA) la cual permite a otros distribuir, remezclar, retocar y crear a partir de la obra de modo no comercial, siempre y cuando se dé crédito respectivo y licencien las nuevas creaciones bajo las mismas condiciones.